Out and About - Rutland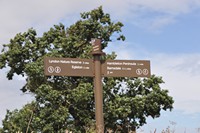 Rutland is a landlocked county in the East Midlands of England, bounded to the west and north by Leicestershire, to the northeast by Lincolnshire and the southeast by Northamptonshire.
It is the smallest historic county in England and the fourth smallest in the UK as a whole. It has the smallest population of any normal unitary authority in mainland England and only the City of London is smaller in terms of area.
The only towns in Rutland are Oakham, the county town, and Uppingham. At the centre of the county is the large artificial reservoir, Rutland Water, which is an important nature reserve serving as an overwintering site for wildfowl and a breeding site for ospreys.
Go to the Leicestershire and Rutland Bird News website for more information.
Rutland Water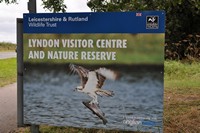 Rutland Water is Anglian Water's drinking water reservoir to the east of the county town, Oakham. Opened in 1976 it provides a reserve supply of water in the driest and most densely populated quarter of the United Kingdom and is one of the largest artificial lakes in Europe. By surface area it is the largest reservoir in England, but by capacity it is exceeded by Kielder Water.
Set in 3,100 acres of countryside, it has a 25-mile perimeter track for walking. Since the water is drawn upon when needed, the relative areas of land and water vary a little but the flatter parts of the lake margin are enclosed by banks so that the wetland nature reserve is maintained.
Large areas of wetland as well as several small woods at the western end of the lake form a nature reserve, managed by Leicestershire and Rutland Wildlife Trust. The area is designated a Special Protection Area of international importance for its wintering populations of Gadwall (some 4% of this species' European population) and Shoveler. Ospreys were re-introduced to the area during 1996 and have successfully nested ever since.
For more information go to:
© Simon Thurgood 2023
Images on this website may not be put as any part of any collection without any prior written permission.