Out and About - Cambridgeshire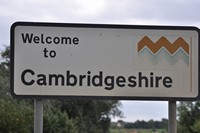 Cambridgeshire is an East Anglian county in England, bordering Lincolnshire to the north, Norfolk to the north-east, Suffolk to the east, Essex and Hertfordshire to the south, and Bedfordshire and Northamptonshire to the west.
I normally travel through Cambridgeshire while on route to Norfolk and Suffolk and never paid much attention to it until now. Plenty to see and some beautiful places, it is very flat with the fens and large areas of the county are extremely low-lying, Holme Fen is notable for being the UK's lowest physical point at 2.75 m (9 ft) below sea level.
Go to the Cambridgeshire Bird Club website for up to date info.
RSPB Fen Drayton Lakes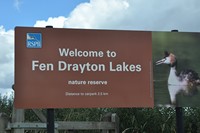 Fen Drayton Nature Reserve, 267-acres comprising four lakes formed from exhausted sand and gravel pits. These were worked since the 1950s, and are now a habitat for some 190 bird species, along with other associated wildlife. It is estimated that 2% of the UK's bittern population, and 4% of the UK's cold weather Smew population, reside here, making it an important site. The RSPB purchased much of the site in 2007. It is open every day, and hides around the lakes. Please be aware in times of heavy rain and river flooding, the entire reserve goes under water, including car parks and most rights of way.
It is planned that the reserve will become part of a much larger wetland area along the River Great Ouse linking to the Hanson-RSPB Wetland Project at Needingworth Quarry that should become Britain's largest reedbed within the next 30 years. This will then connect to reserves at Ouse Washes and Welney north of Earith. The Ouse Washes are managed by the RSPB and Welney is run by the Wildfowl and Wetlands Trust.
For more info go to the Fen Drayton Lakes page on the RSPB website.
RSPB Ouse Washes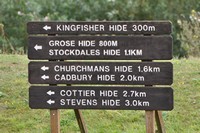 The Ouse Washes are an area in the Fens of Cambridgeshire and Norfolk, England. They cover the area between two diversion channels of the River Great Ouse: the Old Bedford River and the New Bedford River (also known as the Hundred Foot Drain).
The Washes are now of international importance and are designated a Special Protection Area for their wildfowl; there are nature reserves at WWT Welney in Norfolk and RSPB Ouse Washes which is in Cambridgeshire. The washes are the largest area of frequently flooded grazing marsh in Britain. It is a Ramsar site, a Special Protection Area and a Special Area of Conservation, as well as the Ouse Washes SSSI. With the advent of global warming, the washes now experience summer flooding also, and many birds are prevented from breeding in the area.
It is of national importance for Bewicks and Whooper swan. It also attracts wintering birds of prey, including Hen Harrier, Merlin, Peregrine Falcon and Short-eared Owl. Redshanks, Lapwings and Snipe breed on the Washes in spring.
There are ten birdwatching hides (six RSPB and four wildlife trusts) one of which is wheelchair accessible.
For more info go to the Ouse Washes page on the RSPB website.
The Great Fen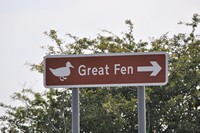 The Great Fen is a habitat restoration project being undertaken in Cambridgeshire. It is one of the largest restoration projects in the country, and aims to create a 3,700 hectare wetland and will connect Woodwalton Fen National Nature Reserve with Holme Fen National Nature Reserve to create a very large site with conservation benefits for wildlife as well as playing a strategic role by storing winter water for the protection of the homes, farms and businesses in the area.
Go to the Great Fen website for more information.
Woodwalton Fen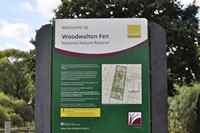 Woodwalton Fen is one of Britain's oldest nature reserves and occupies a substantial site of 208 ha north-east of Huntingdon. Its international importance has been repeatedly recognised in its designations as a Ramsar site, a Special Area of Conservation, a Site of Special Scientific Interest and a national nature reserve. This is an attractive reserve with an impressive list of rare plants and animals. Habitats include Purple Moor Grass meadows, tall fen and scrub communities, woodland, and other assemblages of grasses, sedges, herbs and mosses.
Holme Fen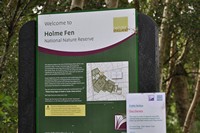 Holme Fen is situated south of Peterborough, around 5km north-west of Woodwalton Fen and on the south-western shore of the former Whittlesey Mere. The Fen occupies a crescent-shaped site approximately 2.5 km long by 1.5 km wide and has been designated as a Site of Special Scientific Interest and Geological Conservation Review Site.
Holme Fen is the largest Silver birch woodland in lowland Britain. More importantly it contains approximately 5 hectares of rare acid grassland and heath and a hectare of remnant raised bog, an echo of the habitat that would have dominated the area centuries ago. This is the most south-easterly bog of its type in Britain. Holme is a key component of the Great Fen Project for it approximately marks the south-western limit of Stage 2 of the Project plan. The reserve is open to the public throughout the year.
Wicken Fen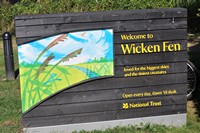 Wicken Fen is a wetland nature reserve situated near the village of Wicken in Cambridgeshire. It is one of Britain's oldest nature reserves, and was the first reserve cared for by the National Trust, starting in 1899. The first parcel of land for the reserve was donated to the Trust by Charles Rothschild in 1901. The reserve includes fenland, farmland, marsh, and reedbeds.
As part of the development of the reserve since the initial purchase in 1899, of two acres for £10. The National Trust has been purchasing land as it becomes available for over a century. In 1951, 611 acres of the fen was designated a Site of Special Scientific Importance. It was listed as a 'Nature Conservation Review' site in 1977 and is designated a national nature reserve and a Ramsar Wetland of International Significance. In 2011 the National Trust reserve was over 2,300 acres.
The National Trust plan over a 100-year period, to expand the fen to a size of 22 sq. miles. It was launched in 1999 to mark the 100th anniversary of the first acquisition. In 2001 a major acquisition was made with the purchase of Burwell Fen Farm. In 2005, a turf farm, to be called Tubney Fen, was purchased. Other purchases include Hurdle Hall Farm and Oily Hall Farm in 2009, and St Edmunds Fen in 2011. The National Trust aims to acquire further land as it becomes available, paying the market prices. As a result of the increased area of wetlands, the populations of skylarks, snipe, grey partridge, widgeon and teal have all increased with a major increase in barn owls and short-eared owls. Buzzards, hen and marsh-harriers have returned, and bitterns began breeding by 2009 for the first time since the 1930s.
For more information go to the Wicken Fen Nature Reserve website.
If you like insects and plants this is the place for you!
© Simon Thurgood 2023
Images on this website may not be put as any part of any collection without any prior written permission.