Out and About - Cornwall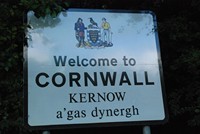 Cornwall is the most south-westerly county in England, on the peninsula that lies to the west of the River Tamar. Cornwall covers an area of 1,376 square miles (3,563 km²), including the Isles of Scilly, located 28 miles (45 km) offshore.
Cornwall is noted for its wild moorland landscapes, its extensive and varied coastline and its mild climate. Also notable is Cornwall's stone age and industrial archaeology, especially its historic mining landscape, a world heritage site. Tourism therefore forms a significant part of the local economy.
Cornwall is the homeland of the Cornish people and is also considered one of the six "Celtic nations" by many residents and scholars. Cornwall forms the tip of the south-west peninsula of the island of Great Britain, and is therefore exposed to the full force of the prevailing winds that blow in from the Atlantic Ocean. The coastline is composed mainly of resistant rocks that give rise in many places to impressive cliffs.
The north and south coasts have different characteristics. The north coast is more exposed and therefore has a wilder nature. The prosaically named "High Cliff", between Boscastle and Tintagel, is the highest sheer-drop cliff in Cornwall at 735 feet (224 m). However, there are also many extensive stretches of fine golden sand which form the beaches that are so important to the tourist industry, such as those at Bude, St Agnes, St Ives, Perranporth, Porthtowan, Polzeath, Fistral Beach, Lusty Glaze Beach and Watergate Bay, Newquay. There are two river estuaries on the north coast, Hayle estuary and River Camel, which provides Padstow and Rock with a safe harbour. The south coast, dubbed the "riviera", is more sheltered and there are several broad estuaries offering safe anchorages, such as at Falmouth and Fowey. Beaches on the south coast usually consist of coarser sand and shingle, interspersed with rocky sections of wave-cut platform.
The interior of the county consists of a roughly east-west spine of infertile and exposed upland, with a series of granite intrusions, such as Bodmin Moor, which contains the highest land within Cornwall. From east to west, and with approximately descending altitude, these are Bodmin Moor, the area north of St Austell, the area around Camborne, and the Penwith or Land's End peninsula.
Cornwall was one of the most important mining areas in Europe until the early 20th century. It is thought tin was mined here as early as the Bronze Age, and copper, lead, zinc and silver have all been mined in Cornwall. Alteration of the granite also gave rise to extensive deposits of China Clay, especially in the area to the north of St Austell, and the extraction of this remains an important industry.
Cornwall Wildlife Trust - contains information on their 55 reserves and events going on in the county as well as other useful links
Cornwall Bird-Watching and Preservation Society - dedicated to the study and conservation of birds in the county. The Society, which was started in 1931, owns or manages six nature reserves. It is worth looking at the website to get any up to date sightings
Cornwall Birding - a great website, lots of details, up-to-date sightings and where to go in Cornwall
Bodmin Moor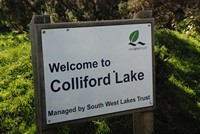 Bodmin Moor is a granite moorland in north east Cornwall, UK, 208 km² (80 sq mile) in size, dating from the Carboniferous period of geological history.
The name "Bodmin Moor" is relatively recent, being an Ordnance Survey invention of 1813. It was formerly known as "Fowey Moor", after the river which rises here. Dramatic granite tors rise from the rolling moorland Brown Willy being the highest point in Cornwall at 417m (1368 ft) and Rough Tor at 400m (1313 ft). On the southern slopes of the moor lies Dozmary Pool, where, according to Arthurian legend, Sir Bedivere threw Excalibur to The Lady of the Lake. It is Cornwall's only natural inland lake and is glacial in origin.
The moor is the source of a number of the county's main rivers. The River Fowey rises at a height of 290m and flows through Lostwithiel and into the Fowey estuary. The River Camel rises on Hendraburnick Down and flows for approximately 40km (25 miles) before joining the sea at Padstow. The River Camel and De Lank are an important habitat for the otter and both have been proposed as a Special Area of Conservation (SAC) Colliford Lake and Siblyback Lake reservoirs supply water for a large part of the county's population.
10,000 years ago Mesolithic hunter-gatherers wandered the moor when it was wooded and had a temperate climate. During the Neolithic era, from about 4,500 to 2,300 BC, people began clearing trees and farming the land. More than 200 Bronze Age settlements with enclosures and field patterns have been recorded and many prehistoric stone barrows and circles lie scattered across the moor. King Arthur's Hall thought to be a late Neolithic or early Bronze Age ceremonial site can be found to the east of St Breward on the moor.
First farmed over 4000 years ago by bronze age settlers, Bodmin Moor is of one the last great unspoilt areas in the South West and much of its prehistoric and medieval past remains untouched by the passing of the centuries.
The Moor is dominated by dramatic granite tors which tower over the sweeping expanses of open moorland. Marshes and bogs on the high moor drain into shallow moorland valleys before the rivers cross onto softer shales around the Moor and carve themselves deep river valleys, providing shelter for rich, damp oak woodland. Historically, Bodmin Moor was a landscape which engendered fear and awe, but which has also provided inspiration for writers, poets and sculptors. It has generated folklore and legend, with fact and fiction at times blending into one another as tales were passed down over the generations.
A wild and rugged area steeped in history, Bodmin Moor has more than its fair share of myths and legends - from its strong connections to the stories of King Arthur right up to present day reports of farmers livestock being hunted down by the Beast of Bodmin Moor. Since 1983 there have been over 60 reported sightings of a big cat on Bodmin Moor. The connection with King Arthur may be a bit more tenuous but nevertheless the possibilty of Camelot being in Cornwall remains a strong one. Also there is the legendry Jamaica Inn, Cornwall's legendary coaching house which was immortalised in Daphne du Maurier's novel of the same name, has stood high on Bodmin Moor for over four centuries. Built in 1750 Jamaica Inn was a coaching Inn used by travellers between Launceston and Bodmin.
Recommended map:

Ordnance Survey Explorer Map 109
Cape Cornwall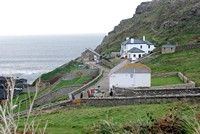 Cape Cornwall is a small headland in Cornwall, four miles north of Land's End near the village St Just. The cape is the point at which Atlantic currents split, either going south up the English Channel, or north into the Bristol Channel and Irish Sea. The Brisons are located approximately 1 mile offshore of Cape Cornwall. There are some fantastic views from the headland looking both ways and to the islands out to sea.
Almost entirely owned by the National Trust, there is a National Coastwatch lookout on the seaward side. There is a car park and a public toilet, which is seasonal.
You can park up here and walk to Land's End using the South West Coastal Path. This a fantastic walk and would recommend it. Remember to wear appropriate clothing and boots, as this is a walk along the coast and can be dangerous.
Recommended map:

Ordnance Survey Explorer Map 102
Colliford Lake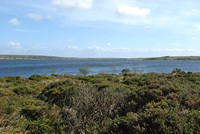 Colliford lake is run by South West Lakes Trust. Located south of Jamaica Inn on Bodmin Moor the famous smugglers haunt immortalised by Daphne du Maurier, Colliford is a tranquil lake providing some excellent moorland walks.
With ample parking, picnic areas and lakeside walks, Colliford provides the opportunity for a peaceful day in the countryside.
Three way marked walks take in neighbouring moorland and the Nature Reserve is an important site for birdlife including over-wintering wildfowl.
Please remember to dress appropriately for the moor as the weather can change. Also remember you are close to water so watch the kids ;o)
Drift Reservoir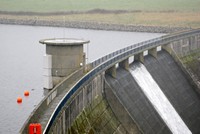 Drift reservoir is jointly owned by South West Water and South West Lakes Trust. Late in 1999 a new reed bed was created further north of the hide. It is hoped in time to provide another hide here.
Drift Reservoir is Britain's most south-westerly reservoir. It is excellent for gulls and wintering wildfowl and can be very good for passage waders if the water levels are suitable. Around 230 different species have been recorded at the site at the north-western corner of the reservoir. To get to the hide, follow the footpath on the western bank from the car park which is about a half a mile. I did find the reservoir difficult to find as there were very few signs.
Recommended map:

Ordnance Survey Explorer Map 103
Gwennap Head, Porthgwarra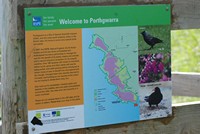 Gwennap Head at Porthgwarra is one of the best sea watching points in the country, not only for birds but for Basking Sharks and other Cetaceans.
At the moment there is a volunteer based project called SeaWatch SW that started in 2007 and they hope to run until 2011 at least, which is based here at Gwennap Head.
There is a fee paying car park at Porthgwarra and there are toilets and food available in busy times. There is also a great beach here to dip your toes in!
The footpath is well worn and when you get to the top you are met with some spectacular views. Look out for butterflies and dragonflies amongst the heather as well as the birds, but also watch where you are walking and don't put yourself in danger by getting to close to the cliff.
Recommended map:

Ordnance Survey Explorer Map 105
Hayle Estuary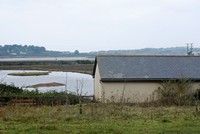 The reserve at Hayle is run by the RSPB. There is one hide which overlooks the saltmarsh and lagoon at Ryan's Field. The hide is unusual in that it is stone and has a open front, not sure who is watching who?
There is a circular walk around Ryan's Field and a public footpath around Carnsew Pool. Copperhouse Creek can be accessed from the public highway and has a footpath at the eastern end and good views from the north shore at the King George V Memorial Walk.
18,000 birds have been seen here. This is partly due to the fact that Hayle Estuary is the most south westerly estuary in the UK and it never freezes. During spring and autumn, it is an ideal place to see migrant wading birds, gulls and terns.
There is good access with a free car park. The reserve has good paths and access to the hide for pushchairs and wheelchairs. There are no toilet facilities.
Helston
For both of these sites use the same free car park on the B3304 opposite Helston Boating Lake. Facilities nearby include a garage, a toilet by the boating lake and a café that opens during the summer season. The road is busy though so watch the speeding cars.
Helston Boating Lake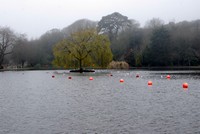 This could be a very worthwhile ½ hour walk around this little lake as it is a Gull roost and during the winter months there has been Ring-billed, Iceland and Glaucous Gulls apart from the usual ones. It's a nice stroll anyway but if you have kids watch the water.
Penrose and Loe Pool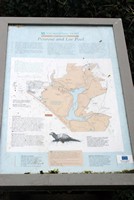 The walk around what is Cornwall's largest lake is absolutely fantastic. It is generally easy going but can be muddy in places especially after a heavy rain. It is between 6-7 miles in length and well worth the effort.
Many people start the walk from Portheven but I prefer to start from Helston - it's just a personal thing. If you start from Portheven you will have to add a mile and extra time to your journey.
The Loe, also known as Loe Pool, as I have already said is the largest natural freshwater lake in Cornwall. It is separated from the sea by the shingle bank of Loe Bar, situated midway between Porthleven and Gunwalloe. Both the Loe and Loe Bar are situated within the Penrose Estate, administered by The National Trust and are designated as a SSSI by Natural England. The Bar is recognised as a site of outstanding historical, geomorphical and conservation interest. Victorian writers thought the river was blocked in the 13th century and believe - wrongly - that Helston was a busy port, but it seems likely that the Bar has its origins much further back in time. As ice began to melt after the last Ice Age, sea levels began to rise and push huge deposits of eroded materials back towards the land. In addition, other factors are believed to have helped form the Bar such as longshore drift and winter storms. Certainly the coastal currents and the pounding waves help to deposit new material on the Bar.
The Loe is reputed to be the lake in which Sir Bedivere cast King Arthur's sword, Excalibur.
The Loe also has other areas of interest such as swamp and deciduous woods which are full of wildlife to watch or take photos of. Although it's at most 7 miles all around, you could lose yourself all day if you wish, which I have done on more than one occasion. You can also get to here from the South West Coast Path. If you have kids watch out for the water.
Recommended map:

Ordnance Survey Explorer Map 103
Land's End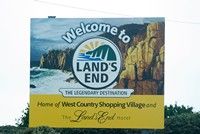 This is not a place I like to visit too often as I personally don't like a theme park on such a beautiful part of the coastline. Sorry I know I am a grumpy old bugger and people will point to employment and tourism but it's not for me!
It is though a place where you can see the odd bird that flies in from the sea and if you take your binoculars you can be surprised in what you see. You can walk to the area via the South West Coast Path, which is possibly cheaper than paying the car park fee amongst other things.
Recommended map:

Ordnance Survey Explorer Map 102
Lizard Point to Kynance Cove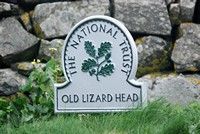 This is a great circular walk which can be as long or short as you want or take as long as you want to go round, you could rush round from the Lizard village to the Point along the coast to Kynance Cove and back along the road to the green in an hour but what a waste! By the time I stop and watch the seals, Choughs, boats out at sea, look at the fantastic coastline and dip my toes in the sea at Kynance Cove, then walk over the heathland watching the stonechats and the kestrels and stroll back into the village it would take me a fantastic 3 or 4 hours with a ice cream at the end of it. :o)
Facilities are great with car parks at the village, and National Trust car parks at the Point and at Kynance Cove. Both these car parks have toilets, which are open dependant on the season. Apart from the village there is a café and shop at Lizard Point. You can do this walk what ever way you want or just do part of it as there are walks away from the coast back to the road at several points.
This is also part of the South West Coast Path.
When you get to Lizard Point one place of interest is the Lifeboat station. This is where the biggest rescue in the RNLI's history occurred on 17 March 1907 when the twelve thousand tonne liner SS Suevic hit the Maenheere Reef near Lizard Point. In a strong gale and dense fog, RNLI lifeboat volunteers rescued 456 passengers, including seventy babies. Crews from The Lizard, Cadgwith, Coverack and Porthleven rowed out repeatedly for sixteen hours to rescue all of the people on board. Six silver RNLI medals were later awarded, two to Suevic crew members.
Two miles north of Lizard Point lies Kynance Cove - white sand, turquoise water and islands of multicoloured serpentine rock with stacks and arches hidden amongst the towering cliffs - long considered one of the most beautiful places in Cornwall. It boasts islands of multi-coloured serpentine rock with stacks and arches hidden amongst the towering cliffs. An outstanding feature is the fact that at high tide a sandy beach which faces the water on two sides and a small island, which becomes a tidal island, are cut off and thus inaccessible.
The rocks are called serpentine because they resemble the mottled, green skin of the serpent. the rocks of green and red serpentine, polished by the sea over thousands of years are distinctive to Kynance Cove and the Lizard Peninsula. A visit to this beautiful place is a must! Remember to wear appropriate clothing and boots, as this is a walk along the coast and can be dangerous.
Recommended map:

Ordnance Survey Explorer Map 103
Maer Lake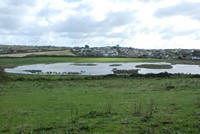 If you happen to be near Bude in north Cornwall you wont go far wrong in visiting Maer Lake, it can be a difficult place to find and not much car parking but well worth a visit. It's a great for bird watching but not very good for photography as you can't get close enough because you have to watch from the road.
This stunning freshwater wetland reserve has become an extremely important reserve for breeding, feeding and roosting birds. Maer Lake consists of 22 acres of wetland grazing meadows, which lie on the northern side of Bude town and are a short distance from the sea. Depending on rainfall, anything between two and fifteen acres can lie under water, and around two acres are covered in flag iris. The reserve is internationally acknowledged as an important resting and feeding site for migrating, birds especially in bad weather. The reserve is also interesting botanically, with Bog Bean, Elecampance and Pink Water Speedwell being present.
As I have said a difficult place to get to. From Bude Town Centre, cross the golf course using Crooklets Road, near the tennis courts turn right and travel a short distance north again across the golf course. Cross Downs View Road and turn right at the Maer Lodge Hotel. After a short distance, the reserve is on the right side of the private road. Viewing is strictly only from the private road above the reserve. Due to extremely limited parking, park in the nearby public road and walk the short distance to the road overlooking the reserve. It's a shame that no hide exists at the present time but hopefully this will be addressed.
Recommended map:

Ordnance Survey Explorer Maps 111 and 126
Marazion Marsh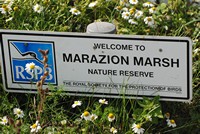 If you are close to Penzance, visiting Marazion Marsh might bring rich rewards as in late August you could see Aquatic Warbler and Wintering Bittern later in the year. Many species visit on passage, and the reserve list stands at 255 species. Marazion Marsh is a rich, freshwater habitat which has been an RSPB reserve since 1991. Twenty of its 53 hectares make up Cornwall's largest reedbed.
Parking can be a problem as the reserve overlooks the beautiful St Michael's Mount but the occasions I have visited there has been a "charity car park" set up by the gate which I have been able to use. Obviously the weather will have an effect on this reserve as it's next to the English Channel so be prepared for anything!
Recommended map:

Ordnance Survey Explorer Map 105
Siblyback Lake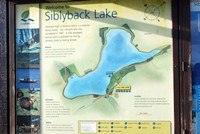 Siblyback Lake is run by the South West Lakes Trust.It is surrounded by the striking Bodmin Moor and offers a wide range of facilities and activities.
With water sports, including rowing boat hire, you can have an excellent day on the water. The popular Angling and Water Sports Centre has facilities for sailing, windsurfing and canoeing and is a premier trout fishery. Those wanting to spend a weekend on the water can make full use of the small but friendly campsite on the water's edge.
Permits for rainbow trout angling are available from the centre, and boats can also be booked.
If water sports isn't your thing then there's plenty more to do at this scenic lake, including miles of walks, excellent bird watching, there is a bird hide but unfortunately is looking a little un-loved and I suppose quite appropriately the birds have taken it over as a nesting site. Children's play areas and a tea-room overlooking the water which is open in the summer season.
There is parking here but you have to pay, but it is well worth a visit especially if you like taking sports photography. Also remember you are surrounded by Bodmin Moor so make sure you appropriately dressed and as you are close to water watch the kids ;o
Recommended map:

Ordnance Survey Explorer map 109
Stithians Reservoir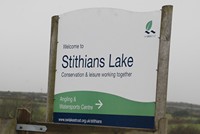 This body of water is owned jointly by South West Water and South West Lakes Trust. It is a major birding site in the South West and comes with a very impressive species list. There is a footpath around the perimeter of the reservoir.
Cornwall Birdwatching and Preservation Society manages the southern portion of the main reservoir and the southern and northern 'cut-offs' as nature reserves. There are two hides for members at the southern end of the site, one overlooking the south western corner of the main body of water and one overlooking the 'cut-off' from the western bank. Access to both hides is through unlocked gates on the roadside at the western end of the causeway.
Watch the Cars! They travel fast here!
There is a new hide built by South West Lakes Trust overlooking the northern 'cut-off'. Access is opposite the Golden Lion.
Recommended map:

Ordnance Survey Explorer map 103 and 104
Tamar Lakes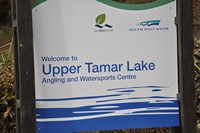 Tamar Lakes near Bude on the North Cornwall coast are run by South West Lakes Trust. These two lakes offer a variety of activities including water sports, angling, walking, cycling , relaxing and some great bird watching.
Upper Tamar
The brand new water sports centre at Upper Tamar offers sailing, windsurfing and kayaking for individuals, families and groups. There is tuition from qualified instructors available, hire equipment or you can launch your own craft. There is a campsite which is an ideal base for exploring North Cornwall and Devon and is perfect for families, groups and couples. The Outdoor + Active Centre are open seasonally April to October as is the café and visitor centre which overlooks the lake.
Lower Tamar
At Lower Tamar you will find a much smaller lake with easy going footpaths. The Lower Lake is predominantly managed as a nature reserve as it is popular with many wildfowl. There is a bird hide open to all and this is a good place to see both Marsh and Willow Tits. Both lakes have their own car parks and linking footpaths creating longer walks. The Bude Aqueduct Walk starts and finishes at Lower Tamar Lake and a trail leaflet is available from the café, or downloaded.
The Eden Project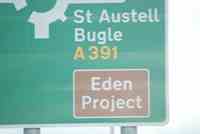 The Eden Project is a visitor attraction, including the world's largest greenhouse.
The project is located in a reclaimed Kaolinite pit, located 1.25 miles (2 km) from the town of St Blazey and 3 miles (5 km) from the larger town of St Austell, Cornwall, The complex comprises a number of domes that house plant species from around the world, with each emulating a natural biome. The domes are made out of hundreds of hexagons plus a few pentagons that interconnect the whole construction together; each of these is a transparent cushion made of tough plastic. The first dome emulates a tropical environment, the second a warm temperate, Mediterranean environment.
The project was conceived by Tim Smit and designed by architect Nicholas Grimshaw and engineering firm Anthony Hunt and Associates (now part of Sinclair Knight Merz), with Davis Langdon carrying out the project management, Sir Robert McAlpine and Alfred McAlpine undertaking the construction and MERO to design and build the biomes. The project took 2½ years to construct and opened to the public on 17 March 2001.
The project is constructed in a disused china clay pit. Once into the attraction, there is a meandering path with views of the two biomes, planted landscapes, including vegetable gardens, and sculptures that include a giant bee and towering robot called RSA WEEE Man created from old electrical appliances.
At the bottom of the pit are two covered biomes:
The Humid Tropics Biome, which is the largest greenhouse in the world, covers 1.559 hectares (3.9 acres) and measures 180 feet (55 m) high, 328 feet (100 m) wide and 656 feet (200 m) long. It is used for tropical plants, such as fruiting banana trees, coffee, rubber and giant bamboo, and is kept at a tropical temperature. The Warm Temperate Biome covers 0.654 hectares (1.6 acres) and measures 115 feet (35 m) high, 213 feet (65 m) wide and 443 feet (135 m) long. It houses familiar warm temperate and arid plants such as olives and grape vines and various pieces of sculpture.
The Outdoor Biome represents the temperate regions of the world with plants such as tea, lavender, hops and hemp.
The biomes are constructed from a tubular steel space-frame (hex-tri-hex) with mostly hexagonal external cladding panels made from the thermoplastic ETFE. At the outset, glass was proscribed due to its weight and potential dangers. The cladding panels themselves are created from several layers of thin UV-transparent ETFE film, which are sealed around their perimeter and inflated to create a large cushion. The resulting cushion acts like a thermal blanket to the structure. The ETFE material is resistant to most stains, which simply wash off in the rain. Although the ETFE is susceptible to punctures, these can be easily fixed with ETFE tape. The structure is completely self-supporting, with no internal supports, and takes the form of a geodesic structure. The panels vary in size up to 9 metres (29.5 ft) across, with the largest at the top of the structure.
The Core is the latest addition to the site and opened in September 2005. It provides the Eden Project with an education facility, incorporating classrooms and exhibition spaces designed to help communicate Eden's central message about the relationship between people and plants. Accordingly the building has taken its inspiration from plants, most noticeably in the form of the soaring timber roof, which gives the building its distinctive shape.
The Eden Project includes environmental education focusing on the interdependence of plants and people; plants are labelled with their medicinal uses. The first part of the Eden Project, the visitor centre, was opened to the public in May 2000, however the full site was opened on 17 March 2001.
More information can be found on the Eden Project website.
© Simon Thurgood 2020
Images on this website may not be put as any part of any collection without any prior written permission.