Blog
30 September 2021
Coryton Cove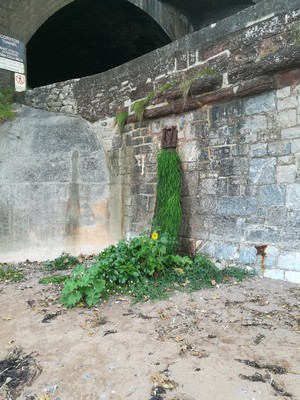 Been spending some time walking around the sea front and Coryton Cove after shifts and free time.
Few Birds about, all the usual stuff on the beach but pleased to see a lack of rubbish on the beach, down to two things, a lot of people taking their rubbish home and others like me picking up stuff washed up on the beach and putting in the bins which all helps.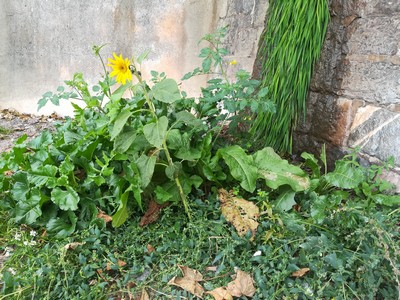 Have been interested in the plants that have established themselves on the beach, especially at the far end. Because they are under a drain some people have maintained it is a sewage outflow, especially as there is Tomato plants growing. Allegedly its a sign because the seeds go through the human gut? Not sure that is the reason here as I know many people sit near here for a picnic on the beach so iam sure the seeds come from there.
Surfers against Sewage say there is a sewer at this end of the beach but I think that comes out the otherside of the breakwater, I have it on good authority that this drain is to clear water from the train track and Tunnel?
Its a good subject to talk about, seeds like Dock, Oil seed rape, Sorrel and Thistle are probably all blown in and germinated on the beach. It will only take one big storm and they will all be gone!
---
28 September 2021
Looking for Clouded Yellow

After seeing sightings of Clouded Yellow in East Devon as well as Dawlish Warren I have spent some time looking but sadly to no avail!
There has been a bit of an influx close to Bournemouth but with the weather deteriorating I fear it will be a waisted journey. I think that will be it for the Butterfly season for now unless we get another warm spell?
Very little else about apart from this small flock of Sanderling on the beach at the Warren.
---
25 September 2021
Bowling Green Marsh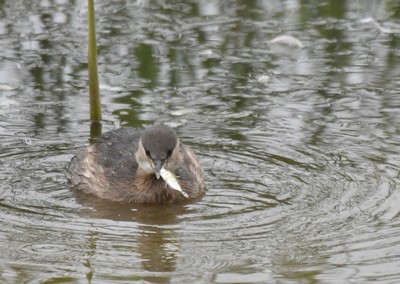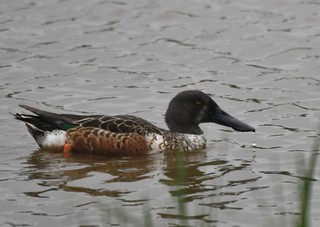 On my way back from Budliegh where I was supporting my son who was in a Golf competition, I stopped at Bowling Green Marsh. I haven't been here for some time and it was good to be back.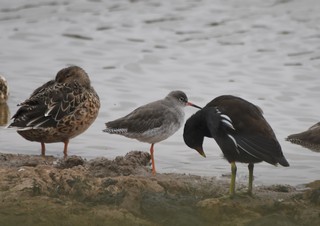 The tide was in and plenty of Waders with Redshank, Black and Bar-tailed Godwits, Curlew, Dunlin, Snipe and a couple of Ruff at BGM, there was also 30+ Greenshank at Goosemoor.
Grey Heron, Little Egret, Little Grebe, Moorhen, Coot, Canada Geese, Mute Swan, Shelduck, Mallard, Teal, Wigeon, Shoveler and Pintail seen and there could have been others hidden away.
All the usual Gulls with good numbers of Black-headed Gulls, Plenty of smaller birds such as Blackbird, Robin, Dunnock, Blue and Great Tits, Wren, Chaffinch, Goldfinch, Magpie, Jackdaw, Carrion Crow, Buzzard and Woodpigeon seen with the sound of a Green Woodpecker.
A few humans about and good to see Dave B.
---
19 September 2021
Looking for Merlin at Exminster

After seeing sightings of a Merlin at Exminster Marshes I used what little spare time this weekend at the Marshes on the look out.
To my knowledge none was seen last winter, but in the previous years they were regular visitors to the Marsh and could be seen sat on the old hay trailer that was between the road to the canal and the M5 bridge, sadly that has now been removed.
So walked around quite a bit, down every footpath, both ways along the canal and checked every fence post. The Merlin is a favourite bird of mine and seen many, but sadly always at a distance and going at some speed! Sadly none seen this weekend, perhaps just visiting or just sat down somewhere and I couldn't see it.
I did see other Raptors, 2 x Kestrel, Sparrowhawk, Peregrine and Buzzard and all getting a hard time by the growing numbers of Corvids which is normal for the winter.
---
12 September 2021
The Weekend

Good to get away from screens and stuff, took the opportunity to spend some time outdoors, Saturday the original plan was to spend time around the River Exe but I forgot that there was a Concert on at Powderham so the roads were blocked. So instead spent some time at Exminster Marshes.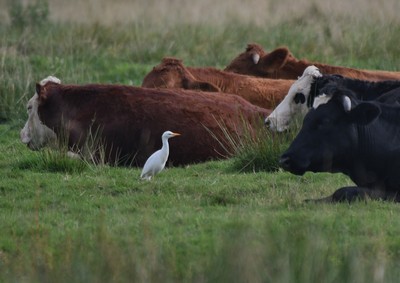 Parked up at the RSPB car park and walked down the road towards the Canal. Opposite the buildings as you go down you could see the two Spoonbills sleeping, there was plenty of splashing around by the Canada Geese there but they didn't move a muscle! Further down just past the middle car park there was a single Cattle Egret with the cows and the two white Farm Geese also there.
Up on the Canal there was a few birders with scopes and one was kind enough to show me the Ruff and little Stints in the lagoon, plenty of waders flying around with Godwits, Redshank and Dunlin. Also Woodpigeon, Magpie, Kestrel and Buzzard, others said a Marsh Harrier had been seen.
Further down by the Turf hotel 100+ Starling around the Yachts and lines with about 30+ Swallows hawking around the water and over the top of the bushes.
Also seen Little Egret, Mute Swans, Cormorant, Black-headed and Herring Gulls, Blue, Great and Long-tailed Tits, Coot, Moorhen, Mallard, Shoveler, Teal, pied Wagtail and Chaffinch.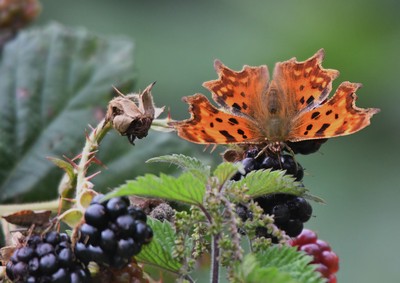 Plenty of Butterflies, Bees, Wasps, Dragons and other insects about, especially on the Brambles.
Sunday I managed to get up to Dartmoor, I did a circular walk around Challacombe Farm going past Dinahs House, up towards Bennets Cross, up towards Birch Torr and back to Challacombe via Headland Warren.
A bit quiet on the bird front, a couple of Swallows hawking over the Bracken, singles of Willow Warbler and Meadow Pipit with Stonechats, Buzzards and Crows was about it.
Walking along the footpath just up from Dinahs house the stream covers the path and it was quite noticeable the water looked like it had a oily shine over it, but this is right next to the old mine working so I presume its from here?
Met lots of humans over the weekend and all seem happy enough, even the Birder experts smiled!
---
05 September 2021
Common Terns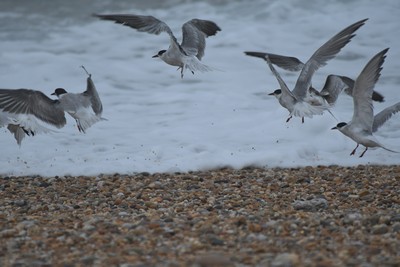 Sunday I was down in South Devon and inbetween other stuff managed half an hour watching the Terns on Slapton Beach, it was a bit grey and the beach was quite busy with people and dogs, the Terns which seemed a 50-50 split between Common and Sarnies were also getting harassed by some of the Gulls so were always on the move.
Start new job Monday with the first 2 weeks on induction and training on Zoom Meetings, my idea of hell!!
---
04 September 2021
Blue Jellyfish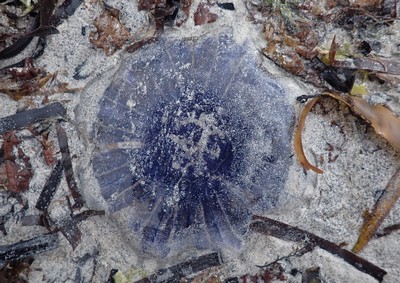 While on the Scilly Isles walking across a beach I came across a Jellyfish that was beached and didnt pay much attention to it, just took a quick picture thinking it was a Compass Jellyfish that had got some sand on it but looking at the picture it is obviously a Blue Jellyfish and the lesson here is slow down and study more of what you are taking a picture of!!
---
03 September 2021
Around the Exe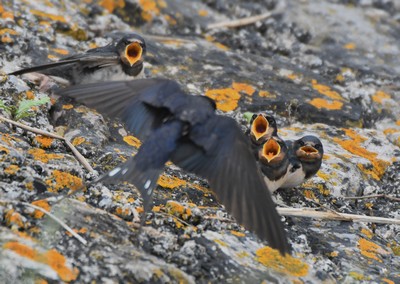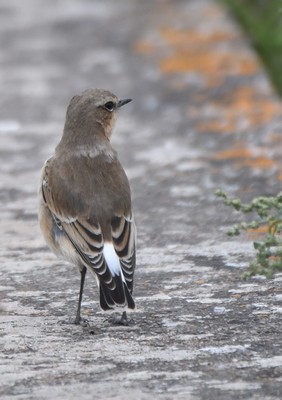 Spent the last couple of days around the River Exe which included Exminster marshes, Dawlish Warren Beach, Cockwood Harbour as well as the Steps and the River Kenn outflow.
Noticeable increase in Corvids with Rook, Carrion Crow, Jackdaw and Raven all seen especially on stubble fields close to the river, several Magpie and a couple of Jays around Powderham Church.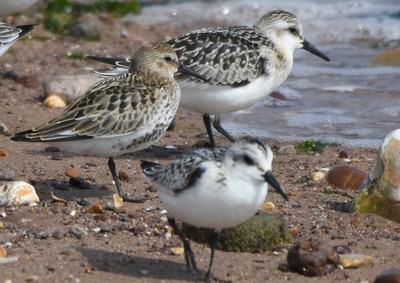 Several flocks of Starling with the usual one around Turf Hotel, a few House Martins but mostly Swallows with some feeding juveniles that were huddled together in groups, looked like 2 broods trying to keep warm at one point.
Grey Heron, Little Egret seen but I just missed the Great White and the Spoonbills were nowhere to be seen. A few Ducks about especially on the River Kenn in the Powderham estate with Teal, Wigeon, Mallard and Shoveler in good numbers.
Waders were a bit light with singles of Black-tailed Godwit and Common Sandpiper close to Turf with more Oystercatchers, Greenshank, Redshank, Ringed Plover, Dunlin and Sanderling the further you went down the River.
Several Wheatear, Pied Wagtails, Linnet, Stonechat, Goldfinch, House Sparrow, Blackbird, Song Thrush, Robin, Wren, Dunnock, Great and Blue Tit, Woodpigeon, Collard Dove, Cormorant, Coot, Moorhen, Canada geese and Mute Swan.
Plenty of Gulls spread around, Herring, Black-headed, Great and Lesser-black Backed Gulls of all ages.
Still a few humans about and good to see Kevin W out with his camera.
---
01 September 2021
Forest Bug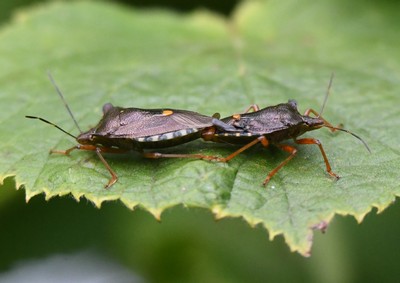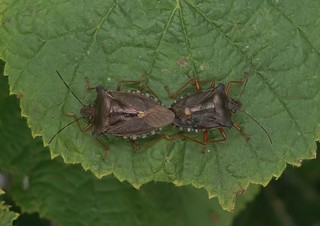 I know these as Forest Bugs but others also know them as Red-legged ShieldBug.
While common still looks a stunning little insect!
---
© Simon Thurgood 2022
Images on this website may not be put as any part of any collection without any prior written permission.