Blog
24 September 2017
Lyme Bay Boat Trip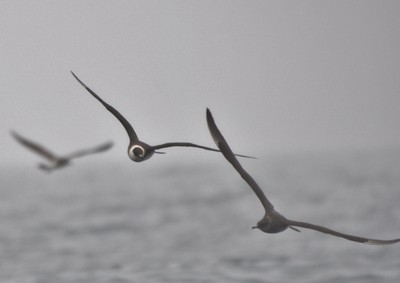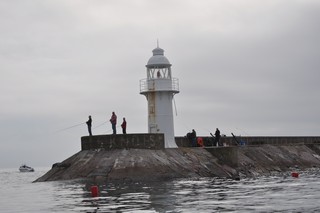 Went out on a boat trip organised by Nigel S on the "Optimist" skippered by another Nigel. In the harbour it was calm and flat but further out it was fairly lumpy especially around Berry Head where the tidal race was making the boat rock!
In the harbour plenty of Black-headed Gulls, Cormorants and Turnstones running around the quayside. We looked for Seals but none but then one appeared by Berry Head when we looking for the Harbour Porpoise, it came to the back of the boat looking for food, really tame. We also looked for Purple Sandpipers at the Jetty by the end of the breakwater but none seen, bit early I think for them.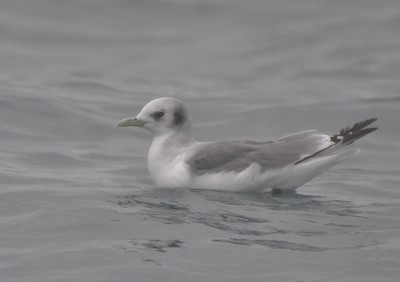 As we worked our way up to Berry Head a few Gannets, Herring and Great-black Backed Gulls, Shag and a couple of Oystercatchers on the rocks. As I have already said Seal and a couple of Harbour Porpoise by Berry Head itself.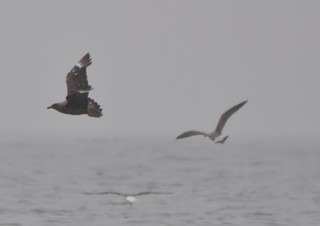 We went out further and saw a couple of Common Dolphin at distance, with the weather getting worse with grey cloud and some rain although I thought the sea was a little calmer the further we went out.
Nigel started to chum and very quickly Great-black Backed Gulls appeared and almost took over the area and it wasn't until by Great and Artic Skua's mixed things up a bit with aerial combat after the chum, there was both light and dark phase birds, the light wasn't the greatest but managed to get off a few shots.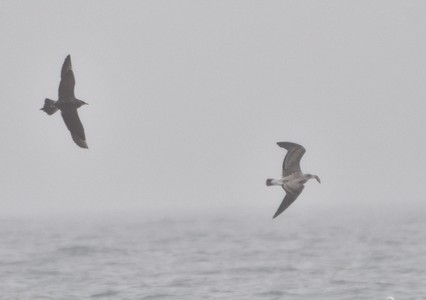 A bit later the boat was joined by several Gannets including a stunning dark Juvenile which circled the boat, a lone Fulmar and several Kittiwake, these are stunning little birds. Also on view was some Shearwaters, positive sightings of 1 Manx and 1 Balearic but several birds I couldn't id. We also saw a few Guillemots on the way back.
On the way back to Dawlish I popped into Labrador Bay to see if there was any Cirl Buntings about. They haven't started to use the feeding station yet so very few birds about. I did see 4 Cirls around the hedge and in the stubble as well as Chaffinch, Blackbird, Wren and Dunnock. Plenty of fly over Herring Gull, Carrion Crow and Wood Pigeon.
Nice to be out on the boat with a great bunch of people, looking forward to next week!

---
23 September 2017
Davidstow Airport and Soussons Woods,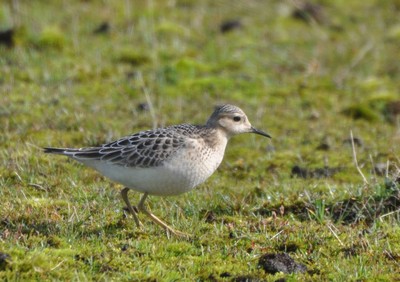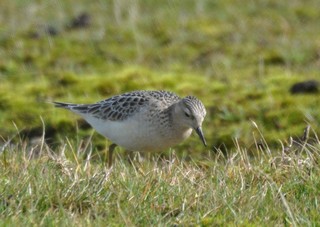 There had been a report of a Juvenile Buff Breasted Sandpiper at Davidstow which was joined by another in the week. This is a Vagrant from North America which I hadn't seen before so a trip down the A30 was planned for this morning, its quite easy to get to and an hour and fifteen minutes I was there. On the websites there was warnings about not going on the runways as there was still planes taking off and landing, if you was to see this old runway with pot holes in you would wonder how!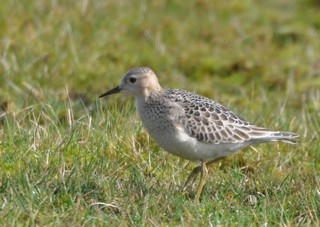 Anyway I went up the road to see a clump of cars parked up which is normally a sign were the bird is and sure enough both birds were there. I managed to get some pictures off and the birds although moving around feeding were staying in one spot. This want good enough for some clown in a 4x4 parked on the grass, there was 2 massive lens sticking out that could pick a Alien on the moon. It kept starting up and moving a couple of feet, in the end the birds got fed up and flew off with the 4x4 chasing them across the airport! Well after a bit of Anglo Saxon and looking at the back of the camera I was relieved that I had got some pics after the journey, I turned around and headed home.
I decided to go through Dartmoor and head for Soussons to have a look for some Crossbills, several had been seen lately so I thought I might get lucky. Sadly not! I did see a couple at a distance high up in some Scots Pine but that's all, did see lots of other birds mainly small stuff such as Blue, Coal, Great and Long-tailed Tits, Wren, Robin, Chaffinch, Bullfinch, Blackbird and a couple of noisy fly over Raven. In the sun there was a couple of Butterflies, Spotted Wood and Red Admirals and a Roe Deer Buck walked across the path in front of me, great to see.
Met a few people about on Dartmoor walking, cycling and on Horse back enjoying the glorious weather.

---
16 September 2017
River Exe and Bowling Green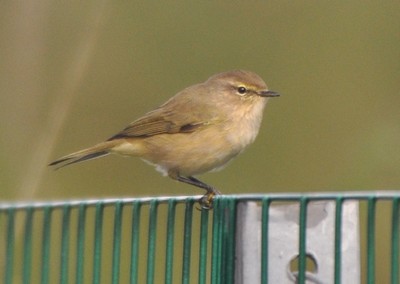 The day looked like sun and showers so decided to split the day up, AM walked from Powderham church to Turf and PM went to Topsham.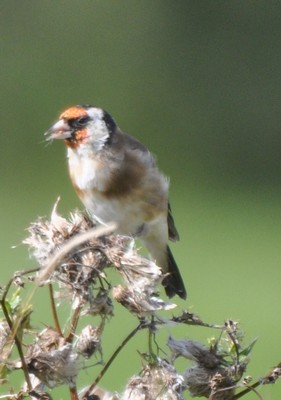 Sure enough lovely sunny morning when I parked up at the churchyard at Powderham. Lots of birdsong with a Robin giving its all on the fence. Rooks being quiet noisy in the trees above me with Pheasants and Woodpigeons in the stubble. The wires were getting full of Swallows and the odd House Martin flying around. The woods the other side of the field you could hear alarming Blackbirds and others so not sure what had upset them?
Off up the river which was mainly mud because the tide was out, plenty of Black-headed Gulls with the odd Great-black Backed and Herring Gull present, Little Egret, Grey Heron, Curlew, Oystercatcher, Godwits, Cormorants, Canada Geese, Mute Swans, Swallows and Rock Pipit. In the fields and path there was Wren, Reed Bunting, Goldfinches, Chiffchaff, Dunnock, Woodpigeon, Carrion Crows, Robin, Blackbird, Swallows and about 100+ Starlings on the bushes around Turf. At Turf the mud flats were quiet, but you could see about 100 Curlew up river on the mud.
Once I got back to the car off to Darts Farm, stopping off for a Bacon Butty and a Costa Coffee (I live the high life!). Its so much easier now they have finished the road works going into Exeter, shame about the Traffic Lights!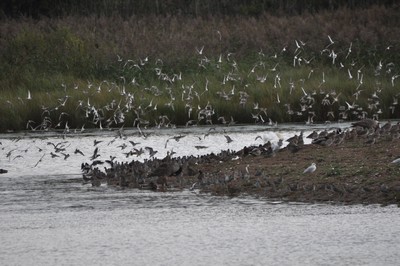 Darts Farm to my surprise wasn't that busy so a parking space was quickly found, as I got out of the car a Male Sparrowhawk flew overhead being chased by a number of Chaffinch.
Off down the cycle track towards Bowling Green and not that many birds about, the creek was empty. Goosemoor wasn't that busy either, 22 Greenshanks, a couple of Redshanks, Spotted Redshank, Black-tailed Godwit, Little Egret and a Shelduck was the totals here.
I got to the Hide just before the birds started to arrive as the tide came in, plenty of Black-headed Gulls, Lesser- black Backed and a couple of Herring Gulls. Godwits, Lapwing, Ringed Plover, Dunlin, Redshanks, Curlew Sandpipers, Mallard, Shoveler, Teal, Widgeon, Pintail, Coot, Moorhen, Little Egret, Grey Heron, Canada Geese, Mute Swan, Swallows, Magpie, Carrion Crow, Buzzard and Sparrowhawk. Down at the Platform not much to see as the tide was in and just Curlew flying over going to the reserve.
Met lots of people today, young, old, men and women and all seem happy enough, the heavy showers didn't seem to stop peoples enthusiasm for getting out and enjoying the countryside.

---
10 September 2017
White Wagtail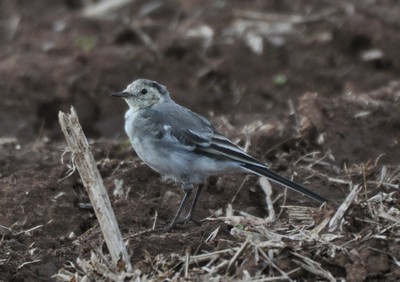 While I was looking around the fields yesterday amongst a group of 20 Pied Wagtails this pale bird stood out, not sure if it was a White Wagtail or a Juv but with the help of Kevin R who confirmed it was a White Wagtail.
---
09 September 2017
A Great Day!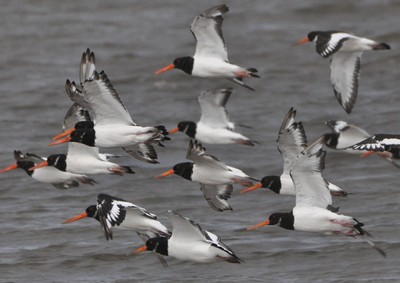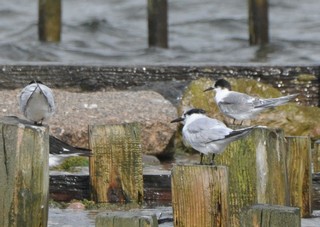 Off to the Warren today, the weather was going to be changeable with sun and showers. I thought I had arrived late for high tide but the timing was perfect, it was just on the turn and because it had been a high one, (4m) there was still plenty of water in the bite and in front of the hide. The work on the flood defences has finished so access to the hide is good, the new sand bank seems to be a favourite with the birds, especially the small waders who were there in good numbers.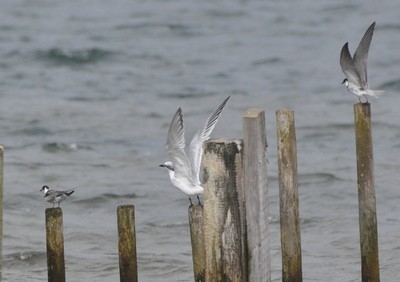 Off to the hide were the island was covered in birds, mainly Oystercatchers but a few Sandwich Terns and one small Tern which I confirmed with the experts upstairs as a Artic, I think it was a 1st Summer but open to be told otherwise.
Then all the birds went up, it turned out to be a Osprey which was circling over head, always a great site and could watch them for ages, sadly it didn't dive for fish and just drifted off over the beach. Eventually the birds came back including some Black Terns, brilliant! A new bird for me as I always seem to miss them.
Also saw Dunlin, Ringed Plover, Sanderling and a Little Stint in the Bite, Cormorants, Herring Great-black Backed and Black-headed Gulls, Swallows, Linnet, Rock Pipit and Carrion Crow.
Around the rest of the reserve there was Swallow, House Martin, Blackbird, Robin, Blue, Great and Long-tailed Tits, House Sparrow, Dunnock, Wheatear, Stonechat, Magpie and Woodpigeon. A few Butterflies around with Speckled Wood, Meadow Brown and White sps fluttering around. Also a few smart Migrant Hawkers.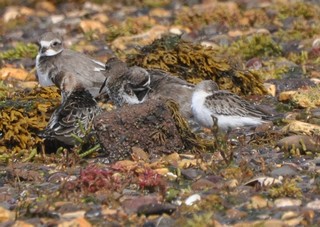 Off to Exminster Marshes to see if there was any Yellow Wagtails about but sadly no, in fact very little on show except some Swallows, Great and Blue Tits, Robin, Carrion Crows and a few Wood Pigeons.
Decided to see what the countryside had to offer, plenty of fields have been ploughed up or just stubble. Went on a circular route around Chivestone Farm and Kenton. Plenty of Pheasants, Red-legged Partridge, Grey Wagtails, Buzzard, Blackbird, Robin, Dunnock, Woodpigeon, Carrion Crow and Jackdaw. Also saw several large flocks of small finches on the stubble, they looked like Chaffinch from distance in my bins but good numbers. Its good to sit in the car by a gate or lay-bye and watch the fields, its surprising what will appear at times. Saw plenty of Rabbits and Squirrels running around but also sadly Badger as road kill.
Had a great day and met lots of birders today, Kev, Ivan, Steve the Warden at the Warren amongst many others.
---
02 September 2017
Ibis and Cake!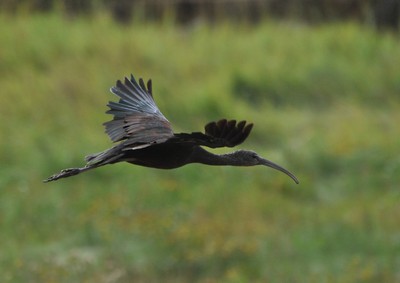 As today is supposed to be sunny and tomorrow should be raining I decided I better make use of it! A trip to North Devon to see the Glossy Ibis at Fremington Pill was the plan, up to 7 had been seen so off I went.
First stop though was Holden Grill for Breakfast, it was packed but as I was hungry in I went, full of Bikers ("Blue Angels" I think) and a load of youngsters that had come from the Powderham and the festival (Lockdown I think?) Great atmosphere as well as great food. Anyway back to the birds, off to North Devon and the roads not to busy, suppose the holiday season has almost finished, as I parked up at the car park a Peregrine swooped down over the mud flats of the River Taw and missed its pray, good start! the tide was coming in and forcing more waders to come closer with Oystercatcher, Redshank, Dunlin, Curlew, Cormorant, Grey Heron, Little Egret, Canada Geese, Great-black Backed, Herring and Black-headed Gulls all seen from the quayside.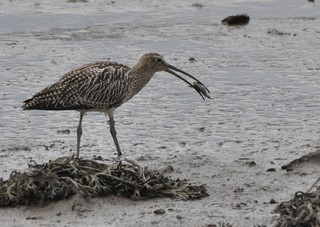 Along the Creek there was lots of waders with good numbers of Redshank, with smaller numbers of Greenshank, Dunlin, Common Sandpiper, Ruff, Little Egret and Glossy Ibis, only one on show today and great views but sadly the sun behind. Because of its position if I come again early morning would be best with the sun more behind me.
Plenty of Black-headed Gulls on the mud flats as well as Woodpigeon, Carrion Crows, Swallows, Goldfinch and Feral Pigeons.
Met lots of nice people today, plenty of birders at Fremington and good to have a chat to Brian Simms, also to a couple of Fishermen who clearly loved their "spot". Also must sing the praises of the Café, their Lemon Drizzle cake is to die for!!
---
© Simon Thurgood 2022
Images on this website may not be put as any part of any collection without any prior written permission.