Blog
26 September 2015
Exminster Marshes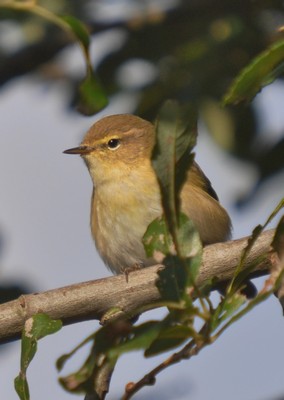 On a beautiful day a walk around the marshes was the order of the day. On arrival at the car park you could see Swallows and a couple of House Martins were hawking for flies above the car park and "Tobys". When I started to walk down the road I was struck by the numbers of Corvides in the trees and in the grass. Occasionaly flying up and making a right racket, a few Carrion Crows, but mostly Rooks and Jackdaws.
Around the rest of the reserve there was Blackbird, Wren, robin, Chiffchaff, Blue, Great and Long Tailed Tits, Woodpigeon, Kestrel, Chaffinch, Greenfinch and Goldfinch.
At Turf there was plenty of Black-headed Gulls, Herring Gulls, Cormorants, Grey Heron, Black-tailed Godwits, Curlew and Mute Swans with cygnets.
A few Butterflies with Peacock, Red Admiral and Large White on show with a couple of Common Darter and lots of Migrant Hawkers, several of them "coupling".
Plenty of people about and all behaving themselves but I seem to be the only one out with a pair of bins!
---
20 September 2015
Challacombe, Dartmoor.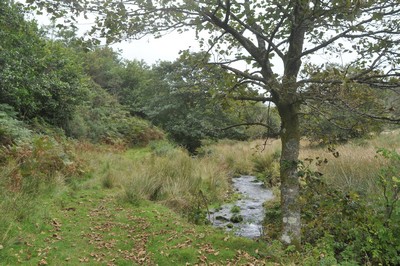 Went up on Dartmoor today and took the time to have a walk around the farm and a few adjoining fields.
You can tell the difference to yesterday down on the coast, a few birds, but No Butterflies, Dragons or other big insects such as Wasps or Bees.
All the birds were in the bushes looking for the remaining flies and midges with the exception of a Stonechat and a very smart Whinchat.
In the bushes there was Blue Tits, Great Tits, Chaffinch, Robin, Wren, Blackbird and a Dunnock.
Carrion Crows and a Raven flew over with Woodpigeon in the large trees, the call of a Green Woodpecker was a surprise and a few remaining Swallows hawking around the buildings.
With a chill in the air winter is on its way!!!
---
19 September 2015
Powderham, Exminster Marshes and Back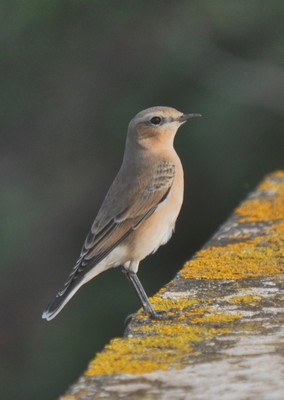 On this beautiful day I took a circular walk starting and finishing at Powderham Church which took me up the River Exe and around the marshes at Exminster.
There was plenty of birds at Powderham with a small Tit flock in the bushes, Blue and Great Tits but also Chaffinch, Blackbird and Robin. In the stubble there were large numbers of Rooks, Carrion Crows and the odd Pheasant looking for food. Also in the Vergers Cottage House Martins were still busy feeding chicks.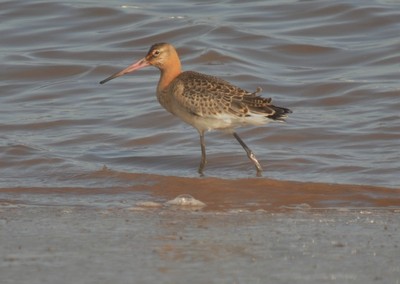 On the mudflats as you cross over by the bridge there was 50+ Black-headed Gulls and a small group of Ringed Plover close to the wall, on the wall itself on the way to Turf there was several Pied Wagtail and a couple of Wheatear. In the fields there was a few Rooks looking for food in the pasture with 5 Little Egrets and a Grey Heron in the ditch. A couple of fly over Greenfinches and a Mistle Thrush in the trees half way up the path.
At Turf there was a very noisy flock of about 100 Starlings were on the wires and a few Swallows hawking for flies.
On the mud flats at Turf there was Herring, Black-headed and Great-black Backed Gulls, Cormorant, Curlew, Godwits, Little Egret and Mute Swans with Cygnets.
Around the reserve it was quite busy with people, not only on the cycle track but on the paths picking Blackberries and walking their dogs. Contractors were busy on the fields cutting the grass and getting it ready for the winter, still though plenty to see, a few Tit Flocks about the reserve going through the bushes with a big flock of Blue, Great and Long Tailed Tits along the back path, Blackbirds, Goldfinch, Chaffinch, Robin, Blackbird, Chiffchaff, Dunnock, Reed Bunting, Stonechat, Curlew, Grey Heron, Little Egret, Mute Swan, Canada Geese, Mallard, Teal, Swallows, Carrion Crows, Rooks, Jackdaw, Magpie, Buzzard, Sparrowhawk, Kestrel and the electric blue flash of a Kingfisher were all seen.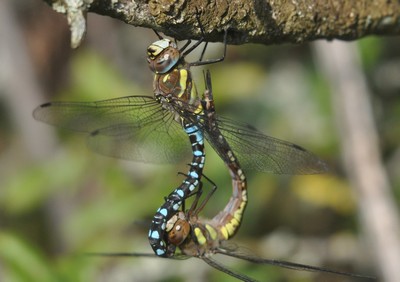 In the sun there was plenty of insects about, but not that many Butterflies, a couple of Whites and Spotted Wood. Lots of Dragons though with Emperor, Common Darter and lots of Migrant Hawkers, I saw a couple "Coupling" stunning insects!
As I have said before plenty of humans about and all having a good time, there was a family at the "pond dipping" area and from the cries of delight from the kids they were having a great time!!
---
06 September 2015
Topsham and Exminster Marshes

After a late start again I went over to Topsham for a walk around starting at Darts Farm.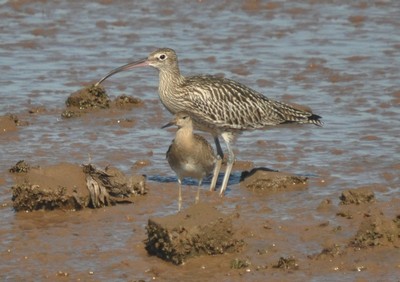 At Darts Farm itself there was very few birds about apart from a small flock of House Sparrows feeding on the feeders on the balcony of the RSPB shop also a fly over of a Magpie and Woodpigeon and that was that!
Along the cycle path there was a bit more life with Dunnock, Blue and Great Tit, Blackbird, Jackdaw, Magpies, Robin and Woodpigeon. The River Clyst was empty of birds because of a family enjoying the water with canoes and swimming and in this glorious weather why not??
Goosemoor was a different story with 20+ Greenshank, Redshank, Dunlin, Ruff, Curlew, Black-tailed Godwit, Shelduck, Little Egret, Grey Heron and Black-headed Gulls. Fly overs from Woodpigeon, Buzzard, Magpie and Carrion Crow with Wren, Robin, Blue Tits and Woodpigeon in the bushes.
Around the reserve and along the road there was Blue, Great and Coal Tit, Greenfinch, Goldfinch, Chaffinch, Grey Heron, Little Egret, Carrion Crow, Bar and Black-tailed Godwits, Spotted Redshank, Redshank, Avocet, Knot, Cormorant, Wigeon, Teal, Mallard, Pintail, Canada Geese and Swallows hawking over the field. A Buzzard and quite a few gulls flying high above the reserve.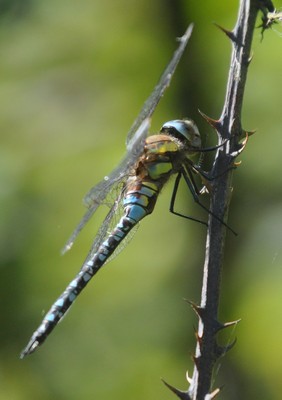 At the Platform the water was still quite high and a bit of disturbance with canoeists and people on boards so not many birds, but with the help of David B and his scope could see a Little and Sandwich Tern on buoys down river. Also Oystercatcher, Godwits and Knot around.
Apart from Black-headed Gulls nothing at the Goatwalk, in Topsham there was also very little apart from a lone House Martin taking food to its chicks that was it!
A few Butterflies about, especially on the Buddleia on the cycle path, Large and Small White, Painted Lady, Small Tortishell, Speckled wood and Holy Blue.
Good to see some Dragonflies and saw several Hawker Sp and a Emperor, Common Darter and best of all a Stunning Male Migrant Hawker behind the platform.
After getting back to the car I went off to Exminster Marshes again to look for some Yellow Wagtails after some had been seen around the cattle but sadly no sign, plenty of Pied Wagtails but no Yellows!! Also saw Sparrowhawk, Grey Heron, Kestrel, Carrion Crow, Woodpigeon, Magpie, Stonechat, Swallows and Goldfinches feeding on the Thistle heads.
Thank you to David B for use of scope and to the rest of the birders I've met today as well as most of the human race I've bumped into today its been a blast!! I did meet one idiot on the Goatwalk who was on his bicycle, obviously couldn't read the signs that say NO Bikes!!!
---
© Simon Thurgood 2022
Images on this website may not be put as any part of any collection without any prior written permission.