Blog
14 August 2018
Isle of Scilly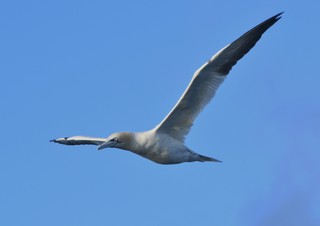 Just returned from a six day trip to the Scilly Isles, went over on Wednesday 8th on the "Sick bucket" otherwise known as the Scillonian 111. The boat would be leaving Penzance at 9.15 am and arrive in St Marys at mid-day so thought I would leave Dawlish at 5am to give me time to get there, park up and have some breakfast before getting on board. This didn't go to plan as I couldn't find the secure park up of "IOW Parking" their directions found me in Sainsbury's carpark on the wrong side of the hedge! I could see their pink flags but took me a while to work out how to get there eventually parked up and took the shuttle to the ferry. After it got on its way I went down to the café, mistake! A child was starting to be sick and the smell was starting to start a reaction with others, I can understand why it's called the "Sick bucket" hahahaha
Back upstairs in the fresh air and looking around I was expecting to see more but just a few Gannet, Gulls, a couple of Manx Shearwaters and some Dolphins quickly came and went. Arrived at St Marys on time at 12, Disembarked and went to the "Atlantic" where I was staying for the next five nights bed and breakfast, it was a bit expensive but I enjoyed my stay, the people was lovely! Certainly would stay again. Did a bit of a walk around the Island both in land as well as the coastal paths, plenty to see but very impressed with the numbers of Butterflies about, some worn but the numbers of species was good with Speckled Wood, Small Copper, Common Blue, Holly Blue, Red Admiral, Peacock, Small White and Meadow Brown.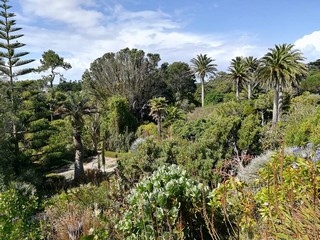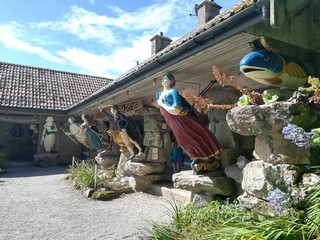 Thursday and a quick boat trip to Tresco to look around the Abbey Gardens, Abbey and Great Pools and other parts of this beautiful island.
The Gardens are a fantastic place and you could easily lose yourself here and spend hours with the plants. Plenty of art work and sculptures such as the "The Tresco Children" Also what was a pleasant surprise were Red Squirrels which were running around as well as Golden Pheasants that had been brought into the garden.
Those who like a bit of maritime history a visit to the Valhalla Museum which was a collection of Figure heads from wrecks is worth the time. There are also a couple of Castle's on the Island for you history buffs.
The beaches are beautiful especially "Old Grimsby Qua"y why go abroad? There was supposed to be a Bairds Sandpiper here on the Island, but typically for me I missed it!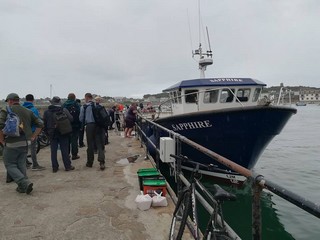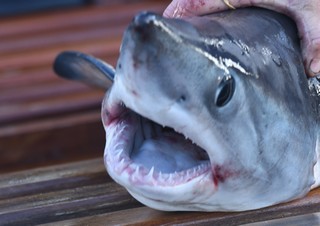 Back to St Marys to go on the first of the Pelagics, this was on the "Sapphire" skippered by Joe Pender. We went out 4 miles and drifted another 4 while we were "chumming", the sea was quite lumpy but nothing too bad.
It was a mixture of Bird Watching and Shark Fishing, the Sharks are caught and tagged then returned to the sea, this time they not only caught a couple of Blue Sharks but a Porbeagle, quite a set of teeth! We also saw a Sunfish and a few Common Dolphins. Plenty of Gulls at the back of the boat with Lesser-black Backed Gulls, Herring Gulls, Yellow-legged Gull, Fulmar and Gannets. We also were lucky enough to see Wilsons and European Storm Petrels. But the real prize for me was the Shearwaters, sitting on a back of a boat with these beautiful birds flying around the boat is a fantastic experience that I can't get enough of. Plenty of Manx Shearwaters with Sooty and a first for me Great Shearwaters, stunning birds!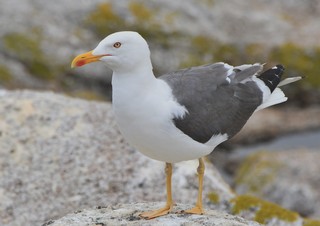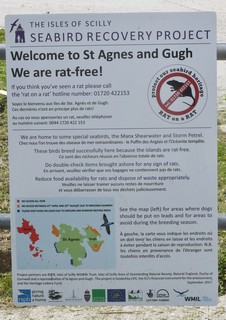 Friday took a boat to St Agnes and spent a lot of time on the part of the island called Gugh where they have the Lesser-black Backed Gull nesting Colony.
Also caught up with the RSPB warden who was there and talked about the Rat problem which seems to be no more with all the work gone in to eradicate them to protect the ground nesting birds also on the island such as Manx and Storm Petrels, did notice not many Waders around the Islands, just saw a solitary Oystercatcher, perhaps there is just not the mud you would find around place like the mouth of the River Exe?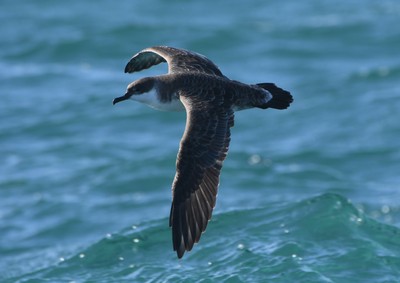 Back to St Marys to go out on the first of the Scilly Pelagic Birder specials run by Bob Flood, still on the "Sapphire" skippered by Joe. The trip like last night was 5-10pm and the weather and sea state was a bit calmer, we came across several "feeding Frenzy's" with Gannets,200+ Dolphins and Shearwaters involved, really something to see up close and personal around the boat, unless you have seen it its difficult to describe it, the speed of it!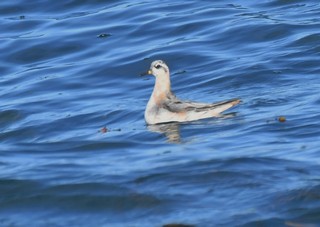 3 Cory's, 200+Great, 75+Sooty and countless Manx Shearwaters seen as well as 2 Wilsons and many European Storm Petrels, Bonxy, Fulmars, Kittiwake and all the normal gulls, we also saw 3 Grey Phalarope's on the water. After ending 10 miles out it was time to go back in and it was dark when we did, such a great trip!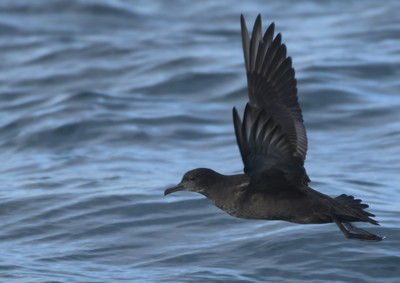 Saturday was the first of an all-day starting at 11am which was to prove a difficult day weather wise with wind and rain, the boat was rolling and we ended out about 10-13 miles off Scilly, we chummed for about an hour at "Bristow's" and ended up NW of and Stones, we did a southerly anti clockwise trip around the Island. But with the difficult weather came the birds with 5 Species of Shearwater with 200+ Great, 1 Cory, 1 Balearic, 35 Sooty and 100s Manx. As well as all the Gulls there were Gannets, Bonxy, 3 Wilson and 50+ European Petrels.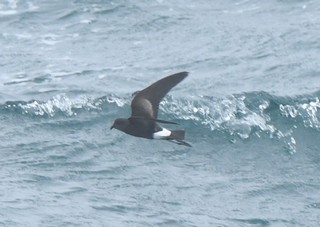 Found conditions very frustrating for taking pictures as we were being bounced about a bit, cant complain as we saw some great birds, I just didn't have my sea legs, A Cory's came close to the boat, but I just couldn't get a picture, I got lots of backs of heads and parts of the boat but no bird, I do need a pic for my gallery but its just another excuse to come again!
A big well done to Jim who was at the back of the boat putting the Chum out in difficult conditions. I think he got thrown around more than me.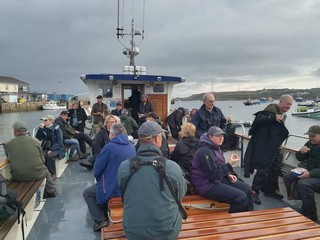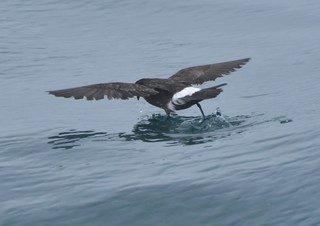 Sunday was an early start at 8am and the conditions were a lot calmer but so was the numbers of birds, still all the Gulls you would expect, Common Dolphins and 4 Species of Shearwaters today with 60+Great, 35+Sooty, 4 Balearic and good numbers of Manx. More Grey Phalarope, Bonxy, Gannets, Fulmar with Wilsons and 10+ European Storm Petrels at the back of the boat. Finished at 3pm today so people can get home on the Scillonian.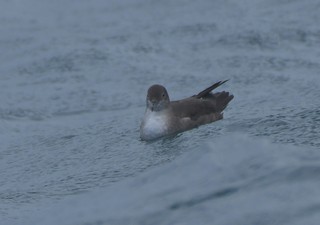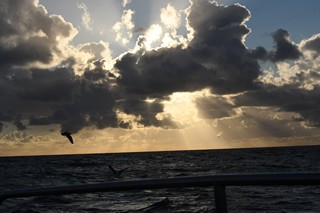 Monday has just been a chill out day, packed my bags and became a tourist for the day, eating Ice Cream and sitting on the beach waiting for the time to get home on the boat, had a nice journey back but very little to see out to sea.
Had such a great trip, big thank you to Joe, Bob and Jim who made the trips a pleasure to be on. Met lots of great people both on the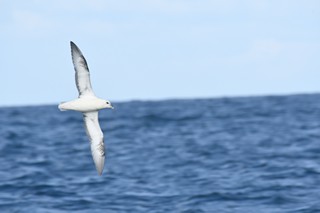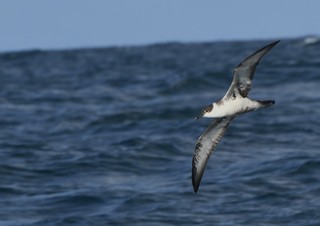 boat and the Islands while I was walking around, better start saving up for the next trip!

---
03 August 2018
Sandpipers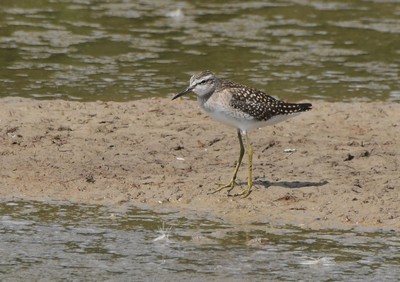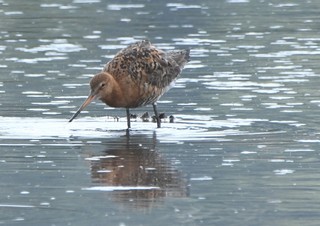 I went to Seaton Wetlands in East Devon, reports of Wood Sandpiper here and its always a great place to take pictures of waders as you can get them in still water giving good reflections.
Had a good look around the reserve which has 5 hides as well as the River Axe, saw a wide range of birds and there was a very large number of Gulls with Black-headed, Herring and Great-black Backed Gulls of all ages. There was a report of a Yellow Legged Gull but I couldn't find it.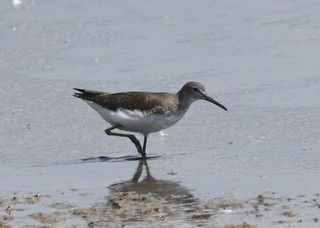 A few Cormorants, Little Egrets, Grey Heron, Coots, Moorhens, Mallards, Shelducks of all ages, Oystercatchers, Redshanks, Black-tailed Godwits, Curlews, Carrion Crows, Buzzard, Wood Pigeons, Blackbird, Greenfinch, Blue and Great Tit, Mute Swans, Swallows and best of all Sandpipers!
The Juvenile Wood Sandpiper was showing well from the Island Hide as well as the screen by the entrance, trouble with here is you are looking into the sun so picture taken from the Island Hide. Also counted 4 Green Sandpipers although could be more as they were flying around quite a bit and some could have been hidden on the other sides of the islands, like wise with the Common Sandpipers, saw 8 but could have been more.
Met some nice people today, a few families out with kids enjoying nature at its best!
---
01 August 2018
Birding around Topsham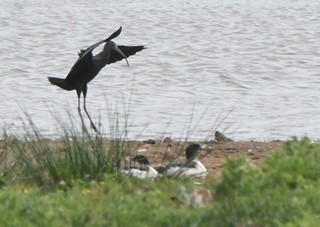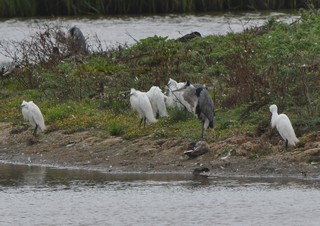 On this grey overcast day I went to Topsham today for a walk around un aware that Spotted Redshank and Curlew Sandpiper had been seen this morning, unfortunately for me a peregrine had come through the reserve and sent everything up so I missed these two although I did think I got a sneak view of the Redshank from the platform but then lost it in the distance.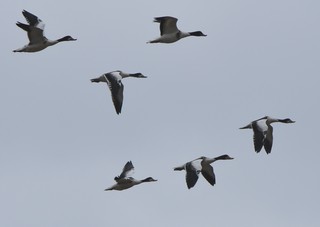 While I was in the hide the Glossy Ibis dropped in for a brief visit. Also seen were Little Egret, Grey Heron, Mute Swan, Canada Geese, Shelduck, Coot, Moorhen, Mallard, Redshank, Greenshank, Turnstone, Curlew, Godwits, Dunlin, Carrion Crow, Jackdaw, Blackbird, Robin, Wren, Chiffchaff, Goldfinch, Woodpigeon, Herring Gull and Black-headed Gull.
Good to see everybody especially Steph, Joe and the two Dave's.
---
© Simon Thurgood 2018
Images on this website may not be put as any part of any collection without any prior written permission.