Blog
29 August 2015
Jersey 24 Aug-29Aug 2015

I went over to Jersey in the Chanel Islands for a week for a break and do some walking around the Island. Sadly the weather was atrocious the first couple of days and I spent most of the time in the hire car!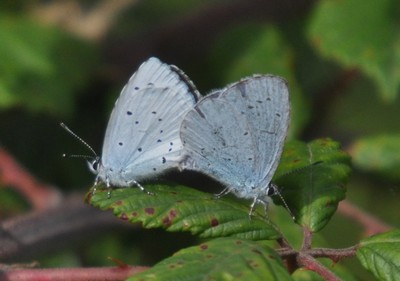 Jersey is not like the other Islands I have visited and was quite busy and the roads had plenty of vehicles on them.
I managed to catch up with some local birders who were a great help.
High tide the best place was along the East Coast, especially around La Rocque Point, here I saw Grey Plover still in summer plumage with Turnstone, Curlew, Godwits, Oystercatchers, Cormorants, Grey Heron, Little Egrets, Sandwich Terns, Herring, Great-black Backed and Black-headed Gulls.
St Catherine's Wood which is the biggest wood on the island was also on the East side of the Island were there was all the birds you would see in a wood on the mainland but also several Firecrest was seen in the canopy as well as Red Squirrels!! Shame nether got close enough to get a good picture but joy to watch in my bins!
On the East side there was a few Bird Hides with a modern one at the Wetland Centre St Queens Pond, plenty of Marsh Harriers here, I was told there is 50+ on the island, I saw 8 in one day, the most I've ever seen.
Another gem is the Sandpits, you walk through a door in a sand dune and the other side is a working sand quarry, in the middle is a huge pond/lake with large numbers of Coot and Ducks, on the opposite side is a Sand Martin Colony.
While I was there I visited Noirmont Point, which according to the locals is a favoured point for migrating birds as its the most southern point in the Island, while I was there I saw Wheatear, Whinchat and Tree Pipit. I also went up to the North West point around Grosnez Point which is a headland covered in Heather and was full of Butterflies especially, common Blues, Meadow Browns, Red Admirals and Wall Browns.
Saw lots of Holly Blues, Dragonflies and other insects around this great place, with meeting so many nice humans I think this is a place I will return to!

---
23 August 2015
Dawlish Warren

The weather conditions looked good to get some birds at the Warren today so the plan was to get there early, but as normal "Life" gets in the way and didn't get out there until 11.30am. I had seen on the "chat" that there had been double figures of Black Terns which is one of my target birds to get a picture. But typically by the time I got to the hide they had gone, reflecting on this I don't think I would have got a picture anyway as the tide was a small one, so the birds wouldn't have been that close. So for a small bird like a Black Tern it would have been pointless!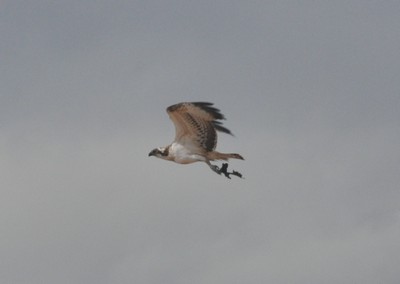 On arrival at the Warren you could see from the path that there was plenty of birds about as the air was full of them.
A flock of about 50 Godwits were flying away from the estuary with Gulls and noisy Terns in the air as well.
On the path down to the bight you could see there was large numbers of small waders with Ringed Plover, Sanderling, Dunlin, Turnstone and at least 1 Curlew Sandpiper.
On arrival at the hide the tide was in as far as it was coming but at a 3m it wasn't even up to the little island. All the birds were distant for the camera but close enough for the bins. Cormorant, Whimbrel, Oystercatcher, Little Egret, Great-black Backed, Herring and Black-headed Gulls, Carrion Crow, Pied Wagtail, Linnets and Sandwich, Little, Common and Artic Terns. I wouldn't have picked out the Artic but it was stood next to a Common and you could spot the difference. Some Mute Swans further out in the estuary.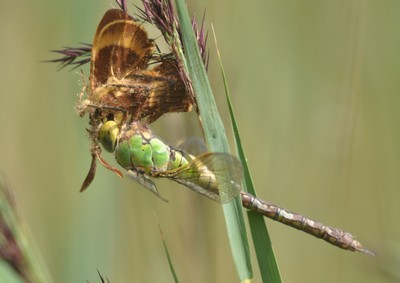 Walking around the top of the Warren found more Dunlin and Sandwich Terns noisily flying out to sea. Just off Exmouth you could see large numbers of Terns feeding as well as Gulls and a couple of Gannets further out.
On the Beach and in the dunes there was more Ringed Plover and Dunlin, 2 Wheatear and more Pied Wagtail.
At this point there was a commotion over the Bight and Estuary which was caused by a Osprey which eventually went up river.
Back through the Reserve I found 20+ Canada Geese in the golf course and Linnet Great and Blue Tit, Blackbirds in good numbers, Stonechat, Robin, Wren, Woodpigeons, Carrion Crows, House Sparrows, Starling and Magpies around the woods.
Sand Lizard on the point and a few Butterflies about, some looked very worn but not surprising considering the weather. Meadow Brown, Gatekeeper, Common Blue, Small Copper, Brown Argus, Large White, Speckled White and Green Veined White.
A few Dragonflies with Common Darter, Southern Hawker and 2 other Hawker sp. Best of all was a female Blue Emperor which had caught a large moth, it looked like a "Oak Eggar". It caught it by a tree but because of the bulk found it difficult to fly so came down to grass level, cut off its wings and flew off to the woods with the body, fascinating to watch!!
Also some Autumn Ladys-tresses were in Greenland Lake.
Lots of members of the human race about and nice to meet you all!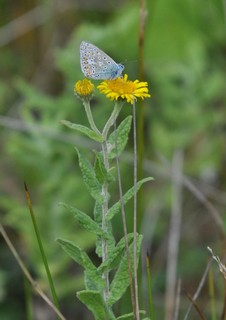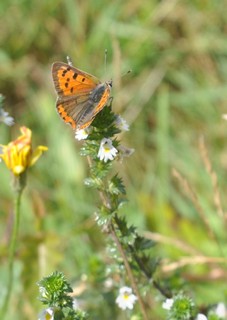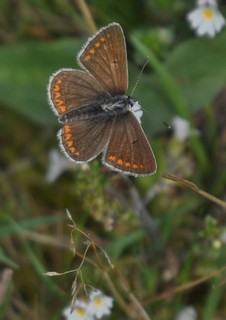 ---
22 August 2015
Lyme Bay Trip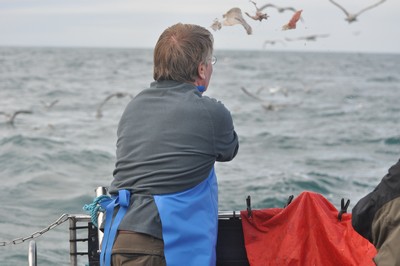 Went out on one of Nigel's Pelagic trips out into Lyme Bay from Brixham at 5pm for a 3 hour trip.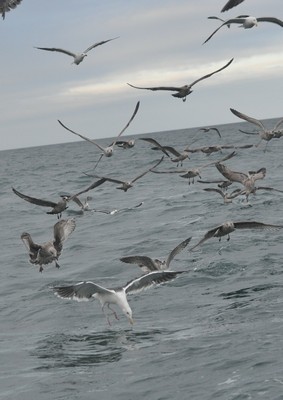 During the day the weather looked crap, but the sun shines on the righteous because the sun came out on cue!!
The skipper took us out and because it looked quiet he took us out 5 miles to try and find some birds.
We did see Shearwaters, both Manx and Balearic in small numbers which was good, Gannets, Fulmars, Great-black Backed, Herring, Black-headed and Kittiwakes, Comic Terns Guillemots and a couple of Great Skua's flew past the boat.
On the way back we threw out some chum which just brought in some Gulls and Gannets.
While going past Berry Head on the way back we saw some Harbour Porpoise.
A good trip out with some nice people;o)
---
17 August 2015
Topsham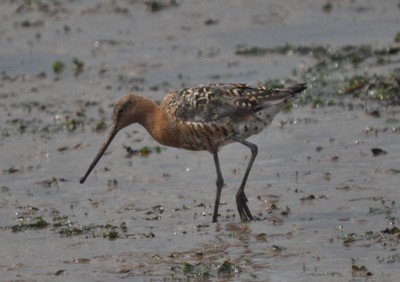 After a few hours running around doing nothing I managed to get out and park the car up at Darts Farm for a walk around Topsham, obviously calling in at Bowling Green.
Darts farm was very poor bird wise with just a few House Sparrows and a Pied Wagtail!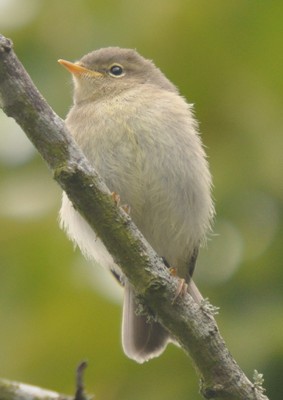 Along the cycle path there was a few more birds with Goldfinch, Blackcap, Robin, Wren, Blackbird, Woodpigeon, Chiffchaff, Carrion Crow, Jackdaw and Magpie.
In the creek there was Little Egret, several Redshank and Black-headed Gulls.
At Goosemoor there was Little Egret, Woodpigeon, Greenshank, Redshank, moorhen, Black-headed Gulls and a blackbird.
Along the road there was a few birds and several family groups, one large flock of Goldfinches flying around landing in hedges and putting down in the field opposite to the hide. A family group of Chiffchaff by the hide and Chaffinch, Greenfinch, Blue and Great Tit, Woodpigeon and House Sparrow all seen.
Not many birds seen from the hide as most had left for the estuary, large numbers of Canada Geese with Mallard, Teal, Lapwing, little Egret, Black-headed, Herring and Lesser-black Backed Gulls, with Carrion Crows and Starling in the pastures looking for food.
From the Platform with the help of David B scope I saw Ruff, Ringed Plover, Knot, Redshank, Greenshank, Curlew, Cormorant, Little Egret, Black-headed and Herring Gulls.
From the Goatwalk there was Black-tailed Godwits, Little Egrets, Black-headed and Herring Gulls on the mud flats.
Not that many birds around Topsham with the House Martins still feeding young around the houses but it was nice to sit on the benches and watch the Godwits, one still showing some summer plumage came quite close, stunning bird.
Not that many people about, as always good to bump into David B.
---
12 August 2015
Solway Firth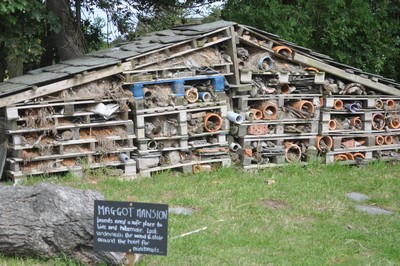 It's very easy to forget that Cumbria is not all lakes! I went to the north of the county and followed the coast from Miricambe Bay around into the Solway Firth.
The tide was out and on the turn, the road almost follows the shore so good views of the shoreline. I also visited two reserves, 1 RSPB and 1 Cumbria Wildlife Trust.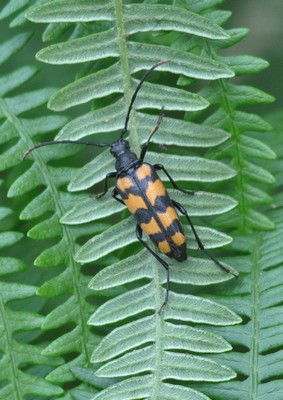 Birds on the shoreline were Curlew, Redshanks, Oystercatcher, Green Sandpipers, Mallards, Shelduck, Red Breasted Mergansers, Lapwings, Black-headed, Great-black Gulls. Buzzard, Wren,Robin,Woodpigeon, Swallows, Carrion Crows, Pied Wagtails and Starlings on the shoreline.
At the RSPB Wetlands Centre I had a walk around and looks great, I think the time to visit would be when the tide was in so the birds have been pushed off the estuary.
Did see a few birds around the feeders with Blue Tits, Goldfinches and a Great spotted Woodpecker with a Kestrel sat on the wire.
The visit to the Bowness-on-Solway Nature Reserve was just amazing! So many wild flowers which intern brought in stacks of insects, plenty of Southern Hawker Dragons also a new one to me, a Moorland Hawker! Bees, Hoverflies, Bettles and Butterflies.
The bushes in this little gem saw Sedge Warbler, Blue,Great and Long-tailed Tits, Wren, Blackbird, Woodpigeon and a Buzzard.
Met some great people today who have been so helpful, should have taken your name.
---
11 August 2015
Lake District

Tuesday-11th- Decided to do some sight seeing and had a drive around the lakes. Went past Buttermere through the Honister pass through the Borrowdale and onto Derwent Water. Along the A66 and then along the A5091 to Ullswater, through Pooley bridge and onto Haweswater. On the way back to Whitehaven I went past Bassenthwaite Lake.
Lots of cars about and the roads were packed,must admit didn't really enjoy the trip,too busy watching the road to enjoy the scenery!
Although it was supposed to be a day off birdwatching I couldn't help myself, saw a few birds mostly by buildings. Out in the wilds very few seen at all.
Swallow, House Martin, Blackbird, Carrion Crow, Rooks, Magpies, Gulls, Canada Geese, House Sparrow, Pied Wagtails, Woodpigeon, Chaffinch, Goldfinches and some Barnical Geese at Derwent Water.
Think I should have found a hill away from all the hassle!!

Monday 10th- The weather didn't read the script for this morning, the rain was supposed to move on according to the weather girl.
I wanted to walk around St Bees which is a sea bird colony but didn't bother getting out of the car as due to the cloud and rain you couldn't see it!
So I went south to see the Reserves around the Duddon Estuary.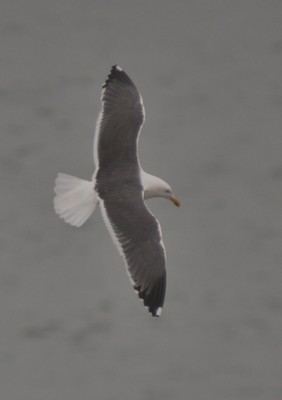 First stop was Hodbarrow Pier, its not really a pier but an old industrial area next to the estuary giving great views, my timing was good for a change as the tide was on the way out. Lots of Waders with Oystercatchers, Ringed Plover, Dunlin, Curlew, Redshanks, Greenshanks, Godwits sp. A few Mallards, Eider and Red Breasted Merganser were on the water.
Herring, Black-headed and Great-black Backed Gulls. Also saw a few Swallow hawking along the bank.
Then off to the RSPB Reserve at Hodbarrow Point, unfortunately a lot of the bushes were blown out with the wind so not many small birds about but plenty of birds on the water.
Three species of Terns, nesting Sandwich, Little and Common in front of the Hide giving great views.
A few Gulls with Black-headed, Herring, Lesser and Great-black Backed Gulls about. Large numbers of Coot joined by Great-creasted Grebes, Mallards and Tuffted Ducks.Also Lapwing, Ringed Plover and Oystercatcher with a Grey Heron in view.
Other birds seen were Woodpigeon, Magpies, Blackbird, Starling and Pied Wagtails.
Lots of Wild Flowers about and if there was some sun I am sure there would have been more insects, plenty of Gatekeeper and a few Common Darter but that was it.
I went then to the otherside of the Estuary to the Isle of Walney which was very frustrating as found it difficult to find places due to lack of signs.
Saw plenty of birds but the horizon was dominated by the large wind farm, 100+out to sea.
The island is a long thin piece of land and the east is quite built up, the west facing the sea is dunes and wide beaches.
Birds seen were Canada Geese, Ringed Plover, Oystercatcher, Terns, Gulls, Collard Doves, Pied Wagtails, Woodpigeon, Dunnock, Robin, Swallow, Kestrel and a flock of Goldfinches feeding on the Thistle heads.
Seen and met some great humans on my travels,let's hope that continues!
---
09 August 2015
Lake District
After a fairly good drive arrived in the Lake District, I am here for 4 nights and weather permitting hope to visit a few places.
As normal when away I can put up any pictures until I get home
---
08 August 2015
Lazy Day on Exminster Marshes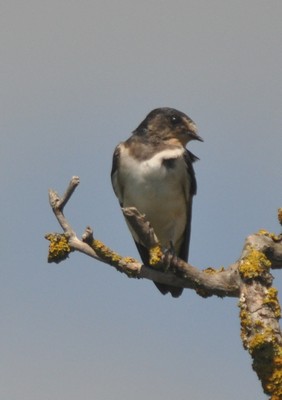 The weather was just perfect for a gentle stroll up the River Exe and a very leisurely look around the Reserve, didn't expect many birds but hoped to find some interesting Insects in the sun!
Parking up at Powderham was difficult because of all the cars, looked like the world and its wife were out today! Having a smallish car I managed to squeeze it in!
The house opposite the church still had House Martins and they were busy hawking high in the sky for food for their hungry chicks, also Swallows, Wood Pigeon, Pied Wagtail and a female Blackcap sat on a gravestone was a interesting sight.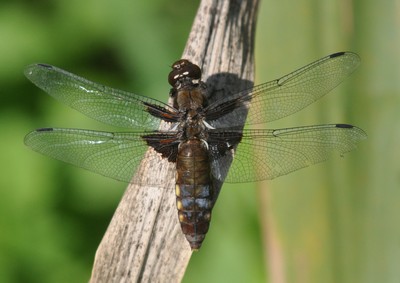 The River was full of water as it was high tide and very few birds except Herring, Black-headed and Great-black Backed Gulls, Mute Swans, Mallard, a lone Dunlin on the shoreline and a very sad sight of a dead Cormorant in the water, looked like a sub adult and no obvious signs for the reason of its demise. On the way back when the mud was showing there was Curlew, Little Egret, Oystercatcher, Pied Wagtail as well as Carrion Crow, Rook and Jackdaws looking for food on the mud flats.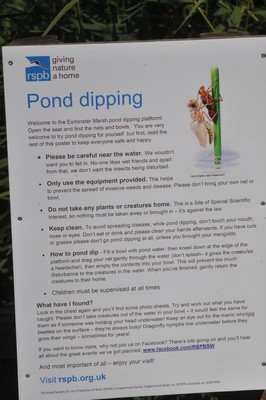 The bushes were busy around Turf with plenty of Swallows and House Martins hawking around the tops of bushes and the canal, plenty of hungry Juveniles chasing the parents around, also a flock of about 50 Starlings making a noisy chatter sat in the bushes.
In the field there was both Carrion Crow and Rooks working their way through the pasture , both Goldfinches and Blue Tits were in the Thistle heads by side of track with several Woodpigeon flying around.
Around the rest of the reserve I saw Blackbird, Robin, Wren, Goldfinches, both Sedge and Reed Warblers, Woodpigeon, Swallows, House Martins and a Mute Swan with 4 Cygnets.
As I had hoped plenty of insects about enjoying the sun with 11 species of Butterfly as well as Burnet Moths there was Common Blue, Small and Large Whites, Comma, Meadow Brown, Gatekeeper, Red Admiral, Peacock, Spotted Wood, Painted Lady and a Clouded Yellow! It was in the field which was a no go area otherwise I would have got a pic, but it was unmistakable!
At last there was some Dragonflies about, positive IDs with Common Darter, Southern Hawker, Broad Bodied Chaser, Emperor, also a couple of other Hawker sp seen flying around.
They have put some nets and trays into the benches by the Pond Dipping and must admit luved having a go, this is great fun! Must go back and have a proper go!!!
Plenty of people about as you would expect on such a wonderful day, people out on the water Skiing, Cyclists, Runners and people like me walking, all smiling enjoying themselves which is the way its supposed to be, hope they slowed down enough to enjoy what is around them??

---
06 August 2015
Butterflies and stuff in Somerset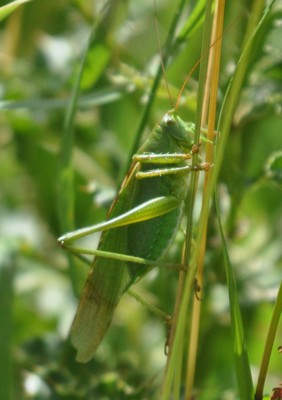 After seeing some great photos by a friend James Packer on line of some "Small Blue" Butterflies at a reserve I've never heard of called "Stoke Camp" in Somerset, I thought I better investigate! I have never been able to get any descent pictures of this Butterfly so was quite hopeful.
After doing some homework on Google I had a rough idea where to go, so off I went! Trouble was it said go right at the Red Lion pub? But there was no Red Lion Pub on this road! Even a local looked bemused when I asked, but was eventually sent up a road to where a Reserve was which was a start. It wasn't the one I was looking for, but did mention it on a noticeboard and from there walking some distance through other reserves, I finally came to the field. There was no signs or notice boards so it was more luck than judgment that I found it.
And just inside the field there was a Small Blue!!!!! There was Butterflies all over the place with Common and Chalkhill Blues. Small and Large Skippers, Brown Argus, Meadow Brown, Gatekeeper, Large and Small White. also saw on the way back Painted Lady and Silver Washed Fritillary.
Plenty of other insects such as Hoverflies, Bees, Wasps, Grasshoppers, Crickets and Great Green Bush Crickets.
Plenty of fantastic Wild Flowers just making the area a real gem and a pleasure to visit.
It looks like there are 4 small Reserves all together and must organise a day to visit the lot!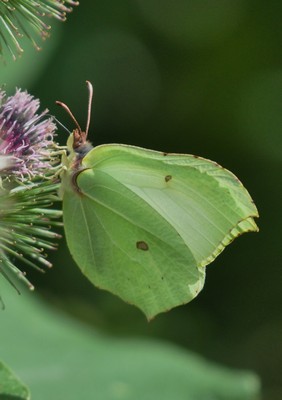 While in Somerset I don't need an excuse to visit Shapwick, although I knew from reading the SOS website the scrape had been drained a few birds had arrived I didn't expect to see much, at Mere Scrape there was 100+ Black-tailed Godwits, some still in there summer plumage, Good numbers of Lapwing, Little Egret, Mallard, Coot, Grey Heron, Cormorant, Mute Swan, Great Crested Grebe, Black-headed Gulls, 4 Green Sandpipers and singles of Common Sandpiper and Dunlin. So not a bad count!
Around the rest of the reserve I saw Woodpigeon, Carrion Crow, Cormorant, Large numbers of Mute Swans, Coot, Herring and Great-black Backed Gulls, little Egret, Great-crested Grebes, Blackbird, Goldfinch, Wren, Blue Tit, Great Tit and Swallow.
Several Raptors about with Sparrow Hawk, Buzzard, Marsh Harriers and Hobby all seen.
Plenty of Butterflies and other insects about with Brimstone, Small, Large and Green Veined Whites, Small Tortishell, Peacock, Red Admiral, Gatekeeper, Meadow Brown and Spotted Wood all seen.
A few Dragonflies seen with positive ID of Common Darter and Black Tailed Skimmer, also saw a few other Skimmer sp and a few Hawker sp.
I do think they have done a excellent job of the new walkways but nearly got run over by people on bikes, think they should ban them!! hahaha
As normal here everybody is so helpful and friendly.
---
© Simon Thurgood 2022
Images on this website may not be put as any part of any collection without any prior written permission.