Blog
30 August 2014
Labrador Bay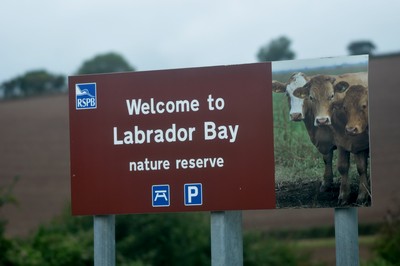 First visit to this RSPB reserve, told by another birder about the large numbers of Cirl Buntings, "15 in one tree" he said!! Well I didn't find large numbers but still found some really smart males flying in and out of bushes down to the cereal crop.
It was a bit blowy and didn't get any pictures but a place to visit again.
Plenty of trees with berries in the valley and the habitat looks good for winter thrushes.
This I believe a newish reserve so will be paying a few visits, its on the Teignmouth-Torquay road and there is a car park and don't forget to pay! Its only a £1 a day, Cheap!!!
---
28 August 2014
Dawlish Warren

After missing yesterdays Tern fest at the Warren I thought I might get lucky today. There was still loads of Common and Sandwich Terns in front of the hide as well as flying around the bight and Finger point but sadly I didn't see any Artic, Little or Black Terns.
Numbers of other birds did not disappoint with over 1000 Oystercatchers and a mixed flock of 300+ Dunlin and Ringed Plover, although I didn't see them there was reports of 3 Little Ringed Plovers in amongst them. I did though see a single Sanderling, Whimbrel and Bar-tailed Godwit.
The best though was a Juvenile Curlew Sandpiper which came in front of the hide with a few Dunlin.
Plenty of Gulls around, mainly Black-headed Gulls but good numbers of Herring and Great Black-Backed Gulls. 50+ Cormorant roosting on finger point as well as some swimming in front of hide.
Other birds seen around site are Whitethroat, Linnet, Dunnock, Magpie, Carrion Crow, Wheatear, Woodpigeon, Stonechat and a flock of 40+ Starling.
---
26 August 2014
Topsham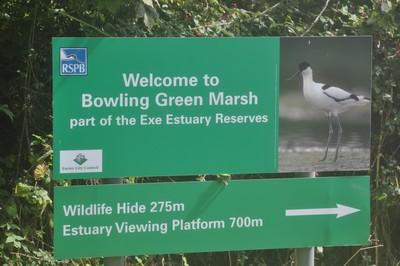 Went to Topsham today as the Temmincks Stint and Spotted Crake had been reported, I parked up at Darts Farm and followed the Exe Valley Cycle path across Grassmoor.
Even though my timing was wrong as the tide right out, there was Godwit and 2 Greenshanks showing really well from the walk way.
At Bowling Green you cant get into the hide as they are re building it and there is some disruption due to the noise, unfortunately as normal I had just missed the Stint and Crakes as they had gone to an unwatchable position.
I walked down to the viewing position on the river Clyst where there was at least 100+ Redshanks and 1 Spotted Redshank, then around on the Goatwalk there was very little as the tide had gone right out and apart from Black-headed Gulls it was quiet.
On the way back a Peregrine Falcon flew over head, as I walked past the hide other birders said the Crake and Stint were showing intermittently and on the far side of the reserve so sadly I missed them again.
---
24 August 2014
Shapwick, Somerset

Spent the day in Somerset at Shapwick, saw lots of stuff with all the quality at a distance. In the Mere Scrape there was plenty of ducks, Lapwings, Coots, Mute Swans and Little Egret. The best though was a Great White Egret which showed well at the back.
At Noah's hide there was good views of a Osprey who sat for the hour I was there, seems it had fished just before I got there. There was large numbers of Great Crested Grebes, both adults and Juveniles. Plenty of Cormorants resting up on the dead trees.
At Decoy apart from mallards there was a couple Marsh Harriers again flying at the back of the lagoon.
In the wooded areas around the hide a noisy family of Jays where making a racket.
I saw plenty of butterflies especially Red Admirals and loads of Dragonflies mainly Darters. Found a Slow Worm and a stunning Vapourer Moth Caterpillar.
---
21 August 2014
Axe Valley Wetlands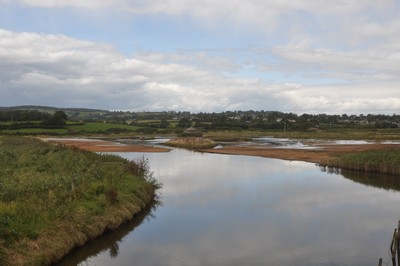 I wet over to the Axe Valley Wetlands today and spent most of it in the Island Hide, I timed the visit to coincide with high tide. Although the tide was not that high it still pushed plenty of birds into the lagoon and I was impressed with the number and quality of the waders- Red and Greenshanks, Common and Green Sandpipers, Large numbers of Black Tailed Godwits and a single Ruff. 6 Snipe, Dunlin and Ringed Plover. Little Egret and Grey Heron with several appearance's of Kingfisher, not sure if this was the same one or several fishing in the lagoon.
A walk from the Island hide up to the visitor centre and plenty of Small Tortoiseshell around and Dragonflies over the ponds. Doesn't look like the nesting wall for the Sand Martins was used this year?
---
19 August 2014
Soussons, Dartmoor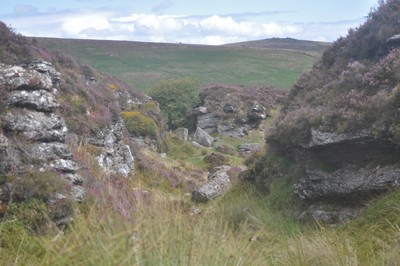 Walked today on Dartmoor, doing a circular walk starting at Soussons woods and returning via "The Warren House Inn". This would go through several different habitats and hoping to see some good stuff.
The start was good, going through an established planation of large spruce and came out onto a new young section of trees, there was plenty of butterflies, Red Admiral, Small Tortoiseshell, Whites and a large Fritillary that wouldn't settle so not sure what it was, Speckled Wood and a Comma.
Through the woods there was plenty of birds, lucky to see a Peregrine and a Sparrowhawk with Buzzards high in the air, a juvenile was some where calling which echoed up the valley. Plenty of small birds, both male and female Redstart and a family group of 6 Bullfinch.
Coming out onto the open moor there was a few Skylark and sadly not much else, the area close to Warren House used to be good for birds like Ring Ouzel but for some reason I haven't seen them here for a couple of years. On the top it was a bit breezy so that may be a reason for the no show. As I went into the Challacombe valley birds such a Stonechat and Whitethroat put in an appearance, also saw Mistle Thrush and a family of very noisy Jays.
Apart from Dartmoor Ponies I didn't see any mammals, thought I might see some deer around the woods?
---
18 August 2014
Dawlish Warren

Went for a walk around the Warren today, very breezy and the bushes were blown out. The tide was at 3m so wasn't enough to push the birds close to the hide which was a shame. There was a very smart looking summer plumaged Knot which sadly never came close enough to take a picture. A large mixed flock of Dunlin and Ringed Plovers where sheltering from the wind on the beach.
Plenty of insects being blown around in the wind but a new Brown Argus looked very smart and a Clouded Yellow was in Greenland Lake.
To my surprise the beach was empty of holiday makers, the place had a very autumn feel about it.
---
16 August 2014
Exminster marshes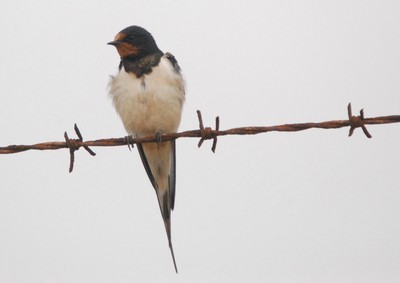 Walked around the Marshes today, it was a bit blustery and not many birds about, a small family group of Blue Tits around the car park, Wood pigeons and Carrion Crows everywhere, on the estuary there was Black headed gulls and Little Egrets while around the canal apart from the Mute Swans there was plenty of Swallows and House Martins feeding on the flies over the water. A female Sparrow Hawk was hunting along the road and that was it! There was plenty more insects about with White and Speckled wood Butterflies in good numbers with what looked like a Emperor Dragonfly on the path from the car park, plenty of bumble bees on the flowers especially the vetch, Wasps were in and around plants looking like they were hunting for caterpillars and stuff. Other than that it was a good walk and very few pictures taken.
---
14 August 2014
Selsey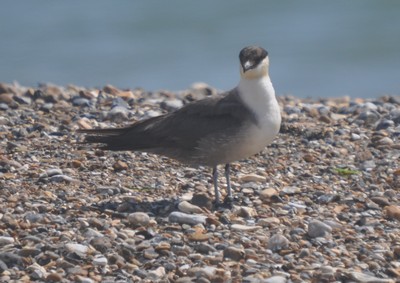 Went on a long drive from Dawlish with the hope that the Long-tailed Skua which had been around Selsey in West Sussex would be still there. After a pit stop in Dorset and 3hrs driving I arrived at the East Beach car park at Selsey and found a group of Birdwatchers and Photographers waiting on the beach. I had been told that it comes into roost at high tide and likes this spot, I did think that with this many people around it would go else where especially with children playing on the beach. But it arrived bang on cue and settled on the beach.
The next problem was to get into position to take some photos of this fantastic bird as the bright sun was behind it. Thankfully the bird didn't seem to mind all the fuss and stayed on the beach for about 45 minutes before flying off towards the west. I took over 250 pictures which I got down to 6 which you can see in the bird gallery.
---
11 August 2014
Dawlish Warren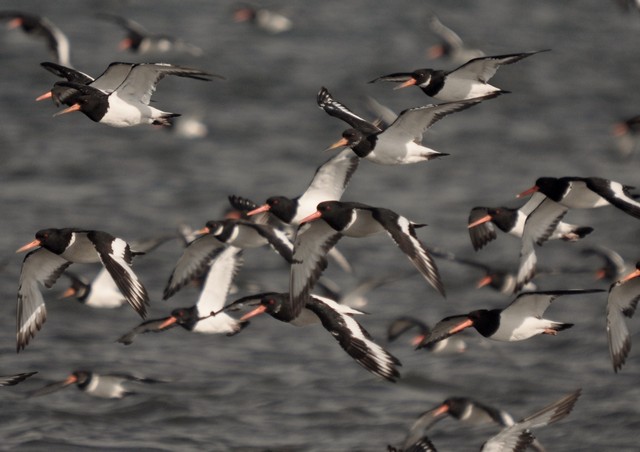 Went to the Warren today to catch the high tide at 7.30am and there was plenty about. Common and Sandwich Terns both Juv and Adults in good numbers. Oystercatchers, Dunlin, Ringed Plover, Redshank and a single Common Sandpiper were the waders in front of the hide. Great Black backed gulls in good numbers with large numbers of Black Headed Gulls. Mediterranean gulls also present which were all put up when a Sparrowhawk upset the party and was quickly chased off.
On the way back to the car saw plenty of White butterflies and a beautiful Emperor Dragonfly hunting along the path, I could watch them for hours
---
© Simon Thurgood 2021
Images on this website may not be put as any part of any collection without any prior written permission.