Blog
23 July 2017
Its a Long-tailed!!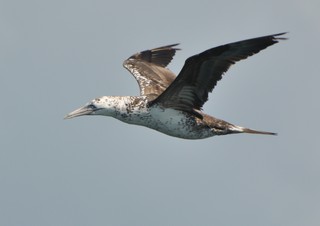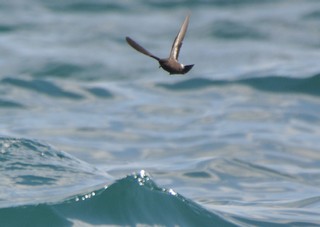 Went out on another boat trip with Nigel, this time we went out 8.5 miles out. The weather was great compared with the end of last week when high winds and rain hit the South West, but we were hoping some of the great birds that came in would be left.
We left Brixham at 9am on the Optimist skippered by Nigel, the trip is normally 3 hours and always a friendly occasion!
We passed Berry Head and for the third week running no Harbour Porpoise but further out 2 Common Dolphins were seen, although they didn't come near the boat and there wasn't the usual bow riding.
Nigel S started "Chumming" at about 8-8.5miles out and at the beginning it was very quiet with only 1 or 2 birds, Nigel was trying out "Chum" in blocks of ice and dropped the first over the back and left it to drift while tying the second to the back of the boat which over time created a nice slick which in turn brought some quality birds in.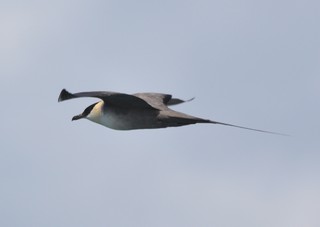 After about half an hour the birds started to fly in with Herring, Great-black Backed Gulls, Fulmar, Kittiwake and Gannets of all ages. We saw about 20 Manx Shearwaters but very few got close but the slick brought in 5 Storm Petrol's which skipped over the water. I also saw in the distance a Bonxie chasing a Gull and then a Skua came into the slick and at first we thought it was a Artic and much discussion on the boat when I looked at it on screen it cant be anything other than Long-tailed Skua!
Brilliant mornings birding with a great bunch of people!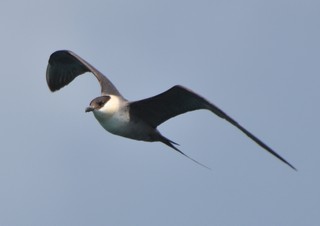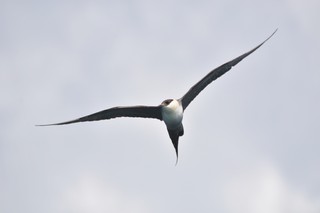 ---
16 July 2017
8 Miles out!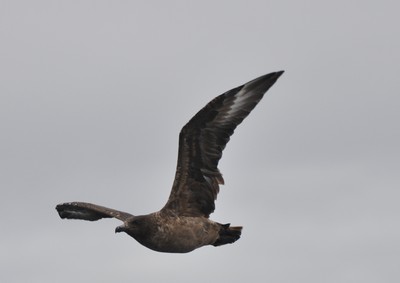 Went out on another boat trip off Berry Head today, got out 8 miles! It was a bit lumpy and didn't get many good pics because I couldn't keep the camera still but still saw some quality birds!
In the harbour there was a few Turnstones about with plenty of Swifts hawking over the harbour. Herring and Great-black Backed gulls of all ages, Shags and Cormorants all seen here.
On the way out we saw a Mediterranean Gull amongst a few Black-headed Gull flying near Berry Head. He saw quite a few Manx Shearwaters as we were traveling and I lost count at 50 but there must have been more. When we started "Chumming" several flew around the boat and we also saw a Balearic Shearwater flying away from the boat.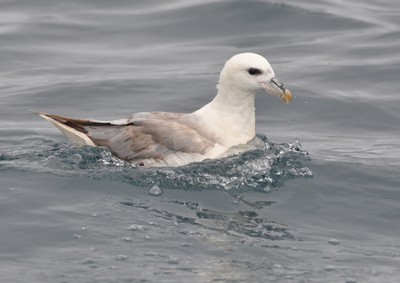 We were also joined by 2 Great Skua's, 1 Storm Petrol, Fulmars, Kittiwakes, Gannets, Herring and Great-black Backed Gulls who came in for the chum. The Stormy stayed around for some time but always distant, landing occasionally on the slick from the "Chum".
Also saw a few Guillemots and one of the group saw a Dolphin which was the only one we saw and for the second week no Harbour Porpoise??
Great group of people though to be out with and looking forward to next week!
---
02 July 2017
Weekendfun

On Saturday I went to Topsham to see if I could find the Spotted Redshank which was still in its summer plumage.
so parked up at Darts Farm which was quite busy with humans but no birds to be seen? Along the cycle track there was Blackbird, woodpigeon, Swallow, House Martin, Wren, Greenfinch and Goldfinch.
The tide was coming in and there wasn't much to see at the Creek apart from some Black-headed Gulls. Again at Goosemoor plenty of Black-headed Gulls with Greenshank, Redshank and the Spotted Redshank but sadly on the far side to far for a picture. A few Lapwing, Little Egret, Grey Heron and fly over Woodpigeon and Magpie.
Along to the reserve and plenty of birds around the edge of the water but difficult to see because of the vegetation, but could see Black-tailed Godwit in summer plumage, Redshank, Mallard, Shelduck, Moorhen, Coot, Mallard, Lapwing, Swallow, House Martin, Starling, Little Egrets, grey Heron, Carrion Crow, Buzzard, Black-headed Gulls, Woodpigeon and Magpies.
Plenty of Butterflies seen with White sp, Ringlet, Comma, Red Admiral and Meadow Brown.
On the way back to the car I passed Goosemoor again and the tide was well in, the birds had been pushed into the grass and hardly noticeable but comically two cows decided they would try and cross the water, after about 10ft they decided not a good idea!
Didn't see many birders about but lots of other humans enjoying the sun, very pleasant too!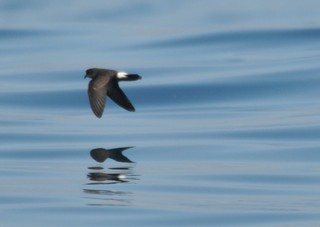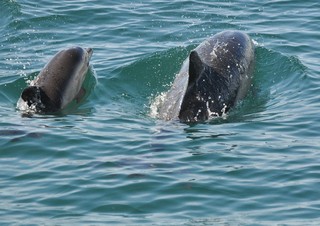 Today Sunday I went on a boat trip organised by Nigel S on the "Optimist" with Captain Nigel out 5 miles from Brixham, beautiful day and lots to see.
Started well with 30+ Common Dolphins putting on a show around the boat, you can never tire of seeing these gorgeous animals! There was several small groups and there looked like there was some young ones amongst them.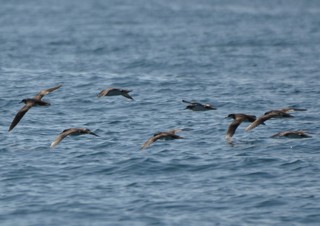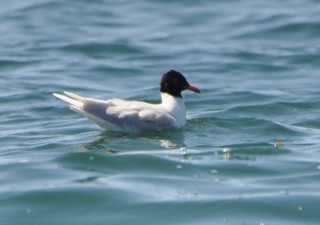 Plenty of Gulls especially when Nigel did the chumming, don't know what he had in it but it stunk!!! Herring and Great Black-backed Gulls, Fulmars and Gannets put on a good show.
We also saw Good numbers of Manx Shearwaters, a few Balearic and 1 Storm Petrol came close to the boat, plenty of Guillemots sat on the water wit one Razorbill seen. I saw a Skua but couldn't positively Id it but most probably a Boxy. On the way back we saw a adult Med gull on the water by Berry Head.
Great time spent with some great people, so looking forward to next week!

---
© Simon Thurgood 2022
Images on this website may not be put as any part of any collection without any prior written permission.