Blog
31 July 2016
Lyme Bay Boat Trip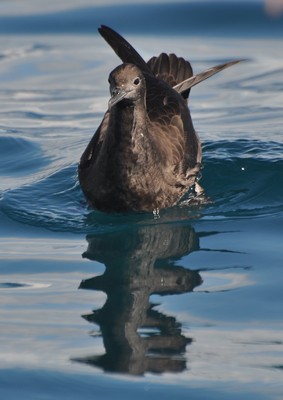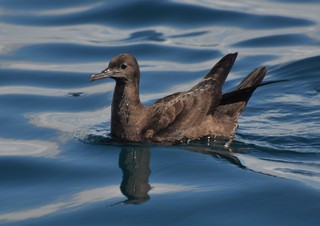 Joined Nigel on his boat trip this morning and thanks to my son for getting me there on time, makes up for all the times I've had to run around after him!!
The weather was glorious and a great day to be out on a boat, the plan was to go out from Brixham 6miles and "Chum" and then move to another spot then complete the triangle back to Brixham.
Plenty to see on the way out including 5 Porpoise which put in a welcome appearance off Berry Head. Several rafts of Guillemots and a couple of Razorbills.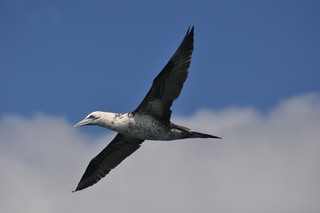 At our first Chum we saw several Manx Shearwaters, the whole trip we saw 50-80 birds, Fulmars, Gannets, Herring, Great-black Backed and Lesser-black Backed Gulls. With the excited shout of "Sooty!" this bird came direct for the back of the boat from nowhere and sat on the water behind for 5-10 minutes, beautiful bird!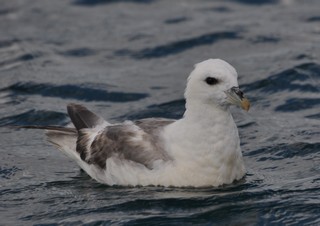 A Petrol sp. was also seen as well as 5 Common Scooter, Cormorant, Oystercatcher, Turnstone and Black-headed Gull.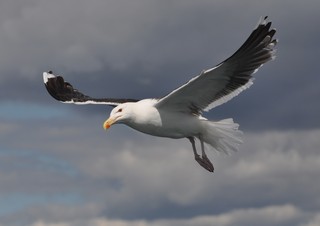 So back to Brixham for pasty and tea before heading home to Dawlish on the Bus and Train, coming along the River Teign was brilliant as was the day, Great company made it even better so looking forward to the next trip, hopefully next week!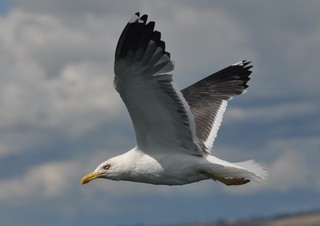 ---
26 July 2016
Topsham and Dawlish Warren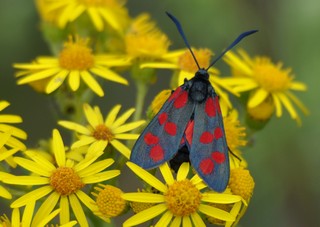 I haven't been to Topsham for a while so ventured over there, lots to see but also lots of disruption!
The creek from Darts farm to the Cycle bridge was empty of birds because a boat from the boat yard was being tested on the water and there was work being carried out at the bird hide so birds quite unsettled.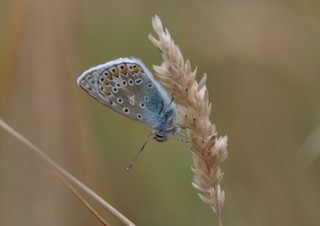 Also at the platform because of high tide no birds to be seen, but at Goosemoor plenty of birds with double figures of Greenshank and Redshanks, singles of Curlew, Whimbrel and Spotted Redshank, Herring, Black-headed and Lesser Black-backed Gulls. Kingfisher, Grey Heron, Shelducks, Lapwings, 7 Little Egrets, Black-tailed Godwits with most in summer plumage.
At the reserve the birds were at a distance but could see 2 Common Sandpipers, Lapwings, Dunlin, Godwits both Black and Bar Tailed, Curlew, Oystercatchers, several Juvenile Shelduck, Moorhen, Coot, Carrion Crow, Magpie, Little Egrets, Buzzard, Dunnock, Goldfinch, Blackbird, Starling, Cormorant and 100+ Black-headed Gulls.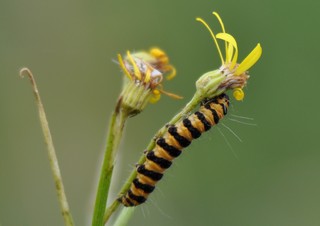 Along the Goatwalk there was several Mute Swans and and juvenile Shelducks. In Topsham several House Martins nesting and chicks can be heard.
Plenty of Butterflies about with Large and Small White, Gatekeepers and Meadow Browns.
Popped into Dawlish Warren and had a quick walk around Greenland Lake, not many birds but plenty of Butterflies with Common Blue, Speckled Wood, Meadow Brown, Gatekeeper, Peacock, Large White, Burnet Moths and plenty of Cinnabar Caterpillars on the Ragwort.
---
17 July 2016
High Brown Fritillary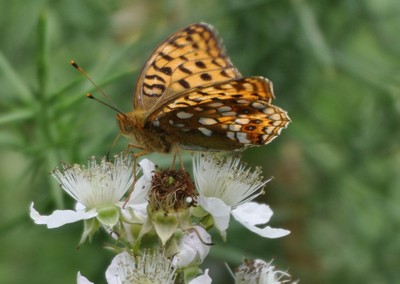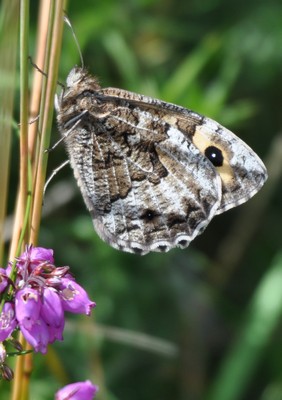 On my second attempt at Aish Tor I was successful in getting a picture of a High Brown and very satisfying it was too!! I saw about 20 Fritillaries and all bar a couple were on the wing which I found totally impossible to tell the two species apart. Many of them were also starting to look warn and scruffy but then this butterfly just came down and landed in front of me and when it lifted its wing there was the tell tale sign of the High Brown, 2 dark spots on the underwing which the Dark Green Doesn't have. It being a rare and getting rarer was a privilege to see!
Also saw some fresh Grayling, Gatekeepers, Whites sp and Meadow Browns.
Also met some great people who were also looking for the High Browns, one man especially new his stuff and his help was gratefully received!
---
16 July 2016
Aish Tor and Challacombe Farm

I went to Aish Tor looking for some High Brown Fritillary which is a hot spot for this rare breed of butterfly.
It was quite hot this morning and no butterflies were sitting down in a easy place to take any pics, I saw a Marbled White, Gatekeepers, Large White, Meadow Browns and several Fritillaries which could have been either Dark Green or High Brown Fritillaries. Because they wouldn't sit I couldn't see the under wings to id correctly. Need to come back to have another look!
Saw a few birds with Linnet, Stonechat, Blackbird, Carrion Crow with Swallow and House Martins hawking for flies in the sky.
I thought I would go to Challacombe Farm to see if I could see some Spotted Flies or Redstarts which I did but not in favourable photo conditions. Also saw Woodpigeon, Swallow, House Martin, Pied and Grey Wagtail, Buzzard, House Sparrow and a Nuthatch feeding its chick.
Good day but not that many pictures taken.
---
01 July 2016
Dunsford Woods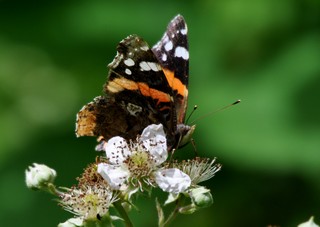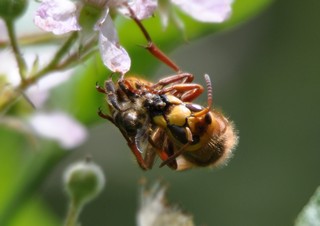 Day off and my original plans were put off due to the weather so went up to Dunsford woods on Dartmoor to see what was about in the way of butterflies.
Started off at Stepps Bridge end and apart from a Red Admiral and some washed out Meadow Browns not a lot! There was a Dipper on the river and I tried to get a picture but it was disrupted by a dog running in the water, plenty of people about and all with dogs so gave up in this area.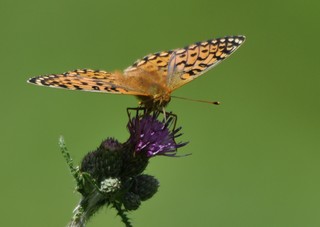 So I got in my car and went up the other end by Clapper Bridge which was more successful with plenty of Meadow Browns, Ringlets, Spotted Wood, Large Skipper and six Dark Green Fritillary which were showing really well!
Other great insects included a Golden-ringed Dragonfly and great views of a Hornet devouring a Honey Bee.
Birds seen apart from the Dipper were Nuthatch, Great Spotted Woodpecker, Blue and Great Tits, Blackbird, Chiffchaff, Robin, Wren, Woodpigeon, Raven and Blackcap.
---
© Simon Thurgood 2022
Images on this website may not be put as any part of any collection without any prior written permission.