Blog
19 May 2019
24 up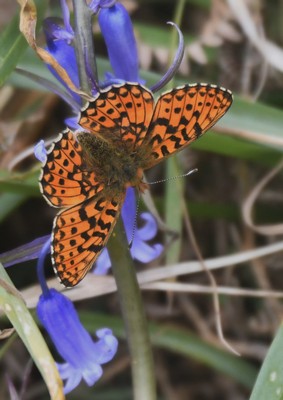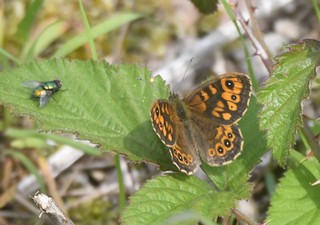 Been on the Butterfly hunt this last few days with trips to Berry Head, Holden, Meeth Quarry and Exminster Marshes, three new ones for this year with Small Blue and Wall at Berry Head and Wood White at Meeth.
Also saw lots of other species with Spotted Wood, Green-veined White, Brimstone, Orange Tip, Red Admiral, Peacock, Common Blue, Pearl-boarded and Small Pearl-boarded Fritillary.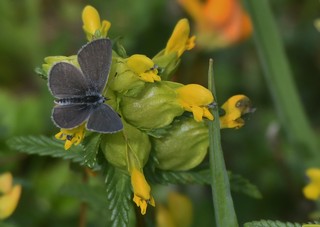 The weather hasn't been the best with grey cloud, breezy and the odd shower but still managed to find a few Butterflies.
Good to see a few people about and nice to share with those less knowledgeable although Iam no expert!
It was great going to Meeth Quarry today, its worth the journey and would recommend it, you could easily spend all day there, my visit was just about looking for the Wood Whites which I quickly found in fact 10 in total, those that have not seen one before they are very dainty and gently flutter around the place, great little Butterfly!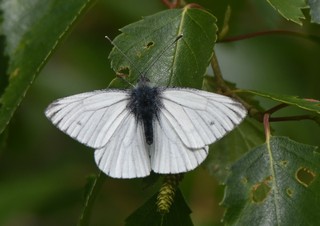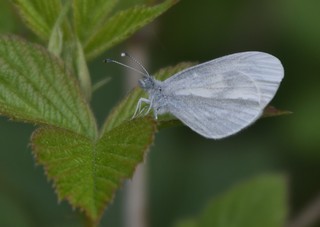 ---
15 May 2019
21 Up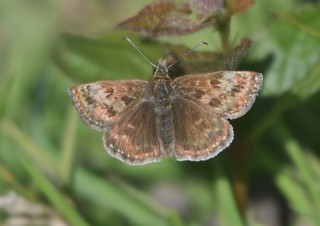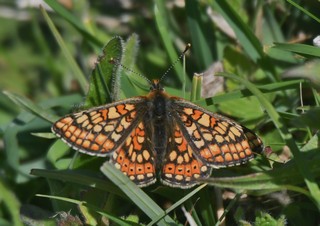 Had a great day in Dorset today, went to The Giant Hill at Cerne Abbas.
The weather was perfect as far I was concerned, lots of sun and a little breeze, the journey up was a bit crap but the destination made it worth while.
Found 15 Species of Butterflies, 5 new species for the year Grizzled and Dingy Skippers, Duke of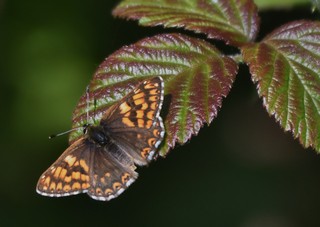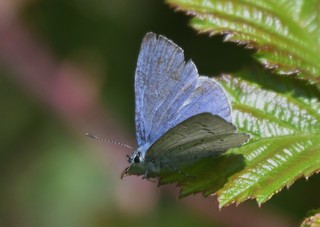 Burgundy, Marsh Fritillary including two that where coupled, thanks to Dave for giving me the shout and Small Heath.
Others seen Speckled Wood, Orange Tip, White sp, Holly and Common Blue, Brown Argus, Peacock, Brimstone, Small Copper and Green Hairstreak.
The Hill looked great, plenty of other insects about as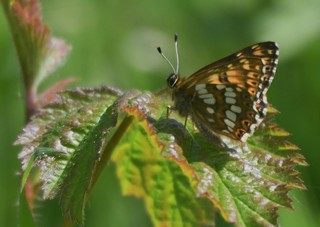 well as flowers.
Humans in good numbers and sadly there was a couple of knob heads who were quite unpleasant, they wanted the place to themselves, one especially was quite aggressive. But would say there was some really nice humans all enjoying the day.
Good to have a long chat with Malcolm Wemyss who keeps a watchful eye over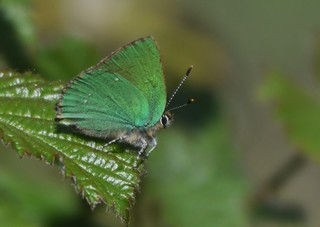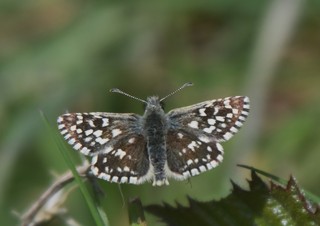 the hill, several other people who I have met before but cant remember your names, thanks for making it a great day!
Hope to at least get to last years totals of 50 but not sure thats going to happen!
---
14 May 2019
16 Up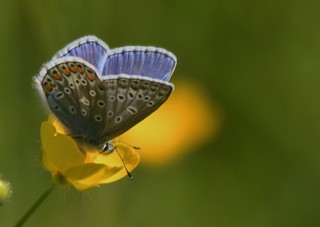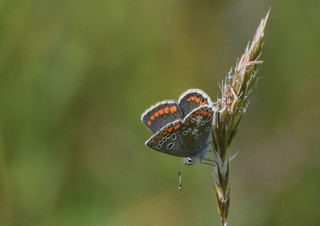 Been trying to catch up with some Butterflies today and managed to get 2 more to add to the list, Common Blue and Brown Argos both at Dawlish Warren which makes 16 Species.
Other Species seen so far, Brimstone, Red Admiral, Commer, Small tort, Peacock, Speckled Wood, Orange Tip, Holly Blue, Green Veined White, Large White, Small Pearl and Pearl boarded Fritillary, Small Copper and Green Hairstreak.
---
13 May 2019
Frustrating Times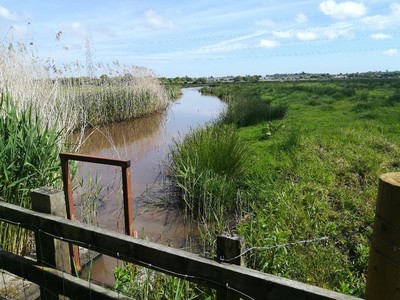 Feeling quite frustrated on the job front at the moment, was supposed to have started a new job today but pulled out at the last moment when I was sent my contract showing my salary would be £2721 less than the advertised amount, apparently I would have to get all the allowances and do all the shity hours to get the full amount, talk about being miss led.
Anyway to keep myself sain I visited Exminster Marshes a few times, Challacombe on Dartmoor as well as looking for Butterflies at Aish Tor and Holden.
Got my total species for Butterflies up to 15 with Small Copper, Green Hairstreek and Small Peal-boarded Fritillary.
Seen lots of birds about the place, enjoyable to see the Lesser Whitethroat at Exminster as well as all the Warblers, Redstart and Spotted Flycatcher at Challacombe. Great to see Swifts, Swallow and House Martins as well as Hobbies at Exminster, Whimbrels, Lapwings in good numbers.
Nice to meet lots of humans about and all pleasant company although finding a few balloons at Exminster did annoy me a bit.
Still onward and upwards!

---
06 May 2019
All over the place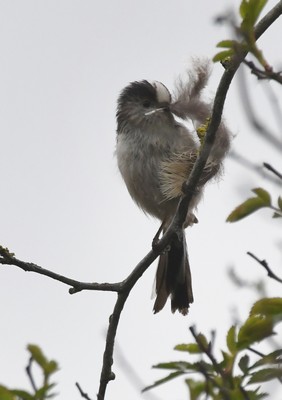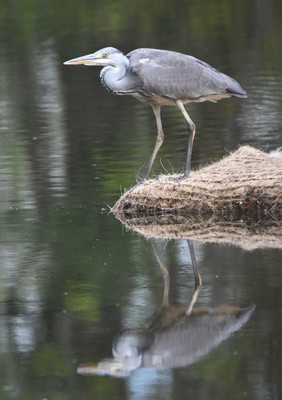 This Weekend, well Thursday to Monday I have been all over Devon in between domestic duties and shopping and visiting friends. The weather has been a little cool which put pay to finding any major Butterflies about although did see lots of great Birds.
Thursday I was about Powderham and Exminster Marshes, best here was a Hobby from the back path but also saw Swallow, Swift, Sedge, Reed and Cettis Warblers, Blackcap, Blackbird, Robin, Wren, Lapwing, Oystercatcher, Herring, Black-headed and Great-black Backed Gulls, Little Egret, Grey Heron, Coot, Moorhen, Mallard, Teal, Shoveler, Shelduck, Canada Geese, Mute Swan, Woodpigeon, Common Whitethroat, Great, blue and Long-tailed Tits.
Friday I was on Dartmoor and did a circular walk from the middle car park on Tremblebere back to the car.
Garden and Willow Warblers, Chiffchaff, Blackcap, Robin, Pied Flycatcher,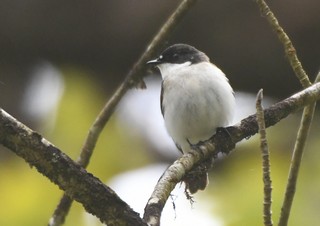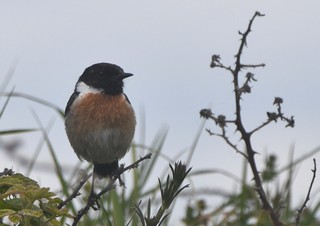 Redstart, Blue, Great and Long-tailed Tits, GSW and LSW calling, Cuckoo calling, Carrion Crow, Tree Pipit, Woodpigeon, Grey Heron, Blackbird, Siskin, Wren and Stonechat.
Saturday out shopping and doing other stuff which took me through Ashcombe valley where there were large numbers of House Martins which was great to see.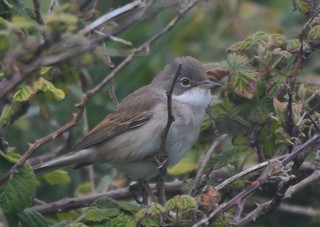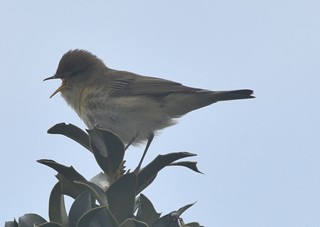 Sunday down to South Devon and was able to fit in a circular walk around East Soar and Middle Soar, plenty of Skylarks here as well as Meadow Pipit, Yellow Hammer, Stonechat, Whitethroat, Blackbird, House Sparrow, Swallow, Jackdaw, Goldfinch, Pied Wagtail, Chaffinch, Wren, Chiffchaff, Sedge and Reed Warblers, Magpie, Raven ,Buzzard and Herring Gull.
Today I managed to get in a full days birding in, the morning was spent at Aylsebere, great to get close ups of Yellowhammer, Dartford Warbler, Willow Warbler, Stonechat, Linnet, Greenfinch, Meadow Pipit, Blackbird, Great and Blue Tit,Chiffchaff, Robin, Carrion Crow and Raven.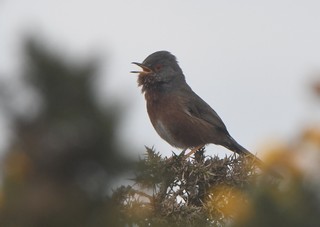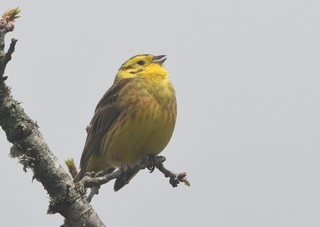 In the afternoon I went to Seaton Wetlands and had a good walk around the reserve and visited every hide, Reed, Sedge and Cettis Warbler, Reed Bunting, Goldfinch, Swallows, Rook, Carrion Crow, Jackdaw, Herring, Black-headed, Great and Lesser-black Backed Gulls, Blackbird, Shelduck, Mallard, Greenshank, Godwits, Dunlin, Mute Swan, Canada Geese, Moorhen, Coot, Dunnock, Collard Dove, Woodpigeon, Grey Heron, Little Egret and Pheasant.
Met lots of great people, families out enjoying themselves, runners, cyclists, dog walkers, birders and people like me out with the camera.
---
01 May 2019
Swifts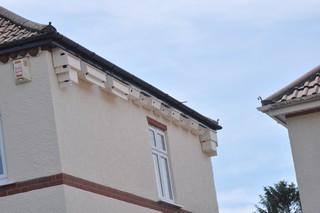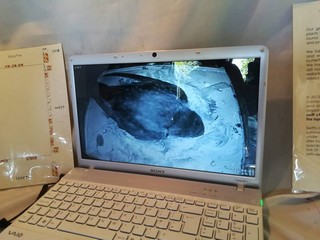 Just want to remind people of one of my best mates website, Mark Glanville runs Bristol Swifts and has 25 Swift Boxes around his house. He does a lot of conservation work and is often seen on TV, last year he was on Breakfast Time.
His birds started to arrive from Africa yesterday and his blog is a great read https://www.bristolswifts.co.uk/
---
© Simon Thurgood 2019
Images on this website may not be put as any part of any collection without any prior written permission.