Blog
30 April 2022
Grizzled Skipper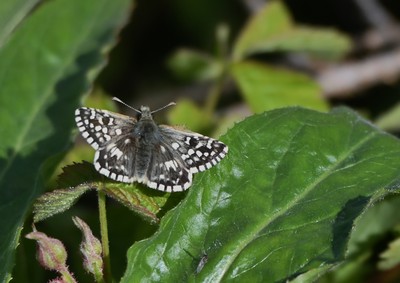 A few very fresh Grizzled Skippers at The Giants Hill at Cerne Abbas in Dorset today.This one sunning itself in the early morning sun.
Seen 17 species so far, 16 caught on Camera and although I have seen a Holy Blue numerous times now, I haven't been able to see one settle so the list is-Grizzled Skipper, Dingy Skipper, Comma, Brimstone, Green Hairstreak, Small Copper, Green-veined White, Orange Tip, Large White, Small White, Brown Argos, Holly Blue, Pearl-boarded fritillary, Small Tortoiseshell, Red Admiral, Speckled Wood and Peacock.
---
30 April 2022
Dingy Skippers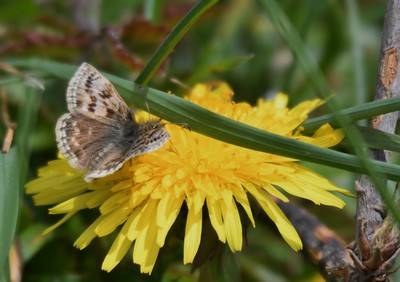 This is one of many Dingy Skippers I saw at The Giants Hill at Cerne Abbas in Dorset, here feeding on a Dandelion, also plenty of Cow Slips, Primroses and Orchids on view.
---
30 April 2022
Green Hairstreak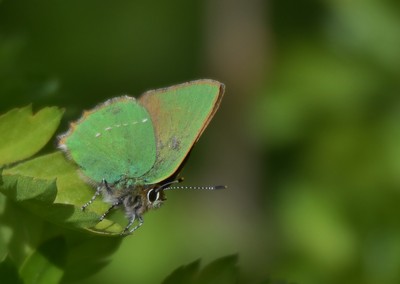 I actually walked past this Green Hairstreak and was luckily called back by somebody else, so brilliantly camouflaged.
This taken at The Giants Hill at Cerne Abbas in Dorset.
---
27 April 2022
Brown Argus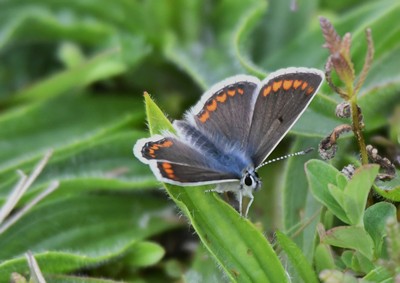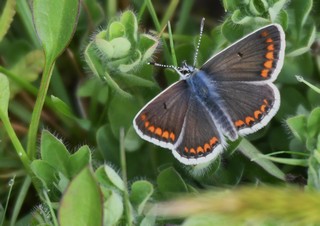 On a second attempt after a call from Mr C, I was luck enough to get this picture of a Brown Argos, a male I think, stunning little Butterfly!
Taken on the back meadow Dawlish Warren.
---
25 April 2022
Pearl-bordered Fritillary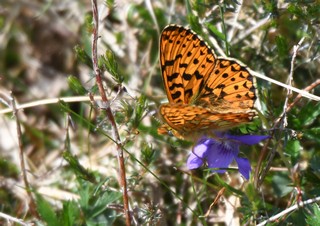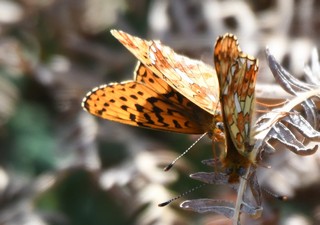 After a long weekend at work it was great to get out for a few hours on Dartmoor, first stop Dunsford Woods and saw my first PBF of the year and then another sunning itself on the path. The flowers here are just wonderful!
Then off to Aish Tor, several fresh PBF here and giving some great views
---
21 April 2022
Chasing Butterflies around Devon

Spent a bit of time looking for Butterflies around Devon this last couple of weeks, Aish Tor, Dawlish Warren, Powderham and Exminster Marshes, Dunsford Meadows, Holden Butterfly Walk as well as Hedgerows at the back of Dawlish, Kenton and Starcross.
Plenty of flowers about and with the exception of Holden all look promising, sadly yet again Holden looks overgrown and will be interesting to see what appears this year.
Seen 12 species so far, 11 caught on Camera and although I have seeen a Holy Blue 5 times now, I havnt been able to see one settle so the list is-Comma, Brimstone, Small Copper, Green-veined White, Orange Tip, Large White, Small White, Holly Blue, Small Tortoiseshell, Red Admiral, Speckled Wood and Peacock.
---
20 April 2022
Small Copper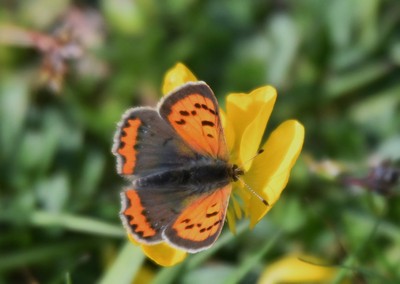 Found this Small Copper at Dawlish Warren today, my first of the year.
---
20 April 2022
Large White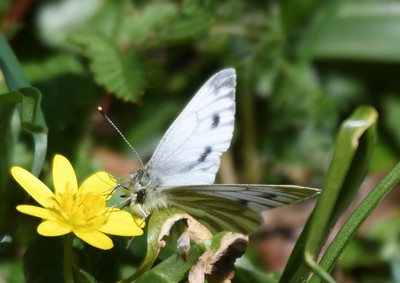 Having seen a couple of these, I finally managed a picture f this Large White at Dunsford Meadows on Dartmoor.
---
19 April 2022
Grasshopper Warblers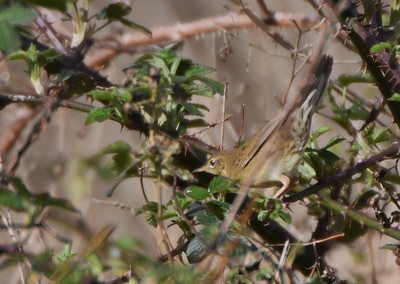 Went to see one of my Favourite birds this morning, normally its later in the month but did see some sightings in Devon, Cornwall and Somerset this last couple of days and gave it a shot.
I did think I was going to be unlucky as I didn't hear any in the bird song until one popped up from nowhere and called, not the "reel" you normally hear, there was another from another bird behind me and it flew off and I was unable to locate them, I did manage to get a couple of pics, this the best showing its dark streaks under its tail.
So after nearly 2 hours I left quite happy.
---
18 April 2022
Orange Tip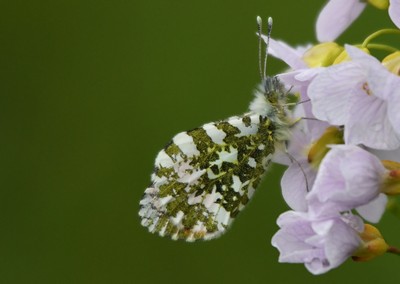 Seen several of these over the last couple of days but none would settle, this one which is a male as it opened its wing for a couple of seconds showing some orange is sat on a Cuckoo Flower after a shower of rain at Dawlish Warren.
That makes 9 with the list as follows- Comma, Brimstone, Green-veined White, Orange Tip, Small White, Small Tortoiseshell, Red Admiral, Speckled Wood and Peacock.
---
18 April 2022
Whinchats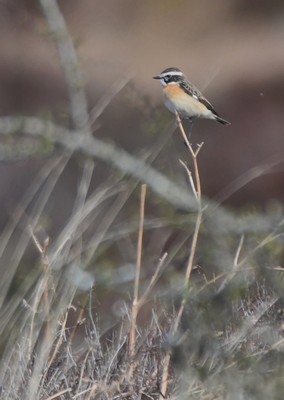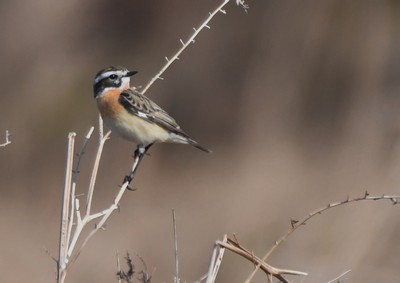 Had a good session this morning on Dartmoor, saw lots of the usual stuff and fresh Migrant defiantly 1 possibly 2 Whinchats in the usual place.
This stunning bird was very vocal and gave some great views, looking back on my records seen almost on the same day as last year.
---
16 April 2022
All over the place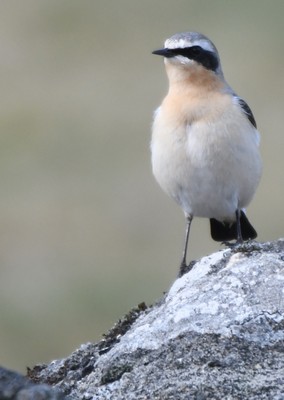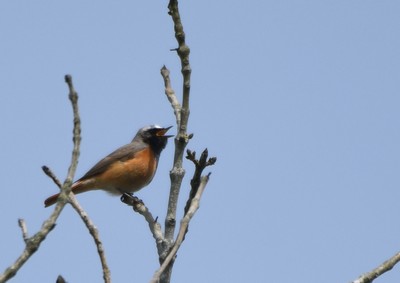 Saturday was spent trying to fit in some bird watching with domestic and family stuff, on this day which started in mist and turned out to be a lovely sunny day I managed to catch up with lots of Summer Migrants with visits to Yarner and Emsworthy at different times of the day.
Left Dawlish in mist early morning but as I rose into Dartmoor the mist went and the sun came out, looks like the mist was just coastal, when I arrived there was very few people about and the air was full of Bird Song.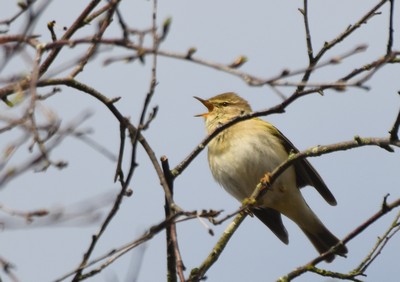 After a chat to another Birder who had been there since sun up there sounded like it was going to be a good visit!
While walking around plenty of Blue, Great and Long-tailed Tits, singles of Coal and Marsh Tits. These were seen in the trees and bushes as the feeders had been taken down, in front of the hide there was a stunning male Mandarin Duck. Along the paths I started to see Pied Flycatchers all very mobile and it took a while to get any sort of picture. I also heard a Great spotted Woodpecker and while I was watching the Pied Flycatcher a Lesser-spotted Woodpecker flew over which was a treat, I stayed away from the nest site as I was getting wound up by people just harassing them just to get a picture.
I also thought I heard a Redstart and other birders said they had seen one or two, Robin, Song Thrush, Blackbird, Wood Pigeon, Dunnock,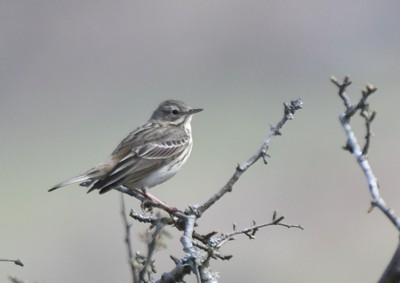 Chaffinch and Wren also seen. Walked out onto Trembelbere and Skylark, Stonechat, Yellowhammer and another Summer Migrant a Willow Warbler. Onto an area which I know as the triangle I saw several more Willow Warblers and a very mobile Tree Pipit but frustratingly it wouldn't pose for a photo!
Plenty of humans about, great to see Rob, Richie and Steph amongst many others.
In the afternoon I returned to Dartmoor, spending a few hours around Emsworthy, Challacombe Farm and the area towards Challacombe Cross, as you would expect from this area, plenty o Corvids with Raven, Carrion Crow, Rook, Jackdaw, Magpie and Jay all seen in various numbers, Woodpigeon, Stock and Collard Doves, House Sparrow, Blackbird, Wren, Chaffinch, Meadow Pipit, Skylark and Buzzard.
Great to catch up with Summer Migrants, Wheatear, stunning Redstart at Emsworthy by the barn and a Tree Pipit in the smaller trees. While just up from Challacombe I also heard a Cuckoo, my first of the year but just couldn't fin it in my bins.
All in all a very good day especially catching up with my Granddaughter later:o)
---
10 April 2022
Small White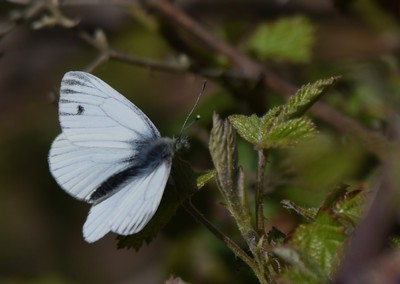 Took the Small White at Dawlish Warren, looks like a first brood male to me but happy to be corrected.
That makes 8 for this year so far.
The Species list so far for this year is Comma, Brimstone, Green-veined White, Small White, Small Tortoiseshell, Red Admiral, Speckled Wood and Peacock.
---
09 April 2022
Green-veined White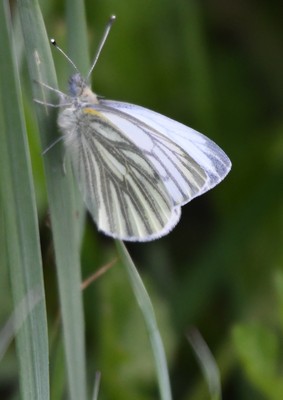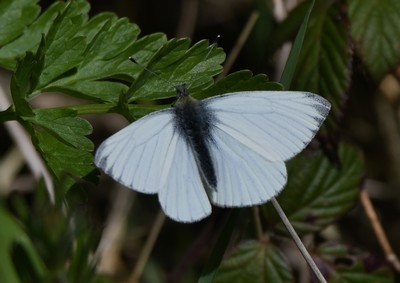 Saw several of these between Powderham and Exminster Marshes, the opened winged one is a 1st Brood Male
---
07 April 2022
Somerset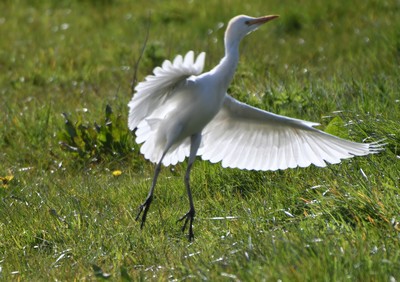 Went to Somerset today and as the weather has been all week, very windy.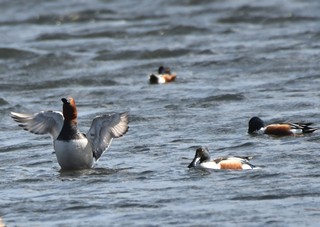 Visited Greylake, Catcott Lows, Shapwick and Ham Wall.
At first glance not a lot to see but with a bit of effort there was a good range of species to see, saw Little, Cattle and Great-white Egret, Marsh Harrier, Buzzard and Kestrel, Canada geese and Mute Swan, Raven, Carrion crow, Jackdaw, Magpie, Jay, Woodpigeon, Pheasant, Blackbird, Wren, Robin, Chiffchaff, Blackcap, Cettis Warbler, Dunnock, Great, Blue and Long-tailed Tits, Grey Heron, Moorhen, Coot, Shoveler, Mallard, Teal, Wigeon, Pochard and Tufted Duck
---
06 April 2022
Coryton Cove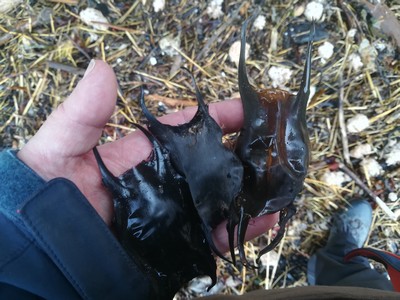 After being out all day went for a walk to Coryton Cove, to my amazement the only one on the beach??
Noticed quite a bit of Seaweed on the beach, especially at the far end. Plenty of interesting things caught up in it such as large number of Whelk Eggs, Crab parts, shells, Cuttlefish Bones and Ray egg cases, I counted 23 in the end and there was probably a lot more, 5 Small-spotted Catshark, 16 Thornback and 2 Undulate Ray Egg cases. All the debris looks like they have been floating around for some time.
Sadly quite a bit of small bits of plastic, Fishing line and those little round plastic fishing weights, should have taken a bigger bag!
---
05 April 2022
Deer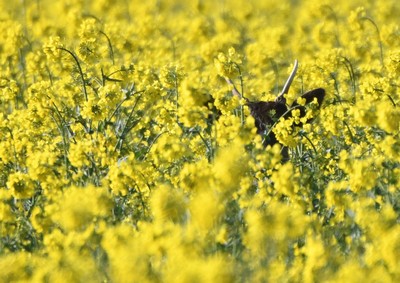 Ive seen a lot of Deer lately but only Fallow Deer?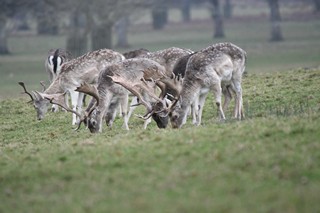 I have been looking for others but I have been unsuccessful, On the left is a wild young Fallow Stag was playing peek a boo with me!
To the right is a group of "Domesticated" Fallow Deer Stags at Powderham.
---
05 April 2022
Hen Harrier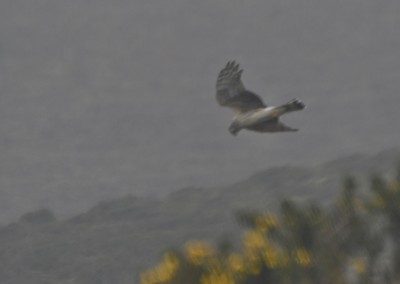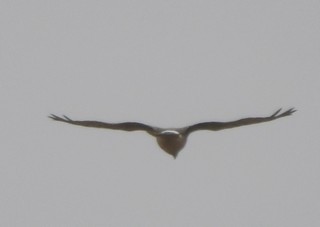 This rather crap picture of a Hen Harrier was taken through the front windscreen of my car, taken in Devon at a undisclosed site.
Showed the Devon Recorder this picture who thinks ts a Second Year male, exciting times!
---
05 April 2022
Marsh Harriers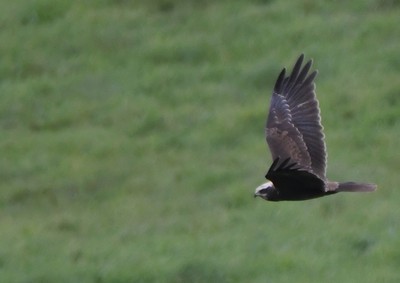 Have been watching a pair of these beautiful birds for the past week at an undisclosed site away from the madding crowd.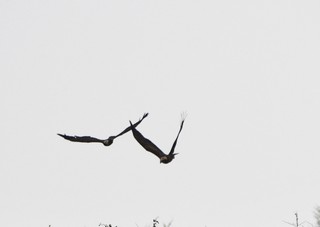 In Devon you normally see them over reed beds but I found these over arable land and they remind me of Harriers I have seen over Norfolk where they glide over the fields there, I hope they remain undisturbed for a long time yet!
---
04 April 2022
South Hams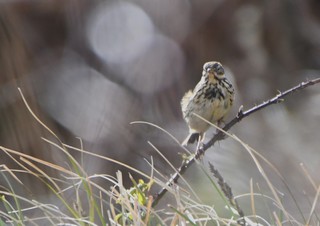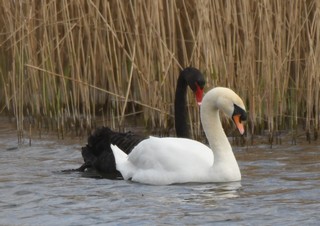 Spent a bit of time in the South Hams today, the weather was against me which is typical when I get a day off! Plenty of wind and the odd spot of rain so the hope of seeing a few Butterflies went out of the window!
Started off doing a circular walk from East Soar car park and back, then over the other side to Start Point, Lanacombe, Beesands and Slapton Ley.
Hoping to see some Hirundines but like the butterflies I didn't see any, most of the bushes were blown out and the waves made it difficult on the water but still an enjoyable day, met "Crinkl"y at Beesands hide and had a good chat about Butterflies, while at Beesands a Black Swan seems to have joined up with a Mute Swan so that will be interesting to see what comes out of this match if they are successful.
Iam on holiday this week and looking ahead the weather looks crap! could be worse I suppose.
---
04 April 2022
Rock Pooling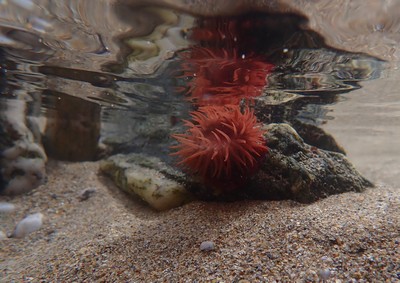 have been doing a little Rock Pooling on Lanacombe Beach in South Devon, also trying out my Camera which I can put under water.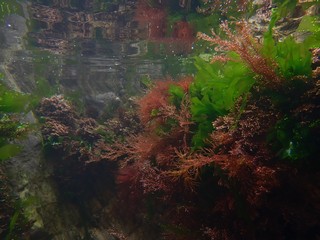 Its a "Olympus Tough" while iam getting some pictures ok to good iam getting more that are out of focus so lots of work to do here, this picture on the left shows a "Bedlet Anemone" in one of the pools and a Rock Pool scene to the right.
---
03 April 2022
Powderham Marshes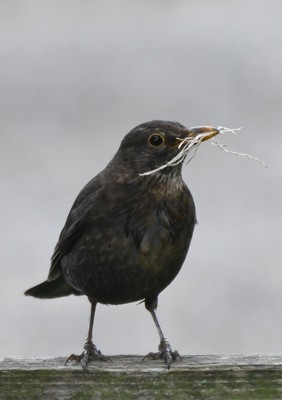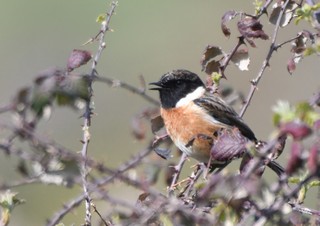 Went to Powderham marshes this morning, I had a few spare hours looking for Butterflies which I found but sadly no new ones.
Did though find plenty of singing Birds and those building nests so worth the visit.
Plenty of Blackbirds, Starling, Dunnock, Stonechat, Robin, Great, Blue and Long-tailed Tits, House Sparrow, Cettis Warbler, Cirl Bunting, Wren, Chiffchaff, Skylark, Chaffinch, Goldfinch, Fly over Buzzard, Magpie, Carrion Crow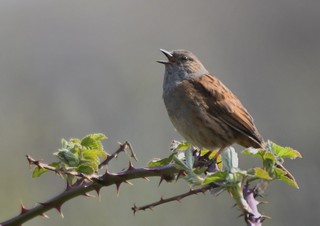 and Raven.
Canada geese, Moorhen and Shelduck on the water with a few Pheasant running around.
Didn't meet one human or Dog, happy days!!
---
© Simon Thurgood 2022
Images on this website may not be put as any part of any collection without any prior written permission.