Blog
24 April 2016
Soussons Woods, Headland Warren,Challacombe Farm and Back!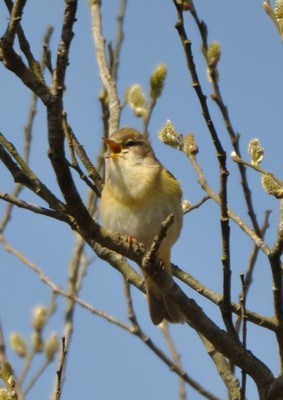 Thought I would get up early and head for Dartmoor and try and find some Grasshopper Warblers, I've heard them many times but never got a photo. So as by the side of Soussons Farm is a good spot, last year I heard a few here I thought I would spend some time for a look. Unfortunately it was a no show, but saw a few Tree Pipits and Willow Warblers, Lesser Redpoll, Meadow Pipits, Stonechats, Swallows, Great and Blue Tits, Wren, Robin, Blackbird, Buzzard and Dunnock were all seen in this area.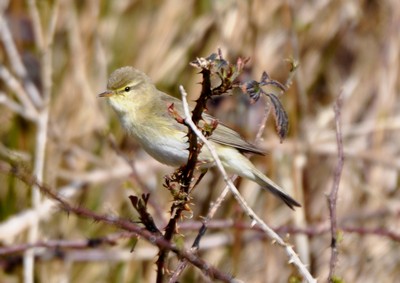 Into the woods there were Great, Blue and a Coal Tit, Woodpigeon, Chiffchaff, Robin and a few Siskin in the tops of the trees, one was a really smart green male. On to the open moor and a few Stonechat, a Mistle Thrush and a few Skylark were the only birds on show here. At Headland Warren things started to get interesting with my first Whinchat of the year which turned into 3! Also saw a good number of Wheatear also seen with more Meadow Pipits, Swallows, Robin, Dunnock and Carrion Crows. Sadly most of these birds were at a distance so no pics, it might have been all the people out walking in the luvely weather and why not? At least I saw them!
Down to Challacombe Farm with Nuthatch, Chaffinch, Robin, Great, Blue, Coal and Stock Doves.
A great day out walking in a beautiful place. Met lots of nice people about which is always a plus!!
---
23 April 2016
Exminster Marshes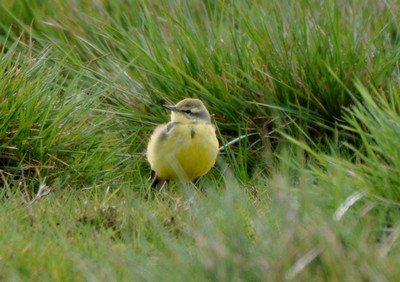 Again a late start, frustratingly there was a Blue Headed Wagtail with a group of Yellow Wags that had dropped on the Marsh. I thought I might catch up with them but as I got there I was told the flock of about 18 birds had flown north which would be typical for me! Luckily on further inspection and a bit of help from another birder I managed to see 7 more around the pools and scrapes of the marshes, a few Pied Wagtails about as well but no Blue Headed!
Lots of bird song, especially from the Sedge Warblers and Reed Warblers around the site, Swallow, Sand and House Martins, Blackcap, Whitethroat, Robin, Dunnock, Wren, Blackbird, Blue, Great and Long-tailed Tit. Carrion Crow, Magpie, Jackdaw, Mute Swan, Canada Goose, Coot, Moorhen, Mallard, Teal, Shelduck, Little Egret, Buzzard and Lapwing.
I just stayed around the Marshes and didn't go to Turf, a few Bumble bees and a couple of Common Lizards tying to find some sun.
Met lots of nice people today and Iam off to Dartmoor tomorrow to see what I can find.
---
16 April 2016
Exminster Marshes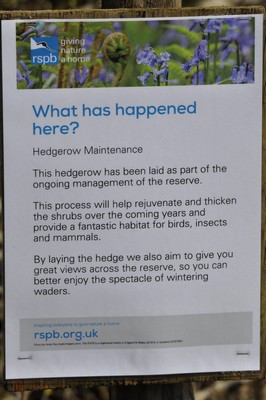 Went to Exminster Marshes today and did a circular walk from the RSPB carpark, there was a chill in the air which was a reminder that summer is not here yet!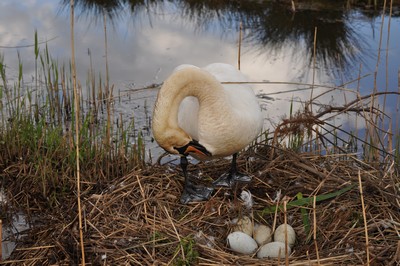 There was though plenty of summer migrants with Sedge, Reed and Cettis Warblers, Chiffchaff, Swallows and House Martins hawking for flies over the pasture. Very few ducks about with just a few Mallard, Teal and Shelducks, other water birds were Coot, Moorhen, Little Egret and Grey Heron. Greenfinch, Goldfinch, Robin, Dunnock, Wren, Blackbird, Song Thrush, Blue and Great Tits, Magpie, Carrion Crow and Woodpigeon also seen.
At Turf the tide was on its way out but very little seen with just Herring and Great-black Backed Gulls, Shelduck, Little Egret, Cormorant and Curlew.
The Wardens have been working hard and a impressive piece of hedge laying on the back path and the Mute Swans sitting on eggs, spring is definitely in the air!
---
11 April 2016
Exminster Marshes

Went out to Exminster Marshes this evening to see the Short Eared Owl that had been seen in the area and sure enough there it was quartering up and down the canal side of the fields and typically I was the other side watching on my bins. Had thought with all the people walking and on bikes it might move over my side and even after being harassed by a pair of crows still didn't move over! Watched it for about 45 minutes before it disappeared, might try again tomorrow if I get the time!
Most of the ducks have gone with only Teal, Mallard and a couple of Shelduck, other water birds included Grey Heron, Moorhen, Coot, Mute Swan and Canada Geese.
Also saw Chiffchaff and a possible Willow Warbler, Blue, Great and Long-tailed Tit, Robin, Blackbird, Pied Wagtail, Woodpigeon, Rook, Carrion Crow, Magpie and Wren. Saw a couple of other birders who also reported a Reed Warbler and Common Tern but I dipped on both.
Lovely evening for a walk!
P.S Can you see the Owl in the picture above?
---
08 April 2016
Mull day 7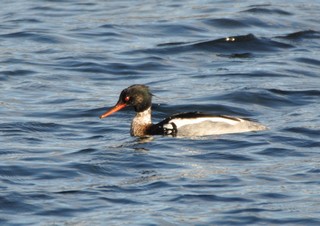 Had a excellent day, went looking for Otters and frustratingly saw one from the car but couldn't stop so by the time I had turned around it had gone!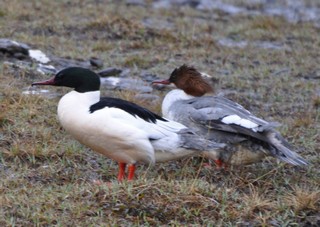 Went around several Lochs and shorelines, the morning weather wise was good and the scenery was stunning, the afternoon though turned to wind and rain.
Plenty of other stuff with Golden Eagle and a Female Hen Harrier seen. I've actually seen more Harriers than Otters! But only one male, another good reason to come back to this magical island.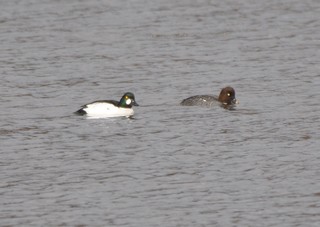 Raven,Hooded Crows,Mallards, GoldenEye, Teal, a pair of Eider Duck,Greylag and Canada Geese,Goosanders, Red-breasted Mergansers, Grey Heron, Great northern Divers some were almost in summer plumage, Wheatears, Song Thrush, Redwing, Blackbird, Robin,Chaffinch, Blue Tit, Stonechats, Pied Wagtails, Buzzards, Oystercatcher, Curlew, Redshanks, Cormorants, Woodpigeon, Skylark, Meadow Pipits, Great-black Backed, Lesser-black, Herring and Common Gulls.
Saw plenty of Mammals with several Red Deer, Seals and a Rabbit! Bet the Eagles love those!!
Sadly back home tomorrow!
---
07 April 2016
Mull day 6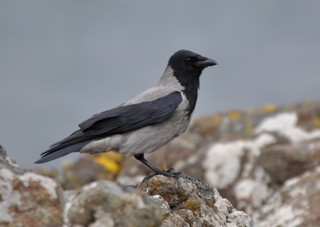 Had a great day, went looking for Otters but typically didn't see any!
Did though see lots of other stuff, 2 female Hen Harriers, a Sea Eagle, Several Buzzards, Greylag and Canada Geese, Redshanks, Oystercatcher, Greenshank, Curlew, Red-breasted Mergansers, Wigeon, Mallards, Teal, Shelduck, GoldenEye, Raven, Hooded Crows, Cormorants, Pied and Grey Wagtails, Wheatears, Starling, Blackbird, Great Tits, Chaffinch, Grey Heron, Great-black Backed, Lesser- black Backed, Herring and Common Gulls.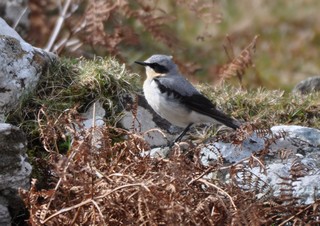 Also saw several Red Deer and Seals. Going to try again tomorrow and find some Otters on my last day on the island.
Popped in to see Bryan Rains at Pennyghael stores who hasn't changed a bit since I first met him 5 or 6 years ago, Bryans full of local knowledge and does wildlife trips around the island if your visiting.
---
06 April 2016
Mull day 5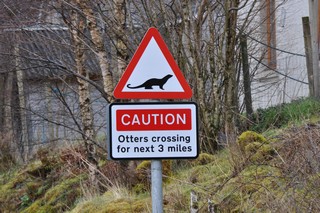 Had a great day today, sat and watched a Otter in Loch Na Keal for about 20 minutes while sat in my car. Afraid to get out and take some pictures incase I frightened it off so I enjoyed the moment!!Plenty of stunning scenery about the island and the clouds adding to the atmospheric feeling about the place.
Lots of birds seen but no Eagles sadly today, plenty of water birds with Red-breasted Mergansers, Greylag and Canada Geese, Mallards, Teal, Shelduck, Great northern Divers, Herring, Common and Great-black Backed Gulls, Cormorants, Redshanks, Oystercatcher, Curlew, Ringed Plover, Lapwings, Blackbird, Meadow Pipits, Wheatears, Pied Wagtails, Hooded Crows, Ravens and a Common Seal.
The weather was much better today and it was a joy just to sit on the side of the Loch with a flask of tea and chill out and I just cant believe the wildlife this place has to offer, perhaps I should just bring a tent next time and stay on the side of the Loch??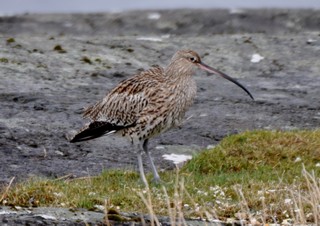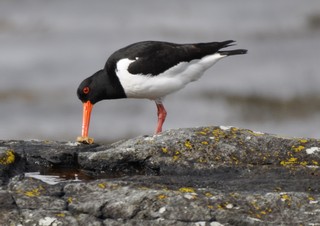 ---
05 April 2016
Mull day4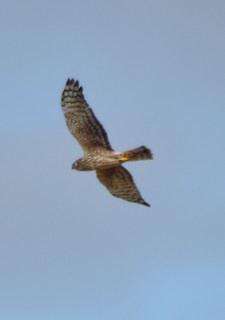 Had a full day and visited several Lochs and shorelines, saw White-tailed and Golden Eagles, while traveling back I was lucky to see a Female Hen Harrier which stayed around long enough for me to get a picture or two.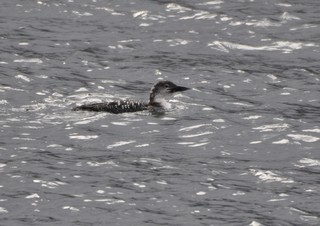 Also saw Great northern Divers, Little Grebe, Red-breasted Mergansers, Grey Heron, Greylag and Canada Geese, Redshanks, Curlew, Oystercatcher, Cormorants, Collard Doves, House Sparrows, Blackbird, Meadow Pipits, Wheatears, Stonechat, Black-headed, Great-black Backed, Herring and Common Gulls.
Also saw a couple of majestic Red Deer Stags, brilliant!!!
---
04 April 2016
Mull day3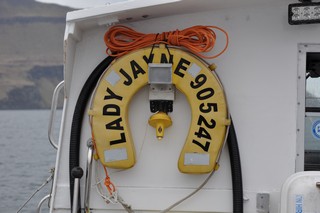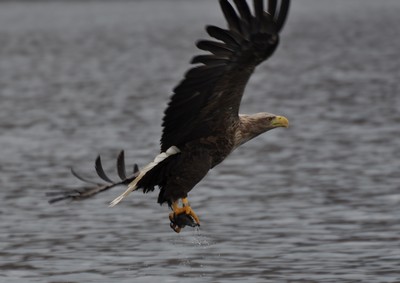 Really looking forward to today as I had a planned trip watching Sea Eagles from a boat named "Lady Jayne" which is run by "Mull Charters". And the weather was good for a change, normally when I arrange things like this it tours with rain!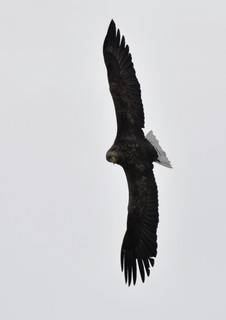 We went north from the Ulva Ferry landing and waited with the engine off and didn't have to wait long, a Female Eagle swooped down and picked up a fish and flew off, very quick but amazing!! We then turned around and went into the Loch Na Keal to the far end and turned off the engine and waited, it wasn't long before another Eagle this time a male swooped down and took the fish, fantastic!! We brewed up a cuppa and waited for about an half a hour and he returned, unbelievable views,just brilliant!
I took over 60 pictures of the three dives but deleted 90% of them. I should have got in a better position and perhaps I should have asked more questions about which side of the boat the fish would be. When the fish was put closer I found it difficult to focus quickly enough, which is all my fault for not being prepared enough. I had great company on board, a family of 5 who were as excited as myself at getting such great views of this wonderful bird. Martin the skipper and his son Alex were great hosts and look forward to doing this trip again.
Lot's of other birds seen, a Golden Eagle seen floated over the top of the cliffs as well as Ravens and a Buzzard. On the water there was apart from Gulls there was Great northern Divers, Red and Black Throated Divers, Razorbills, Gillimots, Shags, Cormorants, Oystercatcher, Grey Heron and plenty of Common Seals.
Brilliant day!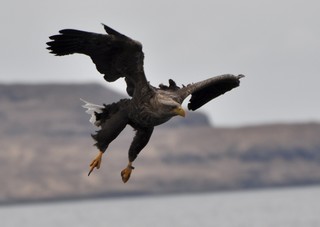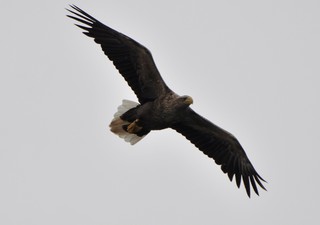 ---
03 April 2016
Mull day2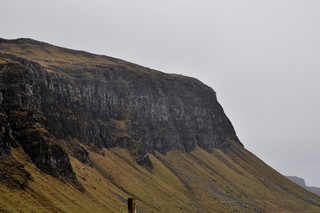 The weather was crap today and my plan to go walking off road was put off. I decided to do a bit of exploring by car around the South of the Island and around Loch Na Keal were there was interludes of sun!!.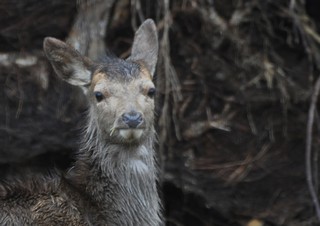 The scenery is stunning here with the steep rock formations, which are impressive!
Saw plenty of Ducks and other water birds with Goldeneye, Mallards, Teal, Wigeon, Shelduck, Red-breasted Mergansers, Greylag Geese, Grey Heron, Oystercatcher, Curlew, Redshanks, Greenshank, Mute Swan, Common, Black-headed, Great-black Backed, Lesser-black Backed and Herring Gulls. Plenty of Buzzards, Hodded Crows and Ravens. Cormorants and 12 Great-northern Divers, several Wheatears, Dunnock, Robin, Blackbird, Starling, House Sparrows, Pied Wagtails, Chaffinch, Skylark and Meadow Pipits.
A nice treat was seeing some Red Deer, off on a boat tomorrow, let's hope the weather is better.

---
02 April 2016
Mull day1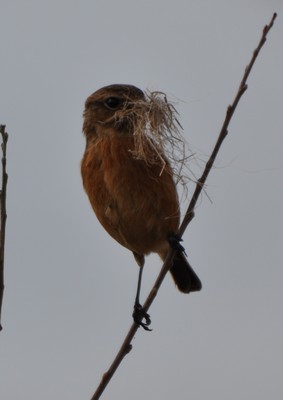 After two ferry trips I arrived in Mull today and as I had a few hours before I could drop my bags off so went along the South Coast and up and around Loch Na Keal before going over the top to Dervag and then to Achnadrish House which is where I am staying.
Saw plenty of birds with Oystercatcher, Curlew, Redshank, Greenshank, Greylag and Canada Geese, Teal, Mallards, Grey Heron, Hooded Crows, Buzzards, Ravens, Lapwings, Stonechats, Robin, Blue Tit, Blackbird, Pied Wagtails, Skylark, Reedbuntings, Shags, Cormorants, Red-breasted Mergansers, Goosanders and 23 Great-northern Divers seen in Loch Na Keal. The best was though was 3 Hen Harriers including 1 smart looking male. Need to get back to see them again!
Iam staying in this great little cabin and is just great for me, I used it on my last visit a few years ago but have different owners who seem just as friendly and helpful as the previous ones!
---
01 April 2016
Scotland day 3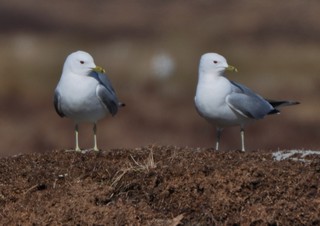 The weather was crap today and had trouble finding a dry place! I went to Loch Garten which seemed to be in a glow, to see the Ospreys at the RSPB reserve, both bird's were there. The female "EJ" was sat on the nest and the male "Oden" had left to go and get lunch.
"EJ" had arrived from Africa on 21th March and "Oden" had arrived on the 27th.
The visitor centre was full as it was its first day open this year and the cameras were giving great views of the nest. Outside the centre plenty of small birds on the feeders but again sadly no Red Squirrels, the volunteers said they had not seen any for a couple of weeks? Lets hope they come back soon!!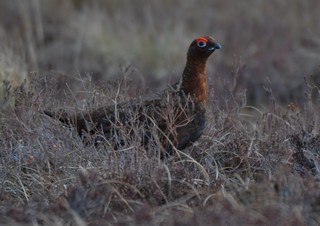 Then again off to Granton-on-Spey to get a bite to eat, I do love their Bacon Sarnies. I took my Coffee and Bacon sarnies off to lochindoub to see what was around, again plenty of Red Grouse and Common Gulls around the Heather with Oystercatcher, Redshank, Grey Wagtails, Mallards and Greylag Geese. Also plenty of fishermen on the bank which is probably why there was no divers!
Another really good day considering the weather!
---
© Simon Thurgood 2022
Images on this website may not be put as any part of any collection without any prior written permission.