Blog
29 March 2021
Haytor Quarry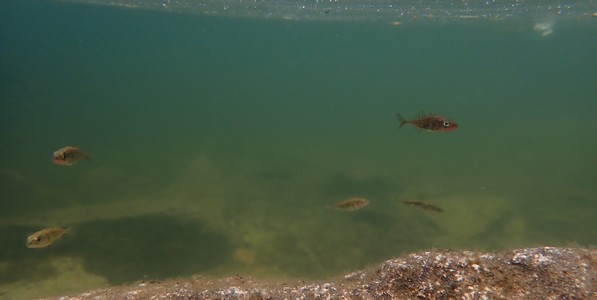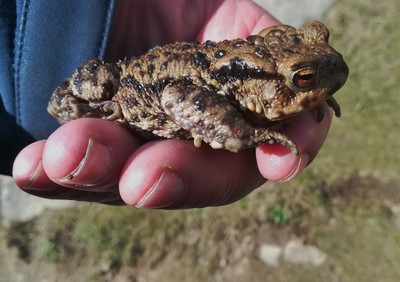 Went around the pond at Haytor, the water here is always crystal clear and is a stunning area to walk around and the slower you walk the more you see.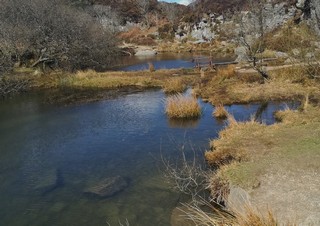 I did see quite a few remains of Toads in the water so not sure what has eaten them but also a few crossing the paths to and fro the pond.
Also saw Newts, Sticklebacks and lots of other marine life which I couldn't Id and a place I need to re visit.
Stay safe out there!
---
28 March 2021
Around the Beaches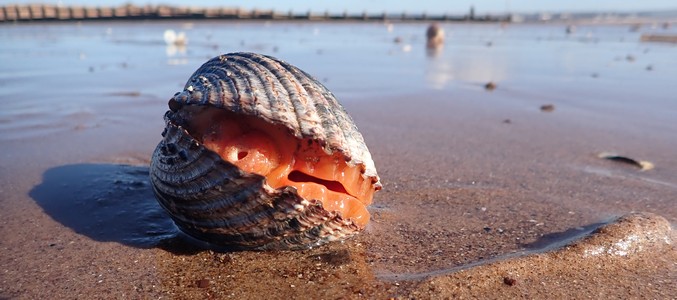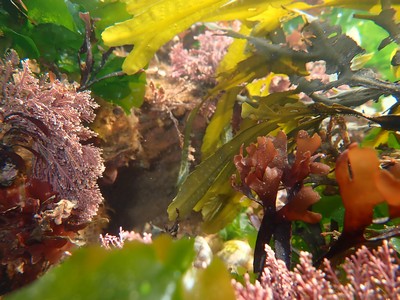 This last couple of weeks spent quite a bit of time around the beaches of Dawlish and some of the rock pools.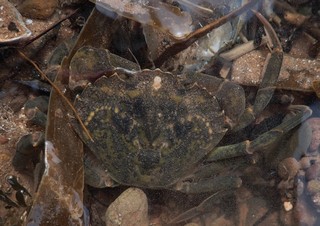 The beaches seem to be constantly on the move with beach levels dropping and raising on a daily amount, this has been seen the most at Coryton Cove, especially at the far end. There hasn't been the storms so the Warren seems to have stabilised for the moment, but dont think that will last long.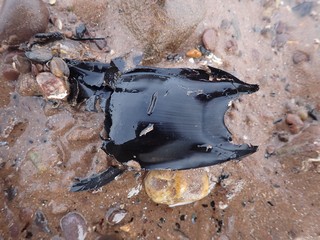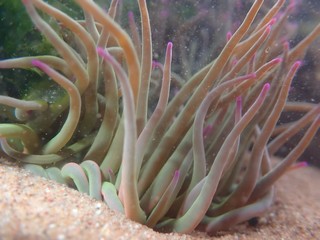 Just after the storms sand covered a normally pebble beach by Langstone Rock, this has now cleared and the long shore drift here continues to bring in some goodies, the smaller shells such as Pelicans foot and Auger shells, always a good place to pick up Ray Casings, picked up a few Small-eyed and Thornback Ray Casings here.
The Warren continues to be good for the bigger shells and stuff like Sea Potatoes, also if you catch the tide right about three quarter way along the beach when the tide is out is a good area for crabs and fish caught in pools.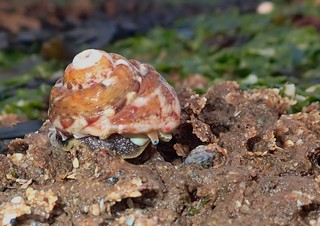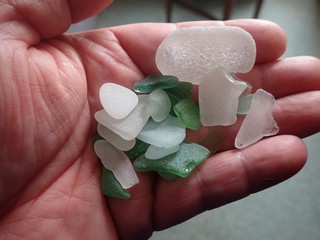 The Rock Pools both at Langstone and Dawlish continue to hold Anemones and some great Sea Weed, some of the pools are so clear.
Found a nice Turban Top Shell at Coryton and it was moving which is quite rare!
Thankfully not much rubbish about but my collection of "Sea Glass"continues to grow.
Stay safe out there!
---
25 March 2021
Breeding Season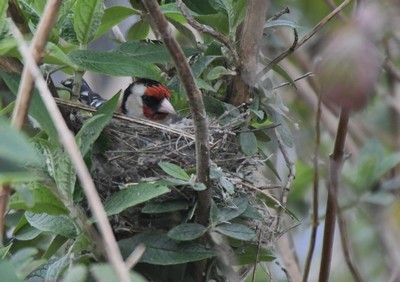 It was clear from walking around Exminster Marshes yesterday that spring is very defiantly in the air!
Saw lots of birds flying around with nest material and found a Goldfinch in the final throws of building a nest.
Also saw a couple of Blackbirds with a mouth full of worms, birds like Cettis Warblers giving their explosive songs in their various territories.
Plenty of Bumble Bees about as well as the odd Hoverfly but didnt see any Butterflies which was a surprise as it was warm enough!
Stay safe out there!
---
18 March 2021
Sinenis or Carbo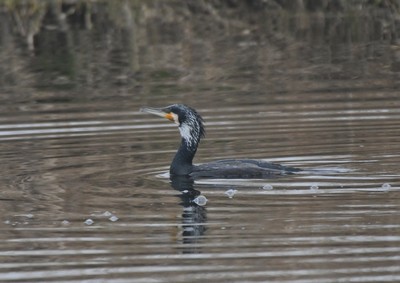 Saw this Cormorant on the Exeter Canal close to Turf at the beginning of March.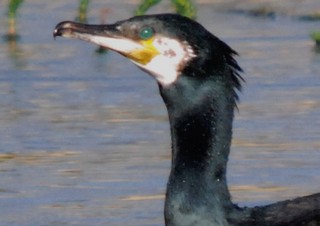 I thought it was a Sinensis because the angle of bare skin behind gape is bigger than 90%.
But I've seen other people question other peoples photo of the same bird saying it is a Carbo because of the white head? Any thoughts??
Picture on the left is what I think is the "Sinenis" and the one on the "Right" is what I think is the "Carbo"
---
18 March 2021
Love is in the Air!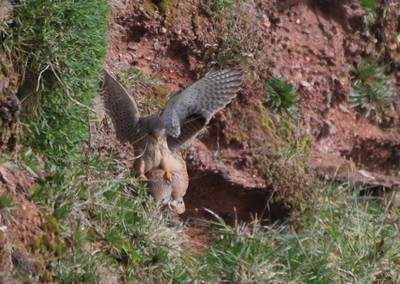 While doing some rock Pooling at Coryton Cove I could hear the sound of Kestrels making a racket on the cliff edge that is behind the Beach Huts.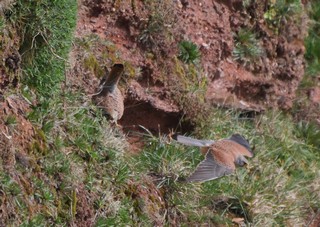 They have been nesting here for the past 2-3 years and are a regular sight here.
That evening an excellent couple of pictures taken by Gary Cook of them mating was taken from the Beach Hut area. The following morning I went to Lee Mount and looked down and they were still going through the mating ritual, they coupled 3 times while I was there, the first 2 times they were slightly out of view but on the third the Female stood closer to the edge giving great views.
Not sure if this is the nesting site as well, we will have to see but if it is it will give great views of the chicks and them growing up and give it at a safe distance.
---
07 March 2021
Dawlish Warren Beach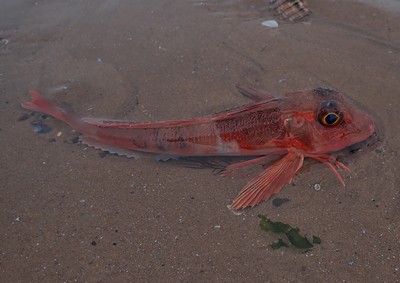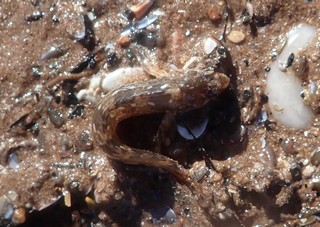 Had couple of sessions on the beach at Dawlish Warren, the weather and conditions have ranged from sun to wind and rain. Plenty to see though and have enjoyed especially at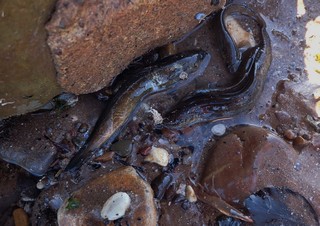 low tide going around the rocks three quarters up the beach.
Plenty of fish under the rocks such as Blenny, top right picture, Five-bearded Rockling 2nd from top right and a Red Gurnard, picture on the left, which was found by another person walking the beach and was stuck in a beach pool that had not properly drained yet, we tried to move it to open water but it didnt want to know so probably was food for the birds.
Stay safe out there!
---
© Simon Thurgood 2022
Images on this website may not be put as any part of any collection without any prior written permission.