Blog
25 March 2018
Weekends Birding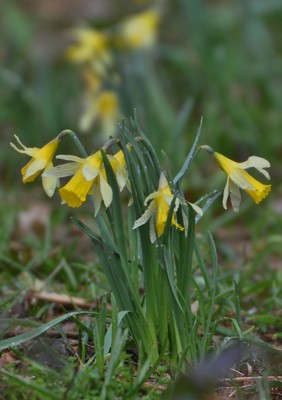 In between family and domestic duties I managed to get out for most of the weekend including Friday afternoon.
I spent a few hours at Aylesbere Common on Friday Afternoon hoping to see some Dartford's, Yellow Hammers amongst others, hoping that the snow hadn't done too much damage. It was though quite a depressing walk with very little to see, only one solitary male Stonechat seen on the gorse. Other birds were seen on the edge of the reserve and across the road such as Buzzard, Carrion Crow, Green Woodpecker, Pheasant, Robin, Dunnock and Blackbird. Lets hope not too much damage has been done and with the warm weather birds will return.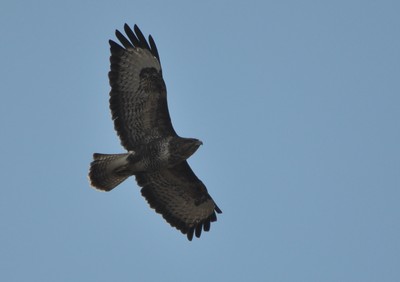 Saturday afternoon saw me at Exminster Marshes with my wellies this time. When I parked up a Peregrine flew by with food in its talons and landed in a Pylon further down on Powderham Marshes. Lots of water birds about including a Spoonbill sat right in the middle of the Marshes, also Little Egret, Grey Heron, Cormorant, Canada Geese, Mute Swan, Coot, Moorhen, Mallard, Widgeon, Teal, Shoveler, Shelduck and Curlew being the only waders seen.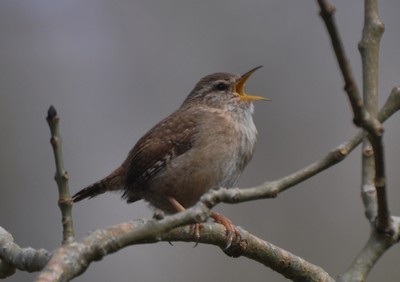 Carrion Crow, Rook, Magpie, Woodpigeon, Chiffchaff, Goldfinch, Chaffinch, Blackbird, Robin, Chiffchaff, Wren, Great, Blue and Long-tailed Tits, Reed Bunting and Bullfinch.
Also seen from the back path several Lapwing displaying and calling in Powderham Marshes.
At Turf most of the birds were some distance from the Hotel, the water was like a mirror and the tide was on the way out, plenty of Redshank, Dunlin, Black-tailed Godwit, Curlew and a few Grey Plover, Shelduck, Cormorant, Red-breasted Mergansers, Herring and Great-black Backed Gulls.
Also seen which was a bit of a treat was a Sand Martin going up the canal towards Exeter.
Sunday was a day spent on Dartmoor, the morning was spent at Dunsford Wood, hoping to see some Woodpeckers and Dippers but sadly saw neither, but still enjoyed the experience. Did see a stunning male Goosander on the river with Goldcrest, Blue, Great and Long-tailed Tits, Robin, Blackbird, Wren, Woodpigeon, Fly-over Raven and Buzzard. The woods looked stunning with all the wild Daffodils out, worth the journey just for them!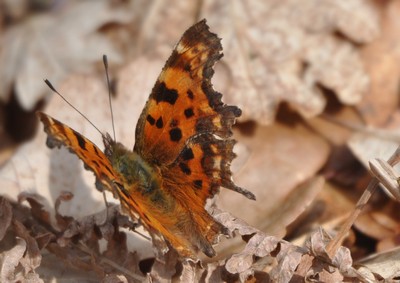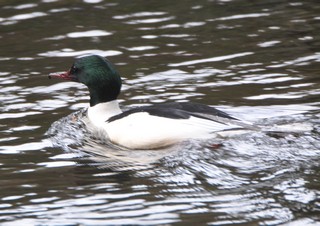 Then off to Yarner, due to on-going work here had to park up at Trendlebere where a few Buzzards were loafing about in the sky. Lots of disturbance around the carpark at Yarner with all the generators going, also looks like the feeders have been taken down, did see Great Spotted Woodpecker, Robin, Blackbird, Great and Blue Tits, Wren and Woodpigeon. Saw a few other birders here who said there had been several sightings of LSW but sadly not from me. Plenty of insects out with Hover Flies, Bumble Bees. Best of all two species of Butterfly which must have come out of hibernation several Brimstone fluttering around and a Comma which sat nicely for a pic. Stop for Cuppa at Hound Tor before going to look around the higher end of Emsworthy Mire, hoping to pick up a Wheatear or two but again nothing but still enjoyable walk with Skylarks singing and Pheasant, Raven, Carrion Crow, Magpie, Blackbird, Dunnock and Meadow Pipits all seen. Home for tea and cake!
Met lots of nice people this weekend, Visiting as well as local birders, all happy to see the birds on the move. Dartmoor was packed with people enjoying the scenery and good weather, roll on the summer!
---
19 March 2018
Mini Beast from the East

With snow and bad weather due this weekend I decided to pay Exminster Marshes a visit on Saturday, lot of water about and the road was blocked by water by the middle car park. Stupidly I forgot my wellies so couldn't pass. I also tried to get down the back path but that was also impassable in certain places.
I did though manage with the aid of my bins see quite a bit, a few ducks about with Pintail, Mallard, Shoveler, Widgeon and Teal. Also Coot, Moorhen, Grey Heron and Cormorant on view. A few Canada Geese and Mute Swans on the pasture with the usual Corvides.
Small birds included Dunnock, Blackbird, Robin, Great and Blue Tits, Greenfinch, Chaffinch and Wren.
On the fields coming and leaving there was plenty of birds on the ground, mainly Corvides, but also Gulls and Pheasants as well as the odd Buzzard sat on telegraph poles.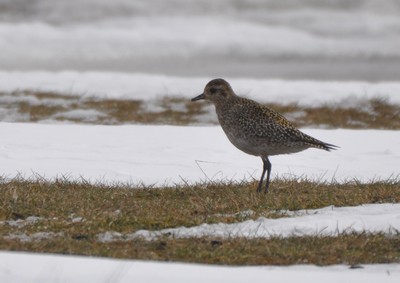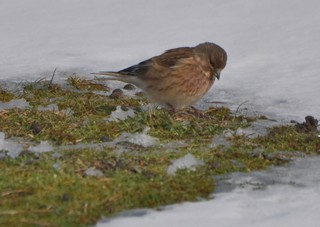 Sunday brought plenty of snow and I didn't venture far but Monday was a snow day so no work! I went out to Dawlish Warren to see if I could find the White Winged Gulls which had been seen here. Unfortunately none seen while I was there, but Herring, Black-headed and Great-black Backed Gulls of all ages seen on the beach between the life boat hut and Red rock.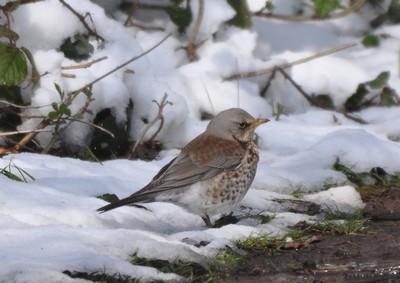 I did a walk around the wooded area, Pond and Greenland lake. Plenty of small birds looking for food where the snow had not covered or melted, Linnet, Meadow Pipit, Robin, Dunnock, Blackbird, Song Thrush, Green Woodpecker and Fieldfare all seen on the ground with Blue and Great Tit, Bullfinch, Chaffinch and Greenfinch seen in the bushes. As I approached the 1st pond area both Woodcock and Snipe flew up which was frustrating as I need a Woodcock for my picture Library.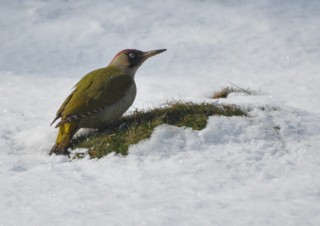 On the pond area there was Shoveler, Mallard, Moorhen, Coot and Canada Geese. Looking for food around the reeds especially at water level was Chiffchaff and a Cettis which wouldn't stay still! Also several Grey Wagtail about.
On Greenland lake apart from a lot of small birds such as Stonechat and Linnet there was a Golden Plover in plain view.
I went for a drive when leaving to back home, saw Brent Geese at Starcross, Green woodpecker, Little Egret, Woodpigeons, lots of Corvides especially Rooks and Pheasants around Powderham Church.
Did feel for all the early migrants that might have got caught up in this, lets hope this is the last of it and spring is on its way??
---
11 March 2018
Beesands Ley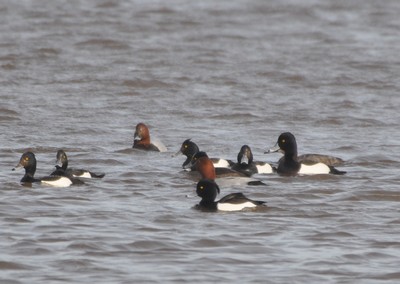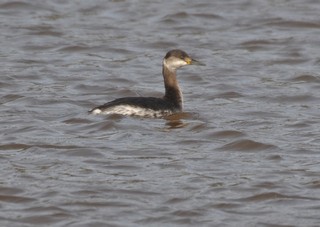 Everything seems to be getting in the way this weekend to getting out for a walk with the camera. Between the weather, family and domestic duties I just managed to get out Saturday afternoon to Beesands Ley which turned out to be quite successful!
I rocked up to the hide to be greeted by a visiting birder/photographer from Bristol who told me 2 out of the 3 birds I was looking for was in front of the hide, the Scaup had not been found.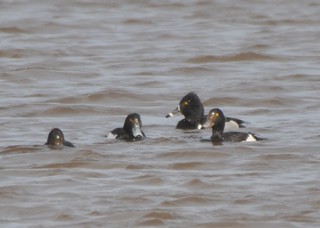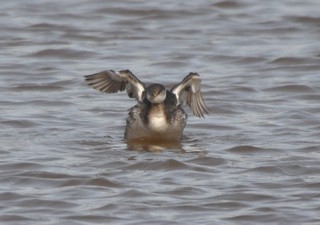 The Red-necked Grebe looked like it was coming into summer plumage and is a smart looking bird, its been there for a while and hopefully stay a bit longer. The Ring-necked Duck was in with the Tufted Ducks and Pochard who were diving for food in the centre of the ley.
There was also a couple of Gadwall and Mallard around the Ley with Coot, Moorhen, Cormorant, Great-crested Grebe, Mute Swans and a few noisy Canada Geese making a nuisance of them selves.
Not as many Gulls on the Ley as normal, couple of Great-black and Herring Gulls, Also Carrion Crows and 3 Buzzard floating around in the sky.
In the bushes by the path, Cettis Warbler was in full throttle, Blackbird, Dunnock, Robin, Pied Wagtail and Great Tit.
Good to get out, hopefully next weekend I will get a full weekend!
---
© Simon Thurgood 2022
Images on this website may not be put as any part of any collection without any prior written permission.