Blog
28 February 2021
Butterfly Season begins!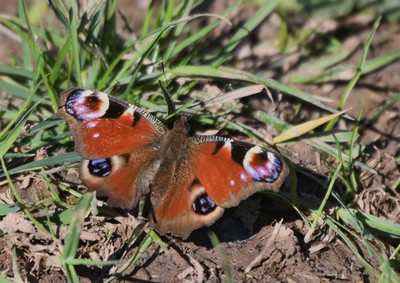 Well with the fine weather the Butterflies have come out, as well as a few bees and Wild flowers.
For me seeing A Peacock and 5 Brimstone was just a joy, saw the Peacock on Powderham Marshes and the Brimstone on Exminster Marshes, only another 57 odd to go!
---
25 February 2021
Farmland Birds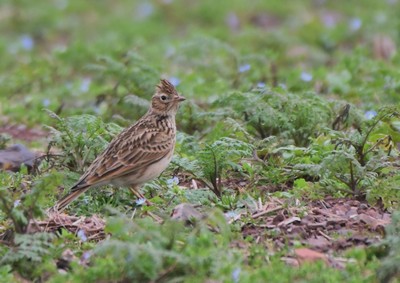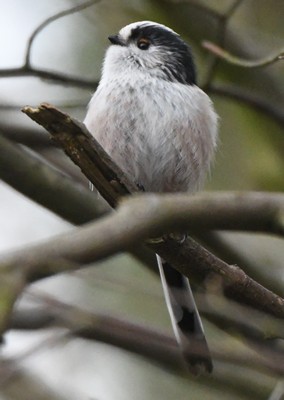 The last week or so have done a very unscientific survey/walk around of fields, hedges and country lanes around the back of Dawlish, Kenton and Starcross. Wasn't sure of what I would find but have been left quietly positive!
Although the weather hasn't been great and many flooded areas I did find plenty of birds and what I would call the basic stuff. I was very pleased to hear and see many Skylarks, such a sound of the countryside and spring!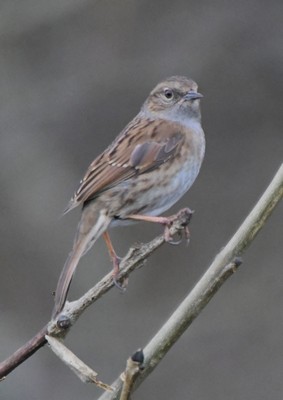 Several flocks of Starling, Chaffinch and Goldfinch especially close to fields that were not wet, I witnessed several flocks going from hedges to field and back again. A few Woodpigeon on the ground as well as the odd Corvid such as Rook and Carrion Crow but not the numbers of before Xmas, possibly not the food on the wet fields? A few Magpies about but in singles or pairs.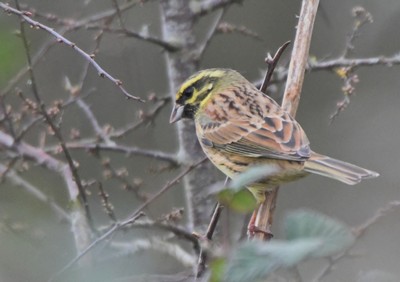 Several Buzzards about and great to see a couple of Kestrel hunting and sat up watching for dinner.
Didn't see any Winter Thrushes but did see singles of Mistle and Song Thrush, plenty of Blackbirds, Robins, Dunnock and Wren. A few Pied Wagtails also a couple of Cirl Buntings, Bullfinch and Greenfinch.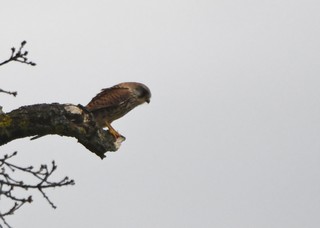 A small Tit flock that comprised of Great, Blue and Long-tailed Tits was great to watch as it worked its way down a roadside hedge, not taking any notice of me or the odd car.
A few group of Gulls sat on the fields, mainly Herring but there was the odd Black-headed gull amongst them. Also a few Cock Pheasants in certain fields but not that many, also no Red-legged Partridge which you used to see around the back of Starcross, perhaps the local shoot has stopped with the introduction?
Plenty of wild flowers starting to sprout but no Butterflies yet!
Stay safe out there!
---
18 February 2021
Ray Egg cases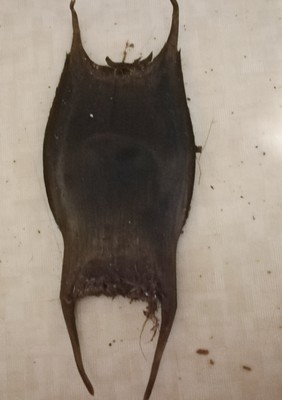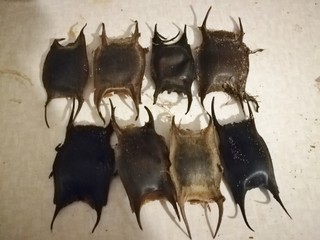 Went to Dawlish Warren yesterday and walked down to the beach Dawlish side of Langstone Rock.
Last time I was here the beach had been covered in sand which I presume had come from Dawlish Warren as large amounts of the Beach had gone there?
Yesterday much of the sand had gone leaving the beach as it was full of pebbles and shells. It also had a bit of a dump of seaweed which is not unusual here because of long shore drift and being caught by the Rock and Breakwater.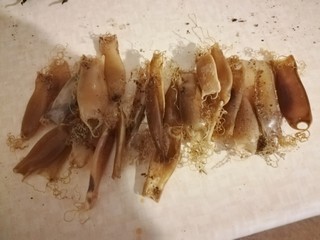 Lots of interesting things here but most of all was the number of Ray Egg casings 32 in all.
1 Small-eyed Ray, picture to the left, distinguished by the case tapers towards the bottom.
8 Thornback rays, square shaped casing with obvious keels,picture top right.
23 Small-spotted Catshark or Dogfish as some people call them, bottom right.
All records to the Shark Trust
Stay safe out there!
---
16 February 2021
Spring feel out there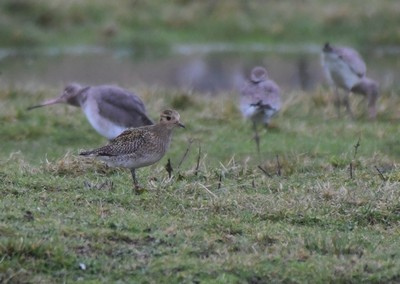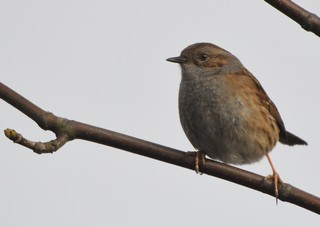 After doing a few sessions at work it was good to get out and get some Birdwatching in. Parked up at Powderham Church and walked up to the Middle car park on Exminster Marshes and back again.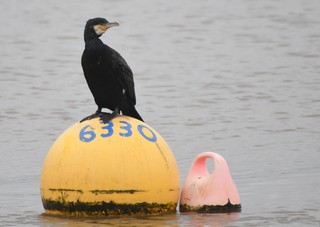 There was a definite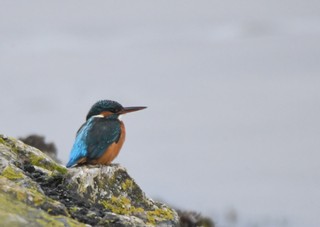 spring in the air which I picked up from the birds not necessary the weather! When I parked up the Rooks were already in their nesting trees causing a racket, over the Bridge a pair of Skylarks were singing and saw some Black-tailed Godwits with their plumage starting to turn from grey to brown and breeding plumage. The Brent Geese in a very large flock very noisy and always on the move around the top part of the estuary, I think they are getting to move north.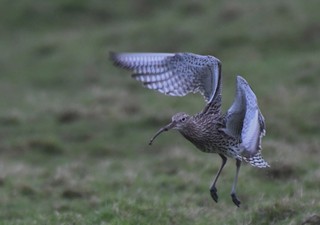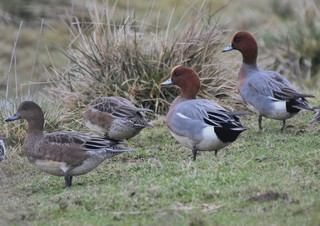 Also large flocks of Lapwing and Golden Plover as well as Snipe, Curlew, Godwits, Dunlin, Avocets, Grey Plover, Ringed Plover, Redshank and Greenshank all seen between the Estuary, fields and Exminster Marshes.
Apart from the large numbers of Brent geese, Canada Geese, Mute Swans, Coot, Moorhen, Little Egret, Grey Heron, Mallard, Teal, Widgeon, Shoveler, Pintail and a couple of Tufted Ducks. Cormorants, Shelduck, Black-headed, herring and Great-black Backed Gulls seen up and down the Estuary.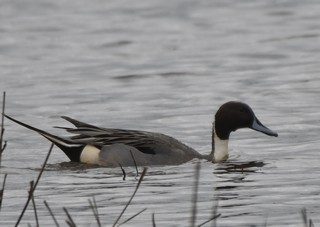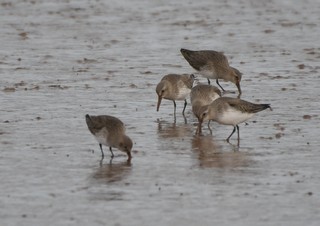 The usual Kingfisher seen on the River Wall close to Turf as well as Pied Wagtail, Meadow and Rock Pipits seen around the River Path. Stonechat, Blackbird, Cettis Warbler, Dunnock, Robin, Starling, Greenfinch, Goldfinch, Great, Blue and Long-tailed Tits, Wren, Reed Bunting, Woodpigeon, Great Spotted Woodpecker, Carrion Crow, Magpie, Jackdaw and Pheasant all seen around the hedges and fields.
Stay safe out there

---
15 February 2021
Starfish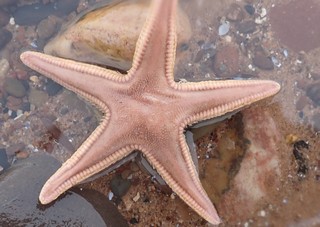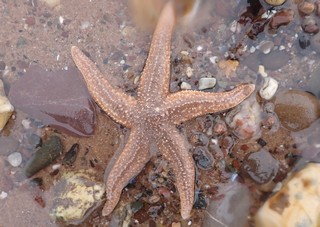 After I put up yesterdays Blog about Dawlish Warren, I found I had taken a picture of a new Starfish for me, a Sand Star. It is the picture on the left and a Common Starfish on the right.
---
14 February 2021
Dawlish Warren Beach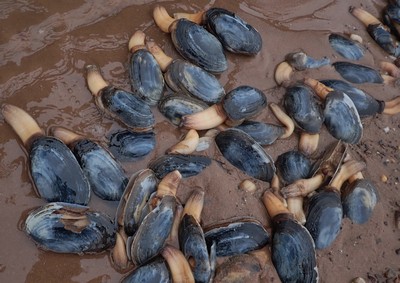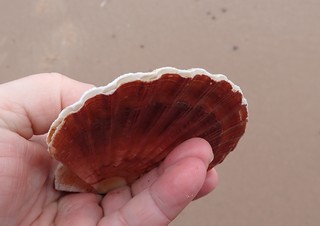 Managed to get down to Dawlish Warren beach 3 hours before low tide which was due at 2.30pm, plenty of waves crashing in pushing the water up the beach, so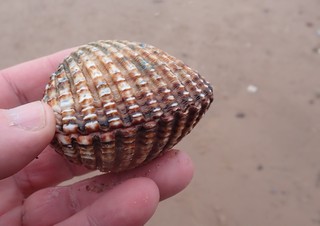 joined the beach further up.
With the storms this last couple of days, plenty of sand and stones pushed up against Groins and water pooling in various areas where the Topography of the beach has changed. More of the Dunes have been taken especially towards the top end against the River Exe has been completely levelled!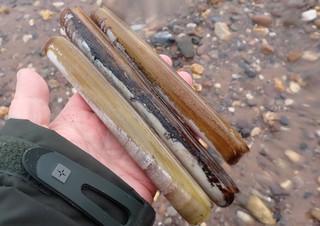 The storms and wave action have dumped hundreds of Shells on the Beach, many live shells such as Scallops, Cockles, Razor Shells and Otter Shells. The later causing a bit of a feeding frenzy with the larger Gulls at the top end of the Beach.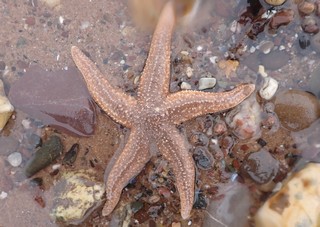 These shells as well as Starfish giving the Birds a welcome feed in these very difficult conditions, plenty of birds on the strandline and interestingly the smaller birds closer to Dawlish Warren such as 34+ Sanderling, 6 Dunlin and a few Turnstone moving in and out of humans and Dogs walking in this area, amazing to watch these birds navigate the hurdles here without flying for most of the time. These birds seem to be taking stuff out of the surf compared to the Gulls and Oystercatchers further up the Beach who were feeding on the larger shells. Also at the middle to higher end of the beach there was some smaller Gulls, one Black-headed Gull looked all in and exhausted with battling the wind.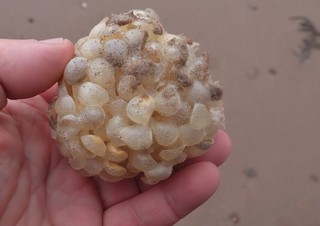 One of the smaller Gulls looked like a Little Gull, it didn't fly so didn't see the underwing and thought it unfair in these conditions to make it. But it was a lot smaller and looked like it had a Black bill, I didn't have my bins with me but still fairly confident it was a Little Gull.
Also plenty of Whelk Eggs but interestingly very little Seaweed which was a surprise, apart from a Lobster Pot very little Marine Litter which again was a big surprise, was expecting the beach to be full of it!
Good to see Phil while he was doing his rounds.
Stay safe out there
---
04 February 2021
Quick visit to Exminster Marshes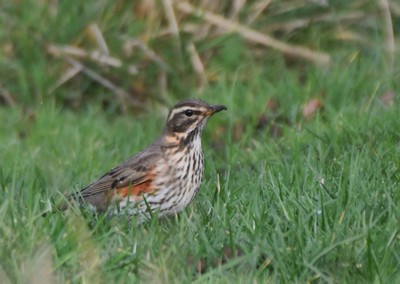 Managed to spend about an hour on the Marshes, parked up in the RSPB car park and walked down the back footpath with a view to see the White Fronted Geese but unfortunately none found.
I doubled back and walked down the road to just past the Fishermans Car Park and back again.
Plenty of Birds in the bushes and trees between the car park and just past the "Lions Rest", this area of trees especially around the entrance always seems to hold plenty of birds to see.
Greenfinch, Chaffinch, Goldfinch and Bullfinch. Blue and Great Tits, Wren, Blackbird, Robin, Dunnock and Redwing seen in this area.
Large flocks of Golden Plover and Lapwing very mobile over the marshes, Woodpigeon, Carrion Crow, Rooks and Magpies, Buzzard heard but not seen, Grey Heron, Little Egret, Moorhen, Shelduck, Shoveler, Mallard, Teal, Wigeon and Tufted Duck.
Plenty of Canada Gees and fly over Greylags seen as well as Curlew, Godwits and Redshank seen around the pools.
Stay safe out there
---
02 February 2021
White Fronted Goose on Exminster Marshes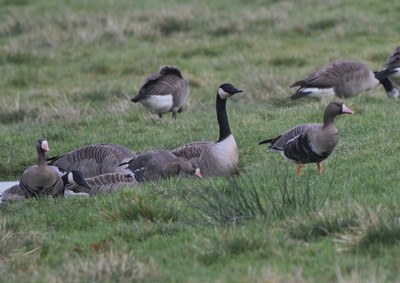 Returning from a work Meeting in Sidmouth, I popped into Exminster Marshes to try and catch up with the 4 White Fronted Geese on the Marshes and was lucky enough to find them close to the back path with a large group of Canada Geese.
I also saw some Brent Geese and when I bumped into Dave B who told me that there was Barnical and Greylag geese on the Marshes as well.
A few ducks about with Shoveler, Mallard, Teal, Wigeon and Dave said he had seen some Pintail which I missed. Mute Swan, Little Egret, Grey Heron, Moorhen, Rook, Carrion Crow, Jackdaw, Magpie, large Tit flock 50 birds+ Long-tailed, Blue and Great Tits and possibly a couple of Goldcrest, Blackbird, Dunnock, Wren, Starling and Goldfinch also seen.
Stay safe out there!
---
01 February 2021
Rubbish around the beaches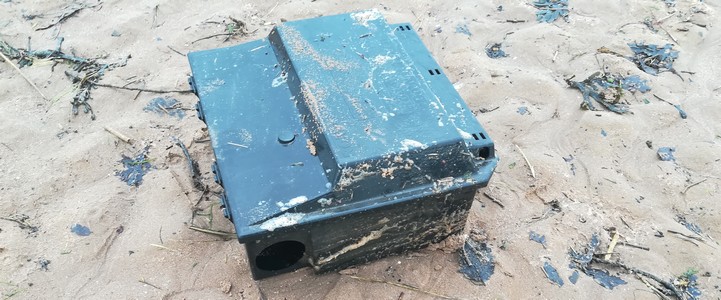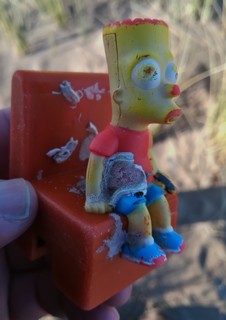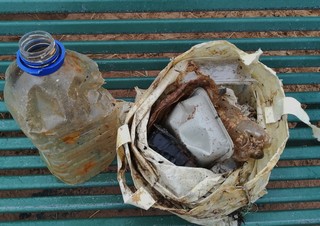 While looking around the Beaches and photographing wildlife, I also pick and record some of the rubbish I find.
Some has been floating on the seas for sometime with plenty of Marine Life attached, others are fresh that just floated down the local Rivers, disturbing that a "Rodent Bait Trap" was found at the top end of Dawlish Warren Beach which had clearly come down the River Exe but from where and how far up the River it has travelled, hopefully there was no poison inside when it was lost down the River Exe.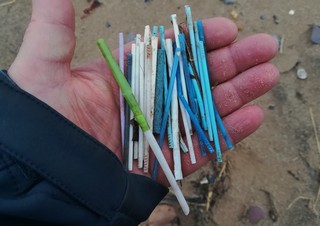 Plenty of Fishing Line, Weights and Floats as normal on the Beaches.
After a storm I found hundreds of small plastic tubes, plastic bottles, food containers and even a "Life Jacket" that looks like it has been in the water for sometime.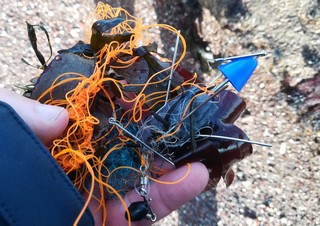 Got a few fun things as well including a Simpsons Toy amongst many others.
It was nice to see lots of people picking up litter and even picking up the odd plastic bottle to put in the bin.
Stay safe out there!
---
© Simon Thurgood 2022
Images on this website may not be put as any part of any collection without any prior written permission.