Blog
28 February 2016
Dartmoor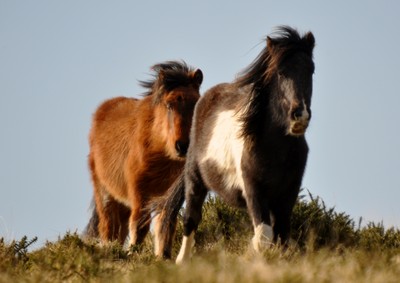 On a very sunny day I went up to Dartmoor, very sunny but also very windy in places sending a cold chill right through me! I had a walk in several places and most places were blown out.
Plenty of Corvides in the fields with Rooks, Carrion Crows, Jackdaws, Magpies and a couple of Ravens that flew over. Also a couple of Buzzards seen both on bushes and loafing around in the sky.
Several Stonechats seen on the Gorse with Robins, Great and Blue Tits, Wrens, Dunnock and Blackbirds.
Other than that very quiet on the bird front. Plenty of happy humans about either Walking, Running, Cycling, Horse riding or driving around, Dartmoor's roads was full of them!
---
19 February 2016
Dawlish Warren

Had an hour to spare so went down the Warren to walk around the bushes to see what was about. It was very dull and threatening rain which would explain very few people about.
The bushes were flooded out and some areas inaccessible without wellies which I stupidly left in the car!
Plenty of birds out singing with Greenfinch, Chaffinch, Goldfinch, Bullfinch, Robin, Dunnock, Blackbird, Blue, Great and Long-tailed Tits, Wren, Magpie, Carrion Crow, Woodpigeon, Pied Wagtail, House Sparrow, Starling and a Firecrest! It just popped up in front of me and before I could get a pic disappeared into the brambles and not seen again!
Only a Little Grebe and a Moorhen seen on the pond.
Good to see Phil for a chat, otherwise didn't see anybody else, very quiet!
---
18 February 2016
Birding around Darts Farm and Topsham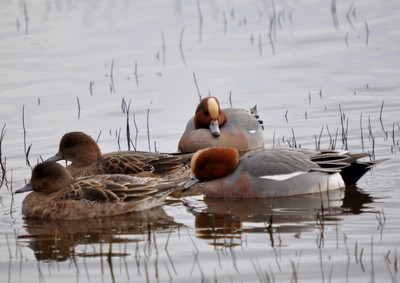 Parked up at Darts Farm on a beautiful start to the day, plenty of birds singing with Robin, Chaffinch, Goldfinch, Pied Wagtail, Blue Tit Wren, Dunnock, Magpie, Herring and Black-headed Gull with a few Carrion crows flying over.
Down the cycle track with Greenfinch, Goldfinch, Pied Wagtail, Blue, Great and Long Tailed Tit, Robin, Blackbird, Starling, Woodpigeon, Jackdaw and a Buzzard loafing around in the sky.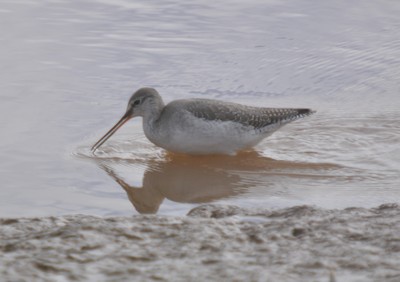 In the Creek there was several Redshank and one Greenshank, Goosemoor on the way through though was empty of birds.
Along the road there was plenty of birds especially around the feeders behind the hide with House Sparrow, Blue, Great, Coal and Long tailed Tit, Chaffinch, Greenfinch, Dunnock, Woodpigeon, Collard Dove, Wren, robin, Blackbird and a Jackdaw.
The reserve because of the tide wasn't that busy but plenty of Wigeon, Teal, Shoveler, Pochard, Shelduck, Mallard, Curlew, Black-tailed Godwits, Redshank, Moorhen, Lapwing, Greylag, Canada and Brent Geese, Song Thrush, Blackbird, Magpie, Carrion Crow and Woodpigeon.
From the platform there was Avocet, Curlew, Black-tailed Godwit, Redshank, Spotted Redshank, Dunlin and Shelduck with Black-headed and Herring Gulls.
The Goat walk was quiet as there was plenty of disturbance due to on-going work to the path. On to Topsham for a cup o char and a Bacon Sarnie. Plenty of House Sparrows about with the odd Jackdaw.
On the way back the tide was coming in and Goosemoor had quite a few more birds in with 20+ Redshank, Curlew and a Little Egret.
Great to see David B and a few other birders I hadn't seen in a while, plenty of people about and all behaving themselves.
---
15 February 2016
Holden Forest Park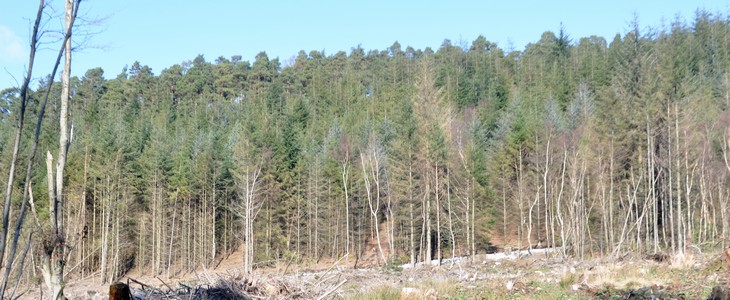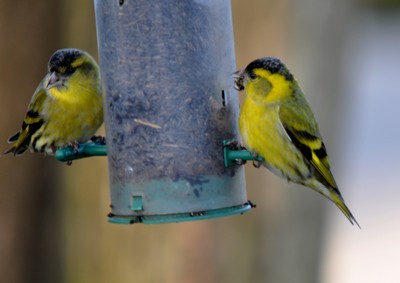 Not been here for some time and at first was shocked by the changes and not seen so many people, first thought was to turn around but glad I didn't!
The car park was nearly full because of half term and lots of excited kids running around on bikes of allsorts, great atmosphere about the place. They must have made a fortune on the car parks at £4 a shout!
Made my way to the back of the rangers hut were the feeding stations are and was just bowled over by the number and diversity of birds. Next door they were giving lessons on "Segway's" but the birds took no notice of the noise, excited kids running around, bikes, horses and the odd dog!
Song Thrush, Coal, Blue and Great Tits, Robin, Nuthatch, Siskins, Chaffinch, Blackbird, Dunnock and the only skittish bird was a male Brambling that just flew in and out. Great site!!
I then went for a walk on one of the trails "Tree Trail" which is about 3 miles long and was at times a bit steep but rewarding with the views and being amongst the trees, saw a few Ravens, Mistle Thrushes, Wren, Robins, Blackbirds, Blue and Great Tits.
Also heard the excited shrill of excited children in the trees having a go at "Go Ape". I know some people wont approve but it was so good to see parents out with the kids in the big outdoors instead of being in front of a screen. Nearly got wiped out by a couple of mountain bikers, but that was my fault for not being on the right track and everybody saw the funny side of it!
Must try out some of the other tracks soon and recommend the place!
---
14 February 2016
Exminster Marshes

It was so good to get out for a walk today, not been out for over a fortnight due to weather, work and life getting in the way!
Not many people about when I first got to the RSPB carpark and decided because of the water to stick to the road. Plenty of birds about with Buzzard, Coot, Moorhen, Grey Heron, Brent Geese, Canada Geese, Mallard, Teal, Shoveler, Wigeon, Shelduck, Curlew, Redshank, Dunlin, Cormorant, Magpie, Carrion Crow, Rook, Mute Swan, Dunnock, Blue Tit, Great Tit, Song Thrush, Blackbird, Redwing, Lapwing, Goldfinch, Robin and Woodpigeon seen.
At Turf the tide was in and there was very little to see, a couple of Grey Plover, Black-headed Gulls and a couple of Herring Gulls was all.
A few humans about and it was good to see the Turf open again for the season!
---
© Simon Thurgood 2021
Images on this website may not be put as any part of any collection without any prior written permission.