Blog
28 February 2015
Dawlish Warren

Went to the Warren today, the tide wasn't very high, about 2.6 at the hide so the birds were not pushed very far or close to the hide.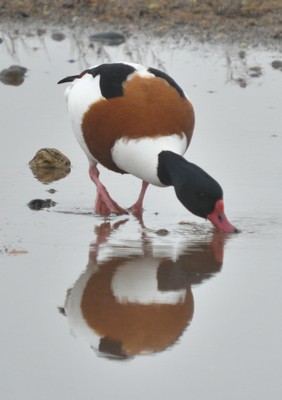 I did have some good views of the Waders though with Oystercatcher, Curlew, Dunlin, Redshank, Grey plover, Knot, Turnstone and Ringed Plover. Other birds seen were Dark-bellied Brent Geese, Skylark, Linnet, Red-breasted Merganser, Little Egret, Wigeon, Shelduck and Cormorant.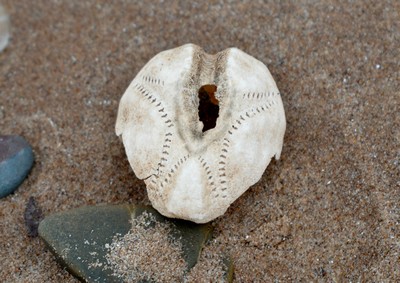 On the Golf course there was another 50+ Dark-bellied Brent Geese.
In the pond there was Teal, Shoveler, Mallard, Mute Swan sat on nest, Moorhen and Little Grebe.
Other birds seen around the bushes and site are Collard Dove, Woodpigeon, Stonechat, Magpie, Starling, Dunnock, Pied Wagtail, Herring and Black-headed Gulls, Great, Blue and Long-tailed Tit, Robin, Blackbird, House Sparrows, Chaffinch, Greenfinch, Bullfinch, Wren and Great Spotted Woodpecker.
As I walked along the beach I did some beachcombing and found a few Sea Potatoes and lots of different Shells, I was amazed at the amount of Whelk egg-cases that have been washed up in the latest gales.
---
21 February 2015
Powderham to Turf Lock on River Exe

Quick walk up the side of the River Exe to Turf to see what was about and wasn't disappointed!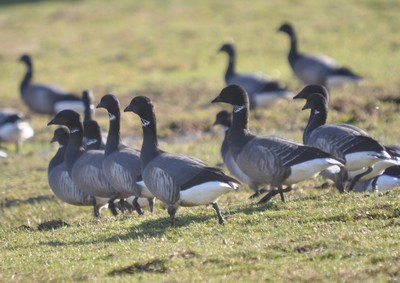 Couldn't find the Snow Bunting but many of the birds were away out of the wind in the fields so it might have been there?
Plenty of birds in the fields with Grey Heron, Blackbird, Carrion Crow, Curlew, Herring Gull, Canada Geese and several flocks of Dark-bellied Brent Geese totalling about 400+ birds. Also several small flocks of Black-tailed Godwits feeding in the fields with more flying in from the mudflats all the time.
Also Oystercatchers, Lapwing, Several Stonechats and Robin around the path and field.
On the River a lot fewer birds, Rock Pipits on the sea wall with Shelduck, avocets, Dunlin, Grey Plover, Cormorants, Redshank and a few Black-tailed Godwits.
When I got to Turf there was plenty of Wigeon, Mallard and Teal in the dykes staying out of the wind.
Good walk if not a little breezy!
---
21 February 2015
Dawlish Warren

After a heavy night out on the town I managed to make it to the Warren for high tide at 8.15am. It was the highest tide for some time and as you can see from the picture there was standing room only! The birds on the island were constantly harassed by Carrion Crows but were quick enough to catch anything.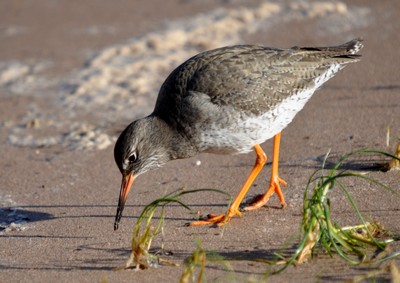 Large numbers of Waders but wont do the numbers, but Dunlin, Curlew, Knot, Grey Plover, Turnstone, Sanderling, Redshank and Oystercatcher all seen.
Also out to sea I saw some Great-crested Grebes as well as Herring, Black-headed and Great Black-backed Gulls.
Around the pond I saw Mallard, Little Grebe, Moorhen and Mute Swan. Ducks seen in front of the hide were Wigeon, Teal and Shelduck.
Also Cormorant, Dark-bellied Brent Geese, Carrion Crows, Skylark, Water Pipit and Greenfinch all seen around the hide.
Around the bushes, Blackbird, robin, wren, Woodpigeon, Magpie, Green Woodpecker, Great, Blue and Long-tailed Tit, Chaffinch, Chiffchaff, Dunnock, Bullfinch, Goldfinch, Starling and Collard Dove.
Also pointed out to me by Phil the Warden a Dartford Warbler-cheers!!
Also good to see Lee, Dave and Alan out birding, your wit and charm never ceases to amaze me!!
---
20 February 2015
Cirl Buntings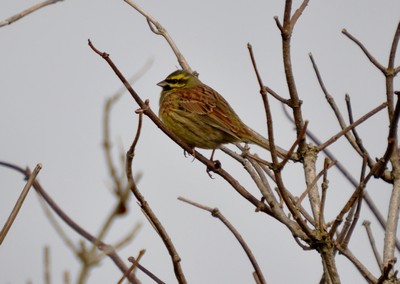 I went to Labrador Bay today for another visit to see the Cirl Buntings and wasn't disappointed!
I was met by a small group of around 10 as soon as I got into the field from the car park, then ahead of me I could see 3 trees full of birds which turned out to be all Cirl Buntings! 50+ I reckon, while trying to take some pictures I met the Warden who is responsible for the reserve who said the numbers had slowly risen. I also made the point a lot of birds where coming from across the road, he made the point that the farmers field was full of them and the lane going into the local village had plenty in too. It was reported to him that in the local village Cirls had been visiting the bird tables in peoples gardens! Lucky them!!!!!
Other birds seen were worryingly a Sparrowhawk which I saw take out a Blackbird, ok but stay away from the Cirls! 3 Buzzard, Kestrel, Magpie, Raven, Carrion Crow, Herring Gull, Skylark, Chaffinch, Goldcrest, Robin, Chaffinch, Wren, Dunnock, Jackdaw and a small Tit flock comprising of about 20 birds, looked like only Long-tailed and Blue Tits.
Great to see these wonderful birds and great to meet the warden who was understandably proud of his work!!!
---
18 February 2015
Greylake

On the way home I decided to pop into Greylake which turned out was a great choice!
In the carpark the bushes were alive with birds, Starlings, Reed Buntings, Blue Tits, Great Tits, Robin, Dunnock and Wren. All waiting there turn to go on the bird tables which had been left full by visitors, a real noisy welcome;o)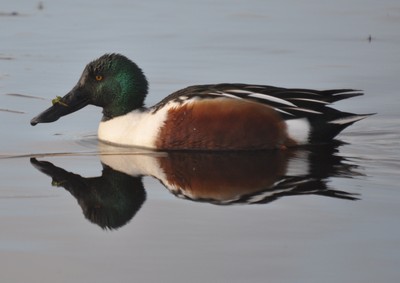 When I got to the hide and looked out there was nothing but birds!
400+ Lapwing, 10+ Snipe, 1000+ mixture of ducks with Mallard, Shoveler, Gadwall, Teal and Wigeon. Loads of Coot and Moorhen, Little and Great Egrets, Mute Swans, Carrion Crows and Ravens who where nesting in one of the Electricity Pylons.
There was a Kestrel, Buzzard and a Marsh Harrier that teased us by flying backwards and forwards but never close enough to get a picture, fantastic to watch through the bins.
Just a great way to finish the day!
---
18 February 2015
Catcott Lows

Well after stopping at the local café and talking to other birders it seems I wasn't the only one who was having a quite time, it sounded like Catcott was the next stop as there was loads of Ducks!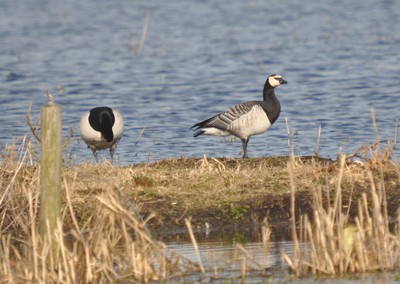 I wasn't to be disappointed with the marsh flooded and great views of Glastonbury Tor in the background and Ducks galore in the for ground!
There was 2 Barnacale Geese in the front as well to add to the 1000+ Ducks! There was Wigeon, Pintail, Teal, Shoveler, Tufted and a couple of Mallard. Great sight!!
Around the hide there was Pied Wagtail, Robin, Dunnock and Blackbird. Out flying around was Carrion Crow, Grey Heron and a Kestrel.
Other people said earlier there was Marsh Harriers and a Peregrine which understandably upset the ducks but didn't catch anything, would have luved to see the hunt!!
---
18 February 2015
Westhay Moor, Somerset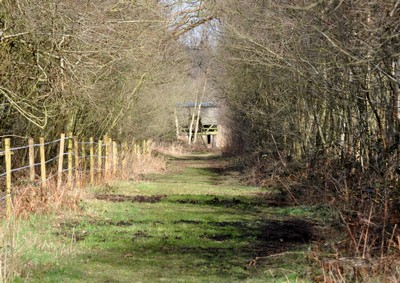 I went up to Westhay in Somerset with full of positive feeling on what I might see, only to be sadly disappointed!
Its a great place and have seen lots of good stuff here before but sadly today there was a lack of birds for this sight.
Very few ducks, a few Gadwall, Mallard, Shoveler and a solitary Pintail was very disappointing.
I did see a couple of Marsh Harriers and a Buzzard which was great, and a Kingfisher flying off in the distance.
Other birds were Great crested Grebes, Water Rail, Moorhen, Coot, Blue Tit, Great Tit, Long tailed Tit, Bullfinch, Chaffinch, Reed Bunting and a Cettis Warbler.
Still on a sunny day a nice walk!
---
17 February 2015
Maiden Castle

On the way home to Devon I went for a walk around Maiden Castle which is close to Dorchester. It is a huge Iron age Fort with massive ramparts. The surrounding fields are large open cereal fields on chalk. There are some paths at the bottom and to the side with hedges. The whole area is great to see farmland birds.
On the ploughed field there was a small flock of Corn Buntings and a few Skylarks and Stonechats on the fence.
On the Castle itself there was a small flock of 30+ Meadow Pipits.
Other birds seen were 50+ Lapwings on the field with Redwing, Bullfinch, Goldfinch, Blackbird, Dunnock, Wren, Woodpigeon.
Carrion Crows and Herring Gulls around on cultivated ground and a lone Grey Heron flew over.
Such a fantastic place to walk around, not only for the birds but the history and the view!!
---
17 February 2015
Portland Bill

From Radipole I went down to Portland Bill for a bite to eat and to see what's about.
Sadly not much excitement at the Bill but still a few birds!
Out to sea there was Gannets, Razorbill and Guillemot's.
On land there was the Little Owl in the Quarry with 30+ House Sparrows, Skylark, Robin, Dunnock, Wren around the buildings with Herring Gulls, Buzzard, Kestrel, Peregrine, Raven and Cormorants flying around the general area.
---
17 February 2015
Radipole, Dorset.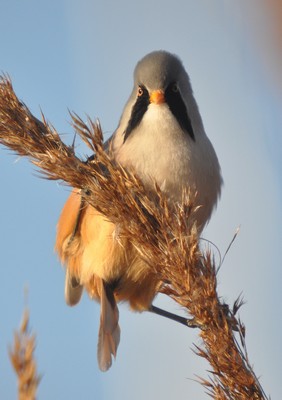 Went to Weymouth in Dorset today to see the Bearded Tits at Radipole lake.
When I first got there I was a bit worried as they were working on the reeds where the Bearded Tits are normally seen, thankfully I shouldn't have worried as they were close to the north hide and showing very well, a group of 6 birds close to the footpath. Don't think I have ever got that close! Fantastic sight! Go to the gallery to see more pictures of this special bird.
Plenty of other birds on view, ducks all over the place with mainly Mallard but Teal and Tufted Ducks in good numbers.
Mute Swans,Canada Geese, Coots, Moorhens, Cormorants, Little Egrets, Grey Heron, Water Rail, Little Grebe and Great Crested Grebes are the water birds on view.
Several Cettis Warblers making a noise around the reserve, robin, Wren, Dunnock, Blackbird, Blue, Great and Long-tailed Tit, Greenfinch, Wood Pigeon, Raven, Carrion Crow, Reed Bunting and Magpie also seen.
Marsh Harrier and Buzzards seen by the North Hide.
Black-headed Gulls, Mediterranean Gull and Herring Gulls all on the car park.
Fantastic start to the day!
---
16 February 2015
Birding around Topsham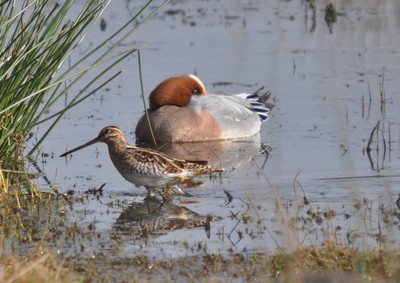 After getting my car back and £192 lighter Iam on the road again and off to Topsham!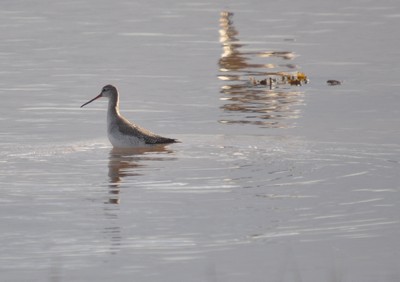 When I arrived at Darts farm the tide was on the turn and heading in, so Goosemoor was restricted to 20+ Curlew, but around the paths leading up there was plenty of small woodland birds such as Wren, Robin, Dunnock, Blackbird, Great and Blue Tit, Carrion Crow and Woodpigeon. In the creak there was some Mallard and redshank.
As I was coming up to the railway bridge a Peregrine went over and to my surprise didn't put any birds up.
Around the reserve at Bowling Green there was a few birds but as tide was out not many on the water, 100+ Wigeon was the most numerous bird with good numbers of Teal, Shoveler and Mallard. Black-tailed and a possible Bar-tailed Godwit. Curlew, Little Egret, Buzzard, Mistle Thrush, Blackbird, Blue, Great and Long-tailed Tits, Collard Doves, Robin, Dunnock, Magpie, Snipe and Moorhen.
From the path to the platform on the River Clyst you could see the Water Rail showing well with the Moorhens, Goldfinch in the bushes with 50+ Redshank, Spotted Redshank, Greenshank, Curlew and Shelduck being seen from the platform. As well as 4 Greylags flying over.
From the Goat Walk you could see 300+ Avocets, Godwits, Curlew, Dunlin, Knot, Shelduck and Cormorants. Further upstream there was a couple of Oystercatchers and Herring, Black-headed and Great Black-backed Gulls seen in all places.
Great day out and nice to meet so many happy people about the place;o)
---
15 February 2015
Dawlish Warren

Unfortunately the suspension on my car collapsed Friday so couldn't do the trips I wanted to do but had to walk to Dawlish Warren instead!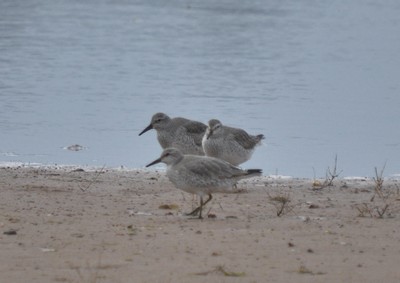 It started off a beautiful clear day but the cloud came in got grey and cold later on.
I got to the hide at 2pm, 1hr before high tide although it wasn't that high I was hoping to see some birds, unfortunately there was quite a few idiots on top of the banks with their telescopes which just kept the birds at a distance, complete "T###S!"
Anyway rant over back to the birds, on the main pond there was plenty of ducks with Teal, Mallard, Shoveler and Gadwall with Moorhen, Little Grebe and Mute Swan.
Around the woods there was Bullfinch, Chaffinch, Greenfinch, Song thrush, Blue Tit, Great Tit, Long tailed-Tit, Robin, Blackbird, Jackdaw, Magpie, Carrion Crow and a single Great Spotted Woodpecker.
Around the hide there was Dark Bellied Brent Geese, Widgeon, Shelduck, Knott, Oystercatcher, Dunlin, Redshank, Curlew, Grey Plover, Water Pipit, Linnet, Carrion Crow, Herring Gull, Black-headed Gull and Stonechat behind the hide.
Good to meet up with everybody;o)
---
© Simon Thurgood 2021
Images on this website may not be put as any part of any collection without any prior written permission.