Blog
31 December 2020
Ray Egg cases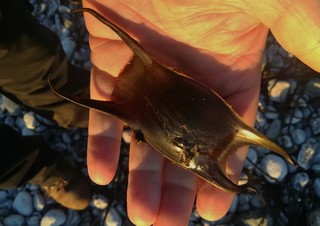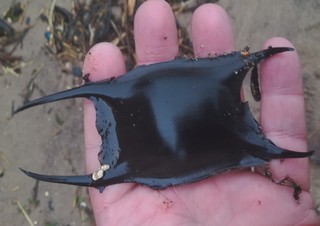 While spending quite a bit of time on local beaches this last 10 days I have picked up a few Egg Cases, but not the number of previous weeks.
For example no Small-spotted Catshark cases at all, even after the stormy weather.
I did though get some good records with Thornback Ray,see picture on right. About 7cm and has obvious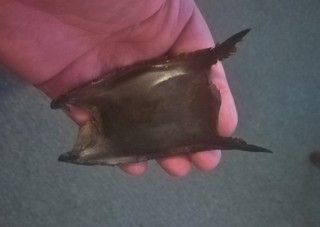 Keels each side.
The Undulate Ray, which is the photo top left is about 8cm and doesn't have any Keels.
Bottom left is the Small-eyed Ray which is also about 8cm, it tapers towards the bottom and the colour tends to be Brown than Black.
All are recorded with the Shark Trust.
---
29 December 2020
Otters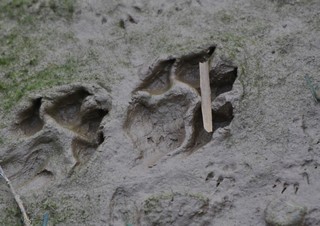 While signs of Otters around Exminster Marshes and the River Exe have been there, they have been quite random.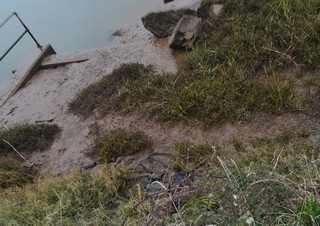 But this last couple of months I have found a couple of well trodden paths and several "Spraints".
The busiest area for them is also a very busy area for humans, but because the Otters seem to be using this area at night there doesn't seem to be any conflict.
Its by Turf and they use the slip way to get to the River, their footprints can often be seen at low tide. You can also see the track back through the field to the stream that comes from the Marshes.
There are also several tracks and paths around the canal to the river.
Great to see and also they are coping well with the busy human presence.
---
29 December 2020
Whimbrel or Curlew?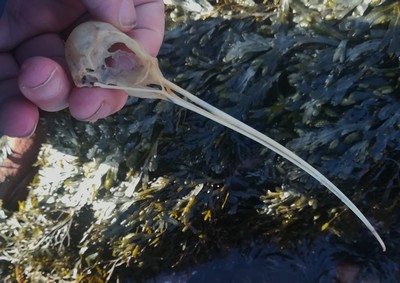 While looking around the Rock Pools on Preston Beach I found this Bill.
By the shape it looks like either a Whimbrel or Curlew? It looks small but with the bill gone and just leaving bone can be deceiving, pos juv Curlew??
Its amazing what you find looking around the Rocks, pools and Strandline of the beach.
---
29 December 2020
Name that Egg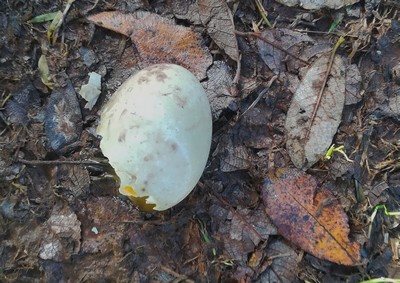 When I visited Beesands last week, just before I got to the hide along the path, I came across a Magpie tucking into this egg.
The main reason for putting this up that you dont normally find Eggs in December and there is not a lot that lays eggs at this time of year?
There is a good possibility its a Woodpigeon Egg but open to be told its something else, answers on a postcard!
---
27 December 2020
Birding over the Xmas Week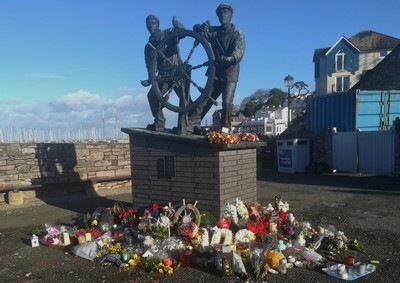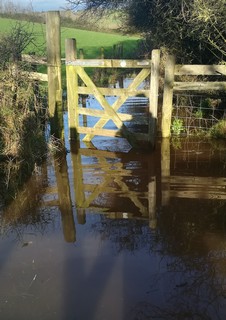 Interesting week out and about looking for Birds, with the short days and rain making it challenging to get around. Flooding at Exminster Marshes meant that even with wellies I couldn't do the circular walk as the field by Turf was flooded by the gate. Beesands was just passable to the hide while Slapton Ley was flooded to the point I couldn't get to Ireland Bay and the water was so high it caused flooding at Torcross.
I did spend some quality time at Start Point, Lanacombe Beach, North Hallsands, Beesands and Torcross Line, Preston Sands, Brixham Harbour, Dawlish Beaches, Dawlish Warren Beach, Cockwood Steps and Harbour, Starcross, Golf Course, Min of Ag and behind the train station, Powderham Estate, River Kenn and the outflow, fields around Powderham Church and the walk from the Church to Turf, lots of hedges and fields behind Kenn, Starcross and Dawlish. Around Topsham which included BGM, Goosemoor, the viewing platform and the Goatwalk.
I was quite moved at Brixham at the Man and Boy statue where they had a small memorial and tributes to the men lost in the trawler "Joanna C".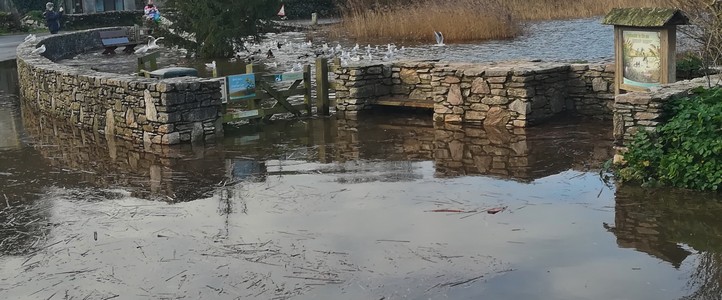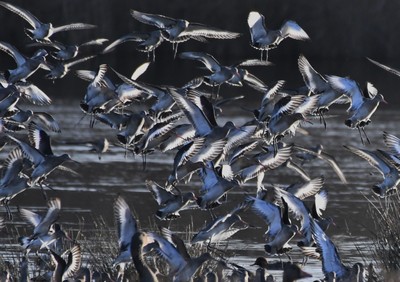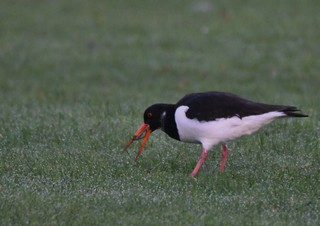 Being close to the sea quite a bit, loads of Gulls seen with Black-headed, Herring, Great and Lesser-black Backed Gulls, Kittiwake and Iceland Gulls seen at Brixham. Gannets seen plunging in Torbay and Start Bay, always a great sight! Also seen Razorbill, Shag, Cormorants, Red-breasted Mergansers, Great-created Grebe, Great northern Divers and Slavonian Grebe (Herbert).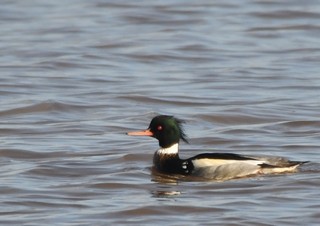 Waders in good numbers, especially Turnstone which I think I've seen on every beach this week. Avocet, Grey and Golden Plover, Lapwing, Curlew, Black-tailed Godwit, Sanderling, Dunlin, Redshank, Greenshank and Oystercatcher.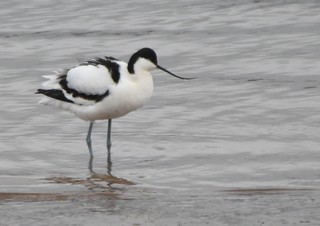 Other water based birds seen were Dark-bellied Brent, Canada, Greylag (BGM) Barnacle (Exminster) Egyptian Geese at Powderham Church. Coot, Moorhen, Waterail, Kingfisher, Grey Heron, Little Egret, Mute Swans, Shelduck, Tufted, Shoveler, Pintail, Teal, Widgeon, Mallard, Mallard cross and the Muscovy Ducks at Turf.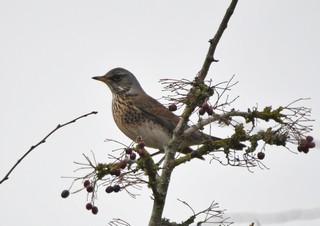 All the usual Corvids about, lots of Rooks feeding in the pasture at Powderham Estate. Carrion Crows, Jackdaws, Magpies, Ravens and a single Jay.
Raptors very thin on the ground with a couple of Buzzard and singles of Kestrel and Peregrine seen at Start Point.
Plenty of Winter Thrushes feeding on the Berries at Exminster Marshes with Fieldfare and Redwing joined by Mistle, Song Thrush and Blackbird. Also saw Robin, Dunnock, Cettis Warbler, Reed Bunting, Linnet, Cirl Bunting, Chiffchaff, Chaffinch, Greenfinch, Goldfinch, Bullfinch, Wren, Starling, House Sparrow, Stonechat, Great, Blue and Long-tailed Tits, Rock and Meadow Pipit, Grey and Pied Wagtails, Great-spotted and Green Wood Peckers, Woodpigeons, Feral Pigeons, Collard Doves and Pheasants.
Plenty of humans about full of Xmas cheer which is what we all need, here's looking hopefully abetter 2021!

---
19 December 2020
Rubbish around the beaches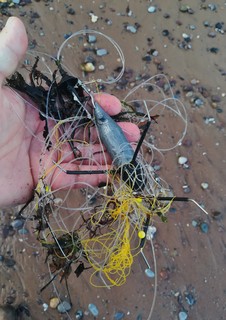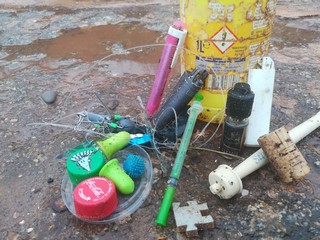 While looking around the local beaches, I did a bit of Beachcombing and clearing some rubbish. Coryton Cove was relatively clear except a Fishing Rod which I found on the Strandline on the far side, it was quite an expensive Shakespeare Rod and Reel, I gave it to the local fishermen at Boat Cove who will put better use to it than I will.
Unfortunately on every Beach there was Fishing Line of various lengths and colours, plenty of floats from large ones to the small yellow ones you see on lines. Also yet again large lead weights, reliably called a "gripped lead", it's for holding in the sand not rocks and when wound in the lead Breakaway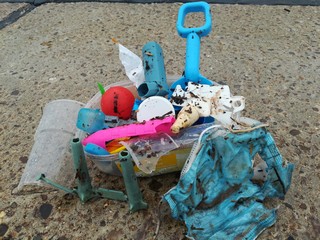 from the sand and is hopefully retrieved. Unfortunately this doesn't seem to be happening.
At the top end of Dawlish Beach at Langton Rock was a vast collection of Modern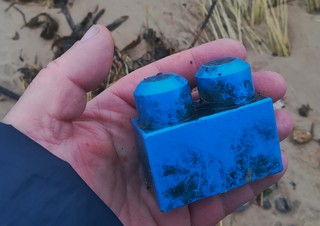 Artefacts, everything from Syringe to Vape Bottles, Dawlish Warren wasn't much better with Masks, Inhalers and Golf Tees to name a few things.
At the top of the Beach close to the River Exe there is a huge amount of rubbish which has got caught in the dunes at high tide, plenty of plastic bottles, Lego, all sorts of small pieces of plastic, wire, net and plastic toys.
Just too much and too far to carry, I need to return with a big Black Bag! But the issue will be getting it all back to the bins, if I bag it up and pile it up and wait for it to be picked up, it could be ages and all get blown away again?

---
18 December 2020
Around the Beaches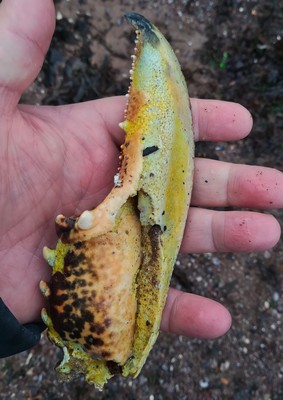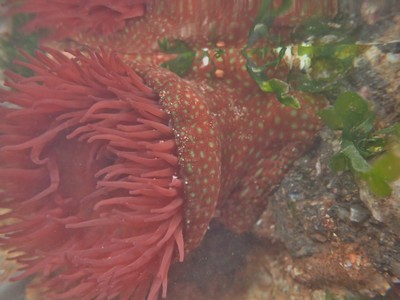 With all the stormy weather, I stayed local and spent time on the local beaches of Dawlish Warren, around Langston Rock, Main Dawlish Beach, Boat Cove and Coryton Cove. Also looked around the Rock Pools at Dawlish in front of the Beach Huts and tried and failed to look around the Pools at Langston Rocks, the later failed because even though the tide was low, the surf filled up the beach.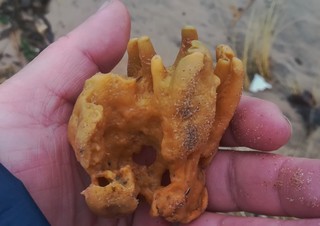 I also wanted to try out my new camera which I got to take pictures under water in the pools; it's a T6 Olympus and quite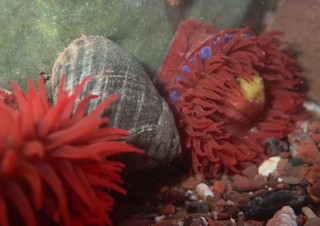 compact. They say practice makes perfect and that's what will be needed, it should be good for close ups as well, it's come with all sorts of filters and another lens, so I can see me having fun with this!
I found a good range of things washed up, I will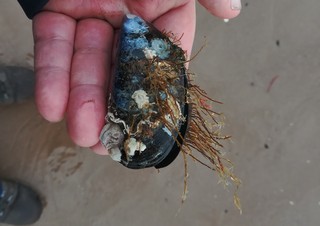 deal with the wildlife on this page and rubbish picked up on another.
Plenty of Crabs, some were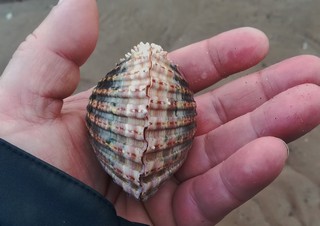 Moults and a few smelly dead ones, also found a Lobster Claw which as it didn't smell was a Moult, more specifically it's the 'cutting' claw rather than the 'crushing' claw and it was from a right handed lobster. They're classed as right or left depending upon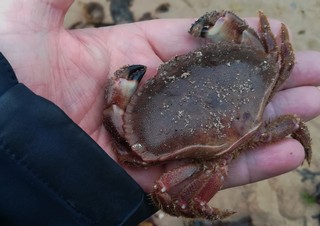 which side the crushing claw is on. This cutting claw is from the left side.
A few full Cockle Shells,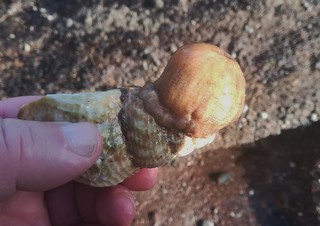 loads of Razor Shells and plenty of the usual, Mussel, Scallops and Whelks. Found several Whelks that had Keelworm. The tubes in cross section are said to resemble the shape of a ship's hull which I was told gave them their name. Also some Barnacles,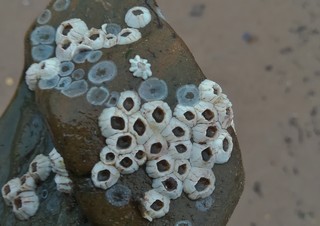 the patches on the rock are probably were one had been broken off by wave action, or eaten.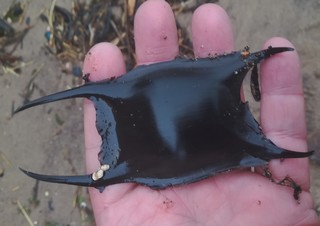 Around the Rock Pools found plenty of Beadlet and Strawberry Anemones to try my new camera out on, they look stunning under water.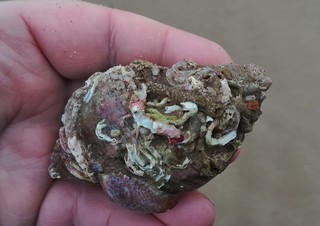 Also found a Parasitic Anemone that didn't look that good, possibly because it was caught in a freshwater pool that was being constantly filled with freshwater run off, so I put it in another with sea water in.
Also found an Egg casing for a Thornback Ray close to Langston Rock on the Dawlish side but surprising that was the only one found.
Several parts of Sponge on the beaches, especially Dawlish Warren at the top end, but not 100% what species.
Several species of Birds observed with Herring, Black-headed and Great-black Backed Gulls, Turnstone, Sanderling, Oystercatcher, Cormorant, Rock Pipit and Pied Wagtails.
Lots of happy humans about and good to have a chat with the two Steve's, Wardens at Dawlish Warren.

---
12 December 2020
Around the Exe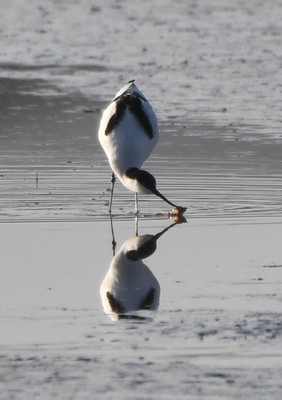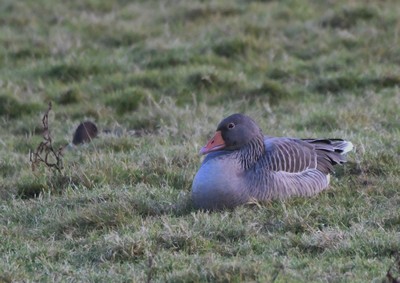 Spent the last couple of days around the River Exe visiting Darts Farm, River Clyst, Go, Bowling Green Marsh, Viewing Platform and The Goat Walk. Exminster Marshes, Turf, Exeter Canal, Powderham Estate, River Kenn and the Outflow, River Exe by Starcross station, The Golf course and the Min of Ag at Starcross, Cockwood Marshes and adjoining fields, Cockwood Harbour and Cockwood Steps.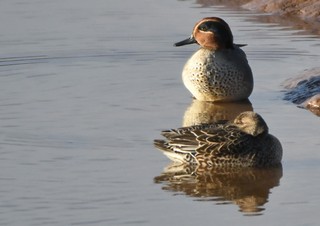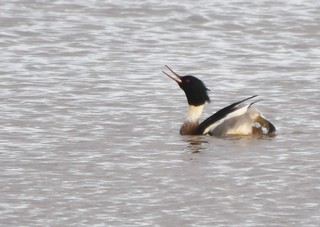 While the weather has been ok, the short days and low sun brought its challenges, also the fact that I had broken my Binoculars made life a little more difficult.
With all the rain, plenty of wet areas and water filled scrapes but still not enough to flood the back path on Exminster and not quite Welly time!
Plenty of Geese about with Canada, Brent and Greylags on view, large numbers of Canada and Brent in all areas. Cattle Egrets close to Cockwood in fields with the cattle and Little Egrets seen in all areas. Grey Heron, Moorhen, Coot and some very vocal Water Rail both at Goosemoor and Exminster Marshes.

Numbers of Ducks starting to grow in number with Mallard, Mallard X, Teal, Shoveler, Widgeon, Pintail and Shelduck with Mute Swan, Cormorant and Red-breasted Mergansers all seen.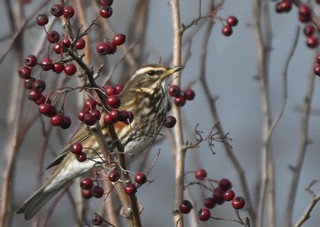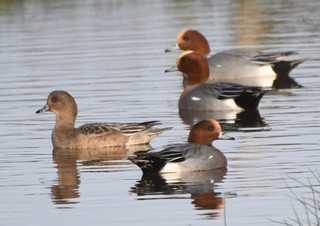 The only raptors seen were singles of Buzzard, Kestrel and Sparrowhawk. Corvid numbers seen down on previous numbers, still saw Carrion Crow, Jackdaw and Magpie but in less numbers.
Waders quite wide spread with Avocet, Curlew, Black-tailed Godwits, Dunlin, Redshank, Greenshank, Golden plover and Oystercatcher. The usual Gulls with Black-headed, Herring and Great-black Backed Gulls.

Plenty of Thrushes about with Fieldfare, Redwing, Song Thrush, Mistle Thrush, Blackbird, Robin, Great, Blue and Long-tailed Tits, Chaffinch, Goldfinch, Wren, Starling, House Sparrow, Firecrest, Meadow and Rock Pipit, Pied Wagtail, Dunnock, Wood Pigeon, Feral Pigeon, several pairs of Bullfinch and Pheasant.
Plenty of humans about and great to meet up with David B and other birders about.

---
06 December 2020
Around Start Point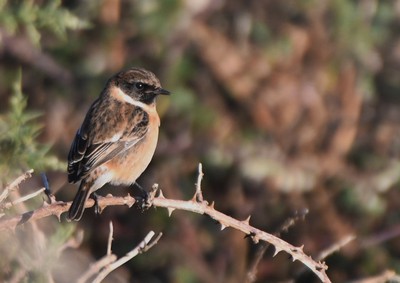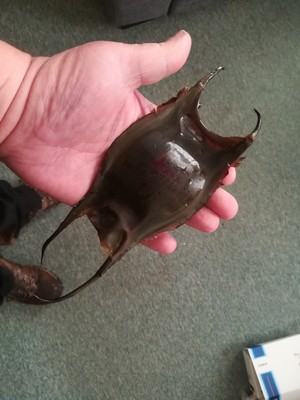 Went to the South Hams today, the weather was clear but cold and around Start Point first thing with the wind it was very fresh!!
Parked up the Car Park and walked down to Matiscombe Beach for a look around before going back to the car via the Light House, plenty of Stonechats, Meadow Pipits, Skylarks, Carrion Crows, Shags, Herring and Great -black Backed Gulls.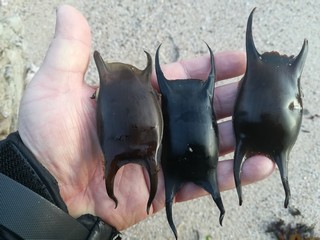 Also saw a Raven displaying, flying upside down, the works but could I get a pic, too fast, same for the Peregrine which was shifting along the coast.
Great down on the Beach and found 3 Undulate Ray Egg casings and loads of Cuttlefish Bones.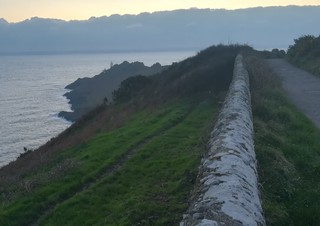 Then off to Lanacombe Beach which is the next one along going towards Prawle Point. Tide was going out and loads of Egg casing here, 4 species, biggest being a Blonde Ray as well as Undulate, Small-eyed and Thornback Rays.
Then off to Beesands and Slapton Leys which were very quiet on the bird front with Mallard, Mallard X, Tufted, Coot, Moorhen and Mute Swan, but very little else.
Lots of Birds about the fields and hedgerows, saw 3 large flocks of Starling and small ones of Finches, both Goldfinch and Chaffinch. Dunnock, Blackbird, Robin, Great and Blue Tit, Woodpigeon, Carrion Crow, Jackdaw, Pied Wagtail and Kestrel.
Plenty of Humans seen, all happy and NO MOANERS which is always a good thing!
---
05 December 2020
Dartmoor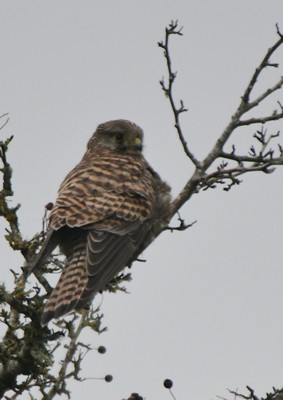 Went up on Dartmoor today, hopeful to see some snow but only found a bit of slush by Princetown.
The weather wasn't very promising, wet, grey and cold! Photography was going to be a challenge!
Did my usual tour and found plenty of birds, especially on the fields, found a big mixed flock of Thrushes close to Soussons with Fieldfare,Redwing and Mistle Thrushes in good numbers.
Also notable large numbers of Blackbirds on the whole trip, also Song Thrush, Robin, Chaffinch, Greenfinch, Bullfinch, Dunnock and Stonechat seen around the hedges and trees.
Several Buzzard on the wing, Kestrel, Carrion Crow, Jackdaw, Jay, Magpie, Raven and Herring Gull.
Several Pied and Grey Wagtails seen around streams and bridges crossed.
Unsurprisingly not many humans about.
---
04 December 2020
Rubbish around the beaches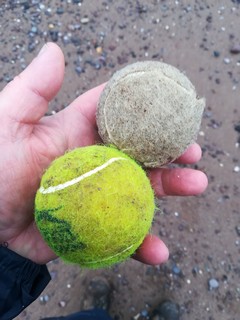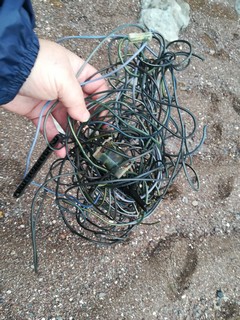 Over the last couple of weeks spent a bit of time on the local beaches, Rock pooling and seeing whats about. I also pick up rubbish where possible.
Apart from all the fishing gear and plastic bottles I do find some fun items as well, items such as roles of computer cable and you wonder where its come from.
Tennis and Golf balls are common, but the best fun item was a Tractor and Trailer that was washed up with the Seaweed on Boat Cove, it looked quite new but you wonder how far it had travelled in the seaweed?
---
02 December 2020
Exminster Marshes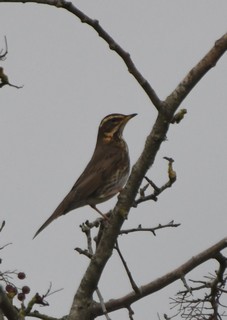 Up early today and down to Exminster Marshes as the sun comes up, well it was a bit grey and cloudy to see the sun.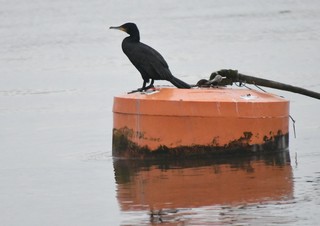 Lots of Birds flying around coming from the Marshes towards the River as the tide was starting to go out, also far more Humans about than I expected, all on their bikes using the cycle track going to work in Exeter.
Large flocks of Brent and Canada Geese flying to the River as well as flocks of Waders coming in from further afield, Curlew, Godwits and Lapwing in large numbers.
Already on the mud was Golden and Grey Plovers, Dunlin, Avocets, Redshank and Greenshank. Cormorants, Grey Heron, Little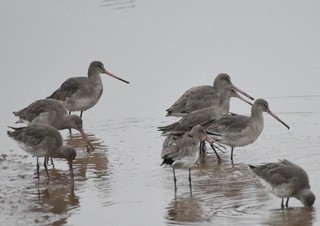 Egret, Shelduck and Mute Swans also on the River, Black-headed, Herring and Great-black Backed Gulls, Muscovy Ducks around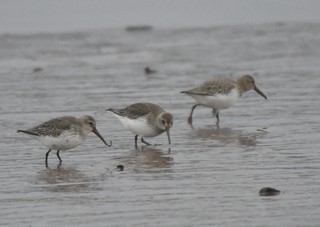 Turf with Wigeon, Teal, Mallard and Shoveler on the Marshes as well as Moorhen and Coot.
The resident Kingfisher flying and perching in several places along the river wall. The Electric Blue still stood out even in the grey gloom of the morning.
Also Raven, Carrion Crow, Magpie and a couple of Jays were a surprise at the fisherman's car park, they seemed to be after something in and around the parked cars?

Great and Blue Tits, Dunnock, Wren, Robin, Goldfinch, Pied Wagtail, Reed Bunting, Cettis Warbler, Blackbird, Song and Mistle Thrush, Fieldfare and Redwing on the Berries.

---
01 December 2020
Haldon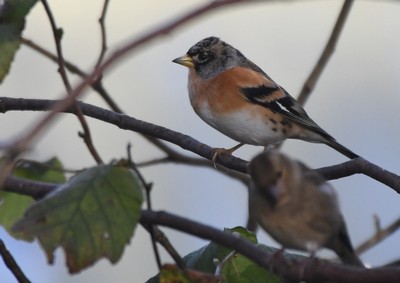 Went to Holden today for a few hours, started off at the feeding station around the buildings and car park, a bit quieter on the human front and very busy with Birds.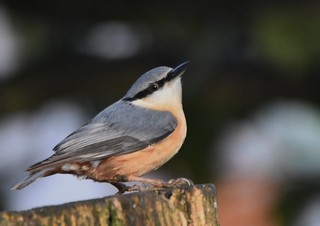 Great, Blue and Coal Tits, Chaffinch, Goldfinch, Robin, Siskin, Nuthatch, Blackbird, Dunnock and Brambling which was the reason for the visit, smart looking bird!
Went around the Butterfly walk at the top of Holden, heard and saw some Crossbills fly over, Magpie, Jay, Carrion Crow, Raven, Wren, Long-tailed Tits also seen here.
Good to bump into David B and friends as well as Mr Smallbones Jr who I hadn't seen in a while.
---
© Simon Thurgood 2022
Images on this website may not be put as any part of any collection without any prior written permission.