Blog
29 December 2019
Emsworthy Mire

Hope everybody had a great Xmas? I did a split shift on the day which gave me the opportunity to see my son which was great, all in all its been one of the best Xmas I've had in a long time although not sure why?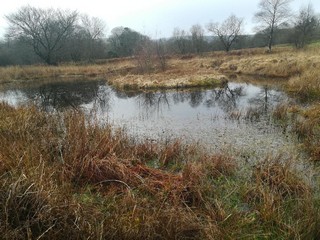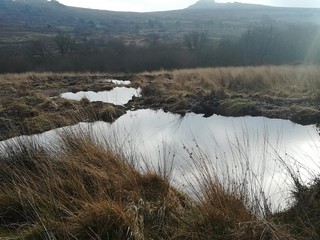 I went to Emsworthy Mire on Dartmoor today, had a bit of communication with Andrew Taylor who looks after it for the Devon Wildlife Trust, he told me they have dug another 22 new ponds, so just had to have a look.
I didn't find all the new ones, some are small and others quite big, I liked the way they have connected some pools together, I think in one field there are 5 connected pools with the water running from on to another. Should be loads of Dragons and other flying insects here which in turn will bring Birds, Mammals and Amphibians. Not to mention the Flowers and other plants.
I hope when time and resources permit the DWT put some walk ways in and some notice boards to explain what is going on.
Looking forward to visiting this place later in the year!
---
19 December 2019
Exminster Marshes

Went for a quick walk around today before the weather turned nasty. Parked up in the RSPB Car Park and walked down the road and through the flooded area. The water level had dropped last week but with all the rain the level had risen again.
Plenty of Ducks seen with Mallard, Mallard X Farm, Tufted, Shoveler, Teal, Wigeon, Shelduck, Grey Heron, Moorhen, Coot, Canada and Brent Geese, Curlew, Lapwing and Mute Swan. Just a few smaller birds in the hedge rows with Blackbird, Robin and Long-tailed Tits the only ones seen.
Only a short walk but a enjoyable one!
---
14 December 2019
Out and About

This last week the weather has been challenging and have been caught out a few times.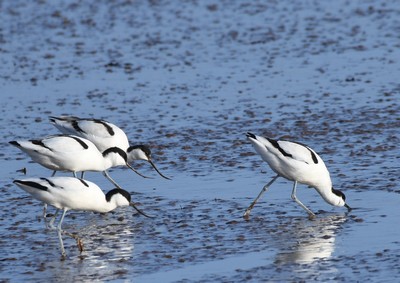 Wednesday I went south to Slapton and Beesands Leys, I was surprised at the lack of birds but that might have been down to the conditions. While I was looking out at "Stokeley Hide" you could see lots of Ducks at the edge of the reeds. I went to Ireland Bay to look around the Quarry which was very quiet apart from one Robin. Plenty going on out to sea with the Gannets plunging into the sea after food.
Today I did a walk around Exminster Marshes which again was quiet, many of the pools were empty of birds which was a massive surprise. I did hear from another birder who said a Marsh Harrier flew over and put everything up.
At Turf I was lucky to find large numbers of Avocet close to the edge of the pub ground, also I was the only one there and was able to creep up and get some close ups of these stunning birds.
---
07 December 2019
Last couple of days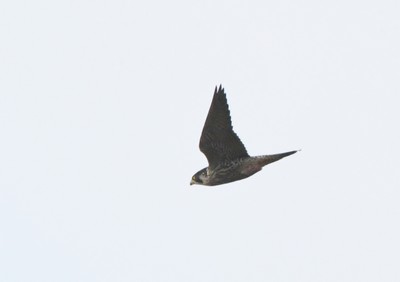 Had a good couple of days out enjoying the local countryside, yesterday was spent at Exminster Marshes and today was at Yarner and Stover.
Yesterday, the weather was ok with the odd shower which didn't have much effect on me, it did though provide some stunning Rainbows over the River Exe!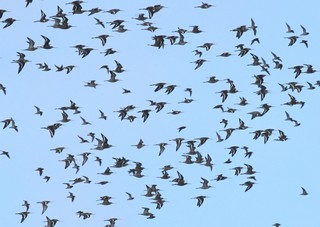 The water levels on Marshes themselves was down but wellies still needed on parts of the back path from the car park to Turf. I have noticed plenty of small birds on the path, is that down to more birds or easier to see because the bushes are bare of leaves? Plenty of Starling, Reed Bunting, Great, Blue and Long-tailed Tits, Dunnock, Robin, Cettis Warbler, Blackbird, Redwing, Pied Wagtail, Chaffinch, Goldfinch and Wren.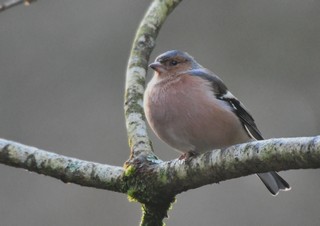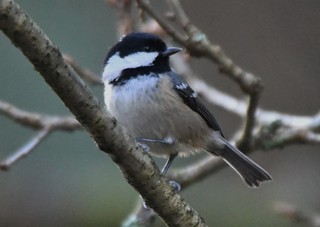 Across the Marshes plenty to see but spread out with birds taking advantage of all the new areas of water, Grey Heron, Moorhen, Coot, Mallard, Shoveler, Teal, Wigeon, Mute Swan and Canada Geese. Plenty of Black-headed Gulls as well as waders, good numbers of Godwits, Curlew and Lapwing. All the usual Corvids both on the Marsh and the River Mud.
The tide was coming in and plenty of Waders covering the remaining mud with Curlew, Godwits, Avocet, Red and Greenshanks, Dunlin, Grey and Golden Plover. Shelduck, Mute Swan, Canada and Brent Geese as well as Cormorants, not forgetting all the Gulls, mostly Black-headed with a few Great-black Backed and Herring Gulls.
All these put up several times by a hunting Peregrine that attacked both on the river as well as the Marsh, unsuccessful while I was watching but seeing all these birds in the sky was a sight.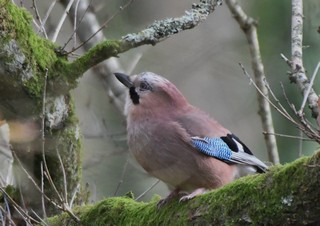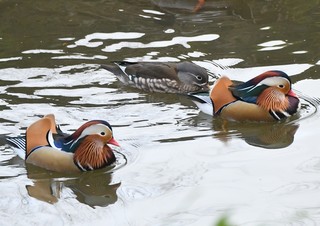 Spent the morning at Yarner, plenty of small birds to see, the feeders were packed with Marsh, Coal, Great, Blue and Long-tailed Tits putting on a show with Chaffinch, Nuthatch and a Great-spotted Woodpecker putting in appearances. Grey Wagtail, Wren, Goldcrest, Goldfinch, Robin, Blackbird, Jay, Magpie, Woodpigeon, Stockdove and good numbers of Redwing working their way through the bushes. Popped up to the Lagoon and to my amazement no ducks or any birds to be seen??
Afternoon a nice stroll around Stover, plenty of Ducks to be seen, lots of Mallard and hybrids of, Mandarin, Tufted and Pochard that sadly stayed in the middle of the lake. Mute Swan, Cormorants, Grey Heron, Coot, Moorhen and a few hundred Black-headed Gulls, Marsh, Blue, Coal, great and Long-tailed Tits, Treecreper, Nuthatch, Robin, Dunnock, Blackbird, Woodpigeon, Magpie and Jay.
Met lots of friendly people out this last couple of days, especially around Stover today. I even forgave some dog owners whose dogs were running free, it must be coming up to Xmas??

---
05 December 2019
Sea Defences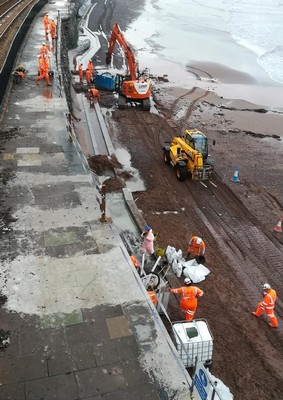 Living in Dawlish there always seems to be an issue with the sea close by.
At Dawlish Warren all the Sea Defense work that was done a couple of years ago has been washed away plus more, as you can see from the picture above the sea has washed the dunes away to the recently buried "Geo Tubes", the idea of these was to stabilize the dunes, there is talk of dumping more sand in front of them, they better be quick otherwise the sea will be on the golf course.
The Dunes at Dawlish Warren are supposed to be "Floating" Dunes and there has been breaches before and at the end of the day, nature will win in the end!
An on going battle is the wall at Dawlish, they have finished all the foundations and are waiting on all the uprights to arrive from Ireland, couldn't believe that when I was told, surely they could have found somewhere more local to make these?
---
© Simon Thurgood 2022
Images on this website may not be put as any part of any collection without any prior written permission.