Blog
31 December 2018
Last visit of 2018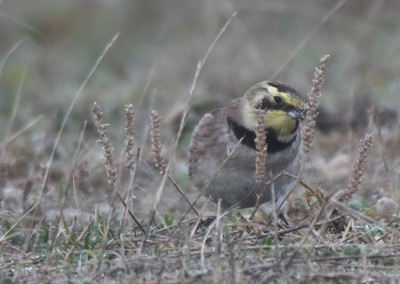 Having worked Xmas eve and Boxing Day I managed to arrange some time off afterwards, so a trip to Norfolk was arranged. I try to get up there once a year and always have been a little later in the year which would give me more daylight hours but beggars can't be choosers and plan to make the most of my time.
I left work in Exeter and straight up the M5 to Tewkesbury to stay overnight and an early start up the M5, M42, M6 then the A14, I would normally head north at Peterborough to Kings Lynn but had been watching reports of 4 Shore larks at East Lane, Bowdsey which is on the coast just North of Felixstowe. There had been some excellent pictures put on Facebook by John Richardson who was able to give me directions, so I carried on the A14 and arrived by 10.30am. It being the first time here I was quietly pleased, beautiful place with plenty to see. Plenty of military history with Martello Towers, WW2 gun emplacements and look out towers. Plenty of lagoons which look like old salt lagoons, might be wrong?
But plenty of birds on here with Tufted, Teal, Gadwall, Mallard, Mute Swans, Coot, Black-headed and Herring Gulls to be seen.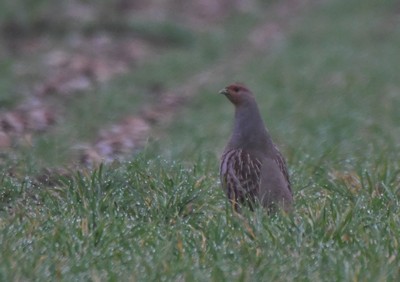 Off to find the Shore Larks and I could see some Birders/Photographers in a semicircle close to a Martello Tower, I had met up with a local birder in the carpark and we caught up with the birds and I managed to get off some shots before they flew. One of the others suddenly got up and flushed the birds, he looked at me, shrugged his shoulders and walked off closely followed by the others, was it deliberate as he had his pics and just being selfish? I think so! I have been trying to get pictures of these beautiful birds for years so to say I was pissed off was a understatement, although the birds flew off towards the Martello Tower and beyond I was hopeful they would come back which John confirmed this was their favourite area and sure enough they returned just down the beach and settled down, I sat down for about an hour with them and had a great time trying to get a decent picture of these 4 birds, always grass and things covering half the bird, so pleased I stuck with it!
The following day and Saturday was spent around Tichwell, Thornham Harbour and the roads and fields behind the A149, especially around Cholsey Farm and fields behind Holkham Hall, but also around Docking, Fring and Burnham Thorpe. Around the fields looking for Rough-legged Buzzard and Grey Partridge amongst other farm birds, saw a few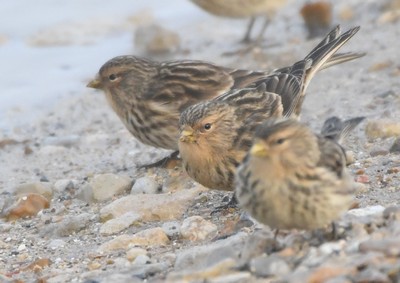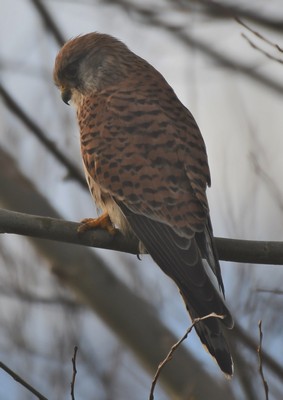 contenders for the RLB but each couldn't see the tail area very well so no 100% sighting, did see though a few Grey Partridge which was great. Saw lots of Geese flying overhead, Pink-Footed, Brent and Canada all seen, also seen a lot on the fields but unlike in previous years not close, did find 21 Egyptian Geese in one field which was a surprise, also good numbers of Redwing, Fieldfare, Woodpigeon, Collard Doves, Jackdaw, Carrion Crow, Rook, Jay, Magpie, Kestrels, Common Buzzard, Goldfinch, Chaffinch, Blackbird, Starling, House Sparrow, Dunnock, Red-legged Partridge, Pheasant, Black-headed and Herring Gulls. Also saw plenty of Hares and a group of 7 Deer, looked like Roe at a distance?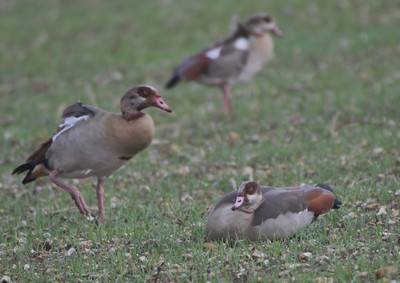 I visited Thornham Harbour mainly to see the Twite which regularly winter here, good views of these birds as well as Linnet, Goldfinch, Curlew, Redshank, Little Egret and Herring Gull. As I was getting in my car another birder pointed out 2 Harriers over the reed bed and was grateful to him to use his Scope as he had pointed out one was a Hen Harrier! Brilliant and he had restored my faith in human beings!!
I visited Tichwell twice, first time was to walk around the reserve and the second was to visit the Raptor roost. Normally when I have visited before it's been bloody cold with the cold north wind coming off the North Sea but it was a lot warmer almost "shorts" weather and so I don't think there was the normal numbers of birds, I certainly thought the Duck numbers were down, did see Teal, Mallard, Widgeon, Shoveler, Gadwall, Tufted Duck, Shelduck, Moorhen, Coot, Mute Swan, Greylag, Brent Geese, Turnstone, Avocet, Grey and Golden Plover, Black-tailed Godwit, Curlew, Redshank, Lapwing, Marsh Harrier, Kestrel, Black-headed and Herring Gull, Great, Blue and Long-tailed Tit, Dunnock, Robin, Blackbird, Chaffinch, Goldfinch, pheasant and Woodpigeon.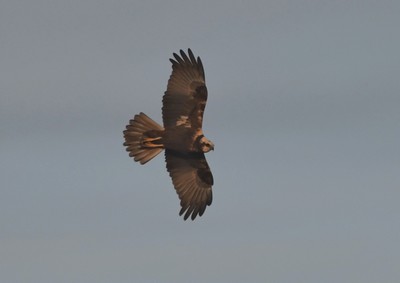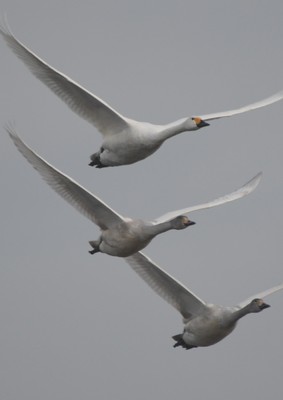 On my visit to the Raptor Roost I arrived at 2.45pm hoping to see some Harriers and the odd Barn Owl, it was though starting to get windy, not the best weather for Barn owls although the evening sun was out it was also getting cold. According to the sign there should be up to 50 Marsh Harriers roosting in the Reed beds and woods close by, in the 45 minutes I was there I saw 11 Harriers, all Marsh and looked great in the evening sun as they glided over the Reed Bed.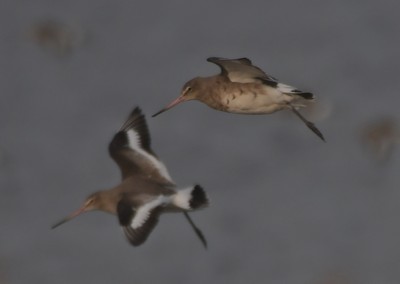 On my last day, Sunday, I decided to go to the Wetlands site at Welney. On arrival I noticed loads of Swans on the nearby fields and as I parked up a small number of White fronted Geese flew over so was surprised by the few numbers of Swans in front of the main hide, just a few Mute, Whooper and a single Bewick's Swan.
There was plenty of water and the birds were well dispersed over the reserve, you needed wellies to get to some of the hides, like the water there was plenty of Ducks though with Shelduck, Mallard, Pintail, Teal, Shoveler, Widgeon, Tufted Duck and Pochard, also a distant views of Great-white Egret and White Stork.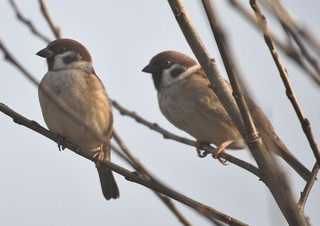 Canada and Greylag Geese, Lapwing, Redshank, Dunlin, Golden Plover, Black-tailed Godwit, Marsh Harrier, Kestrel, Magpie, Woodpigeon, Jackdaw, Starling, Blackbird, Tree Sparrow, Coot, Moorhen, Great Tit, Blue Tit, Long-tailed Tits, Stonechat and Goldfinch.
Had a great couple of days away, met some great people, couple of idiots as well, been to some special places, some of the Norfolk villages are just lovely, stayed in the Premier Inn at Kings Lynn which was good (got it cheap!) and the wildlife was just stunning, finally catching up with the Shore Larks was worth the visit alone and thanks again to John for his help.
---
19 December 2018
Somerset Levels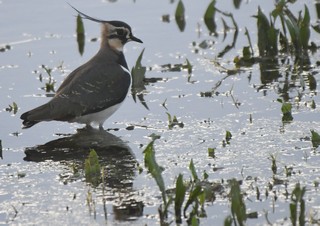 I've had a great day in Somerset today, early start saw me seeing the sun come up as I was traveling up the M5 and first stop for me was Catcott Lows, I arrived just before 8am to a stunning view of the reserve and Glastonbury Tor in the background. It was cold but no wind helped, I have heard this Hide called "Ice Station Zebra" before because the East wind blows straight in your face here.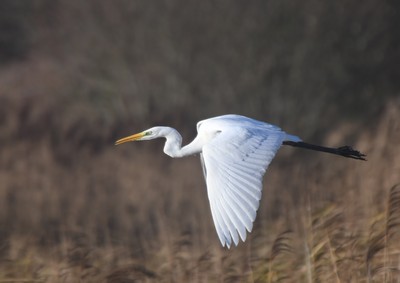 Lots of water as well as Ducks with Widgeon the main species but also Pintail, Mallard, Teal and Shoveler. Other water birds included Greylag and Canada Geese, Mute Swan and a Great White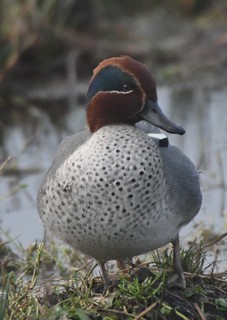 Egret. The only wader I saw was several hundred Lapwing, a Male Marsh Harrier put in a brief show at the far end and Magpie, Carrion Crow, Chaffinch, Black-headed Gull, Blackbird and Pied Wagtail were also seen.
Because I wanted to visit a few places so was parked up at Shapwick by 10am, there are a few new hides here and the investment looks good although a few locals in the new "Noah's hide" said the new one wasn't an improvement on the old one? Shame looks like a lot of money had been spent!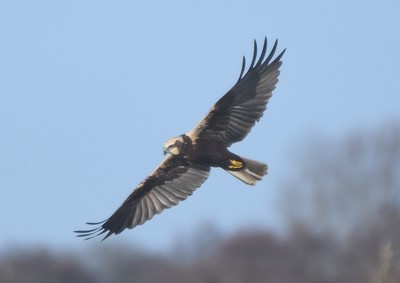 Anyway back to the birds, plenty of Ducks with Shoveler, Pochard, Widgeon, Teal, Tufted Duck, Mallard, Gadwall and Pintail. Other water birds seen were Grey Heron, Mute and Whooper Swans, Moorhen, Coot, Cormorants, Black-headed Gulls, Canada Geese, Great White Egret.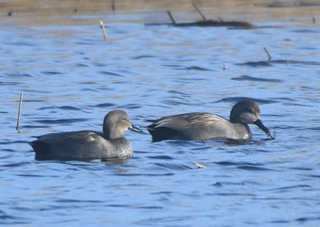 A couple of Marsh Harriers, Buzzard, Carrion Crow, Cettis Warblers, Great, Blue and Long-tailed Tits, Robin, Wren and Blackbird also seen.
Then on to spend a couple of hours on Ham Wall, again plenty of Ducks with Tufted, Shoveler, Mallard, Teal, Gadwall, Widgeon. Both Little and Great-crested Grebes, Grey Heron, Great-white Egrets, Mute Swan, Canada Geese, several Marsh Harrier, Woodpigeon, Carrion Crows, Wren, Robin, Great, Blue and Long-tailed Tits, Lapwings, Starlings, Blackbird and some calling Cettis Warblers where great to hear.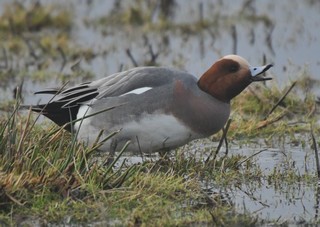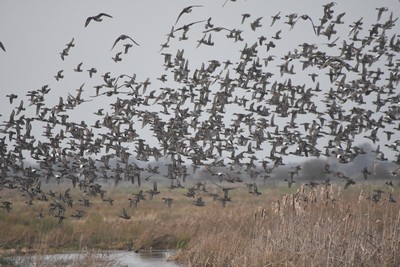 Finished off at Greylake and so pleased I found time to visit here, several thousand duck in front of the hide, amazing!
This is why I got interested in bird watching, yes seeing rare birds is good but nothing much beats the views I had today, Teal, Widgeon, Shoveler, Mallard, Gadwall, Snipe, Moorhen, Coot, Flocks of Golden Plover, Lapwing, Mute Swan and great views of a Marsh Harrier and a Merlin sat on a distant fence, brilliant!
Met lots of great people today as always when I visit the Levels, looking forward to the next visit, hopefully when there is a bit more daylight!
---
11 December 2018
Exminster Marshes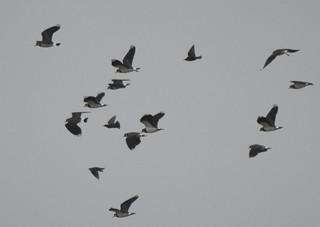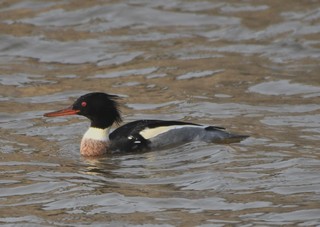 Took a walk around Exminster Marshes today, feeling a bit under the weather but also needing a bit of fresh air. Parked up at the RSPB carpark and put my wellies on expecting a wet walk, but only really needed wellies going into the field at the end of the back path to Turf.
Plenty of birds on the reserve with Shoveler, Teal, Widgeon, Mallard, Shelduck, Grey Heron, Mute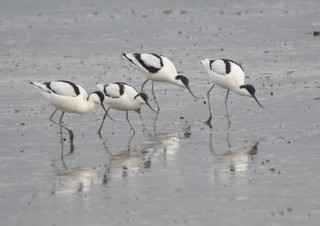 Swan, Canada Geese, Greylag, Brent Geese, Cormorant, Rook, Carrion Crow, Jackdaw, Magpie, Pheasants, Great, Blue and Long-tailed Tits, Blackbird, Robin, Dunnock, Wren, Cettis Warbler, Starling, Woodpigeon, Curlew, Redshank and Lapwing.
At Turf the tide had started to go out and many waders on the shoreline with Avocets, Curlew, Redshank, Lapwings, Oystercatchers, Black-headed, Herring and Great-black Backed Gulls, Shelduck, Teal, Widgeon, Mallard, Brent Geese, Mute Swan, Cormorants and Carrion Crows. Around the lock gates at Turf there was a couple of Red-breasted Mergansers and close to the pub there was some new arrivals, some Muscovy Ducks which belong to the pub.
Not that many people about so had the place to my self!
---
04 December 2018
South Hams

Day off today so decided to go south to the South Hams, the weather was great, cold but calm, the only issue was road works which slowed me up and probably added an extra half to one hour on my journey time.

First stop was Slapton Ley, the Ireland Bay End. The water level had risen quite a bit and was dead flat, the down side to this the birds were spread all over the Ley instead of just being in Ireland Bay and down by the Tank.

Plenty of Coot, Tufted Duck, Mallard, Gadwall, Coot, Moorhen, Great-crested Grebe. Mute and Black Swan, Cormorant, Herring, Black-headed and Great-black Backed Gulls, Buzzard, Carrion Crow, Blackbird, Robin, Wren, Great and Blue Tit.
Then off to Beesands and along the road and the Ley I found Kestrel, Woodpigeon, Collard Dove, Carrion Crow, Jackdaw, Magpie, Blackbird, Blue and Great Tit, Dunnock, Chaffinch, Cettis Warbler, a couple of Canada Geese in the field behind the hide, on the Ley is Mute Swans, Coot, Tufted Ducks, Herring and Great-black Backed Gulls.
I did then go to North Hallsands but looked very quiet, no gulls on the beach or anything, did bump into Ian Teague which was great!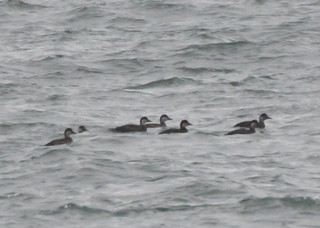 Then off to West Charleton Marshes, plenty to see here with Wren, Robin, Dunnock, Blue, Great and Coal Tits, Blackbird, Song Thrush and a small flock of Redwing, Greenfinch, Cirl and Reed Bunting, Wood Pigeon, Carrion Crow, Grey Heron, Little Egret, Moorhen, Water Rail, Teal, Widgeon, Snipe, Jay and Herring Gull. Out on Kingsbridge Estuary there was Widgeon, Teal, Redshank, Great-crested Grebe, Little Egret and Herring Gull.
On my way home I stopped off at the Memorial Carpark at Slapton overlooking the sea and saw a flock of 17+ Common Scooter which arrived from the south but then flew off out to sea.
After that it was home for tea and cake, nice to see so many people out today and looking forward to seeing the back of the dark days!
---
© Simon Thurgood 2022
Images on this website may not be put as any part of any collection without any prior written permission.