Blog
04 December 2018
South Hams

Day off today so decided to go south to the South Hams, the weather was great, cold but calm, the only issue was road works which slowed me up and probably added an extra half to one hour on my journey time.

First stop was Slapton Ley, the Ireland Bay End. The water level had risen quite a bit and was dead flat, the down side to this the birds were spread all over the Ley instead of just being in Ireland Bay and down by the Tank.

Plenty of Coot, Tufted Duck, Mallard, Gadwall, Coot, Moorhen, Great-crested Grebe. Mute and Black Swan, Cormorant, Herring, Black-headed and Great-black Backed Gulls, Buzzard, Carrion Crow, Blackbird, Robin, Wren, Great and Blue Tit.
Then off to Beesands and along the road and the Ley I found Kestrel, Woodpigeon, Collard Dove, Carrion Crow, Jackdaw, Magpie, Blackbird, Blue and Great Tit, Dunnock, Chaffinch, Cettis Warbler, a couple of Canada Geese in the field behind the hide, on the Ley is Mute Swans, Coot, Tufted Ducks, Herring and Great-black Backed Gulls.
I did then go to North Hallsands but looked very quiet, no gulls on the beach or anything, did bump into Ian Teague which was great!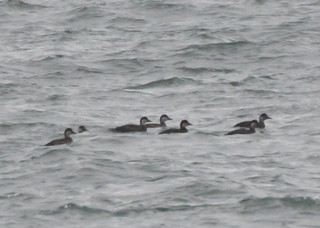 Then off to West Charleton Marshes, plenty to see here with Wren, Robin, Dunnock, Blue, Great and Coal Tits, Blackbird, Song Thrush and a small flock of Redwing, Greenfinch, Cirl and Reed Bunting, Wood Pigeon, Carrion Crow, Grey Heron, Little Egret, Moorhen, Water Rail, Teal, Widgeon, Snipe, Jay and Herring Gull. Out on Kingsbridge Estuary there was Widgeon, Teal, Redshank, Great-crested Grebe, Little Egret and Herring Gull.
On my way home I stopped off at the Memorial Carpark at Slapton overlooking the sea and saw a flock of 17+ Common Scooter which arrived from the south but then flew off out to sea.
After that it was home for tea and cake, nice to see so many people out today and looking forward to seeing the back of the dark days!
---
© Simon Thurgood 2018
Images on this website may not be put as any part of any collection without any prior written permission.