Blog
30 December 2017
Exminster Marshes

Even though its been a bit of a dull day and no chance of getting any meaningful pictures it was good to get out and walk around Exminster Marshes.
Parked up in the carpark close to the bridge and walked down the back path to Turf. The new track here comes into its own in this wet weather, shame they didn't finish it off and sort the gate area into the farmers field by Turf, you get into a false sense as you walk all the way to the small bridge and then have to turn back as if you haven't got proper footwear your stuffed!! What's that saying "spoiled for a halfpence of tar" or words to that effect, why couldn't they finish the job off??
Anyway back to the birds, just as I was walking down the first part of the path when I was alerted to an alarm call of a Pied Wagtail, I just turned in time to see it being chased by a female Merlin which just missed its prey, typically I didn't have my camera out but to be honest in the dull light I don't think it would have been much cop!
Hundreds of Canada Geese about across the reserve (1000+) Mute Swans, Mallard, Teal, Shoveler, Widgeon, Shelduck, Grey Heron, Cormorants, Moorhen and Coot. Still not the numbers of ducks present that have been witnessed in the past and no Brent Geese seen, didn't see any on the Exe ether?
Lots of Waders on the reserve that were put up a few times by a Peregrine who tried unsuccessfully to find dinner. The Waders that I could pick out were Godwits, Curlew, Redshank, Dunlin, Lapwing, Grey and Golden Plover and Snipe.
Other birds seen around the reserve were Long-tailed, Blue and Great Tits, Goldcrest, Chaffinch, Goldfinch, Starling, House Sparrow, Blackbird, Robin, Dunnock, Carrion Crow, Magpie, Wood Pigeon, Wren, Stonechat and Pheasant.
From Turf Avocet spread over the mud flats, plenty of redshank, Greenshank, Curlew, Carrion Crows, Dunlin, Pair of Red Breasted Mergansers, Cormorants, Herring and Black-headed Gulls.
On the Canal there was a couple of Male Red-breasted Mergansers around the boats.
Even though t was quite blustery there was plenty of people about especially on their bikes, one dog owner made me laugh when her brown Springer Spaniel came up to me barking its head off while wagging its tail, apparently it likes me?? hate to see what it does when it doesn't like you??
---
28 December 2017
Dartmoor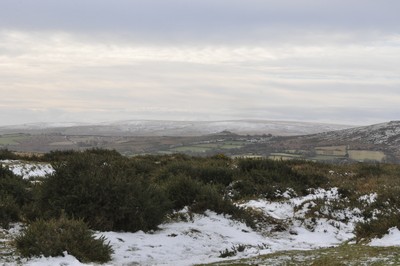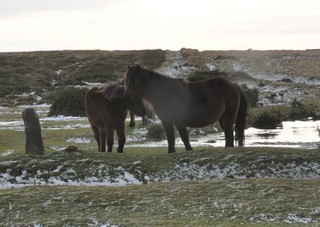 In and around Dartmoor today, so took the opportunity to see what was about. There was still some snow on the ground and the kids having fun at Haytor on their sledges, that's both the older and younger kids. The area around Haytor was quite packed with people enjoying the snow, although snow elsewhere they kept to this area. Is that common sense or the locality of a toilet and a cuppa from the shack?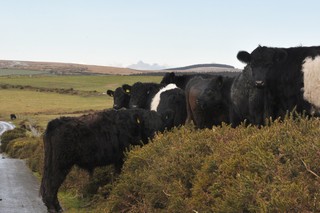 I noticed around the roads that all the animals had moved closer and on the roads which made some bits a bit more trickier than others, I did lose the back end more than once on ice and that's driving very slowly unlike some idiots who sped past horses on the middle of the road too fast, would say here that they weren't youngster's driving but of an age where you would think they would know better!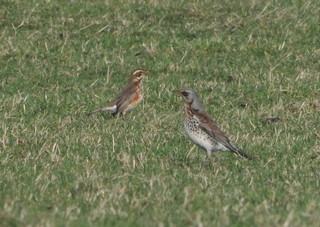 Did find big flocks of Fieldfare and Redwing in grass fields around Soussons and Challacombe Farm, also saw plenty of Buzzards on posts, trees and also on the fields. Blackbird, Robin, Great Tit, Chaffinch, Starling, Goldfinch, Wren, Herring Gull, Rook, Carrion Crow, Raven, Jackdaw, Magpie, Woodpigeon, Pied Wagtail and Stonechat seen on my travels.
Good day to be out on Dartmoor today, cold and wild as it should be, wish I could have spent more time looking. Nice to see everybody out enjoying themselves and apart from a couple of idiots in cars behaving themselves!

---
23 December 2017
Good days Birding!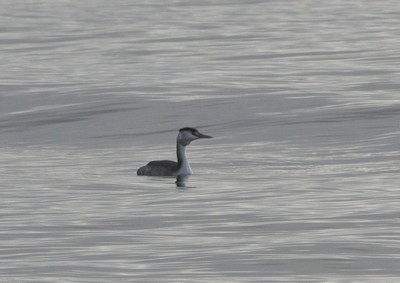 Had a great day out today, started out at Dawlish Warren at first light. Parked up by the station and as I got out the fantastic song of a Song Thrush that was above me in a tree to be joined by another from a near bye garden. It was in full throttle, just a glorious sound! It was also joined by a Blackbird, Robin, Great Tit, Wood Pigeon and a couple of Collard flew in and sat on the wires, also a Great Spotted Woodpecker started to drum, fantastic start to the day!
I walked off to the sea wall by the boat house, plenty of birds about with Pied Wagtail every where, there was an elderly women feeding some Crows? Not something you see every day??
I arrived at the wall about an hour and half before high tide and it was just starting to get light, you could see stacks of birds every where. Right out to see you could see plenty of Gannets 200+ with other large Gulls, in my bins they looked like Great black-Backed. On the water there must have been 70+ Great-crested Grebes as well as other Divers, I positively ID 2 Great-northern and 2 Red Throated Divers but Iam sure there was more with all the birds diving and coming up in different places. Looked like a few Ducks out there, poss. Eider? Also saw Oystercatchers coming off the sea, Cormorants, with Loads of Pied Wagtails, Starlings, House Sparrow, Robin, Magpie, Jackdaw and Blackbird around the Boat House.
I walked to the hide via the beach and more GCG and Cormorants on view close to the beach with Gulls and Gannets further out. On the Golf Course, golfers were navigating the course with 20 odd Dark-bellied Brent's on the fairway with Dunnock and a pair of Bullfinches in the hedge by the path.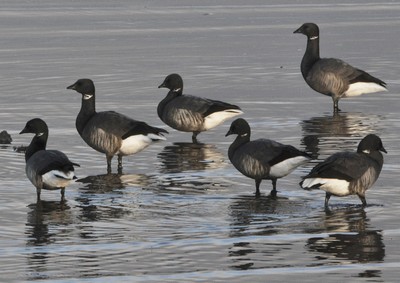 In the Bight there was plenty of Dark-bellied Brent's, Widgeon and Black-headed Gulls with the far side on Finger point popular with Curlew, Oystercatchers, Cormorants and Great-black Backed Gulls.
I arrived at the hide with the tide on the way out but still plenty of birds on show with Dunlin, Turnstone, Grey Plover, Oystercatcher, Redshank, Shelduck, Widgeon, Dark-bellied Brent Geese, the usual Carrion Crows hassling the smaller waders, plenty of waders on the salt marsh (this where I need a Scope!). At the back of the hide there was Reed Bunting, Wren, Great Tit and Linnet.
Back towards the car and while going through Greenland lake there was a group of birdwatchers that found a Firecrest which was a nice find also saw more Bullfinches, Stonechat, Wren, Robin, Magpie and Blackbird. Stopped off at the pond as there is a Jack Snipe but to be honest as I didn't have a scope I didn't hold out too much hope of seeing it but I got lucky as I was looking at the base of the tree in the reeds it suddenly moved its head and bobbed a bit before going back to sleep and becoming invisible again. I moved to the top viewing point to see a Common Snipe, Shoveler and Moorhen before going through the entrance bushes finding Goldfinches, Wren, Blue and Great Tits, House Sparrow, Robin, Blackbird and Magpie.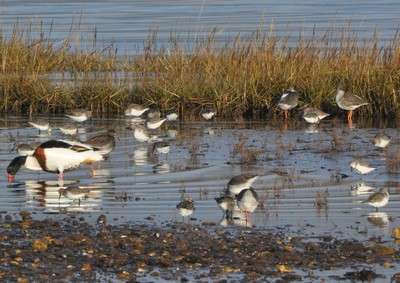 Quick pit stop for me in the "chipp"y and off up the Exe. Couldn't get in by the Cockwood Steps as the lay bye was full but in the Harbour the water had gone leaving the mud but surprisingly very little on it with a coupe of Redshank, Mute Swan and a Black-headed Gull. Starcross Golf course on the other hand was full of birds with large numbers of Canada and Brent Geese, Oystercatchers and a few Curlew and Godwits.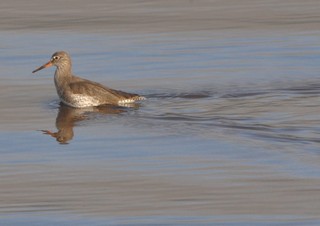 Stopped off at Powderham where the River Kenn outflow is, if you get the timing right this a great place to view the River, (BUT watch the trains, there is only ever going to be one winner and its not you!) Greenshank, Redshank, Oystercatchers, Dunlin, Curlew, Little Egret, Great-crested Grebes, Mallard, Shelduck, Cormorants, Carrion Crows, Great-black Backed and Herring Gulls with a Rock pipit on the wall.
Birds seen in Powderham, along the road hedge, River Kenn and the lake in front of the castle were Pheasants, Grey Heron, Little Egrets, Curlews, Oystercatchers, Mute Swans Canada Geese, Shelduck, Widgeon, Mallard, Teal, Coot, Moorhen, long-tailed Tits, Goldcrest, Blackbird, Bullfinch, Robin, Woodpigeon, Magpie, Carrion Crow, Mistle Thrush, plenty of Black-headed Gulls and 3 Great-spotted Woodpeckers chasing each other around the trees.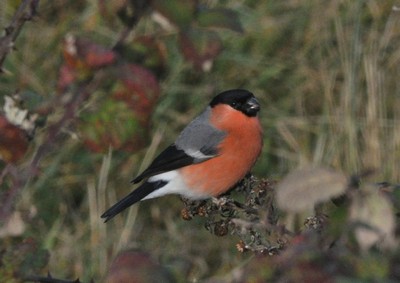 Back home to Dawlish via some farmland so went via Chivestone Farm and little Holden, although only 2pm starting to get too dark for any decent pics but still plenty about with Pheasants, Red-legged Partridge, Rook, Carrion Crows, Jackdaws, Magpies, Woodpigeon, Collard Doves, House Sparrows, Chaffinch, Dunnock, Robin, Blackbird, Song Thrush and Pied Wagtails.
Saw lots of people out today and great to see Lee who's been on his travels to Ethiopia. Plenty of well behaved dogs first thing this morning and their owners behaved as well which is a plus!! Must admit to looking forward to getting Xmas out of the way, I know a bit "Humbug" but its driving me nuts! Also looking forward to the longer days with more sun, Spring is on its way. Having said that it will now snow for the next 8 weeks, HoHoHoHoHo

---
20 December 2017
Birding around Topsham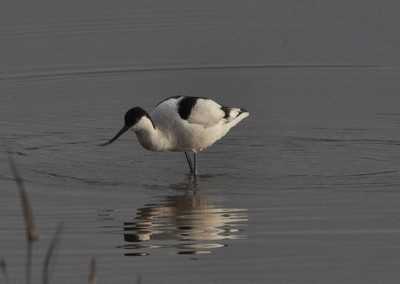 Went to Topsham today to see if I could see the Bearded Tits that have been seen in and around Goosemoor. The weather was ok, no wind to speak of but a bit of cloud to make a dull day even duller!
Parked up at Darts Farm as usual and although it was busy, not as busy as I thought it would be. Plenty of birds about especially in the field with then crops just up from the car-park, 20+ Chaffinch, Blackbirds, Robin, Wren, Carrion Crow, Pied Wagtail, House Sparrows, Black-headed and Herring Gulls, Jackdaws and Magpies.
Along the cycle track, Robin, Dunnock, Wren, Great and Blue Tits, Green Finch, Jackdaw, Carrion Crow, Wood Pigeon, Black-headed Gull and Buzzard.
Goosemoor had Quite a few birds but sadly for me no Bearded Tits did though have Avocets, Redshank, Greenshank, Godwit, Widgeon, Teal, Mallard, Water Rail, Blackbird, Reed Bunting and fly over Curlew, Canada Geese and Wood Pigeon.
The Reserve and the joining road saw Mistle Thrush, Blackbird, Dunnock, House Sparrow, Starling, Robin, Long-tailed, Great and Blue Tits, Wren, Snipe, Lapwing, Redshank, Godwit, Pintail, Tufted Duck, Shoveler, Gadwall, Widgeon, Teal, Moorhen, Coot, Greylag Geese, Carrion Crow, Jackdaw and Magpie.
T the platform the tide was out and plenty of waders on the mud and its times like these I need a scope but still managed to pick out Avocet, Curlew, Godwit, Dunlin, Redshank, Widgeon, Mallard Cormorant, Little Egret and Herring Gull.
Along the Goat Walk some good views of Avocet, sadly the light was crap!
Met lots of people today and all very sociable!
---
17 December 2017
Torbay Boat Trip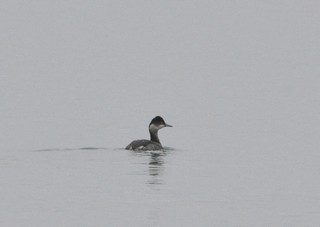 1st of the year winter boat trips around Torbay with Nigel S on the "Optimist" Skippered by Nigel L. The water was flat as a mill pond but sadly the light was crap which is normal for this time of year.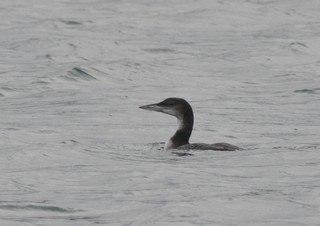 Plenty of Turnstone in the harbour as well as Herring, Black-headed and Great-black Backed Gulls. plenty of Jackdaws and feral pigeons flying around. At the pontoons there was 4 Grey Seals sleeping away and at the end of the sea wall there was 4 Purple Sandpipers.
Out to sea there was plenty of Gulls with Kittiwakes, Black-headed, Herring, Great-back Backed Gulls and Fulmars. Cormorants, Shags, Oystercatchers, Grey Heron, Black-necked Grebes, Great-northern Divers and Great Crested Grebes in good numbers. Nice to see a raft of 17 female Common Scoters.
Also saw 2 Peregrine, Carrion Crow and a Raven.
Great to be out with a great bunch of people.
---
09 December 2017
Dawlish Warren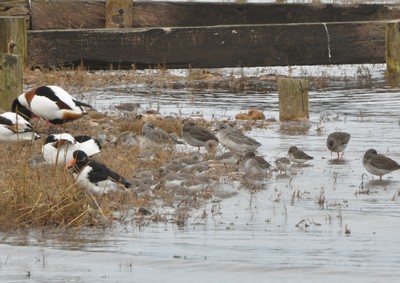 After a another crap week at work time to be out with the birds. High tide at the Warren was 10.30am at 3.8m which was ideal, the only down side was the light.
When I got to the hide there was plenty of waders in front of the hide as the tide was coming in, birds seen Grey Plover, Dunlin, Knot, Turnstone, Sanderling, Oystercatcher, Redshank, Curlew, Mute Swan, Widgeon, Teal, Shelduck, Cormorant, Herring gull, Black-headed Gull, Great-black Backed Gull, Pied Wagtail, Rock Pipit, Linnet and Carrion Crows which were constantly harassing the waders looking for a kill.
On Finger point there was plenty of Great-black Backed Gulls, Curlew, Cormorants and Oystercatchers. In the Bite there was plenty of Black-bellied Brent Geese, Dunlin, Ringed Plover, Sanderling, Grey Plover, Shelduck, Teal, Widgeon and Rock Pipit.
Out to sea there was quite a few Cormorant both flying and in the water, also 2 Great-northern Divers off the beach.
Around the rest of the reserve there was Robin, Wren, Dunnock, Blue, Great and Long-tailed Tits, Blackbird, Bullfinch, Chaffinch, Goldfinch, House-Sparrow, Greenfinch, Woodpigeon, Carrion Crow and Stonechat.
Met lots of nice people today including a group down from South Somerset, beets going to work!!

---
© Simon Thurgood 2022
Images on this website may not be put as any part of any collection without any prior written permission.