Blog
27 December 2016
Exminster Marshes and other places!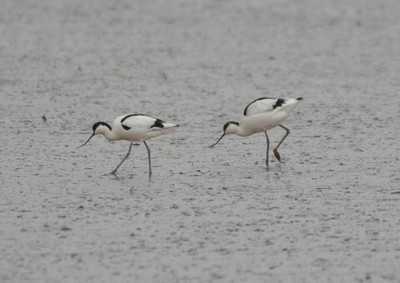 Frustratingly a late start today and didn't get out until 1pm and it was already starting to be grey and moody, went off on the road towards Exminster.
I passed Cockwood Harbour which was empty of water and birds with the exception of one Redshank, Starcross Golf course which doubles up as a haven in the winter at high tide for Geese and Waders had a few birds still on there even though it was low tide with Oystercatchers, Canada and Dark-bellied Brent Geese.
In the fields by Powderham there was Oystercatchers, Carrion Crows and 30+ Dark-bellied Brent Geese with birds flying in all the time and the numbers rising to 100+. In the river there was a few Teal, Mallard and Little Egret.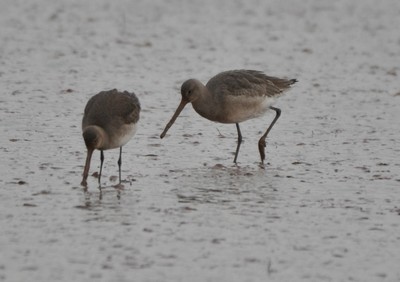 On arriving at Exminster I parked up in the RSPB carpark and walked down the back path to Turf and then back along the road to the car.. At Turf the tide was starting to come back in and there was a few birds about with Avocet, Black-tailed Godwits, Curlew, Dunlin, Redshank and Lapwings feeding on the shoreline or mudflats with a few gulls around with Black-headed, Herring and Great-black Backed Gulls.
Around the reserve there was 1500+ Canada Geese, 800+ Dark Brent Geese, 2 Barnacale Geese, Mute Swan, Cormorant, Grey Heron, Teal, Mallard, Shoveler, Widgeon, Moorhen, Lapwing, Curlew, Black-tailed Godwit, Song Thrush, Several Blackbirds feeding on the remaining berries, Robin, Great, Blue and Long-tailed Tits, Bullfinch, Goldfinch, Pied Wagtail, Dunnock, Wren, Starling, Magpie, Carrion crow and just before I got in my car to go home I saw the Marsh Harrier!
It Turned out to be a great day out and met some nice people which is always a bonus!

---
26 December 2016
Eastern Black Redstart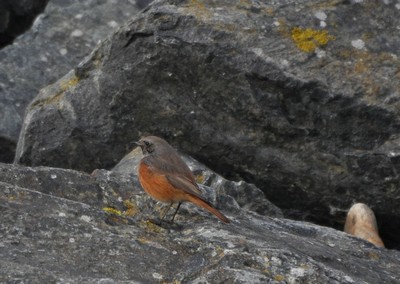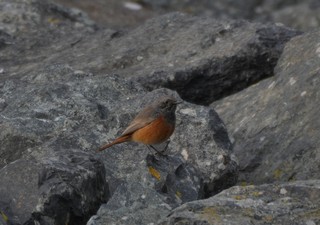 Set off early for a trip to Mousehole in Cornwall to see the Eastern Black Redstart and it didn't disappoint!
Easy to find below the carpark on the beach, quite mobile but mainly chasing insects around the rocks. Didn't seem to mind people and dogs passing on the footpath. Do wish I could have positioned myself a bit better but got to be happy with seeing the bird and getting some pics!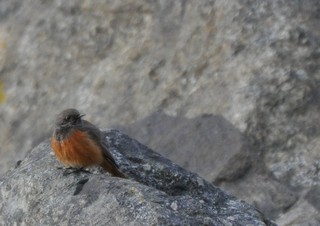 There was some sightings of a 1st Winter Ring-Bill Gull at Marazion on the beach by "Long Rocks" but when I got there was stacks of gulls on the water and the rocks out on the water and without a scope I had no chance, probably needed to be low tide, good excuse to come down again!
Met some nice people today, couple of birders from North Devon, wish I got there names and others from Cornwall. That with it being a nice day just brilliant!!
---
23 December 2016
South Devon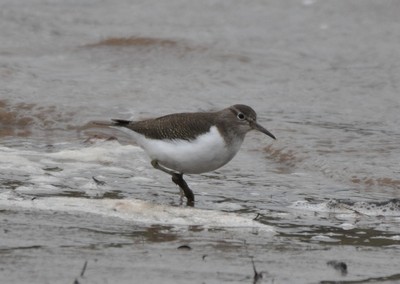 Not wanting to waist any of my free time went to the south of Devon to see the Desert Wheatear at Thurlestone and then pop into Beesands and Slapton. The problem was the weather, supposed to be raining, it was grey and windy, not the ideal day to take pictures!
Anyway off I went and the first stop was at Aveton Gifford and to see what was along the tidal road, the water was choppy and the wind was wiping the water up even more so there wasn't that many birds on the water, just a couple of Mute Swans and a Cormorant who spent most of his time underneath. Along the shoreline there was 2 Common Sandpipers, Oystercatchers and a Redshank. A few Mallard, Little Egret and about 50 Gulls on the roost with Black-headed, Herring, Great-black Backed Gulls with what looked like 2 Lesser-black Backed gulls.
Then on to Thurlestone to see the Desert Wheatear and possibly the Black Redstart that has been around, when I got out of the car the wind had picked up and my car door blew open and I was beginning to think its going to be a wasted trip as the bird will have its head down somewhere. But No! it was quite active at the back of the beach picking anything up that had got blown to the back. The Rock Pipit on the other hand was on the shoreline working the seaweed. The Wheatear looked in good health but possibly in moult?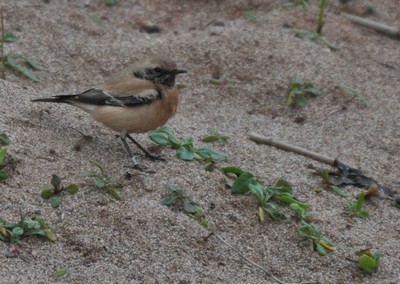 I left it in peace and went off to Beesands which was a lot more sheltered and was massively surprised by the lack of birds on the Ley, apart from 3 Mallards there was just a large number of mute Swans, in fact 42 Adults and 7 Cygnets and nothing else! in the field behind the hide there was 100+ Canada Geese and Bullfinch, Goldfinch, Robin, Wren, Blackbird, Woodpigeon, Magpie, Starling and a Cettis exploded into song along the path as I was passing which was a welcome relief!
The Weather was starting to get rough and the rain had started so a walk around Ireland bay was called off but I did see large numbers of Coot, a few Tufted Duck on the water as I was passing.
Saw more than I thought as the weather held off for a while and good to see the Wheatear doing well.
---
22 December 2016
Blyths Pipit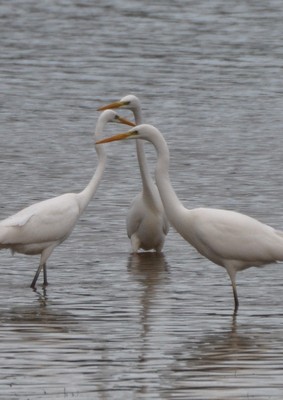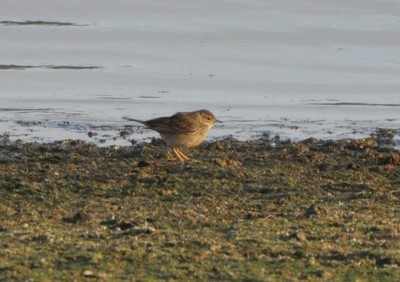 A report of a Blyth's Pipit at Blagdon Lake in Somerset,(well just on the edge!)so took the chance and left early this morning to have a look. The weather was good so taking pictures shouldn't be a issue just got to hope the bird was still there. Got to the lake and followed the directions to find a group of birders/photographers all ready on the bird. It was quite flighty and always at a distance for me, but I still managed to get some shots to prove I was there!! Well done to who ever found it, because I don't think I would have picked it out of the Meadow Pipits it was with. Although as time went on I noticed the difference, it ran everywhere, long legs and one of the other birders described it "like a robin" and it was.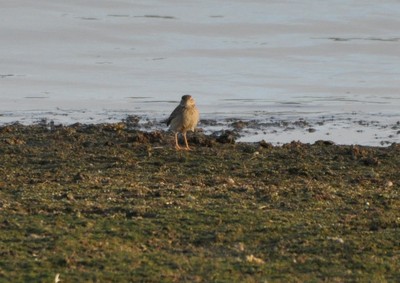 It flew off up the lake so I decided to pay Chew Lake which is just up the road a visit and come back in the afternoon for another look.
Chew was just full of birds, all the usual stuff but lots of it with Mallard, Pochard, Shoveler, Tufted Duck, Widgeon, Shelduck, Canada Goose, Mute Swan, Little and Great White Egret, Black-headed, Herring, Lesser and Great-black Backed Gulls, Kestrel, Carrion Crows, Moorhen, Coot, Water Rail, Grey Heron, Great-crested Grebes, Magpie and a Blackbird on show.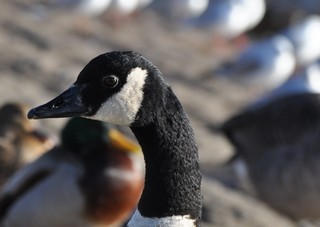 So went back to Blagdon and got some more and again distant views of the Pipit and plenty of views of other great birds, Little and Great White Egrets, in fact 8GWE put on a very elegant show, beautiful birds! Stacks of Cormorants 150-200 around the foreshore with Tufted Duck, Teal, Mallard, Golden Eye, Great-crested, Little Grebes, Coot, Moorhen, Mute and Whooper Swans, Canada Geese, Meadow Pipits, Grey Wagtails, Long-tailed Tits, Blue and Great Tits and Grey Heron.
Met lots of people today, some very helpful and friendly, some smiley and quiet and one miserable git!! To the local birders thank you for your help.
---
20 December 2016
Dawlish Warren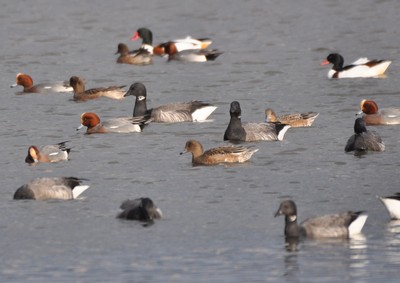 Didn't travel very far today due to the threat of crap weather and poor light so went to Dawlish Warren to catch the high tide at 11am.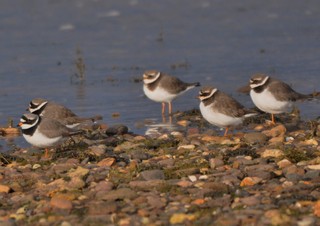 Saw plenty of stuff on the way to the hide with Great, Blue and Long-tailed Tits, Robin, Blackbird, Greenfinch, Dunnock, House Sparrow, Chiffchaff, Wren, Magpie, Carrion Crow and Wood Pigeon. On the Golf Course there was Carrion Crow, Canada Geese and Dark-bellied Brent Geese who didn't care much for the golfers and did there best to get in the way, saw one Canada attack a golf ball which was kind of ironic!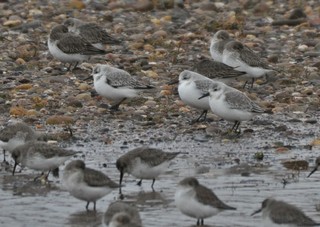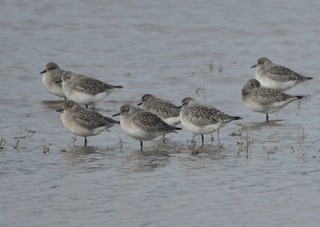 On the Beach there was a strange mix of birds with a small flock of Goldfinch, Dunnock, Robin, Rock Pipit and a few Turnstone. Apart from the odd gull didn't see much out to sea.
On the Bite and in front of the hide I saw Dark-bellied Brent's, Widgeon, Shelducks, Grey Plover, Redshanks, Turnstone, Curlew, Oystercatchers, Dunlin, Sanderling, Ringed Plover, Cormorant, Black-headed, Herring and Great-black Backed Gulls and a few very annoying Carrion Crows who spent the hole time harassing the Dunlins.
Didn't see anybody else about which was a surprise!
---
19 December 2016
Dorset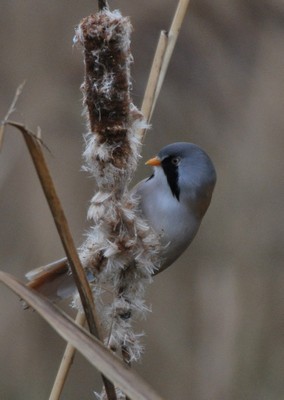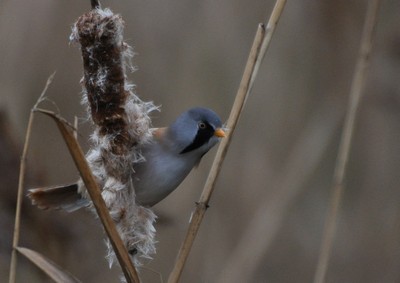 There has been a Hume's Warbler for a while on Portland so I thought I would give it a try, I have though not had that much luck with rarities on Portland with a couple of wasted trips to see the Spotted Cuckoo until I eventually saw it at a distance. Unfortunately the only directions I had was by the hump on Avalanche Rd? Well I got there and even asked a local "Where's the Hump??" and got a mystified look so I went to the Observatory at the Bill and got told the "Hump" is a birders term not a "speed hump!! Martin told me were the bird should be and I went off to try again but I was still unable to find it. Very much aware that day light hours were short I didn't hang around too long and went off to Radipole Reserve in Weymouth to see one of my favourite birds the Bearded Tit for which I wasn't disappointed as some birds including a fantastic male were close to the path, Brilliant!!
I was also impressed with the numbers of Mediterranean gulls, a volunteer said they counted 250 last week! Plenty of ducks about with Mallard, Tufted, Teal, Shoveler and Gadwall. Moorhen, Coot, Shelduck, Mute Swan, Canada Geese Cormorant and Grey Heron were the other water birds with Black-headed, Common, Herring and Great-black Backed Gulls as well as the Mediterranean Gulls in good numbers.
Around the reserve there was plenty of small birds to see with Blackbird, Dunnock, Robin, Goldfinch, Blue and Great Tit, Stonechat and Reed Buntings putting on a show. So after hot Mince Pies and a Coffee in the reserve visitor Centre I then went off to Maiden Castle to see another favourite bird the Corn Bunting but disappointingly when I got there the road was closed due to road works.
Anyway apart from disappointments still had a good day.
---
18 December 2016
Torbay Boat Trip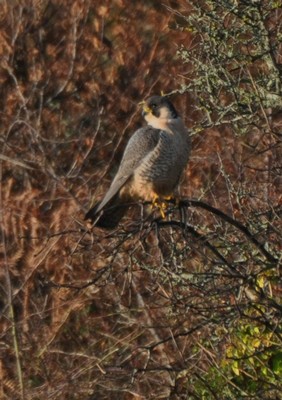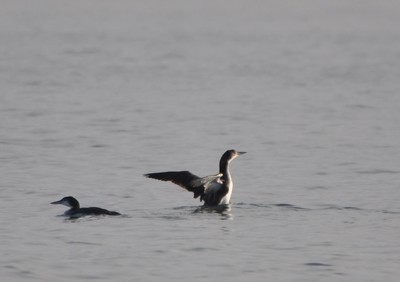 When I got up this morning Dawlish was covered in fog so when I looked at my mobile I was expecting to see a mobile message to say the trip was cancelled, but no. So off to Brixham which was through some thick fog and clear patches arrived to fog at Brixham but there was thumbs up as I arrived and off we went. It quickly cleared out to sea with some stunning views of the coast and fog bank out to sea. Plenty of birds seen and surprised on birds not seen as well, for example we didn't see any type of Grebe which considering the amount of write ups on Devon Birds you thought we might have seen at least one!
We did though see 6 Velvet Scooters, we kept our distance so not to flush them and got some great views, we also saw 6 Great Northern Divers on the trip as well as 11 Dark-bellied Brent Geese, Little Egret, Oystercatchers,1 Eider, double figures of Grey Heron on the cliffs, 3 Peregrines, Woodpigeons, Carrion Crows,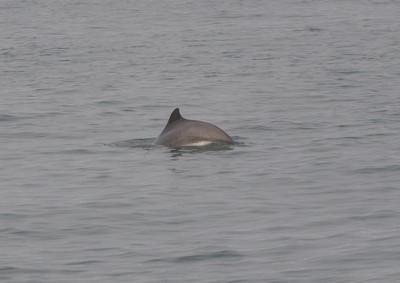 Fulmars, Gannets, Common, Black-headed, Herring and Great-black Backed Gulls, Turnstone, Shag, Cormorants and 800+ Guillemots both on the water and on the cliffs at their colony at Berry Head. We also saw 8 Harbour Porpoise around Berry Head, some popped up next to the boat which was just great!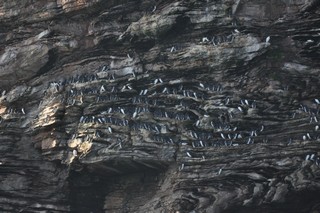 Spent a great time with some great people, good to see you all!

---
11 December 2016
Sunny Days!

As the report of a sunny day was for today, I thought I better make use of it! There had been reports of 7 Cattle Egrets at Teigngrace, thought that would be the start, then off to Labrador Bay to see the Cirls and finish off the day at Dawlish Warren as the high tide is at 4pm, well that's the plan!! Typically on this fine day Teigngrace was covered in mist and you couldn't see anything let alone a white bird in the mist! So went off to Bovey straight and the petrol station to pick up a Costa Coffee and a " Toasty ". I was hoping that the sun would burn off the mist fairly quick but that didn't happen.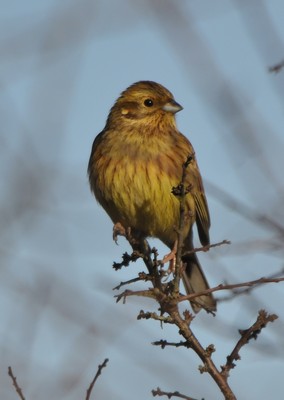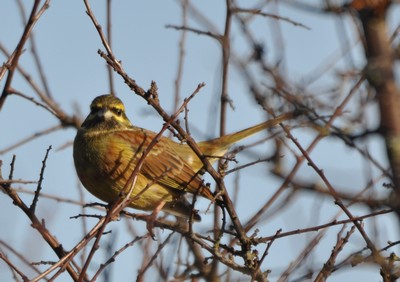 So off to Labrador Bay to see the Cirl Buntings, one of my favourite birds. Parked up, the view over the channel was stunning! Would have loved to have been out in a boat. There was a group of birders over to the left looking at something not sure what but I was heading in the other direction. Experience has taught me to go to the small field towards Torbay and sure enough there they were, they were flying to and from the farmers field the other side of the main road, counted 32 birds but defiantly more about. They were on the ground looking for food and also sat in the hedge enjoying the sun, they didn't seem to bothered about me but I just stayed still and they came closer, just beautiful birds.
I also saw Linnet, Chaffinch, Starling, Buzzard, Carrion Crow, Dunnock, Blackbird, Blue Tit, Jay, Robin, Skylark, Woodpigeon and a pair of Sparrowhawk which was a surprise as never seen them in flight together like that, they were following the hedge on the other side of the road looking for breakfast.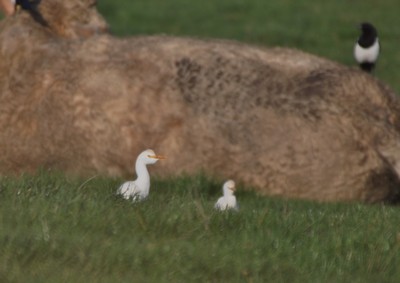 Well after having to drag myself away I went off to Teigngrace I went off to see if I could find the Egrets. Had difficulty to start off with but help from another birder I saw 2 birds who then flew luckily to a closer field with some cattle which enabled me to get some pictures. Although it was a bit dangerous as I had to stand on the road and take the pictures through the hedge and the idiots in the cars were taking no prisoners! Slow down guys, enjoy the view!!
I also saw Little Egret, Buzzard, Canada Geese, Woodpigeon, Stock Dove, Robin, Blackbird, Magpie and Pied Wagtail.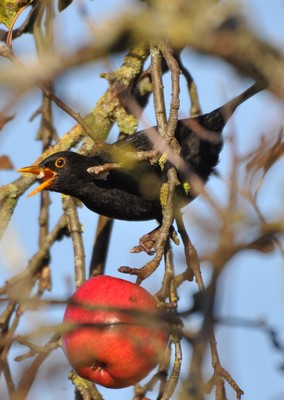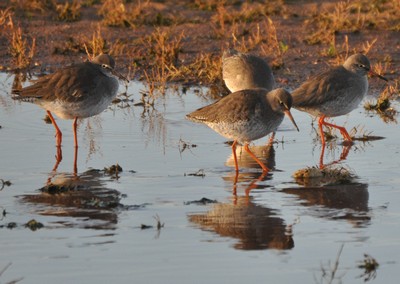 Then off to the Warren, it continued to be a beautiful sunny day which the birds seem to appreciate as well as myself as they were all sunning themselves on the tops of bushes and trees. The Crab Apple Tree had a few Blackbirds on it as they were feeding on the Apples, other birds seen around the bushes were Song Thrush, Stonechat, House Sparrow, Robin, Dunnock, Wren, Long-tailed, Blue and Great Tit, Bullfinch, Goldfinch, Carrion Crow and Magpie.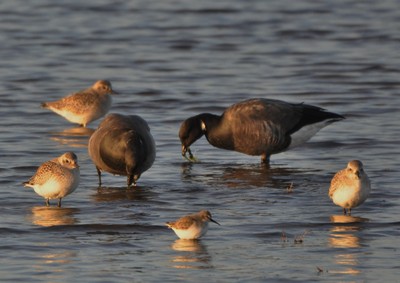 At the hide there was stunning views up the river and the birds were starting to be pushed towards the hide by the high tide with Dark-bellied Brent, Shield duck, Widgeon, Oystercatcher, Redshank, Greenshank, Knot, Grey Plover, Curlew, Dunlin, Turnstone, Cormorant, Carrion Crow, Herring, Black-headed and Great-black Backed Gull.
A lot of birds came quite close to the hide, especially the Dunlin which I haven't seen very often. Great views of these birds in ideal conditions, a real privilege to be so close to all these beautiful birds!
Met lots of birders out today and it was great to meet all of you, hope you had as good a day as I did!

---
03 December 2016
Grey Day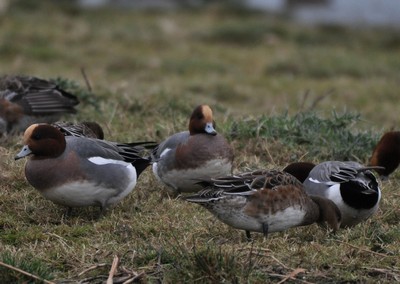 On this blustery grey day wasn't sure were to go, originally hoped to get up early and go to Dawlish Warren but unfortunately "life" gets in the way and didn't leave the flat until 11.30am so decided to go up the river with a stop at the steps at Cockwood and apart from a few gulls nothing seen as the wind was wiping up the water.
Cockwood Harbour was also empty apart from a male Mallard and a couple of Black-headed Gulls, then around to the Golf course at Starcross which was out of the wind and full of birds! Canada and Dark-bellied Brent Geese in good numbers with Curlew, Godwits, Lapwings and a few Redshanks on view.
Then on to Powderham with lots of Corvides on the fields with Rooks, Carrion Crows and Jackdaws making quite a racket, I crossed the railway line to look at the Exe which was quite choppy and again apart from a few gulls nothing.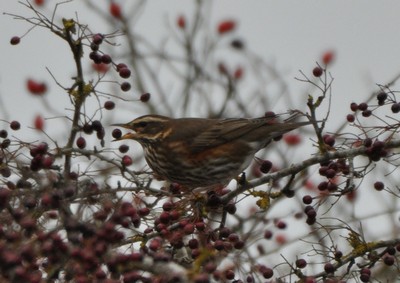 I then went on to Exminster Marshes and parking up in the middle car park and straight away you could see plenty of ducks but again in sheltered parts of the marsh and not all over. Lots of Widgeon, Teal, Shoveler and Mallard with Coot, Moorhen and Mute Swans dotted around the marsh. 1000+ Canada Geese with 5-700 Brent's in groups mainly towards Turf. Lapwings, Redshank, Godwits and Curlew also seen, 20+ Fieldfare and 100+ Redwing still finding plenty of food with the berries on the bushes. Robin, Blackbird, Dunnock, Blue, Great and Long-tailed Tits, Goldfinch, Bullfinch, Stonechat, Starling, Woodpigeon, Magpie, Carrion Crow, Jackdaw, Rook and a Male Sparrowhawk put in an appearance along the back path
At Turf there was Godwits, Curlew, Grey Plover, Dunlin, Redshank, Shelducks, Cormorant and some Brent Geese with a few Black-headed Gulls.
On the way back I stopped to finish off my Coffee in the carpark at Powderham Church to be entertained by a Grey and Pied Wagtail looking for food around the cars.
Saw a few birders today and all looked happy if not a bit cold!
---
© Simon Thurgood 2022
Images on this website may not be put as any part of any collection without any prior written permission.