Blog
30 December 2014
Aylesbere Common

I went to Aylesbere Common, the RSPB reserve in East Devon today with the hope of seeing the Grey Shrike that had been seen, but as normal I was told "It was here 5 minutes ago and flew that way"!
Not daunted by the set back I walked around the reserve, it is basically heathland for 90% with woodland and a pond making up the other 10%.
It has a population of Dartford Warblers which I saw a couple today.
Also seen today was Buzzard and Herring Gull flying over head. Chaffinch, Wren, Blackbird, Robin, Coal and Blue Tits, Woodpigeon, Carrion Crow, Dunnock, several Stonechats and the sound of a Green Woodpecker calling in the woods.
Meet a few other disappointed soles but at least the sun was shinning, if it was easy it would be boring!
---
29 December 2014
Dawlish Warren

On a crisp, clear cold day I went to the Warren to see what was about.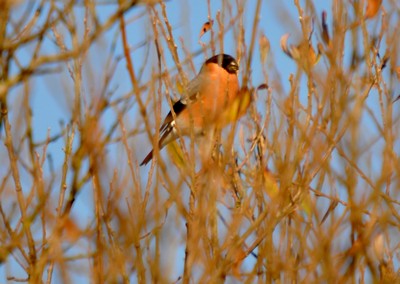 When I was walking towards the reserve I could hear and see a Male Bullfinch in the bushes, when I got closer I could also see a female. On my way back I counted 5 in total,2m and 3f. Great to see but as normal I had difficulty getting a clear view of the male in the open.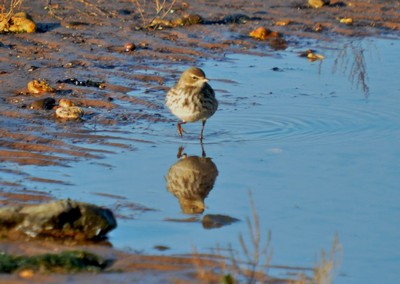 There was 50+ Dark-bellied Brent Geese on the Golf course who were coping very well with the golfers and vice versa.
In the Bite there was Dark-bellied Brent Geese, Shelduck, Wigeon, Turnstones, Dunlin and the first viewing of the Water Pipit.
At the hide there was Dunlin, Knot, Oystercatchers, Redshank, a single Avocet, Grey Plover and Curlew.
On Finger Point you could see Cormorant, Great Black-backed Gulls and a mixed flock of Waders.
Also in front of the hide we saw the Water Pipit again, Pied Wagtail, Dunlin, Linnet, Rock Pipit, Carrion Crow, Herring and Black-headed Gull.
I walked around the point and apart from a few gulls there was 2 Sanderling and that was that!
The beach was clear of birds and the sea was calm but no Divers or anything!
I went back to the bushes around the main pond and I saw Blue, Great and Long-tailed Tits, Blackbird, Robin, Chaffinch, Woodpigeon, Meadow Pipit and Wren.
The pond was frozen and apart from a adult Mute Swan I could see nothing.
Good to see everybody and the hide was packed again.
---
28 December 2014
Cirl Buntings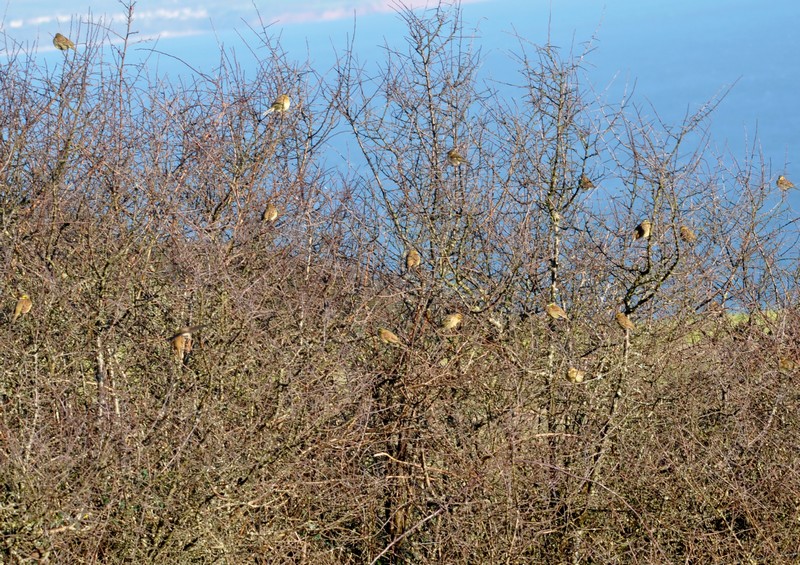 Went again to Labrador Bay to see the Cirl Buntings.
They continued to be flighty as were many of the birds, I think down to the wind and a Sparrowhawk flying around.
A flock of 15+ settled on the opposite hedge to where I was stood.
Great to see in a wild setting, you can see 30+ at Broadsands and quite close up but its not the same in a carpark!
---
27 December 2014
Dawlish Warren

Up early to the Warren to catch high tide, it was clear but cold. Watching the sun come up over the sea at 8.10am was a real treat!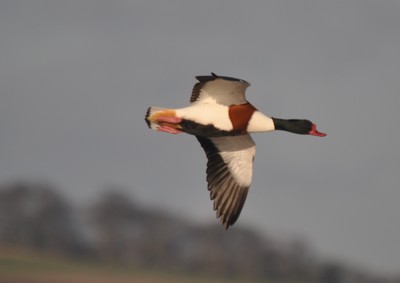 High tide was 10.34 and there was plenty of birds about but none settling very well, large flocks of Dunlin, Grey Plover and Knott making beautiful patterns in the sky.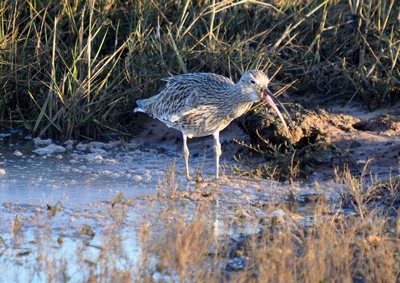 Plenty of Shielduck and Dark-bellied Brent Geese about with ones and twos of Curlew and Redshank.
The Water Pipit was with the Linnets and Pied Wagtails, Dunnocks and a skylark were also in front of the hide.
The only duck was Wigeon in the Bite, the smaller numbers than normal of Oystercatchers was joined with Turnstones and Godwits.
There was 70+ Cormorant's plus flocks of other waders on Finger point that were continually put to flight by something but couldn't see what from where I was.
On the way back to the car I saw Stonechat, Blackbird, Carrion Crow, Herring, Black-headed and Great Black-backed Gulls, Dunnock, Wren and Robin.
At the main pond I saw Mallard, Shoveler, Gadwall, Moorhen and Little Grebe, In the Bushes were was Wren, Long-tailed Tits and Woodpigeon.
Good to see every body out today, the hide was packed!
---
24 December 2014
Labrador Bay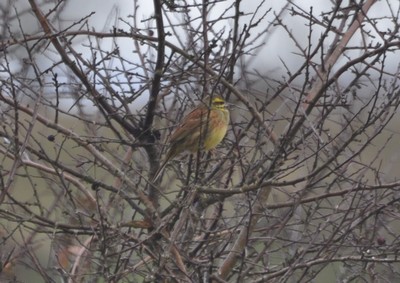 Went to get away from the Xmas rush, so went looking for Cirl Buntings at Labrador Bay.
It was quite blustery and there wasn't many birds flying. Out to sea all I could see was one Cormorant and a couple of Herring Gulls.
Around the hedges I found Chiffchaff, several Wrens, Robins, Blackbirds, Dunnock, Carrion Crows, Buzzard and Kestrel.
There is a feeding station in the top field which I found, Dunnock, Blackcap, Chaffinch and several Cirl Buntings which was just great.
Need to go on a calmer day as all the birds were a bit flighty.
Great walk though!
---
23 December 2014
Dawlish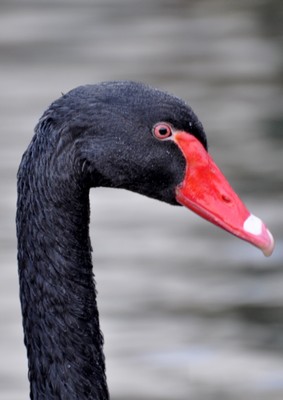 Went for a walk around the sea front and along the brook today to see what was about.
Along the sea wall there was plenty of Herring Gulls with the odd Great Black-backed Gulls on the breakwater. The only thing on the water was a Cormorant which was a little disappointing!
Around the sea front and around the buildings are the ever increasing Feral Pigeons, they seem to increase in numbers every time I walk along the sea front!
In the brook there was large numbers of Mallard and the Iconic Black Swans. On the lawn there was some of the Geese which are all part of the wildfowl collection of the town, they still look impressive, especially the Chinese Water geese and the Bar headed Geese.
There was large numbers of Carrion Crow and Wood pigeon flying over the town with several Jackdaws on rooftops.
Also seen around town was Pied Wagtail, robin, Blackbird and a couple of Black-headed Gulls.
Perhaps the wind had a bit to do with it but disappointed with the numbers of birds about.
---
22 December 2014
Darts Farm to Topsham

Went to Topsham today with the hope of seeing the 3 Penduline Tits which have been seen at Darts Farm, Bowling Green marsh and the Rec at Topsham. Unfortunately they were not to be seen.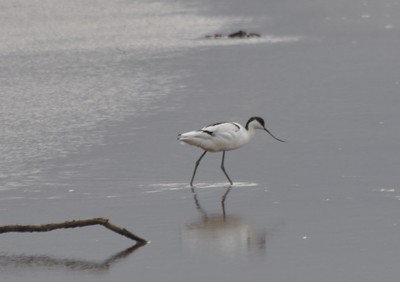 At the hide at Darts Farm I did see Pied Wagtails, Greenfinches, Water Rail, Mallard, Teal, Moorhens, Wren, Chiffchaff, Carrion Crow and Robin.
On the walk to Bowling Green I could see Redshank and Curlew on the creek with Little Egret in the marsh with Lapwing and Grey Plover flying over. Stock doves on the railway bridge and Jay, Magpies, Robins, Blackbirds, Blue Tits and Black-headed Gulls all seen.
On the road to Bowling Green there was a small Tit flock of Long-tailed, Great and Blue Tits with a smart pair of Bullfinches-Brill!
There was Grey Heron, loads of Moorhens, Wigeon, Teal, Pintail, Shoveler and Mallards on view from the road at Bowling Green.
Also in the fields just past there was large numbers of Black-tailed Godwits, Curlew, Wigeon and Wood Pigeons.
From the viewing platform over the River Clyst there was Kingfisher, Curlew, 30+ Redshanks, Little Egret, Greenshank and Cormorant.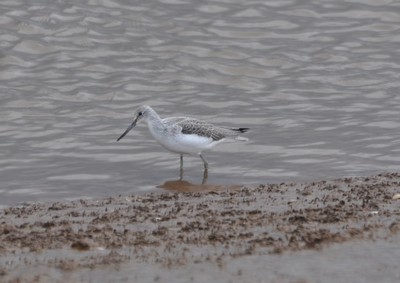 I walked round to the Goat walk which goes into Topsham by the River Exe which was very windy, there was 20+ Avocets feeding and a few Curlew.
Lot of birds on the mud further down the estuary staying out of the wind.
---
21 December 2014
Exminster Marshes

Went to Exminster Marshes today, as it was the shortest day today I was not expecting to do much photography because of the lack of light.
I walked in a circular route from the RSPB carpark via the canal and Turf Lock.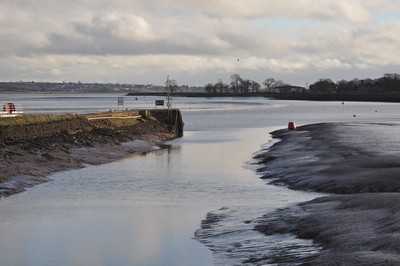 The walk actually not only marsh but brings in several other habitats such as the Canal and the River Exe with the mud flats. There is plenty of hedgerows with berries on this time of year.
I saw plenty of Geese, Brent and Canada with one Black Brant which showed quite well.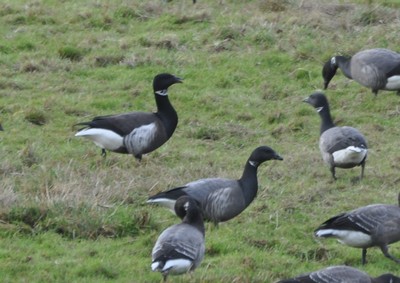 Also on the marshes I saw Curlew, Godwits, Lapwings and plenty of ducks. These were mainly Wigeon but there was also Mallard, Teal and Shoveler.
Along the road also saw Starling, Robins, plenty of Blackbirds feeding on the berries, Blue, Great and Long-tailed Tits, Chaffinches, Wren, Magpies and Woodpigeon.
Plenty of Mute Swans on the Canal.
On the mud flats by Turf Lock there was Avocets, Redshanks, Large numbers of Dunlin. Also Curlew, Knot and Godwits.
Cormorants, Ravens, Carrion Crows, Great Black-backed, Herring and Black-headed Gulls also seen around the walk at various points.
The footpath around the field and the path that follows the railway line can get quite wet and at times impassable but today it was ok apart for a very small bit in the field, should have worn wellies!
---
14 December 2014
Torbay Boat Trip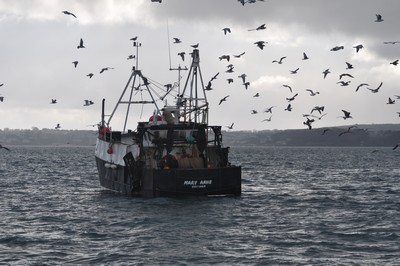 Went on a boat trip again around Torbay with Nigel Smallbones, not so many on this trip, all saving up for xmas?
The weather was better than expected, although there was some showers which didn't really effect the morning. We did a circuit from The marina out past Thatcher Rock, on to the Ore stone then across the bay to Berry Head then back via Brixham harbour, Broadsands and following the coast.
We only saw 1 Red Throated Diver and 1 Great Northern Diver but plenty of other birds.
Several Great Crested Grebes, 3 Common Scoters, 1000+ Guillemots, Gannets, plenty of Cormorants and Shags.
12 Purple Sandpipers and several Turnstones at Brixham and the pair of Peregrines where at their normal roost and one of them flew past the boat which was just great.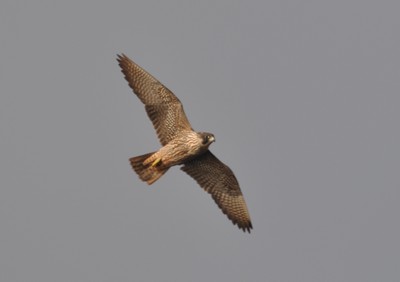 We went out and joined a trawler who was pulling in his catch and there was 200+ Gulls, Great Black-backed, Herring and the od Black-headed Gull.
We also a couple of Porpoise off Berry Head, also off Berry was lots of Auks in "Rafts" and Gannets diving in for food.
We also saw Oystercatchers, Grey Herons, Kittiwakes and Fulmars.
All finished off with a nice Bacon sarnie from a local café when I got ashore so Iam a happy chappie ;o)
---
13 December 2014
Dawlish Warren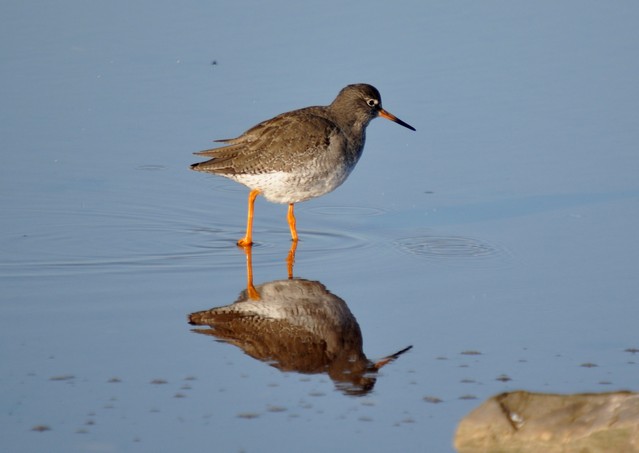 Went to the Warren today to see what was about. It was a beautiful clear sunny day so there could be no excuses in not getting top quality pics today!
On the way to the hide there was plenty of Robins, Blackbirds, Dunnocks, Pied Wagtails and a small flock of Goldfinches.
At the hide the tide was in but as it was at mid height it didn't push the birds very close. The Water Pipit was there with the Linnets with Brent Geese, 50+ Shelduck, Wigeon, Curlew, Redshank, Turnstone, Dunlin and plenty of Carrion Crows.
In the bite there was Brent Geese, Shelduck, Dunlin and Ringed Plover. On Finger Point there was large numbers of Waders with Oystercatchers, Knot, Ringed Plover, Redshanks, Godwits, Dunlin, Sanderling, Cormorants and quite a few Great Black-backed Gulls.
Off the beach there was plenty of quality in the way 2 Long-tailed Ducks, Slavonian and Great Crested Grebes, GN Diver and the Bonaparte's Gull putting on a good show.
Good day and good to see Lee Collins out birding;o)
---
06 December 2014
Little Holden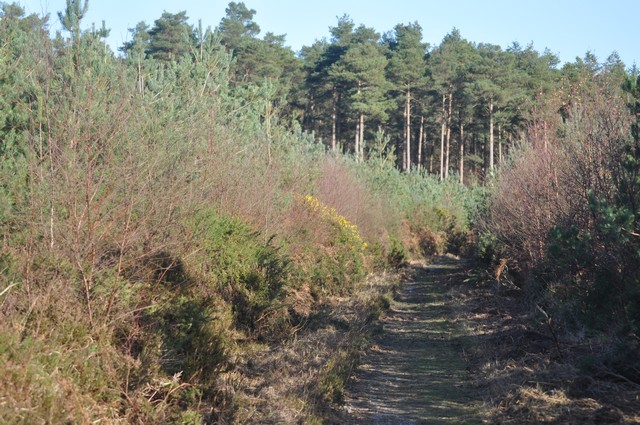 I decided to move away from the coast today and walk around Holden.
Little Holden is a mixture of new and old forest, 95% is conifers of various types. There is open ground where trees have been harvested so there is quite a diversity of habitat.
I walked away from the main pathways as there was plenty of dog walkers and noisy children enjoying the sun and countryside and why shouldn't they??
It started quiet but then found plenty of birds, Goldcrest, Raven, Great Spotted Woodpecker, plenty of Robins and Blackbirds, Mistle Thrush, Sparrowhawk, small flock of Chaffinch, Dunlin, Wren, Blue and Great Tits Carrion Crow and Buzzard.
To my happy surprise I saw a Red Admiral Butterfly!
Great walk, must go there again soon!
---
© Simon Thurgood 2021
Images on this website may not be put as any part of any collection without any prior written permission.