Blog
30 November 2020
Round the Beaches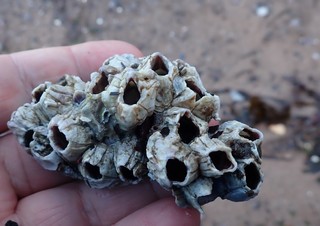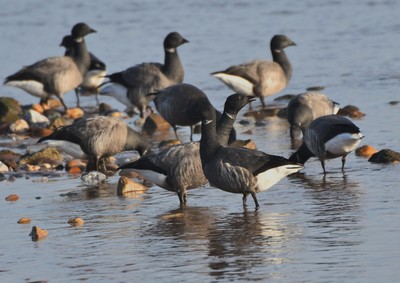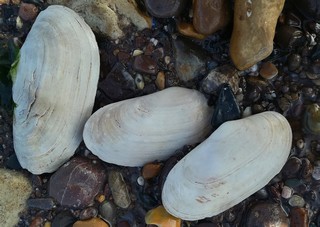 Spent this last couple of days around the Beaches, Dawlish Warren, around Langsdon Rock, Dawlish main beach, Boat and Coyrton Cove.
On the bird front more than normal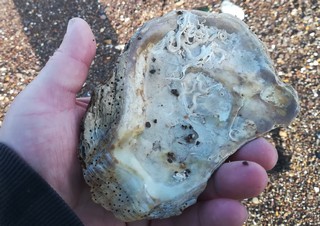 with over 150 Brent Geese on the beach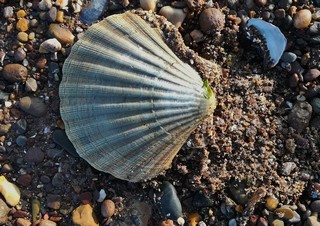 at Dawlish Warren, plenty of Gulls, mainly Black-headed but a few Herring Gulls as well.
Several Cormorants out to sea, Rock Pipits seen on all beaches as well as the usual Crows.
While Rock Pooling at Dawlish a Kingfisher was bombing about the pools picking up small fish, Oystercatchers and fly over Curlew also seen.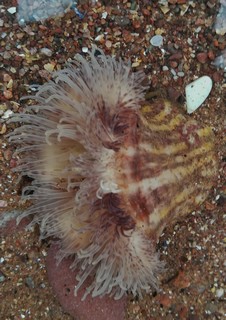 Plenty of Shells, some huge especially at the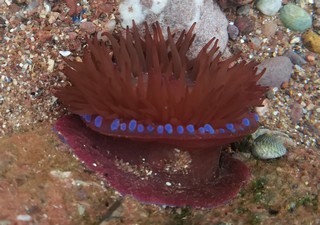 top end of Dawlish Warren Beach. Also plenty of Sand Mason Tubes, both at Dawlish Warren and Dawlish. Not that much Sea Weed on any of the beaches, probarbly down to the wind direction?
Plenty of Anemones around the rock pools at Dawlish, both Beadlet and Strawberry, did though find a single Parasitic. They looked stunning with their tentacles out. You can see how the Bedlet gets its name with the stunning show of its blue spots!
Found Egg cases of a Catshark on Dawlish Warren and a Thornback Ray at Coryton Cove.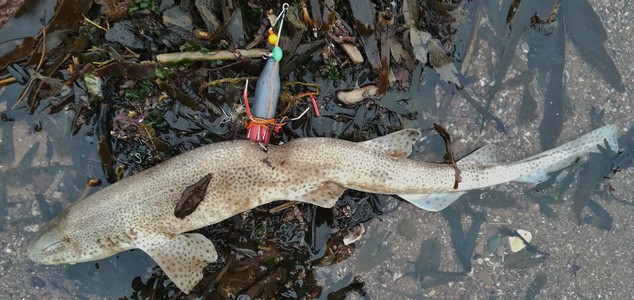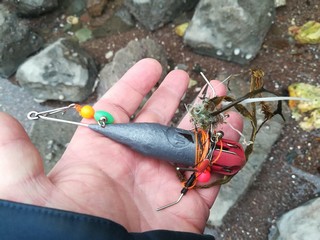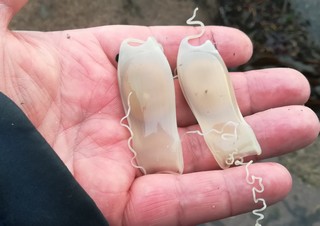 Sadly found a dead Small-spotted Catshark that had been caught on a hook from some fishing gear, wrapped around the gear also was 2 unhatched eggs. looks like it was laying eggs and got caught up while doing it, I untangled the eggs and put them under some seaweed and lets hope for the best.
Plenty of happy humans about and also not much rubbish about, Dawlish Warren was unusually clear!

---
28 November 2020
Out and About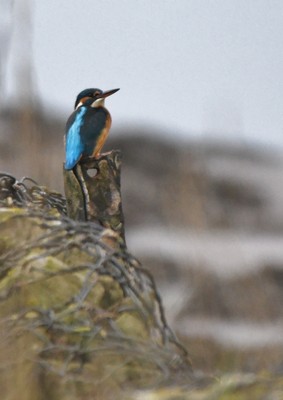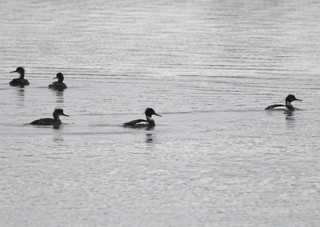 Visited a few places this last couple of Days, went up on Dartmoor to all the usual places ,spending a lot of time at Soussons looking for the Grey Shrike but I was unsuccessful even though I was there at the same time someone else saw it a posted it??
Walked from around Powderham to Turf and back along the River, Dawlish Sea Front, River Kenn and the outflow, Cockwood steps and Harbour, Starcross Golf course and Min of Ag. Stover, Ideford Common and Haldon at the feeding station.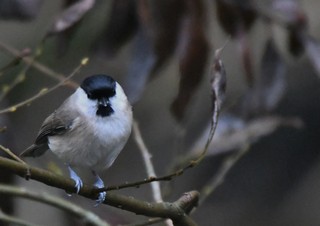 As you would expect seen plenty of water based birds with Canada, Snow and Dark-bellied Brent Geese. Black and Mute Swans, Black-headed, Herring and Great-black Backed Gulls, Kingfisher, Grey Heron, Little Egret, Great crested and Little Grebes, Mandarin, Tufted, Mallard, Mallard x, Teal, Shoveler, Wigeon, Shelduck, Red-breasted Merganser, Cormorant, Moorhen, Coot and the Muscovy at Turf.
Good numbers of Waders spread down the Exe with Oystercatcher, Avocet, Curlew, Godwits, Red and Greenshank, Dunlin, Grey and Golden Plover, Lapwing, Turnstone and Snipe.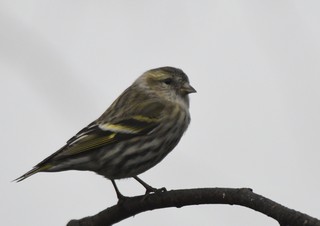 Covids everywhere although More Raven and Jay on Dartmoor than anywhere else, Carrion Crow, Rook, Jackdaw and Magpie everywhere.
Only Raptors seen were Buzzards and a single Kestrel.
Also seen Woodpigeon, Stockdove, Collard Dove, Feral Pigeon, Redwing, Fieldfare, Mistle and Song Thrush, Blackbird, Robin, Dunnock, Wren, Blue, Great, Coal, Marsh and Long-tailed Tits, Siskin, Nuthatch,Chaffinch, Goldfinch, Starling, House Sparrow, Stonechat, Skylark, Meadow and Rock Pipits, Crossbill, Great-spotted Woodpecker, Cettis Warbler, Pied Wagtail, Reed Bunting, Linnet and Pheasants in most fields.
Met plenty of humans and all in good humour, great to chat to many of them.
---
25 November 2020
Powderham to Turf and back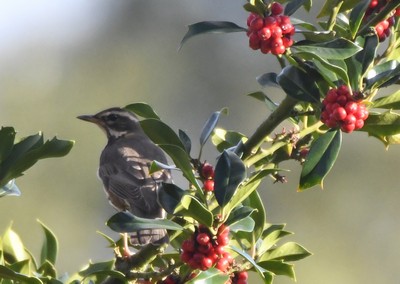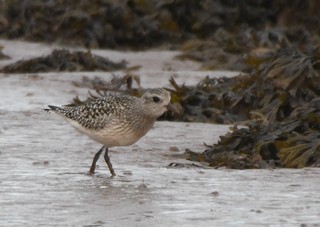 Just a short walk up the River Exe today from Powderham Church to Turf and back, even so plenty to see.
Parked up in the car park next to Powderham Church and it was quickly apparent that there was plenty of Birds in and around the Churchyard and the next door field.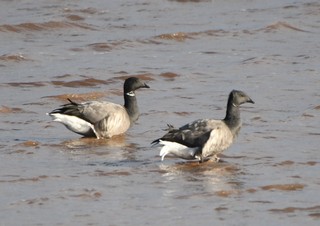 90% of them were Thrushes, Redwing, Fieldfare, Song and Mistle Thrushes on the Holly Bushes which were full of Berries. Unfortunately they were very mobile and flew every time a train went by. Lots of birds on the Yew as well with Blackbirds, Robin, Blue and Great Tits as well as Goldcrest on view.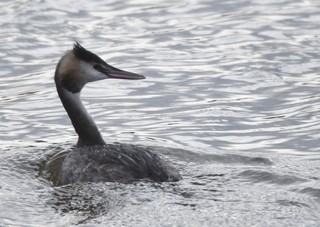 Plenty of Pheasants about as well as Corvids, Rooks, Carrion Crows and Jackdaws especially on the fields.
Walking up the path towards Turf found plenty of Geese, both on the mud as well as the fields, Canada, Snow, Dark and Pale Bellied Geese. Mute and Black Swans, Cormorants, Great-crested Grebes, Grey Heron, Little Egret, Shelduck, Mallard, Teal, Wigeon, Grey and Golden Plover, Lapwing, Godwits, Curlew, Oystercatcher, Avocet, Dunlin, Black-headed, Herring and Great-black Backed Gulls, Kingfisher, Goldfinch, Linnet, Pied Wagtail, Rock Pipit, Chaffinch, Starling, House Sparrow, Magpie and Woodpigeon all seen in various numbers.
Good to meet up with Dave B, Charlie and several other Birders, all in good humour, a few other humans out in the fresh air and it was fresh, bit more winter than normal!
---
24 November 2020
Forever Learning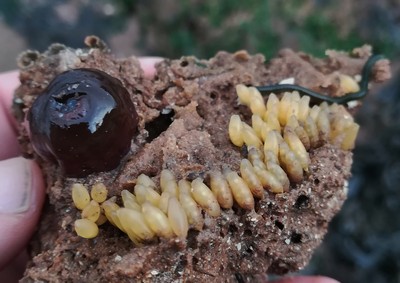 I have been walking on beaches ever since I can remember but continue to learn.
Found what I thought was just a normal piece of Dawlish Red Rock at the bottom of a rock pool on Dawlish Beach. When I picked it up there was top left a Beadlet Anemone and some Eggs of some sort, they looked like Butterfly Eggs. So found out after putting pic on line they are Dog Whelk eggs which was a new one for me.
Also it was pointed out to me that in the top right is a "Greenleaf Worm"!
Also some feedback says the Rock is in fact "Sabellaria reefs" which are around Dawlish which is news to me.
I googled it and from that, I dont think it is, but the picture below that was taken at the Rock Pools in front of the Beach Huts probably is.

---
23 November 2020
Rock pooling and around the strand line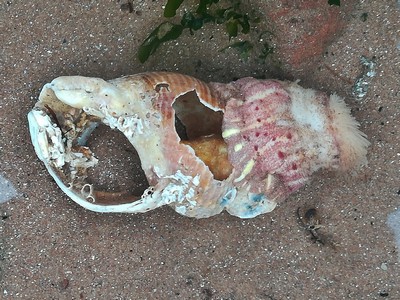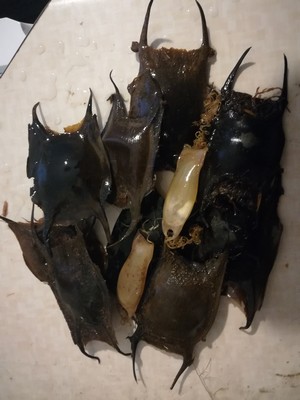 Spent a bit of time on Dawlish, Dawlish Warren, Boat and Coryton Coves as well as the top end of Dawlish Beach close to Langstone Rock.
Found plenty of Anemones, Beadlet, Strawberry and Parasitic, all between Boat and Coryton Coves in the Pools.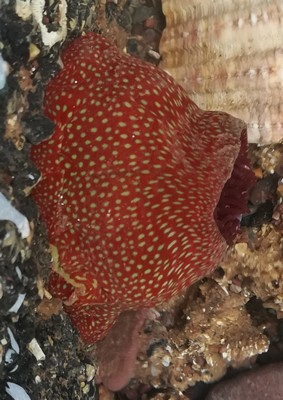 Plenty of Sea Weeds and a Green one called Green Sponge Fingers was the most interesting one.
Found a few dead things apart from all the shells, Sea Mouse and three Small-spotted Cat Sharks all found on Dawlish Warren Beach, also found on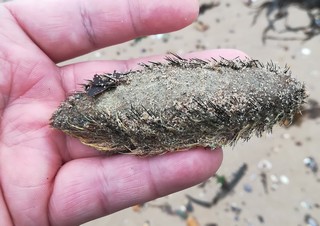 the Warren Beach was lots of Sea Potatoes which you rarely see at Dawlish, Egg casings of Cat Shark and Thornback Ray.
At the Northern part of Dawlish Beach next to Langstone rock today I found a total of 12 Egg Casings which included 6 Thornback,3 Spotted and 1 Undulated Ray, also 2 Small-spotted Cat Shark which all get recorded with the Shark Trust.
Also found in a shallow Pool on the Dawlish beach a group of Dog Whelk Eggs which if on a leaf would look like Butterfly Eggs.
---
22 November 2020
Dartmoor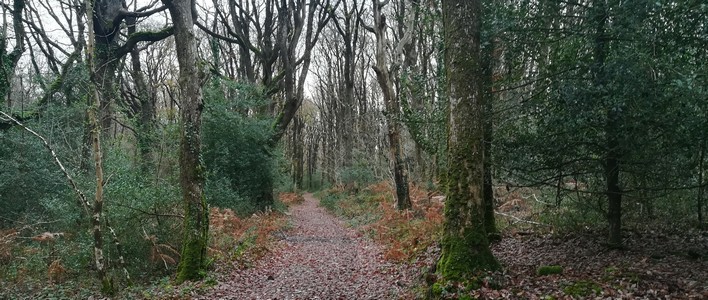 Looked at the weather forecast yesterday and looked ok to be up on the Moor and first thing around Yarner but when I moved on towards Soussons and Challacombe it started to rain and the mist came in, not the best for camera work so didn't stay around for long.
All the usual stuff around, but all looked a bit bedraggled in the damp weather.
Sadly all the idiots of the human race were out, dog walkers and free running Dogs in Yarner, Cyclists 4 abreast coming towards me at speed down a country lane, luckily I was able to stop otherwise I would have wiped them out!
Also idiots in cars speeding past Ponies and Cattle?? Also people feeding Ponies next to the road?? The worlds full of Idiots!!!
---
17 November 2020
River Exe and Exminster Marshes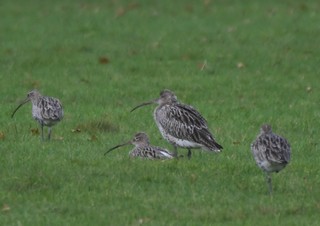 Spent the day around the River Exe and Exminster Marshes.
The tide was high when I started and apart from a few Black-headed Gulls and Cormorants the only other birds seen were a group of at least 12 Red-breasted Mergansers off the River Kenn outflow, there might have been more but they were constantly diving so difficult to keep an eye on them all.
Both the Golf Course and the scrape outside the Ministry of Agriculture at Starcross were full of Birds, lots of Brent and Canada Geese at the Golf Course and Waders at the Min of Ag.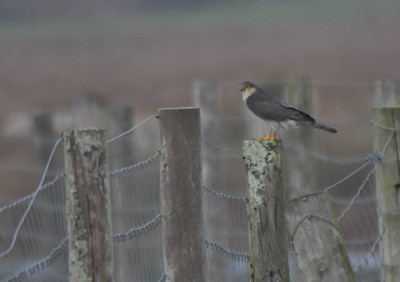 The River Kenn had a few Ducks mainly Teal and some Grey Heron on the Rivers edge.
A female Sparrowhawk flew in and sat on a fence post looking around menacingly with Curlew in good numbers sat on the pasture.
Shelduck in the lake with some Little Egrets, few Carrion Crows and Jackdaws in the trees. In the fields on the way to Exminster Marshes, Rooks, Pheasants, Woodpigeons and a Buzzard loafing about in the sky.
Quite a few birds around the RSPB car park with Goldfinch, Dunnock, Robin, Blackbird and Magpie as soon as I got out of the car. Down the road towards Turf there was the Snow Goose in with the Canada Geese.
Plenty of Ducks about with Teal, Wigeon, Shoveler, Mallard easily in view, plenty of Lapwing, Godwits, Curlew and fly over Snipe on the marsh. In the bushes Blue, Great and Long-tailed Tits, House Sparrows, Starling, Wren and Cettis Warbler giving its all on the Canal Bank.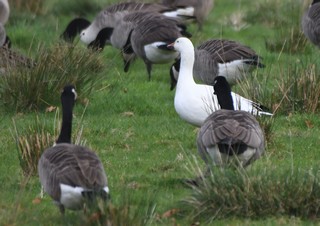 By Turf the tide was on its way out and plenty to see with Redshank, Bar and Black-tailed Godwits, Curlew, Grey and Golden Plover, Avocets, Dunlin, Grey Heron, Little Egret, Mute Swan, Kingfisher, Cormorants, Shelducks, Black-headed, Herring and Great-black Backed Gulls.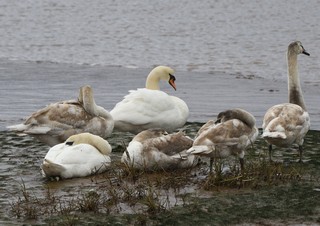 I had a bit of a surprise, I sat down on the concrete base that they use for the "Yurt Tent" at Turf, I was sat there for about 10 minutes watching the Waders and I suddenly saw a Bird watching me from the long grass about 4 feet from me, it then flew, it was a Woodcock, unmistakable! This view is the normal one I get when I see this bird, only once have I ever got a picture it.
Lots of happy Humans about, good to see Dave Stone amongst others.
---
15 November 2020
Weekends Beach combing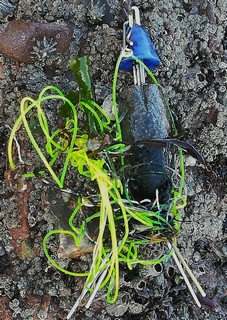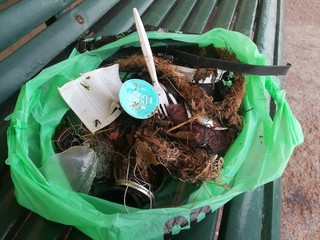 Due to the crap weather, stayed around Dawlish and spent time around the Beaches of Dawlish which included the main beach, Boat Cove and Coryton Cove.
This post is about the Beach combing part of that. Found all the usual plastic spread across all the beaches, Boat Cove for some reason had most of the Fishing gear, Floats, Hooks, Weights, Line and parts of net.
Also found some interesting things, Golf Ball, Lego and Shotgun Cartridges.
Also other people had picked up a bit of "Beach Glass", I found many Tennis Balls, bits of Wood all of which looked like they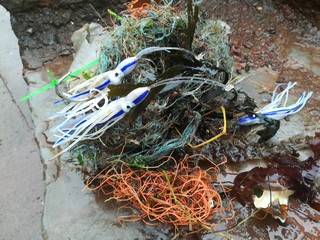 had been in the water for sometime!
It was interesting that Friday evening, plenty of Seaweed on Coyrton and some of main beach but was mostly gone by Sunday, .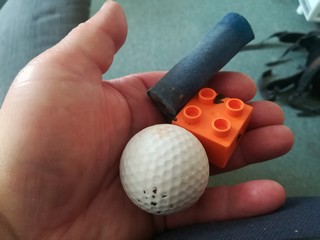 Boat Cove continues to have Seaweed especially against the Breakwater.
---
15 November 2020
Rock pooling and around the strand line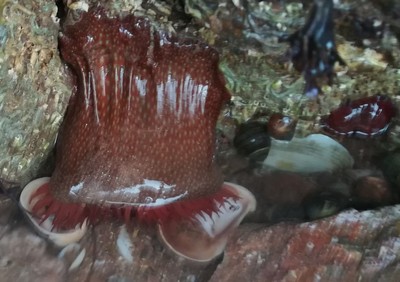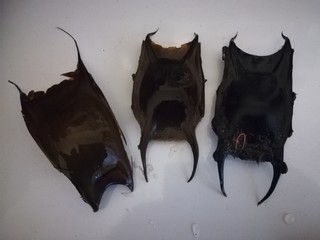 Spent a couple of days around the beaches of Dawlish, very enjoyable time looking round the Rock Pools in front of the Beach Huts.
Found a Strawberry Anemone that while most of its body was out of the water, its tentacles where in the Rock pool, also plenty of Bedlet Anemones and large Shells of all shapes and sizes.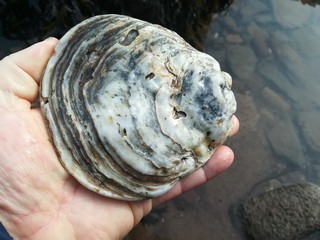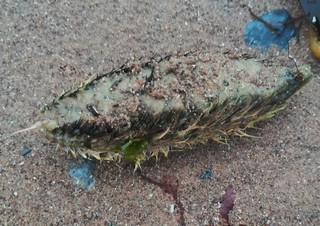 On the Beach at Coryton Cove found a group of three Ray Egg casing, two were Thornback Rays (right of pic) and the other was a Small-eyed Ray (left).
Sadly found a dead Sea Mouse on Boat Cove.
plenty of Humans about especially today with the sun out.
---
13 November 2020
Along the Strandline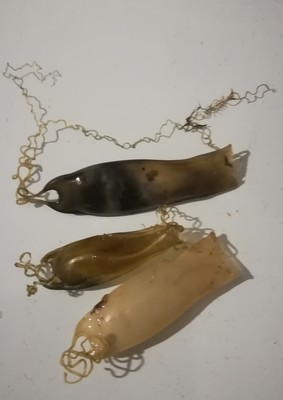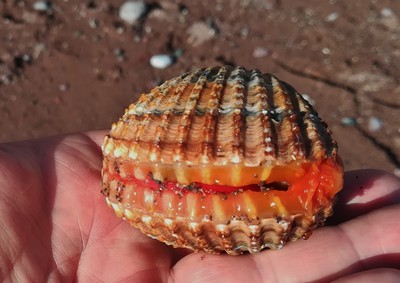 In between doing other things I managed to get down the Beach at the Ness in Shaldon and Coryton Cove in Dawlish.
So much stuff to see, at Shaldon found a complete Spiny Cockle, I havnt found a complete one in ages, kept expecting to see it put its muscle out but after a couple of pics I put back into the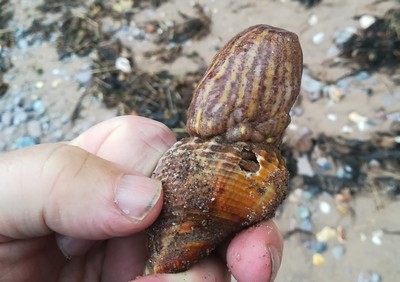 sea to keep a way from the Gulls.
At Coryton I found three Egg casings from Small spotted Cat Shark over a couple of visits, not seen any for ages and 3 turn up together!
Also on the tide line I found another first for me, an Anemone attached to a Whelk "Calliactis parasitica" did some research, fascinating creature!
Lots of other shells and seaweed on the beach and sadly the usual rubbish, although only filled up half a bag today.
---
13 November 2020
Dartmoor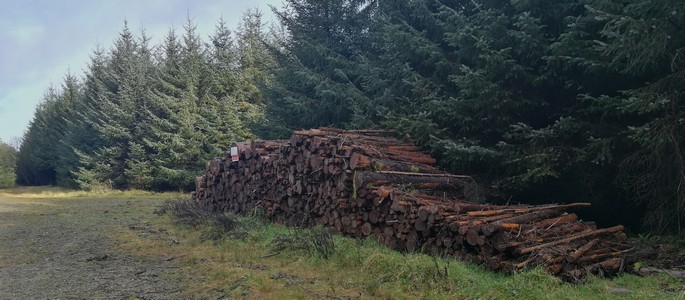 Went up on Dartmoor today as the weather was good and tried to catch up with the Grey Shrike which had been seen at Soussons.
Sadly didn't see it but did see plenty of Crossbills, even if it was fleeting as they flew over the tracks.Plenty of calls of birds other than Crossbill such as Raven which I saw several of, plenty of displaying birds, always great to watch.
Also plenty of Thrushes with flocks of Redwing, Fieldfare and singles of Mistle and Song Thrushes. Great, Blue and Coal Tits, Blackbirds, Robins, House Sparrows, Starling, Jackdaw, Carrion Crow, Woodpigeon, Stock Dove and Pheasant.
Plenty of humans around Haytor but very few were I was
---
12 November 2020
Exminster Marshes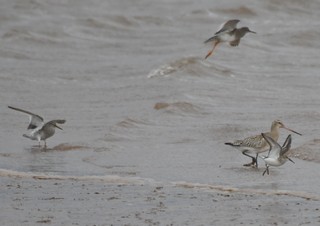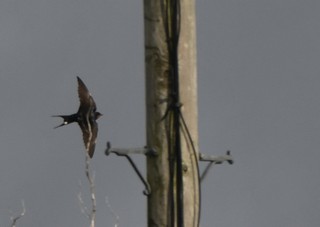 Spent a rather grey day at Exminster Marshes on Wednesday, parked up at the RSPB car park and walked via the rd to Turf and back vi the back path.
The tide was coming in but plenty of Waders about with Avocets, Grey and Golden Plovers, Lapwing, Redshank, Dunlin, Black and Bar-tailed Godwits, Curlew. Also Grey Heron, Little Egret, Canada Goose, Snow Goose, Mute Swan, Teal, Mallard, Wigeon, Shoveler, Moorhen, Cormorant, Shelduck, Woodpigeon, Blackbird, Wren, Dunnock, Cettis Warbler, Starling, Goldfinch, Blue and Great Tit, Rook, Carrion Crow, Jackdaw, Black-headed, Herring and Great-black Backed Gulls.
While sat close to Turf, to my amazement I saw two birds skimming the roof of the pub and around the eves and nearby bushes and trees, one was a Swallow and the other a House Martin! Thats very late, I hope they make it!
A few humans about, good to see Dave B, ever positive!!
---
09 November 2020
Great day on the Beach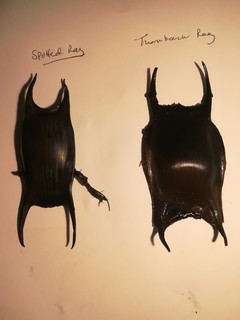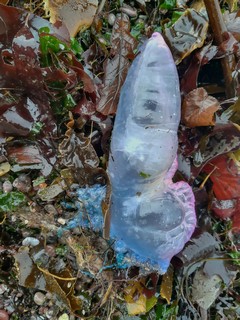 Spent a brilliant day on the Beaches around Dawlish and Coryton Cove today. A SE/S wind following the tide which dumped tonnes of Seaweed on the beaches, apart from all the rubbish there was plenty of Wildlife.
For me best of all was a Sea Mouse which is actually a Scale Worm, something I had never seen before, it was caught up in some Seaweed upside down, after a few pics I put it back into the water away from the gulls, stunning little Animal.
I also found a couple of Egg casings which after looking through the ID chart are Spotted Ray and the bigger one is a Thornback Ray. Been looking for these for some time and then two come along at the same time and different species!
As I have already said plenty of Seaweed and many different species and it's not until you try and ID it you realise how many different species there are, good job I have my new reference book "The essential guide to Beachcombing and the Strandline" to help out!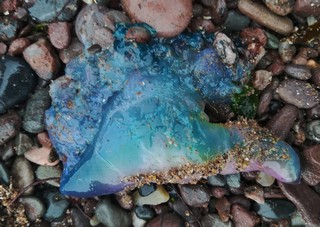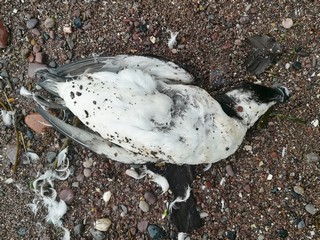 Also found plenty of Crab parts of Edible, Velvet, Spider and Hermit Crabs. Also found three Portuguese Man of War, no tentacles, just the main body.
Also sadly found a dead Razorbill on the main beach looks like an adult.
---
08 November 2020
Sea Defences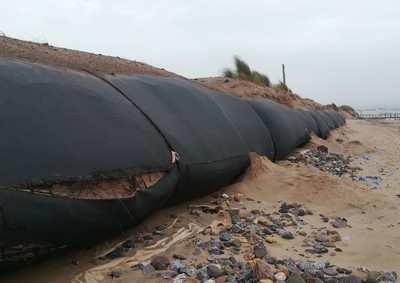 Spent the last two days on the Beaches of Dawlish and Dawlish Warren and the difference in Sea Defences and the degrees of importance between them never showed so much as it did today.
The amount of money,men and equipment being thrown at the wall can be seen today with the arrival of the working platform known as "Wavewalker 1" which had been towed from Newhaven, Diggers and large trucks on the beach all ready for the next 18 months work of phase 2.
Then look at Dawlish Warren and the mess that is there, beach washed away and the "Geo Tubes" have been damaged by some idiot with a sharp instrument. Some say its vandalism but I think its a lot more?
I wonder if somebody has done this with an agenda such as making the environment agency do something about the sea defences, they already have brought more interest from the press.
Why now? Dawlish Warren has had 1000`s of people of all shapes, sizes and ages on the beach this summer and it was never touched? Got to be a local?
Why only the first 5 or 6 bags touched, normally when some one vandalises something they do a complete job.
Why did they target the bottom of the bags? It was to make maximum effect, a vandal would have walked along with a knife, cut the lot at a higher level so they didn't have to bend down and kept walking?
Dawlish Warren is supposed to be a "Floating Dune" and the whole thing is supposed to move and shift but then there is the consequences of that, flooding up river and loss of the reserve??
---
06 November 2020
Beach clean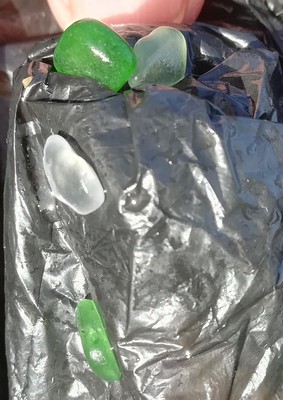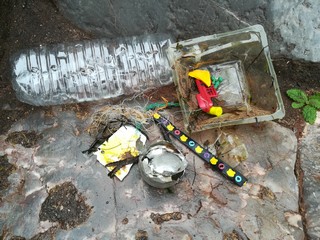 Over the last couple of weeks done many walks across Dawlish and Coryton Cove Beaches.
Every walk has found a constant amount of Fishing line of all colours and lots of "Tangles" where line has got tangled up and cut.
Plenty of plastic especially the white cups that had been shredded by the wave action, these were mainly on Coryton while in front of the toilets at Boat Cove there has been a constant build up of plastic, food containers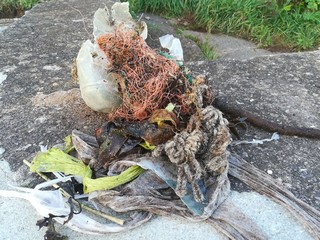 and bottles, perhaps its the wind direction that it ends up here.
Last week Coryton has been clear of Seaweed which seems to collect any rubbish that is floating in the Ocean, some of the stuff I have found looks like its been in the water for years but while a decrease in plastic this week at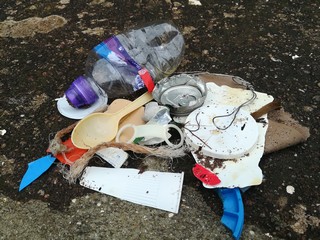 Coryton, the fishing lines seems a constant threat to wildlife.
Sadly today also got a "Hippy crack" container, hope they are not going to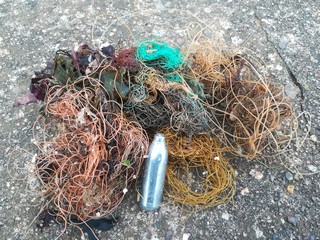 be a regular thing that washes up on the beach.
Stormy weather on the way so the Beach will be full of crap again!
Met plenty of people on the beach looking for "Beach Glass" for ornaments and decorations which is a positive outcome for such waste.
---
04 November 2020
Dartmoor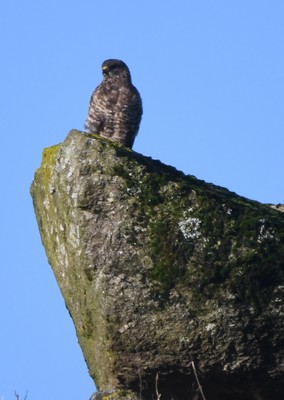 Early start up to Dartmoor today, weather clear and cold, just the start I love!
Started at Haytor, then Emsworthy, through Widecombe and up over Dunstone Down. Through Dockwell and past East and West Shallowford. Past Cordon Down and Riddon Ridge, over Bellever Bridge and follow the road past Bellever Forest to Postbridge. Then up to the Warren Inn area on the B3212. A good look around the open Moor before coming back down and turning off to go to Soussons. Then on to Challacombe Farm before going to Headland Warren and on to Challacombe Cross, turning back to Widecombe. Off to Hound Tor, following the road to Manaton, Bickaford and the back of Yarner before leaving the Moor.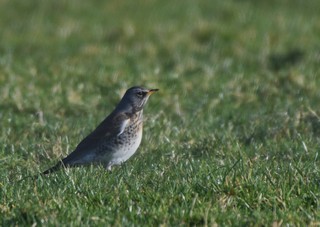 While driving past Haytor a flock of about 100 Woodpigeon heading down the valley towards Newton Abbott while a bigger flock of about 300 birds which turned out to be Golden Plover were doing a circuit of Haytor and Saddle Tor. They split into several smaller flocks and settled in several places around Emsworthy Mire. I sat in my car enjoying my breakfast watching them fly around, stunning birds!
As normal plenty of Corvids about with Raven, Rooks, Carrion Crow,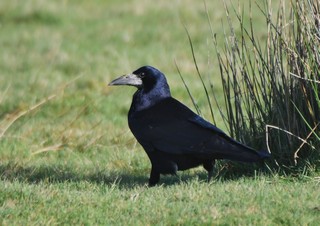 Jackdaw, Magpie and Jay.
Plenty of singing in Soussons, especially Crossbills but didn't see any. Lots of Thrushes about, Mistle Song and Fieldfare, but didn't see any Redwing, not sure why?
Blackbirds, Robin, Wren, Great, Blue and Coal Tits, Stonechat, Dunnock, Meadow Pipit, Woodpigeon, Stock Dove, Chaffinch, House Sparrow, Starling and a couple of Mallard.
Only Raptors on view were several Buzzard and a female Sparrowhawk.
Quite a few humans about including dog walkers who had lost there dog? Dont let it off the lead then!!
---
03 November 2020
Rock Pooling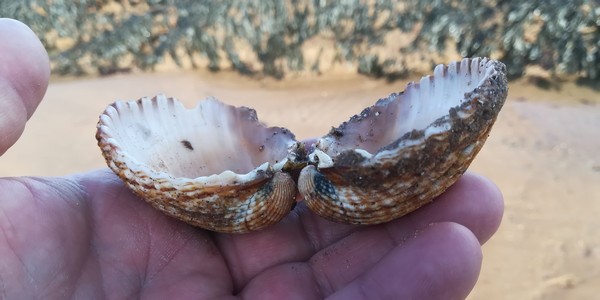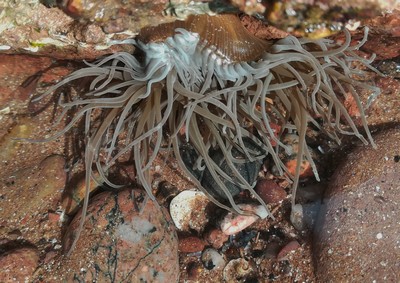 Had an enjoyable couple of days on the beach around the rock pools after the tide had gone out at Dawlish and Dawlish Warren.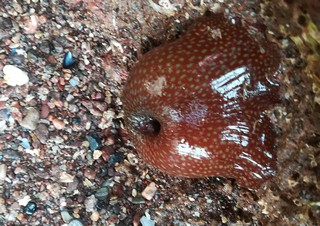 The Pools by Coryton, in front of the Beach huts proved the best place to find things, found three Anemone all fairly close, lots of Beadlet that look like red splodges of jelly stuck on a rock.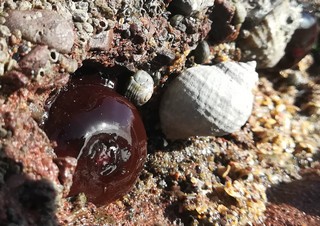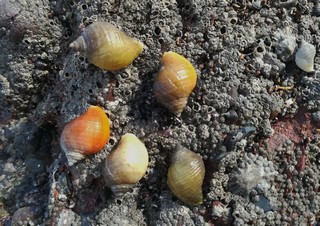 A stunning Strawberry Anemone which I nearly missed as I thought it was a Beadlet until I saw the white spots that give it the Strawberry look.
In another pool close by a Snakelocks Anemone, another stunning animal with its green/white tentacles moving in the water.
Loads of shells of all sorts, shapes and sizes.Lots of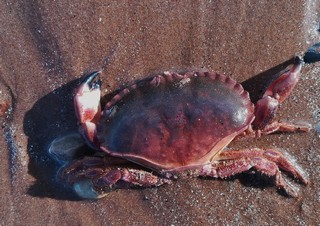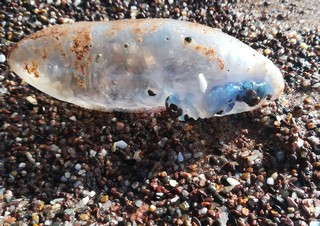 Periwinkles, many Orange and Yellow ones.
Spent some time around the pools at Red Rock, close to Dawlish Warren, a few crabs here, Edible and Hermit in the pools, lots of shells but didn't find any Anemones.
On the Dawlish side of Red Rock in some Sea Weed I found a couple of Portuguese Man of War, quite a few have been washed up on beaches in Dorset and Devon.
Still looking for "Mermaids Purses" but sadly none found.
A few happy humans about enjoying the good weather.
---
01 November 2020
River Exe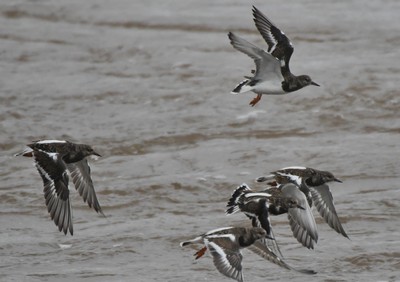 Typical Autumn day,grey and damp! Put my water proofs on, took my Flask full of Tea and headed for a day on the River Exe.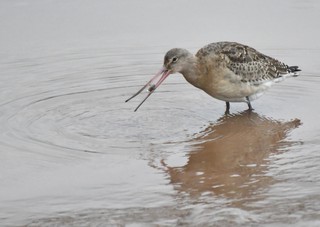 First stop was Cockwood Steps then on to Cockwood harbour, Starcross Golf Course, Behind Starcross Station, by the Ministry Of Ag, River Kenn out flow, River Kenn and The Powderham estate, Powderham Church and surrounding Fields, the walk to Turf from the church with the estuary on one side and the fields on the other.
Found 51 species of Birds fairly easily without too much fuss in between the rain showers.
Corvids everywhere especially on the pasture, Rooks in good numbers on the fields close to Powderham Church, Jackdaws and Carrion Crows everywhere, a couple of pairs of Ravens around Powderham Estate and close to Turf, the ones close to Turf where displaying, flying on their back the works, great to watch! Also Magpies about.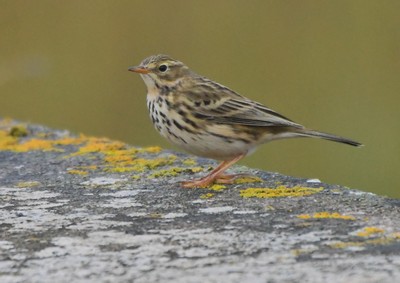 Good numbers of Mute Swans and Cygnets, Canada Geese, Brent Geese, Great-crested Grebe, Cormorant, Grey Heron, Little Egrets, Moorhen, Mallard, Wigeon, Teal and Shelduck.
Waders were spread over the Estuary with Curlew, Oystercatcher, Bar and Black-tailed Godwits, Turnstone, Dunlin, Redshank, Greenshank, Lapwing, Grey Plover and Avocet.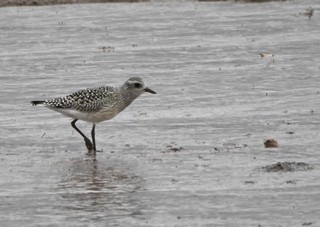 Usual Gulls with Black-headed, Herring and Great-black Backed Gulls of all ages.
The only Raptor seen was a single Buzzard close to the Church.
Plenty of Passerines especially around Turf in the bushes which seemed quite sheltered from any wind with House Sparrow, Greenfinch, Goldfinch, Chaffinch, Linnet, Wren, Robin, Pied Wagtail, Meadow Pipit, Great Tit, Blue Tit, Cettis Warbler, Reed Bunting, Chiffchaff, Blackbird, Starling, Mistle Thrush, Song Thrush and Pheasant.
A few happy humans about on their Sunday stroll
---
© Simon Thurgood 2022
Images on this website may not be put as any part of any collection without any prior written permission.