Blog
25 November 2017
River Exe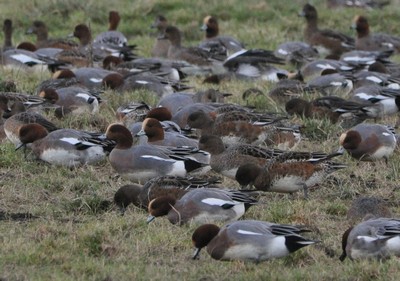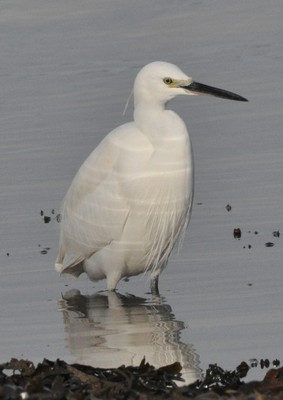 Thought I would go up to the Matford Pools to see the American Widgeon if it was still there, on the way pop in several places on the Exe to see what was about. Its been a clear day but at this time of the year you are short of time so didn't hang around in any one place too long.
First stop was Coften steps as I know it, it overlooks the river and looks towards Exmouth. The tide was still high and no mud was showing, nothing seen on the water, a few Cormorants sitting on the wreck and a Back-headed Gull flying around.
Onto Cockwood Harbour which was showing some mud which in turn had some waders on, a couple of Redshank and Oystercatchers, Mute Swans, Mallards, Little Egret and Black-headed Gulls. As I drove past Starcross Golf Course you could see good numbers of Canada and Brent Geese, Oystercatchers, Curlew, Herring, Black-headed and Great-black Backed Gulls. Iam sure there was more but didn't park up to get a more accurate look.
Onto Powderham and the Kenn Outfall which goes into the Exe showed nothing at high tide, there was though 30+ Widgeon on the River Kenn visible from the road as well as Shelduck and Mute Swans on the lake in front of the Castle. also on view around the hedges and pasture was Carrion Crow, Woodpigeon, Pheasants, Blackbirds, Chaffinch, Pied Wagtail, Robin, Long-tailed Tits, Dunnock and fly over Cormorants.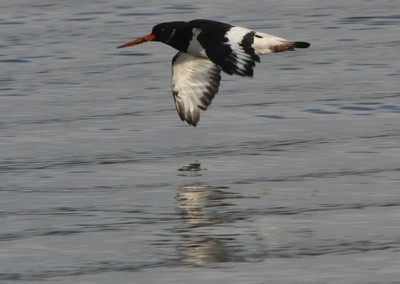 Onto Matford Pools which proved to be a problem as I couldn't find a safe route to entre or a place to park so went to Exminster Marshes instead. Sadly it started to cloud over and rain so parked up in the centre carpark and did a bit from there. A Peregrine was flying around and put the birds up several times, a Raven decided to chase it off and a ariel battle ensued, I think the peregrine was just playing with the Raven, I was hoping they would come closer so I could get a picture but they kept t the centre of the reserve. Saw plenty of other Corvides as they were doing their usual looking for food in the pastures, plenty of Ducks but still not the large numbers we normally get, still needs a bit more water. Widgeon, Teal, Shoveler, Mallard, Moorhen, Coot, Grey Heron, Little Egret, Mute Swan, Hundreds of Canada Geese, Lapwings, Curlews, Pheasants, Blackbird, Robin, Bullfinch and Starlings were all seen on this short visit.
Because the weather I decided to have a look around some farmland so went to look around the fields between Chivestone Farm to Starcross from the car. Plenty of Carrion Crows on the fields with the odd Jackdaw, Buzzard, Robin, Blackbird, Dunnock, Chaffinch, Pheasants and the odd Black-headed Gull.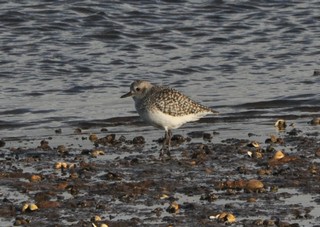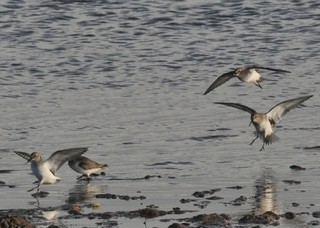 Back to the River Kenn outflow and the tide had gone out a bit and plenty of birds with Widgeon, Mallard, Black-headed, Herring and Great-black Backed Gulls washing in the fresh water, also Little Egret, Red and Greenshanks, Oystercatchers, Turnstone and Curlew on the waters edge with a Rock Pipit on the beach.
Then onto Coften Steps, the water was right out and plenty of Waders here with Red and Greenshank, Oystercatchers, Curlew, Dunlin, Godwits, Grey Plover, Turnstone, Shelduck, Little Egret, Mute Swans, Brent and Canada Geese, Cormorants, Red-breasted Merganser, Herring and Black-headed Gulls and a Rock Pipit on the boulders. Word of warning here if you go down the steps beware they are bloody slippery!
After a great day out it was home for tea and cake!

---
19 November 2017
Exminster Marshes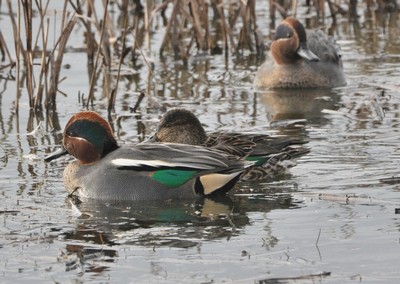 On this sunny day found me at Exminster Marshes, it looked at first that there wasn't much about, but on looking a little bit harder found some beauts.
The winter ducks had started to appear although not that much water about, just enough to keep them interested with Mallard, Tufted, Gadwall, Shoveler, Widgeon and Teal around the reserve. Saw plenty of Canada Geese and Mute Swans, Coot, Moorhen, Grey Heron and fly overs of Cormorant.
Smaller birds saw good numbers of Starling and Bullfinch, was surprised of the later with 6 birds along the back path and another 4 just up from Turf. Cettis Warbler by the middle Car Park, Starling, Greenfinch, Goldfinch, Chaffinch, Pied Wagtail, Robin, Dunnock, Wren, Wood Pigeon, Long-tailed, Blue and Great Tits dotted around the reserve.
Fieldfare, Redwing and Blackbirds feeding on the berries around the site. Plenty of Corvides on the pastures with Carrion Crow, Rook and Jackdaw looking for food with Magpies in the scrub. Buzzard, Peregrine and a hunting male Sparrowhawk made up the Raptors.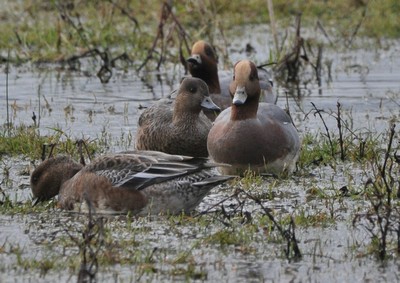 At Turf the tide was out showing the mud banks very well and there was good number of Waders, ones I Id were Oystercatcher, Redshank, Greenshank, Curlew, Grey Plover, Dunlin, Avocet, Canada Goose, Mute Swan, Cormorant, Herring, Black-headed and Great black Backed Gulls. There were probably more over the far side but couldn't pick them up in my bins.
Its days like this I wish I had a Scope but don't think I could carry everything around, perhaps I should look into it more and see what light weight gear is out there?
Met lots of happy humans today with runners, walkers, cyclists, anglers, dog walkers, families and a few birders. All very sociable and enjoying the good weather, good to meet up with John Wilkes. Hope you found the Hawfinch and not the miserable gits I found yesterday!
---
18 November 2017
Haldon and Exe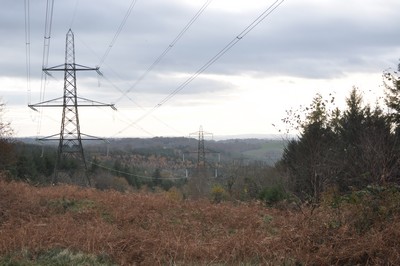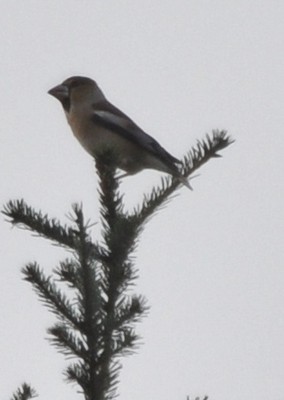 When I woke up this morning it was cold but clear, a great day for taking pics. So I went up to Holden to look for Hawfinch but typically it had started to cloud over and while I was lucky to see 20-25 Hawfinch I didn't really get any decent pictures. There was also sadly a bit of disruption by a couple of people going into the trees underneath them which sent them flying and another time a dog barking which didn't help. There was a bit of bad feeling between people as well so not a happy place.
Also saw Chaffinch, Long-tailed, Blue and Great Tit, Goldcrest, Buzzard, Woodpigeon and Carrion crow.
I then went to the River Exe by Powderham where the River Kenn has its out fall. Plenty of Gulls here with Herring, Black-headed and Great-black Backed Gulls of all ages washing in the water. Also Widgeon, Mallard, Shelduck, Cormorant, Little Egret, Redshank, Curlew, Oystercatcher, Turnstone, Mute Swan and Brent Geese.
Around the Lanes plenty of birds you would expect to see in the fields with good numbers of Carrion Crows, Rooks and Jackdaws feeding on pasture and freshly tilled ground. Also Magpie, Starlings, Blackbirds, Woodpigeon, Collard Doves and Pheasants everywhere!
Saw lots of people about today most of which were happy soles, shame a few birder/photographers got silly

---
11 November 2017
Weather for Ducks!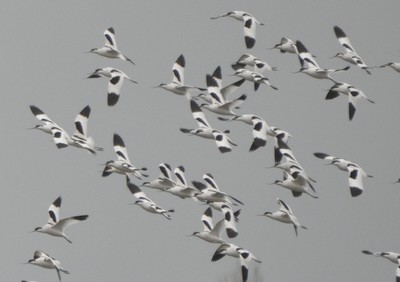 After having a crap time at work, we have all got to apply for our own jobs at the school I work, it appears 30yrs hard work and loyalty counts for nothing! I was looking forward to going out and having a good walk and see some wildlife and even better to take some pics to unwind. But typically on my day off it rains and the light is crap!
Needed to get out so went to the hide at Bowling Green and glad I did, there was about 2-300 Avocets there and put on an aerial display while coming into land. Even though it was raining and the light was crap they still look spectacular!
Lots of ducks and I was impressed with the numbers of Pintail, also Shoveler, Mallard, Teal, Widgeon, Tufted Duck, Moorhen, Coot, Little Egret, Mute Swan, Greylag Goose, Carrion Crow, Jackdaw, Magpie, Woodpigeon, Godwits, Lapwings, Curlew, Goldfinches, Robin, Blackbird, Dunnock, Wren, Long-tailed, Blue and a Great Tit. Also a Male Sparrowhawk flew down the road.
Popped into Goosemoor and Red and Greenshank here, Grey Heron, Little egret, Teal, Mallard, Widgeon and Black-headed Gull.
Hope tomorrow a better day.
---
04 November 2017
Dartmoor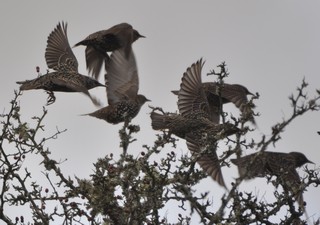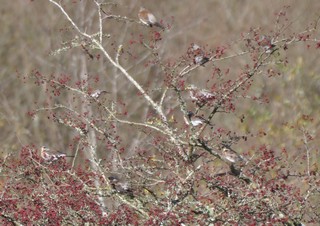 Went up on Dartmoor today, started off at Emsworthy at the Hound Torr end. It was quiet windy and heavy showers, sunny to dark cloud. Typically when a subject came close it was dark and wet and distant when it was good light!
At DWT Emsworthy there was several Fieldfare flying around, it was difficult to know if they were different birds or the same flying around. I could say there was 150+ birds but to be honest I think it was a flock of 40+ birds being quiet flighty and moving around from tree to tree.
While driving around saw 1 Redwing only but plenty of Fieldfare scattered around, no big flocks 5-6 birds away from Emsworthy.
Also saw Mistle and Song Thrushes, Blackbird, Robin, Pied Wagtail, Wren, Dunnock, Starling, Chaffinch, House Sparrow, Magpie, Raven, Carrion Crow and Jackdaws.
Saw plenty of birders around looking for Hawfinch which had been seen yesterday but no luck today.
---
© Simon Thurgood 2022
Images on this website may not be put as any part of any collection without any prior written permission.