Blog
28 November 2015
Labrador Bay and Exminster Marshes

Thought I would pay the RSPB reserve at Labrador Bay to see the Cirl Buntings, the weather was crap but thought the birds would be on the floor in the stubble as previous visits had shown.
Sadly I wasn't expecting free running dogs having a free for all in the fields. The owners were oblivious, but I know what would be said, its a public footpath and No livestock around so what's the problem???
The problem for me the flocks of small birds, (Chaffinch and Goldfinch) that were struggling in the wind kept being put up by the dogs and there was a dog around the feeding station with the owner nowhere to be seen. So hardly any birds seen although did see 1 Cirl close to the feeding station in the hedge. Frustrating!!!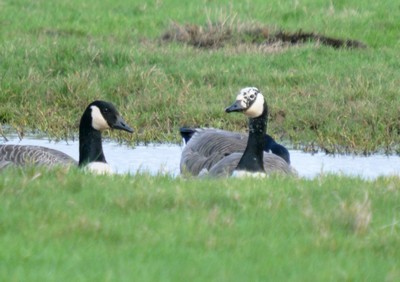 Off to Exminster and plenty to see here with large numbers of birds coming off the River Exe, 1000+ Canada Geese over the reserve with another 400+ Dark-bellied Brent Geese. In the group by the middle car park there was a Black Brant and a weird looking Canada Goose that had a almost white head, I certainly had a double take when I saw it!
Plenty of ducks with 500+ Widgeon visible from the back path towards Turf, also saw Teal, Shoveler and Mallard.
100+ Curlew and a few Black-tailed Godwits in the pastures with Lapwing and as usual plenty of Corvides, Rooks, Jackdaws and Carrion Crows picking through the grass.
Grey Heron, Mute Swans, Little Egrets, Moorhens and the electric blue flash of an Kingfisher by the stream by the path.
Blue, Great and Long-tailed Tits, Robins, Blackbirds, Dunlin, Stonechat, Pied Wagtail, 20+ Redwing, Goldfinch, Bullfinch, Woodpigeon, Collard Dove and lots of Pheasants.
Surprised to see NO Raptors with all these birds about?
On the mud flats few birds but very windy hence the amount of birds on the marsh, but there was a few Avocet, Cormorants, Black-headed Gulls and Mute Swans.
Met a few people about who weren't dog owners and all seem to be enjoying the blustery weather.
---
22 November 2015
Torbay Boat Trip and Broadsands

Its that time of year again when I join Nigel S on his winter boat trips around Torbay. We met at Paignton Harbour for 9am but we had to wait for an extra 20 minutes for there to be enough water in the harbour for the boat to be able to leave. This time wasn't wasted as there was plenty to see in the Harbour with a Kingfisher flying in between the boats putting on a good show, Turnstones at our feet was fun with Oystercatcher, Mute Swan, Great-black Backed, Herring and Black-headed Gulls, Carrion Crows and Rock Pipit.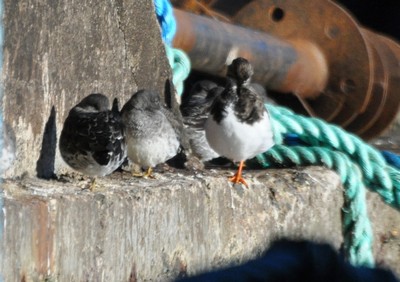 Finally on board and after Nigel giving us a safety check we were on our way. It was very calm not like the wind of yesterday.
Not sure how much we would see as its still early for large numbers of Grebes and Divers, we did see 3 Great Northern Divers and a Couple of Great Crested Grebes, although reports of Scooters we didn't see any only some Shelduck.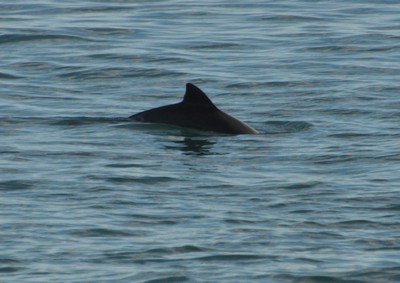 2 Peregrines put on a good show on the cliffs, 8 Purple Sandpipers in Brixham Harbour with some Turnstones in there usual roost.
There must have been about 800 Guillemots seen today if you include all the ones on the cliffs at Berry Head, on the sea and those flying around, great little bird. They were though the only Auks seen.
Plenty of Cormorants, Shags, Grey Herons and a couple of Little Egrets. Good numbers of Oystercatchers around the rocks with Rock Pipit and Pied Wagtails also seen.
Plenty of gulls with Great-black Backed, Herring, Black-headed Gulls, several Fulmar and Kittiwakes with a couple of Gannet seen.
When we were at Berry Head we saw some Harbour Porpoise which was just magical-love watching these!
After the trip I went to Broadsands were there had been reports of Firecrest, I hadn't seen one in ages and the only picture I have is of its backside! There was plenty of birds here around the carpark including at least one Firecrest! Fantastic but to fast for me to get pic! Bugger!! but at least I saw one, plenty of other birds with Bullfinch, Cirl Bunting, Goldfinch, Reed Bunting, Chaffinch, Blue, Great, Coal and Long-tailed Tits, Blackbird, Robin, Chiffchaff, Wren, Woodpigeon and a Buzzard loafing above in the blue sky.
Had a great day and in some great company.
---
21 November 2015
Powderham Marshes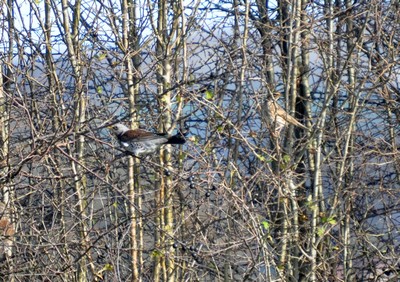 Having only a few hours to have walk around thought I would give Powderham Marshes a look and glad I did!
It was quite windy and thought the bushes might be "Blown Out" but a lot of birds on the ground. Where ever I had been today I have seen Woodpigeons as there had been reports of big movements, 20000 in an hour at the Warren so wasn't surprised to see plenty of birds in the fields, but a welcome surprise a small flock of 22 Stock Doves feeding in the 1st stubble field, too far for a picture, they and others were put up by something and went over to Exminster Marshes.
Plenty of Corvides with Rooks, Carrion Crows, Jackdaws and Magpies looking for food in the pastures.
Chaffinches, Goldfinches, Fieldfares, Redwings, Robins and Blackbirds were in good numbers in the hedges. Also Long-tailed Tits, Blue Tits, Dunnock, Pheasant, Pied Wagtails, Starlings and Wren also seen.
Lapwings, Curlew, Mute Swans, Black-headed and Herring Gulls, Teal and Mallard all seen near ditches and flooded areas with a Kestrel sat on the wires.
---
15 November 2015
Exminster Marshes

Went for a walk around the Reserve at Exminster today and plenty of birds about.
Plenty of Thrushes about with 30+ Redwings, 6 Fieldfares, Song Thrush and Blackbirds. Lots of Long-tailed, Blue and great Tits, Chiffchaff, Robin, Dunnock, Goldfinch, Greenfinch and Chaffinch. Grey Heron, Little Egret, Coot, Moorhen, Canada Geese, Greylag Geese, Mute Swan, Mallard, Teal, Shoveler and Widgeon.
lots of Corvides about, especially north of the Red lion industrial estate with Rook, Jackdaw and Carrion Crows on the wires and going through the pasture. Also a Raven was mobbing 3 Buzzards that were circling Toby's yard.
Also saw Pied Wagtail, Starling, Woodpigeon, Pheasant, Wren, Lapwing and a Peregrine sat on the pylons as normal.
At Turf looking out on the Exe was 20+ Mute Swans, Little Egret, Cormorant, Black-tailed Godwit, Curlew, Redshank, Black-headed, Herring, Great-black Backed Gulls. Looking up the river there was Avocet, Dunlin, Lapwing, Oystercatcher and more Curlew.
Nice to meet a few birders today, some out looking for the Crackling Goose but not found. Good day!
---
07 November 2015
Serin and Exminster

The weather was awful this morning but looked good for this afternoon so went over to Exmouth for the afternoon to see if I could see the Serin. Typically it had been seen just before I got there and was not seen for the hour and half I was there! Good to meet all the other birders, some visiting from Somerset and have a chat with Matt Knott. Might try again tomorrow?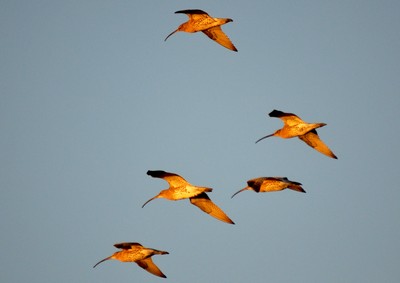 On the way back home I popped into Exminster and just walked the road from the carpark to the Turf and back. Was hoping to see a few Ducks and Brent Geese but was unlucky on both. No Brent Geese and very few Ducks, just a couple of Mallard, Teal, Shoveler and Widgeon. Plenty of Curlew and Black-tailed Godwits which flew in from the estuary in the evening sun also Lapwing around the scrapes.
Plenty of small birds around the bushes and hedges with Chiffchaff, Great and Blue Tits, Pied Wagtail, Woodpigeon, Goldfinch, Chaffinch, Greenfinch, Blackbird, Robin, Wren, Dunnock, 100+ Starling, Magpie, Rook, Carrion Crow and Jackdaw. Lots of Canada Geese, a few Mute Swans, Moorhen, Little Egrets, Grey Heron and a Peregrine on its usual perch the Pylon.
At Turf the tide was in and there was just Herring and Black-headed Gulls, Cormorants and Mute Swans on the water.
Not that many humans about but a nice walk anyway.
---
01 November 2015
Around Topsham

Late start to the day after a night out, a miserable grey day so not much chance of doing any worth while photography> Still fancying a walk I went off to do a circular walk of Topsham starting and finishing at Darts Farm.
Plenty of shoppers at Darts and the carpark was full and lucky to find a space, a few birds about with Carrion Crow, Magpie, Robin, Pied Wagtail, Blue Tit, Herring and Black-headed Gull with a group of 50+ Fly over Canada Geese.
Down the Cycle Path there was House Sparrow, Robin, Pied Wagtail, Great Tit, Blue Tit, Wren, Carrion Crow, Jackdaw, Magpie, Herring and Black-headed Gulls flying over.
The Creek was empty of birds as was Goosemoor with the exception of some Teal and a fly over Cormorant.
Along the road, especially at the back of the hide at Bowling Green Marsh there was Blue, Great, Coal and Long-tailed Tit. Blackbird, Wren, Robin, Greenfinch, Starling, House Sparrow, Woodpigeon and Magpies.
On the reserve there was Buzzard, Grey Heron, Greylag Geese, Canada Geese, Lapwings Carrion Crows, Jay, Dunnock, Pied Wagtail, Starling, Blackbird, Wren, Woodpigeon, Black-tailed Godwits, Moorhens, Teal, Widgeon, Mallard, Pintail, Tufted Duck and Shoveler.
From the Platform that overlooks the River Clyst there was loads of Black-tailed Godwits, Lapwings, 3x Little Grebes, Mute Swans, Curlew, Great-black Backed Gulls, Grey Heron, Herring and Black-headed Gulls and Little egret.
Behind the platform in the bushes there was stacks of small birds with Great, Blue, Coal, Long-tailed Tits, Goldcrests, Blackbird, Goldfinch, Robin, Wren and Greenfinches all working hard to find food.
From the Goat walk you could see loads of Waders down the river with Curlew, Godwits, Redshank, Dunlin, Lapwing, avocets, oystercatchers, Grey Heron, cormorants, Great-black, Backed, Herring, and Black-headed Gulls.
In Topsham there was Woodpigeon, Carrion Crow, Jackdaw, House Sparrows, Blackbirds, Starlings, Herring and Black-headed Gulls.
a few humans about but few birders, good day though and grateful for the fresh air!!
---
© Simon Thurgood 2022
Images on this website may not be put as any part of any collection without any prior written permission.