Blog
30 November 2014
Around Powderham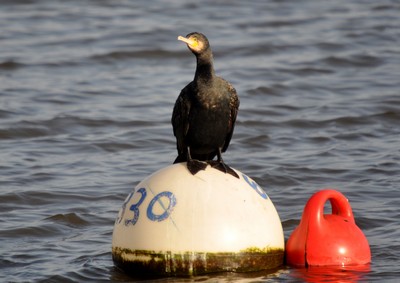 It was high tide so I decided to walk from Powderham church up the side of the River Exe to Turf Lock and back.
On the river there was very little on the way up except for 20+ Shelduck and plenty of Cormorants.
On the field side there was Oystercatchers, Curlew and Lapwing. Raven and Carrion crows, several Robins, Wren, 10+ Pied Wagtails and a couple of Stonechats.
At Turf you could see Moorhens, Teal, Mallard and Mute Swans in the ditches and water ways.
On the way back as the tide was going out and showing mudflats I saw Black-tailed Godwits and Grey Plovers. Also came across a couple of Rock Pipits on the wall.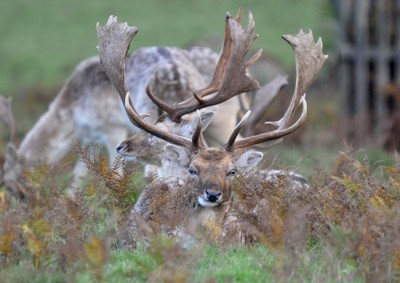 I then walked up behind the church, walking towards Kenton in typical open parkland, saw Raven, Carrion Crows, Blue tits, Blackbirds and several Mistle Thrushes, a large flock of Woodpigeon, Kestrel and of course loads of Pheasants.
Also saw these fantastic Fallow Deer Staggs in all there glory!
Another great day out, not only saw some great sites met loads of nice people;o)
---
29 November 2014
Topsham

I went to Topsham to see the over wintering flock of Avocet and I wasn't disappointed!! There was 450+ and watching them fly down the River Clyst was something else!
A lot of other wintering birds were there too, 1000+ Godwits, a mixture of Black and Bar-Tailed, again fantastic to see these flying down the river in a large flock.
Again large flock possibly 600+ of Brent Geese, also Canada Geese in large numbers with 5 Greylags in front of the hide at Bowling Green.
Plenty of ducks with Wigeon 500+, also Teal, Mallard and Shovlers in good numbers.
Plenty of other waders with Curlew, Snipe, Greenshank, Redshank, Dunlin, Grey Plover and Lapwing both on the marsh and the mud banks.
Counted 30 Moorhens, 1 Water Rail with plenty of Cormorants, Little Egrets and Grey Heron. Mute Swans and a single Black Swan on show.
Blue and Great Tits, Song Thrush, Redwings, Blackbirds, Wren, Pied Wagtail, Robins, Jay , Magpies, Jackdaws and Carrion Crows, all seen.
Black-headed, Herring and Great Black-backed Gulls as usual.
What a great day!!!!;o))
---
23 November 2014
Exminster Marshes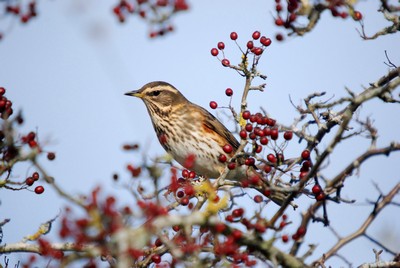 Went to Exminster Marshes today to see what was about and I wasn't disappointed!
I parked in the RSPB car park and immediately the large flocks of Canada and Brent Geese could be seen next to the footpath.
I then witnessed a "Punch up" between a Peregrine and Buzzard which was just great to watch and turned out as a draw for the birds and very frustrating for me as between the birds speed and other objects in the way, I failed to get a pic! So frustrating!
I also saw a couple of other firsts for this winter, Redwing and Fieldfare on the way to Turf Lock, also saw Blackbirds, Woodpigeons, Carrion Crows, Ravens and Magpies.
On the Exe estuary there was plenty of waders, Dunlin, Godwit, Redshanks, Oystercatchers and Curlew. I didn't see any Avocet as apparently they were still up at Topsham. Also seen were Cormorants, Little Egret, Grey Heron, Shielduck and Mute Swans.
Lots of Lapwing in small flocks both on the mudflats and marshes, also seen on the road back to the car were a Hen Sparrowhawk, Blue and Great Tits, Stonechats, Pied Wagtail, Robins, Blackbirds, Moorhens and Kingfisher.
Plenty of ducks about with Mallard, Teal and Wigeon putting on a good show.
Several small flocks of Starling flying around with the usual gulls.
Great day out!
---
16 November 2014
Torbay Boat Trip

A bit "Lumpy" on the trip today, because of the weather we left from Torquay harbour.
While waiting to leave we saw 2 Black Redstarts, Turnstone, Pied Wagtails, Herring and Great Black-backed Gulls.
We went out towards the Ore rock where we saw the Guillemots on the rocks edge, also Rock Pipit, Raven, Cormorants and Shags.
We crossed the bay and there wasn't much about apart from 1 Great Northern Diver and a few Kittiwakes.
At Brixham Harbour we saw 10 Purple Sandpipers and a Great Northern Diver. Plenty of Gulls, Herring, Black-headed and Great Black-backed Gulls around the harbour.
On the way back we saw 10 Grey Herons, Peregrine Falcon, Black-necked Grebe, GND, 10 Black bellied Brent Geese, Mute Swans and plenty of Cormorants.
---
09 November 2014
Powderham to Exminster Marshes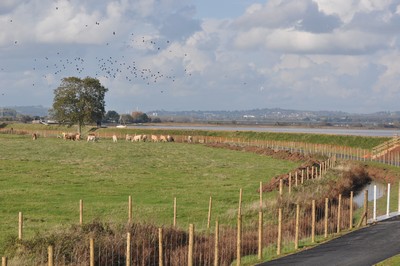 PM. I got news that a Grey Phalarope was showing well in one of the small pools on the marsh so decided to walk from Powderham along the River Exe to the marshes.
Plenty of birds on both side of the path, the tide was out and Black Tailed Godwits were showing well by the path, also Curlew, Redshanks, avocets, Shielducks, Canada Geese, Dunlin and Mute Swans on view.
50+ Lapwings tried to land on the mudflats but were chased off by other waders and returned up river.
In the bushes plenty of small birds, Bullfinch, Blue and Long-tailed Tits in a flock, Robin, Wren, Blackbird, Rock Pipit, Pied Wagtail, Carrion Crow, Buzzard, Stonechat and Goldfinch all seen.
Got to the Marsh and the Grey Phalarope was showing very well but a bit far for a picture, also plenty of Wigeon, Teal and Mallard about.
Great way to finish the day;o)
---
09 November 2014
Torbay Boat Trip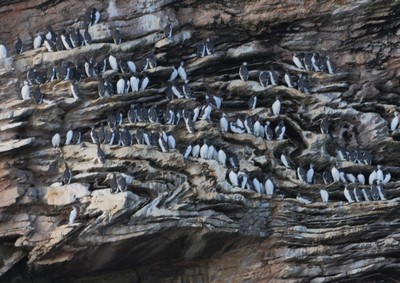 AM. 1st of this winter, a trip out in the bay. The weather was great but not good for birds, well not for Skua`s anyway!
We went out past Berry Head and apart from Gulls not much else on the bird front, but we did see at least 5 Harbour Porpoise which was a real treat!
We saw a couple of Gannet, Kittiwakes and all the main Gulls.
We went close to the Guillemot colony where there was 600+ birds. Also present was a couple of Razorbills in the water.
We saw a Great Northern Diver and a Red Throated Diver. 4 Common Scoter, 2 Purple Sandpipers, plenty of Grey Heron, Oystercatchers, little Egret and a Peregrine sat nicely on the cliff.
Taking pictures was difficult as ever due to the role of the boat even though it was relatively calm, good time though and looking forward to next trip.
---
02 November 2014
Water Pipit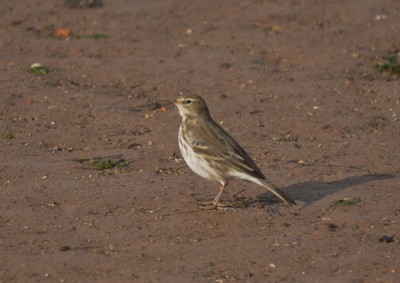 Yesterday the weather was just great so I took another journey to the hide at Dawlish Warren to look for the Water Pipit and to my joy there it was, right in front of the hide!
Lots of other stuff there too, but as it was a mid range tide they didn't get to close to the hide which was a shame as the light was perfect.
Waders were 1000+ Oystercatchers, good numbers of Dunlin with Sanderling and Ringed Plover in the flocks, 4 Grey Plover and I thought I saw a couple of Knott. Whimbrel, Redshank, Curlew and saw 9 Turnstone on the beach by the arcade.
Great Black backed, Herring and Black- headed Gulls, joined by Little Egret and Carrion Crows on the Island.
Plenty of Brent Geese, Shielduck and Wigeon on the water.
On the way to and from the hide I saw Linnet, Goldfinch, Robin, Jay, Magpie, Blackbird, Dunnock, Woodpigeon, Stonechat, Pied Wagtail, Starling and Rock Pipit.
On the way back home driving through the lanes a large mixed flock of 100+ Herring and Black-headed Gulls on cultivated field.
---
© Simon Thurgood 2021
Images on this website may not be put as any part of any collection without any prior written permission.