Blog
26 October 2021
Covid
Well I supposed it was bound to happen sooner or later but I have Covid, isolation for 10 days, apart from feeling like shit Iam bored senseless. All being well allowed out n the 2nd.
---
22 October 2021
Cattle Egrets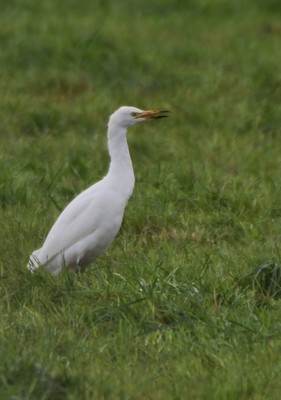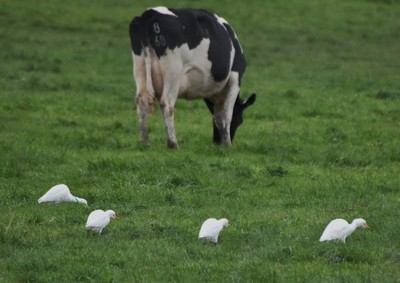 Seen a few Cattle Egrets about in small groups, but like last year larger numbers are starting to meet up around the back of Cockwood/Starcross.
Today 50+ birds split ether side of the road that goes from Starcross to Mamhead. Most were with the cattle on the left as you went up but 15 birds in the stubble on the other side of the field.
---
20 October 2021
Topsham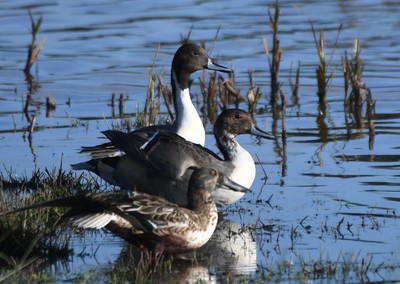 In between the rain showers I managed to have a walk around Bowling Green Marsh, Goosemoor, the Platform and the Goatwalk.
Because the tide was very high there didn't seem to be that many birds about especially at Goosemoor as there wasn't the places to stand, it was very unusual not to see any Greenshank, in fact some things were more obvious by their absence. Such as Little Grebe, Coot and Shelduck?
There was as you would expect these days plenty of Canada Geese, Curlew, Redshank and Godwits. There was a Great-white Egret flying around and only one Little Egret which was at the Goat Walk, also here a couple of Oystercatchers and a small flock of Dunlin. Gulls also scarce with a few Black-headed and Herring Gulls
Duck numbers were ok but seen a lot more here, Pintails, Shoveler, Wigeon, Teal, Mallard and Gadwall.
Fly over Cormorant, Grey Heron, Moorhen, Stock Dove, Wood Pigeon, Great, Blue and Long-tailed Tits, Robin, Blackbird, Dunlin and Wren all seen.
Good to see Dave Stone in the hide
---
17 October 2021
Yarner and Soussons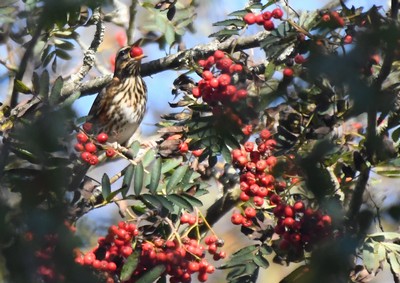 Early arrival at Yarner, parked up in the middle car park which in normal times gives you views over Tremblebere but this morning it was thick fog and you couldn't see 6ft!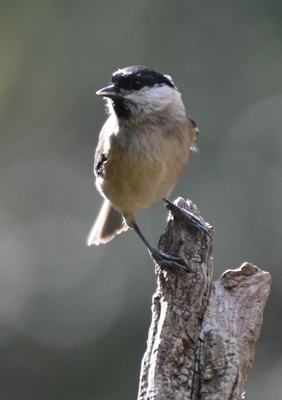 But when you got out of the car you were surrounded by sound, not sure if it was because you couldn't see anything but the Bird Song was just amazing and the sound of falling leaves which was happening all around me during my visit.
Amongst the Bird Song the was the sound of Redwings above me flying around looking for somewhere to land.
You could also hear Woodpeckers, GSW and Green and I thought a LSW but wouldn't like to bet my mortgage on it!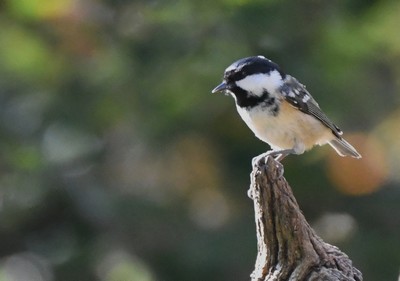 As the sun came out the mist went, plenty of birds about with Blue, Great, Coal and Marsh Tits, Nuthatch, Robin, Blackbird, Song and Mistle Thrush, Pied Wagtail, Dunnock, Wren, Starling, Woodpigeon, Magpie, Jay, Raven and Buzzard.
As I walked back to the car park you could see the Redwings flying and landing on the Rowen Trees that are by the road side and until this point I didn't realise how many there where, I lost count at 50 and there were plenty more!
I then went to Soussons Forest to look for Crossbills, there was plenty of Bird Chatter at the tops of the trees and you could see Coal, Great and Blue Tits around the cones also the sound of Wren, Robin, Blackbird and a flyby Song Thrush. A couple of Buzzards loafing about in the sky and some very noisy Ravens.
Close to the end of the walk, a couple of Crossbill flew over head and disappeared as quickly as they appeared.
Great day out and some great birds seen.
---
16 October 2021
Dartmoor, Hunt for Winter Thrushes.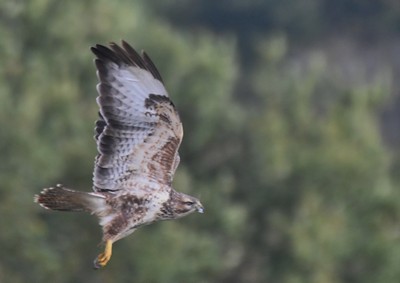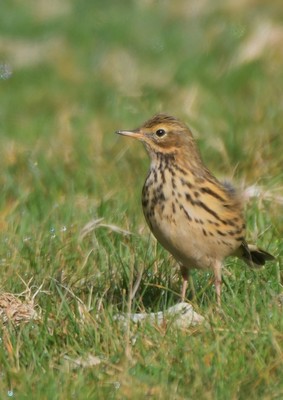 Went up on Dartmoor today looking for Winter Thrushes as there had been some reports that they were about.
Sadly didnt see any but plenty of other stuff, the Berries are a bit sparse in places this year so not sure what year we are going to have with the birds if there is no food for them?
Did see Song and Mistle Thrushes, Blackbird, Robin, Dunnock, Wren, Great Tit, Pied Wagtail, Nuthatch, Skylark, Stonechat, Starling, House Sparrow, Meadow Pipit, Great-spotted Woodpecker, Woodpigeon, Raven, Carrion Crow, Rook, Jackdaw, Magpie, Jay, Buzzard and a Kestrel.
Weather was nice and still a few people out walking making the most of the Autumn Sun
---
16 October 2021
Coryton Cove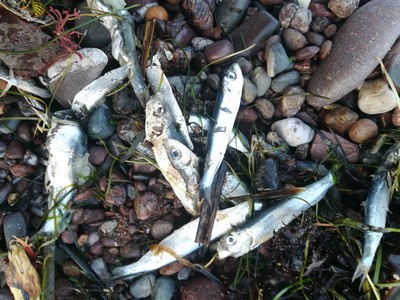 Walking on Coryton Cove beach this evening plenty of Whitebait on the shoreline.
Interestingly very few Gulls to eat them up, perhaps they dont taste so nice as the stuff coming out of the Sewer???
---
11 October 2021
Screaming Seagulls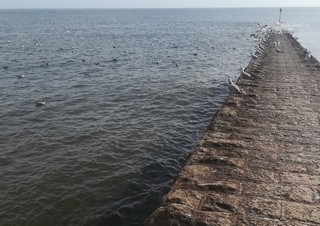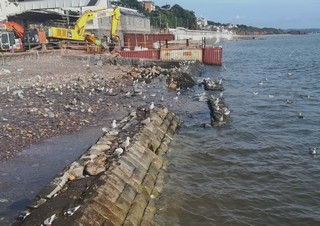 Down on Dawlish sea front there was Gulls everywhere and making a right racket, loads of Herring Gulls of all ages, Black-headed and Common Gulls as well as a couple of Great Black-backed Gulls feeding on something as well as perched on the Station and Breakwater.
At first thought it was whitebait which is not uncommon as sometimes it gets trapped here at high tide but after going out on the Breakwater you could see it was from the sewage out flow and had got trapped by the Breakwater at high tide, the gulls doing us a favour clearing it all up.
There had been a warning over the end of last week asking people to not go in swimming off Holcombe due to the level of water overloading the system and sewage emptying into the sea.
You would think in 2021 they would have sorted it out by now!
---
06 October 2021
Spoke too soon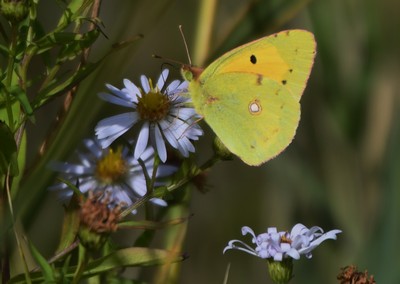 Had a message from Phil that a Clouded Yellow was at the Warren so off I went, this makes 56 species so not bad!
It was quite warm with the sun out and lots of other Butterflies about with Painted Lady, Red Admiral, Small and Large Whites, Meadow Brown, Common Blue, Small Copper and Speckled Wood.
Good to met up with Phil and the two Steve's, all happy as always;o)
---
05 October 2021
River Exe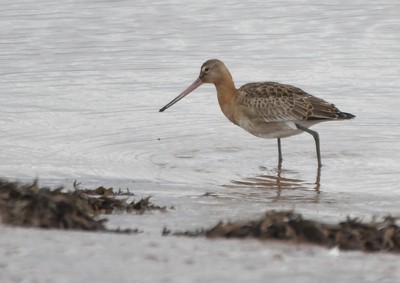 Walked up the River from Powderham to Turf and back as well as looking in Powderham and the River Kenn.
It was a 3 Egret day with Cattle Egret at Cockwood, Great and Little Egrets at Powderham, several Grey Herons seen the full length of the walk.
Black and Mute Swans, Canada Geese, Moorhen, Mallard, Shoveler, Teal, Wigeon and Cormorant were the main water based birds.
A few waders about with Godwits, Curlew, Redshank and Dunlin seen, Gulls spread over the walk with Herring, GBB and Black-headed Gulls.
No Raptors seen but plenty of Corvids with Raven, Carrion Crow, Rook, Jackdaw, Magpie and a Couple of Jays.
Wood and Feral Pigeons, Collard Dove, Pheasant, Blackbird, Wheatear, Pied and Grey Wagtails, Wren, Robin, Goldfinch, Meadow Pipit, House Sparrow, Starling, Swallow and Song Thrush all seen at some point.
Weather abit grey and damp, very few humans about.
---
04 October 2021
Kingfishers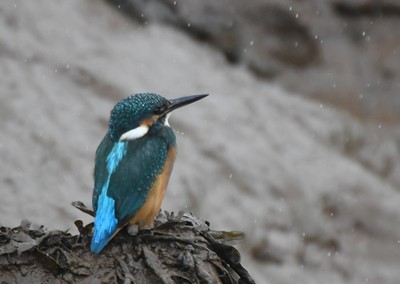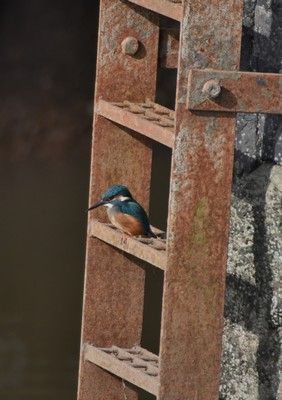 There seems to be an increase in Kingfisher numbers especially tame ones! This well photographed bird is in and around the lock gates at Turf on the River Exe, but there is an equally tame bird in Dawlish as well as birds on all the major rivers.
These stunning birds are just great to watch and for what ever reason lets hope their numbers continue to rise!
---
02 October 2021
2021 butterfly Chase
Well the Butterfly Season for me has now ended, if Iam lucky I might see the odd one on a good day but it's all over bar the shouting for 2021.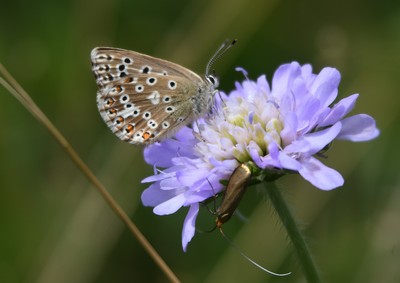 Totalling 55 species this year which included 2 new species for me, the Mountain Ringlet and Northern Brown Argus.
I was unable to catch up with 3 out of 4 Migrant Species, the Large Tortoiseshell, Clouded Yellow and the Long-tailed Blue, the later doesn't seem to have made an appearance in the UK this year? I just couldn't catch up with the Clouded Yellow, it was seen locally but was gone when I was searching. The Large Tortoiseshell is an interesting one, I missed the early sightings at Portland due to Lockdown and was waiting for the much anticipated summer flights but nothing seemed to appear, well according to the locals none seen, but those that travelled some were seen, but no photos so not sure what happened there??
Due to some rewilding I managed to catch up with some Glanville Fritillaries at "White Sheet Hills" in Wiltshire and we will see if this is successful next year?
For me finally catching up with the Northern brown Argus was the best of the year.
The photography side of things this year has been mixed, I finally got a picture of a large Heath after taking some advice about getting there early before they get too warmed up, so a 6.30am start at Methorp Moss did the trick. I had some good results at Bently Wood with the Purple Emperor and the open winged Purple Hairstreak.
I also had some frustrating sessions where I could see the subject but either wouldn't settle or too far for a good picture, the Wood Whites at Mere Quarry and the Brown Hairstreaks at Netherclay and Alners Gorse are an example of this, but the most frustrating was the Mountain Ringlet in Cumbria, I made 3 journeys to see these, the first 2 the weather was against me, but on the 3rd I walked up towards "Illgill Head" there is a an enormous ravine (Greathall Gill) on the left-hand side. There is a large colony of MR around here, between the broken wall and the edge of Greathall Gill. Sure enough there they were I saw 3 but there was no way I could safely get a picture on that slope.
I visited lots of Reserves, some new and the best of them was Latterbarrow Nature Reserve which is run by the Cumbria WLT and Green Down Reserve which is managed by the Somerset WLT. Apart from the Butterflies the Wildflowers were just breath taking.
Met lots of great humans who were helpful and kind, plenty of experts in the field doing surveys and willing to share their knowledge. Plenty of locals willing to pass on sightings and the best place to get a Bacon Sarnie and a Coffee after a long drive, as always Phil C, Penny W and Colin S to name a few.
I did see some poor behaviour, especially at Aish Tor on Dartmoor, some real idiots here. Also on line some questionable sightings and being told to look out for Monarchs in Devon and the Scilly Isles? Some questionable rewilding as well, a bit pointless unless there is adequate food and a good possibility they will breed for next year.
Here's to 2022
---
© Simon Thurgood 2022
Images on this website may not be put as any part of any collection without any prior written permission.