Blog
27 October 2017
Start Bay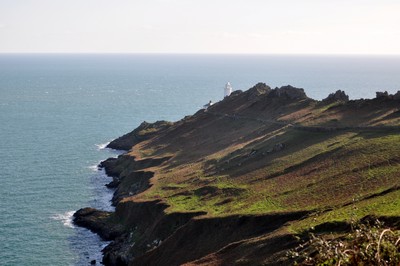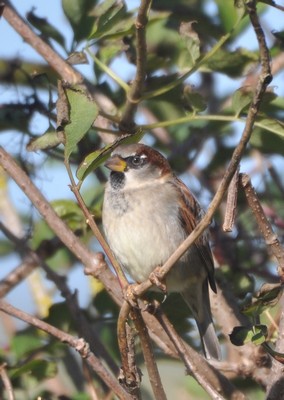 Went south to the Bay today, nice sunny day but windy in places. First stop was Start Point and walked down to the Light House to see what was about in the Tamarisk. When I got there the wind was blowing the Tamarisk around and it was difficult to see the birds, there was definitely some Crests saw 4 birds and at least one was a Firecrest. Also saw Robin and Stonechat by the Lighthouse, on the road to the carpark I saw Raven, Kestrel and two noisy Peregrines that flew over and tried it on with the Kestrel who out flew them as hey sped by it just moved to the side. The Peregrine might be fast but the Kestrel is far more manoeuvrable.
Plenty of Jackdaws flying over and a flock of 35 Goldcrests at the carpark, a few gulls about mainly Great-black Backed and Herring Gulls, nothing else seen out to sea.
Off to Beesands Ley, on the water there was 40+ Gadwall, 50+ Canada Geese and 46 Mute Swans, a few Coot, a Moorhen and a Grey Heron. Along the path there was a few Blackbirds, Blue Tit, Bullfinches, Wren, Dunnock, Robin, Chaffinch, Carrion Crow, Pheasant, Woodpigeon and 30 Canada Geese in the field behind the Hide.
Onto Slapton Ley which was a bit of a disappointment with the only ducks being seen was some Mallards and Tufted Duck, Mute Swans and Canada geese, Coot, Moorhen and plenty of Gulls. Black-headed, Herring, Great-black and Lesser-black Backed Gulls of all ages. Around the edges there was House Sparrow, Cettis Warbler, Wren, Blackbird, Jackdaw, Carrion Crow, Goldcrest, Robin, Kestrel and Wood Pigeon.
In between these stop offs there was plenty of birds around the roads, at Kellaton there was lots Corvides in the pastures hunting for food, mainly Rooks but Carrion Crow and Jackdaw present. Also close to Kellaton 100 odd Gulls, mainly Herring Gulls sat in a field as well as 20+ Woodpigeon, 50+ Starlings on the wires, also Blackbird, Song Thrush, Meadow Pipit, Kestrel, Buzzard, Chaffinch and Stonechat.
Saw loads of Red Admirals today with one Speckled Wood, also met lots of nice people today, two ladies doing some painting in the hide at Beesands were great company.

---
25 October 2017
Out and About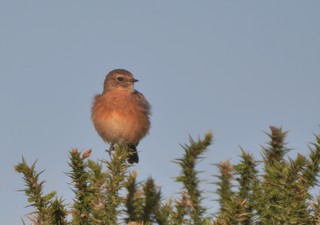 Went to Dartmoor on the look out for some winter thrushes such as Redwing and Fieldfare, there has been some reports of Redwing on parts of Dartmoor this week so was hopeful. Unfortunately after driving around to spots I know I've found them in previous years found no birds, some berries but no birds. I don't know what other people think but I don't think there is as many berries around this year.
While driving around did see plenty of other birds though with Mistle and Song Thrushes, Blackbird, Robin, Dunnock, House Sparrow, Great and Blue Tits, Blackcap, Wren, Stonechat, Pied Wagtail, Meadow Pipit, Skylark, Chaffinch, Buzzard, Green Woodpecker, Wood Pigeon, Stock Dove, Magpie, Raven and Carrion Crow.
Dartmoor is so different through the week with less visitors about and more of the locals are about and at work, you also see things like I saw today, a number of soldiers running in full kit towards me down the road and the local hunt, have mixed feelings about hunting but they did look good, Hounds, Horses and Huntsman in all their colourful coats.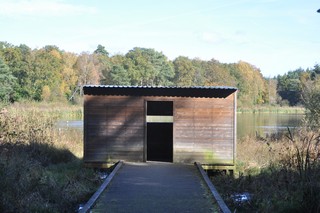 The afternoon was spent in Stover Park which was full of families enjoying good weather, great to see so many kids out exploring the wild and not sat in front of the screen.
The Birds don't seem to mind with plenty of Blue, Coal and Great Tits, Blackbird, Robin, Wren, Coot, Moorhen, Mallard, Tufted Duck, Mute Swan, Cormorant, Wood Pigeon, Bullfinch, Greenfinch, Carrion Crow, Black-headed, Herring and Lesser-black Backed Gull.
Plenty of Dragons at Stover with loads of Darters and a few Hawkers enjoying the sun.
A very enjoyable day out and about and met loads of interesting people.
---
24 October 2017
Grey day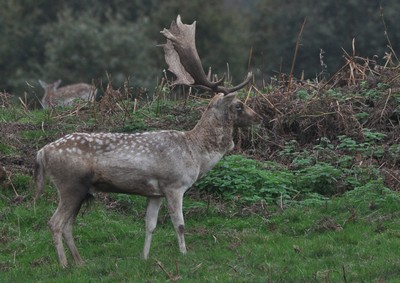 I got my timing spot on when I went to see what was about on the River Exe, I stopped off on several points between Dawlish and Powderham and lots of great views of birds. This was down to timing it were the tide was going out and the water was about 10ft from the wall so the birds were far enough away for them not to be that fussed about you but close enough to get some great views. The problem was it was so dull and grey that any pictures I got were only fit for the delete button!
At Cockwood Steps there was Mute Swan, Great-crested Grebe, Dark-bellied Brent Geese, Little Egret, Turnstone, Redshank, Curlew, Godwit, Oystercatcher, Cormorant, Herring, Black-headed and Great-black Backed Gulls.
In Cockwood Harbour the water had completely gone, a few waders in here, not seen so many Oystercatchers in here before 50+ with singles of Curlew and Redshank, also Mute Swans and Gulls, mainly Black Headed.
Along to the outfall from the River Kenn by Powderham, 50+ Gulls here washing them selves in the fresh water, mainly Herring but a couple of Black-headed, 18 Mute Swans, greenshank, Redshank, Dunlin, Oystercatcher, Curlew, Little Egret, Cormorant and Carrion Crow. In Powderham grounds apart from the impressive Fallow Deer stags a few Pheasants, Mallards on the river and a couple of Blackbirds.
You can tell its shooting season as there is Pheasants everywhere and all very jumpy and nervous, not surprising as everybody seems to want to shoot you!
I popped into Exminster Marshes and viewed from the car looking to see if the Duck population had risen, plenty of Mallards and I heard a Widgeon but very little water on the Marsh. There was though hundreds of Corvides on the pastures with Rooks, Carrion Crows and Jackdaws all on the pasture hunting for food. Not a lot else seen, home for Tea and Toast!
---
23 October 2017
Labrador Bay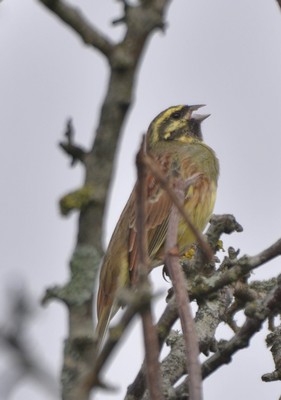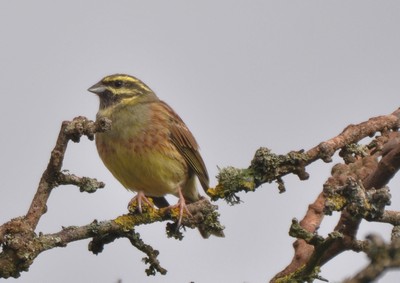 Went to Labrador Bay this afternoon to look for some Cirl Buntings, on arriving at the car park the view out to sea was just stunning! You could see down the coast towards Portland and far out to sea, no birds though apart from the odd gull which was a surprise.
On walking from the car park through the fields and following the hedge into the stubble field where you could hear plenty of Cirls and with my bins found 4 at various points on top of bushes singing away, a few popped up as I walked up the path which was great to see. In the small field they had started to put seed down but no birds feeding or near it. Cirls singing and flying in from across the road to the stubble in the bigger field, counted 15 but could have been more.
Also saw Chaffinch, Goldfinch, Wren, Robin, Blackbird, Great and Blue Tit, Chiffchaff, Carrion Crow and fly overs of Raven, Woodpigeons, Great-black Backed and Herring Gulls of all ages, plus the sound of a Green Woodpecker in the distance.
Also loads of Red Admirals and a few Speckled Woods flying around.
Really enjoyable afternoon spent in a lovely little reserve.
---
22 October 2017
Dawlish Warrem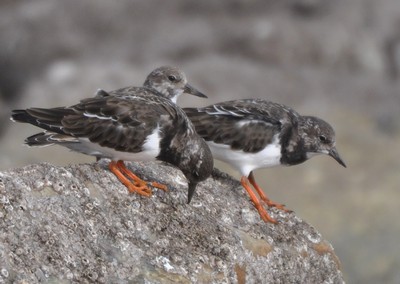 I went to the Warren today at low tide to try and find some Portuguese Man o`War that have been coming ashore in large numbers here and along the beach at Teignmouth.
I walked the beach from Red Rock all the way to the point and didn't find one, I bumped into one of the wardens who was standing guard stopping dogs from going to far up the beach and he showed me a picture of a bucket full of them that he had to pick up off the beach last week to stop people being stung, but none for me, typical!
Not that many birds about, probably down to all the people, dogs and kids running around all having a great time on the beach and why not?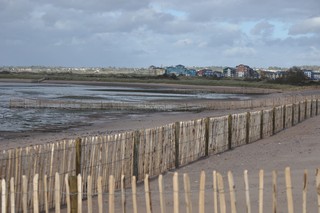 Did see Turnstone, Black-headed, Herring and Great-black Backed Gulls of all ages. Close to the point where the tide was right out plenty of Gulls here joined by Oystercatchers feeding around the rocks which had become viewable as the tide had gone out. On the sand dunes there was a few Meadow Pipits and Pied Wagtails. Further round the wind was really picking up the sand and blowing it about so I walked back across the Point back to the Bite, again very few birds here because of the wind, just a few gulls flying over. No birds in the bite, first time I've been here since the work has finished and the new fences have been put up, must admit Iam impressed. I expect some birders and photographers will moan as they cant see some birds because of the fence but I think it will give the birds areas where humans and dogs cannot go.
Winter must be here as the ponies have arrived on site, they are advertised as Shetland Ponies? No way, I've been to Shetland and seen real Shetlands and these ponies are 4x the size!
Only birds seen were a few Blackbirds, Robin, Wren and a small Tit flock in the entrance bushes with Blue, Great and Long-tailed Tits.
Seen lots of people today, even though it was windy and cold at times everybody seemed happy to be out in the fresh air!
---
15 October 2017
Dartmoor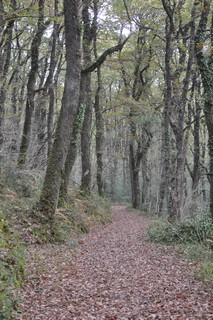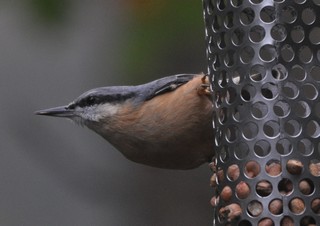 Went up on Dartmoor today on this windy grey day and spent the morning in the car traveling around looking to see if any Winter Thrushes have arrived, plenty of berries but no birds yet.
While traveling around I did see Mistle Thrush, Blackbird, Robin, Stonechat, Dunnock, Meadow pipit, Wood Pigeon, Stock dove, Carrion Crow, Jackdaw, Raven, Magpie, Buzzard, Starling, House Sparrow and about 30+ Chaffinch on one of the hedges.
The afternoon saw me at Yarner Woods, most of the birds seen here were at and around the Pond Hide with Blue, Long-tailed, Marsh and Coal Tit, Nuthatch, Chaffinch, Robin, Blackbird, Grey Wagtail and Great Spotted Woodpecker.
Lots of people about on the moor and everybody seems happy enough, I do think there should be a special test before going on the moor, if you cant reverse stay away!!! enough said!
---
14 October 2017
Exminster Marshes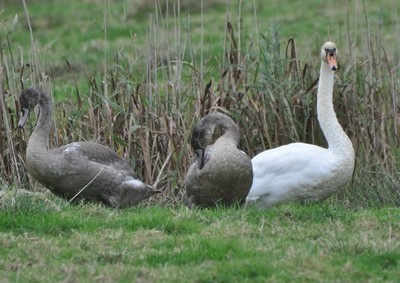 Went for a little walk around Exminster Marshes today, didn't do the full circuit due to time available.
Went down the back path from the car park, there had been some reports last week of Merlin, Peregrine and Marsh Harrier seen from here but not for me today, on this grey day not that many birds about apart from Corvides with Raven, Carrion Crow, Rook, Jackdaw and Magpie all seen around the reserve, especially around the fields by the Lion estate.
Not many water birds about with singles of Coot, Moorhen and Widgeon. A few Mute Swans and a large flock of Canada Goose. Good numbers of Starling, Goldfinch, Wren, Robin, Blackbird, Dunlin, Woodpigeon, Pheasant, Great-black Backed Gull, Kestrel and Sparrowhawk all seen around the reserve from the road up to the fisherman's car park as I didn't venture further.
I walked up the path by the Lion Buildings and came across a Tit Flock which was moving quiet quickly through the trees and hedges along the path, there was Long-tailed, Great and Blue Tits, Chiffchaff and what Iam all most certain was a Yellow Browed Warbler, well about 75% certain as it was moving fast and I couldn't see the head that well to see the yellow stripe over the eye but did see the wing bar!
Even though it was grey and lack of sun I was surprised to see a few Butterflies with Spotted wood and Red Admiral as well as a couple of Hawker sp Dragonflies.
Hope the sun comes out tomorrow.
---
08 October 2017
Birding around the South Hams.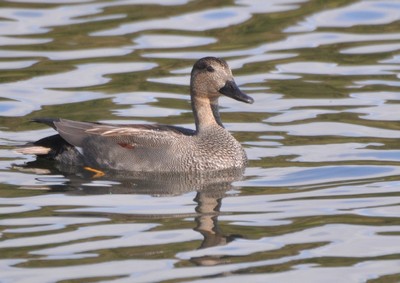 On this beautiful day I thought I would head south. Should have got up earlier but still made it to the north end of Torcross line by Street Gate at 9.15am. Parked up and went to see what was out to sea which was very calm. Plenty of Gulls sat on the water, with Herring, Black-headed and Great-black Backed Gulls of all ages. There is a little hut here selling tea and cake so as I hadn't had any breakfast thought I would have a cuppa but nearly fell backwards when they wanted £4 for a cup of tea and a small piece of cake, for that price I was expecting the best china and a napkin but it was a small cardboard cup and the cake in a paper bag. My fault I should have been more organised and filled a Flask!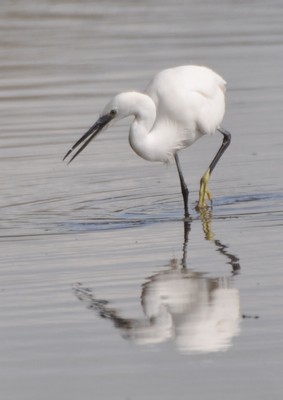 I was going to have a more detailed look at the ley but there was very few birds about. From the road all I could see was large numbers of Gulls sat on the water with a few Mallards and a Great Crested Grebe so I didn't waist too much time here and went off to Beesands to see what was at the Ley there.
Plenty of small birds in the hedges along the path to the hide with Cettis Warbler, Blackbird, Wren, Robin, Blue and Great Tit, Pied Wagtail, Magpie and Woodpigeon.
When I got to the hide the first order of the day was to open all the windows and keep the door open as it was alive with flies, it made me cringe! When I sat down there was a obvious difference to Slapton with large numbers of Ducks with Gadwall, Shoveler, Mallard and Tufted. Little Grebe, Cormorant, Moorhen and large numbers of Coot, must have been 75+, also plenty of Mute Swans, counted 20 but must have been more behind the island. Herring, Black-headed and Great-black Backed Gulls of all ages viewed from the hide. I spoke to another birder at the carpark who talked about "Green Blooms" at Slapton which the birds don't like, hence lots of birds at Beesands. With the warm sun plenty of Butterflies about with Red Admiral and White sp fluttering around. An Emperor Dragonfly patrolling in front of the hide was a nice sight. There was plenty of other interesting insects along the path and I wish I had a better knowledge of them, trouble is there is so many of them!!
Off to the other side of Kingsbridge and first stop is South Huish but didn't stay long enough to see any birds as they wanted to charge me £5 to park my car for a hour, I suppose the National Trust needs the money but that takes the biscuit!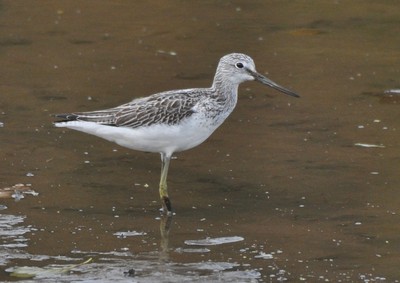 So off to South Efford Marsh, I love this little reserve, I think the path to the hide finds me more birds than being sat in the hide and you never know what will pop up from the Estuary just over the hedge, today a Kingfisher just few up and sat in a tree next to me. I stood dead still and watched this beautiful bird for a couple of minutes before it flew off, stunning. Also along the path was a Slow worm, believe it or not my first of 2017. Plenty of small birds in the bushes with Great, Blue and Long-tailed Tits, Chiffchaffs, Stonechat, Wren, Robin and Blackbirds. On the Marsh there was Canada Geese, Mute Swans, Little Egrets, Redshank and Moorhen. Plenty of gulls but mostly Black-headed Gulls. From the hide there was a group of about 30 Curlew, Cormorants, Mallards, More Canada Geese, Stonechat and some flyover Woodpigeon, Carrion Crow and a Buzzard loafed over.
After this I went up the Tidal Road on the next door River Avon, Grey Heron, a few Little Egret, plenty of Mallard and well over 100 gulls at roost, mainly Herring Gulls but there was a few Black-headed and Great-black Backed Gulls of all ages. Also singles of Greenshank, Redshank and Common Sandpiper.
Saw lots of people today all very friendly and happy out in the sun.

---
01 October 2017
Birding around Darts Farm and Topsham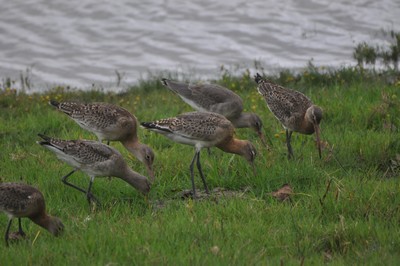 Not sure where to go today with the weather and ended up at Darts Farm, did think about going to Seaton but started late so Darts Farm it was.
It was quite busy but have seen it a lot busier, lack of holiday makers I presume? The feeders outside of the RSPB shop seem to be a favourite with the resident House Sparrows with Robin, Blackbird, Pied Wagtail, Carrion Crow and Great-black Backed Gulls around the site.
Along the cycle track towards Goosemoor saw Woodpigeon, Carrion Crow, Jackdaw, Blackbird, Robin, Great and Blue Tits, Goldfinch and Magpie. The tide was starting to come in and Waders could be seen along the creek with Godwits, Red and Greenshanks feeding along the waters edge.
At Goosemoor on my first visit there was very little to see as there was no water just mud, a solitary Curlew and a few Black-headed Gulls was it. On my way back there was 30 Greenshank, Redshank, Curlew, Godwit, Little Egret and in the bushes by side of track a noisy flock of Long-tailed Tits made their presence known.
On to the Bowling Green Marsh and a noticeable rise in Ducks since my last visit, sadly too far to get a pic but a very smart male Pintail on view on the Island with Pochard, Mallard, Shoveler, Gadwall, Teal, Widgeon, Shelduck, Coot, Moorhen, Grey Heron, Canada Goose, Mute Swan, Redshank, Juv Ruff, Dunlin, Godwits, Lapwing, Carrion Crow, Magpie, Jackdaw, Mistle Thrush, Woodpigeon, Stock Dove, Wren, Dunnock, Goldfinch, Robin, Black-headed, Herring, Great-black and Lesser- Black Backed Gulls on view. There was also a Buzzard on the ground eating something but couldn't see what it was. Iam sure I missed something as a lot of birds to be seen!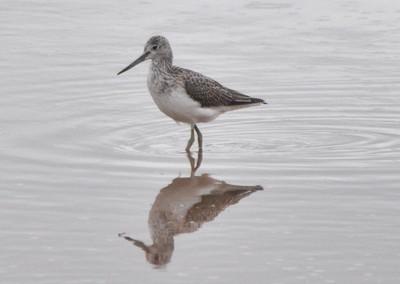 Down at the platform saw plenty of Redshank, Mallard, Little Egret, Carrion Crow and a few Curlew on the mud. On the Goat Walk there was little to see except a Cormorant, Curlew and a few Black-headed Gulls.
I did see a couple of Hawker sp and some Red Admirals flying about.
I had a good time in the hide at BGM, it was a good atmosphere. Its not always like that, as sometimes when you go in there its like one of those old country pubs were all the old boys have their own seat and visitors are not welcome. I think things are getting better and I get what the RSPB are trying to do by getting families in there as today, watching a RSPB volunteer trying to get a over excited 5yrold to look through a scope was hilarious! We need to understand these are the birders of tomorrow and we all need to engage with them. Today there was a young man (10) had his own scope, field guide the works, we need more of this. My only gripe is the cost of a cup of tea, for £1.70 I expect a china mug not a small cardboard cup!
Great to see all the happy birders about today as well as many others.
A conversation between two people in the hide was a classic " Why have they built the scrapes close to the hide? (ans) So normal people can see the birds". hahahahaha

---
© Simon Thurgood 2022
Images on this website may not be put as any part of any collection without any prior written permission.