Blog
30 October 2016
Dartmoor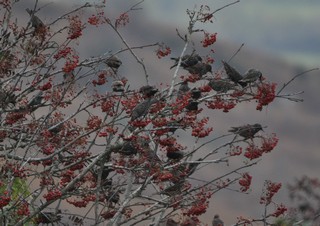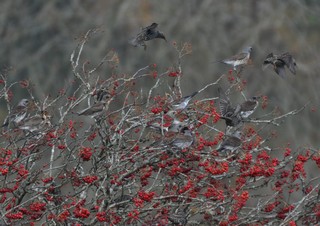 Decided to go for another try at seeing the Shrike after my car broke down last time. Also to try and see some winter thrushes that had arrived. I found a huge flock of birds comprising of Starling, Redwing and Fieldfare comprising of must have been a 1000 birds between West Shallowford and Yar Tor. They were just stripping the Rowen Bushes, I sat in my car for half an hour watching and listening to the racket they were making. Such a fantastic privilege to witness this!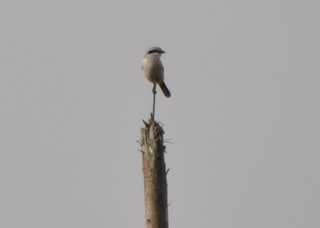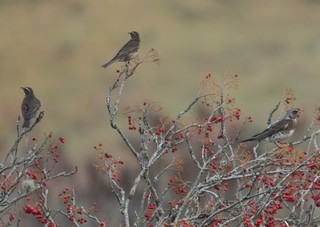 Then on to Soussons to find the Great Grey Shrike and with other birders I was quickly put onto it. Unfortunately a "photographer" chased the bird for a better picture across the ground and just sent it away, idiot!!!
Other birds seen while driving around were Chaffinch, Goldfinch, Robin, Mistle Thrush, Woodpigeon, Raven, Carrion Crow, Rook, Jackdaw, Great Tit, Pied Wagtail, Wren, Dunnock, Magpie and Buzzard.
Great to meet up with George and Lesley and other birders, great company
---
29 October 2016
Dawlish Warren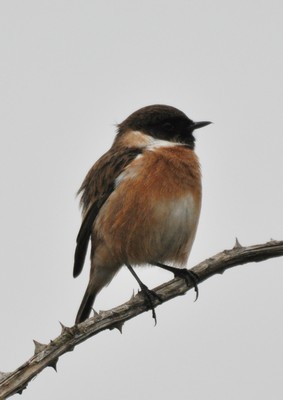 Went to Dawlish Warren this afternoon, it was a bit grey and not much hope of getting any worth while pics but worth a look, there had been a sighting of a Bonaparte's Gull on the beach. It sounds like the bird that regularly stays over the winter.
A few small birds about the entrance bushes and around the reserve with Robin, Blackbird, Blue. Great and Long-tailed Tit, Dunnock, Wren, Goldfinch, Chaffinch, Stonechat, Magpie, Woodpigeon, Song Thrush and linnet. Looks like the Wardens have been busy with both the first and Main Ponds being cleared out, the first pond looks so much bigger with all the reeds cut back. The only bird I saw on the water though was a Mute Swan on the main pond.
The tide was still out so I walked to the point and could see plenty of Cormorants on Bull hill in the estuary. Not that many Gulls around to my surprise but still Herring, Black-headed and Great-black Backed Gulls seen. Oystercatchers, Curlew, Little Egrets and my first Black-bellied Brent's of the season.
Back to the hide and the tide still coming in but getting dark so didn't stay long but still plenty to see with lots of birds feeding on the tide line with Widgeon, Teal, Shelduck, Oystercatchers, Curlew, Grey Plover, Turnstone, Dunlin, Canada and Brent Geese. Also a few gulls around with a Little Egret putting on a show chasing fish.
I did witness a couple of people stood on the mound in front of the hide taking "selfies" which was a bit bizarre! Also a couple with a young lad with a scope arrived from the saltmarsh but went again when I said it was a protected area? Don't know how they got there? Golf Course?
Good to see Kev, Lee, Alan and Ivan, Also good to see the Warden Steve being harassed by the group of kids he had for an activity, very funny!!
---
27 October 2016
Topsham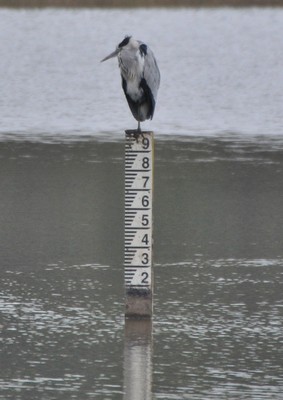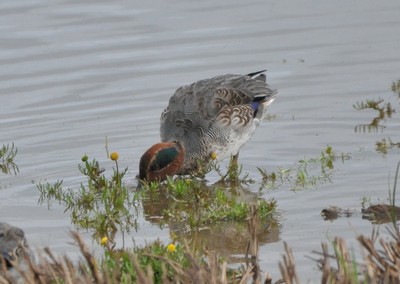 Went on one of my favourite walks starting at Darts farm walking to Topsham via Bowling Green and back again. The weather was just right and I saw lots of birds today, some were a bit far for a pic but still great to see.
Starting off at Darts farm, plenty of small birds about with Blue and Great Tits, Robin, Pied Wagtail, House Sparrows, Woodpigeon, Herring Gull and Black-headed Gull.
On arrival at the cycle path by the road there was a notable amount of noise from a couple of trees by the side of the path the other side of the stream, on closer inspection there was 3 Goldcrests, Blackcap, Blue, Great and Coal Tit. There must have been loads of insects as the birds were just buzzing all around the tree, I tried desperately to get a pic of the Crests but failed miserably! Plenty of other birds down the path with Blackbird, Robin, Dunnock, Blue, Great, Coal and Long-tailed Tit, Chaffinch, Starling, Carrion Crow, Jackdaw and Woodpigeon. Very Little on the Creek with Black-tailed Godwits, Teal, Grey Heron and Black-headed Gulls.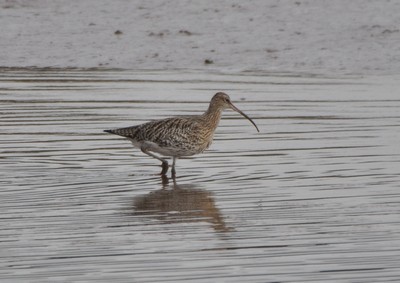 At Goosemoor there was Teal, Mallard, Black-tailed Godwits, Greenshank, Redshank, Dunlin, Moorhen, Black-headed and Herring Gull, a flock of Long-tailed Tits and a Wren was in the bushes by the track.
Along the road there was Chaffinch, Goldfinch, blue, Great, Long-tailed Tits, Woodpigeon, Blackbird, Robin and Dunnock.
From the hide there wasn't that much as the tide was out but still saw plenty of Canada Geese, Greylag Geese, Black-tailed Godwit, Teal, Wigeon, Shoveler, Lapwing, Pied Wagtail, Robin, Great Tit, Blue Tit, Goldfinch, Woodpigeon, Buzzard, Magpie, Jay, Black-headed and Herring Gull.
Then down for my first visit to the platform with my first Avocet of the winter, sadly to far away for a pic. In fact none came close all day which was a bit frustrating! Still great to see them, apart for a couple of Godwits not a lot else as the tide was far out. Off to Topsham via the Goatwalk for a Bacon Sarnie and a cuppa!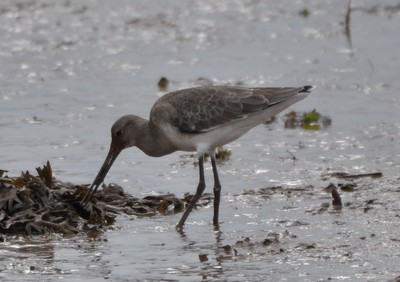 On the way back the tide had started to come in and plenty of birds about with Curlew , Avocet, Black-tailed Godwits, Redshank, Mute Swan, Little Egret, Grey Heron, Cormorant, Mallard, Teal, Herring, Great-black Backed and Black-headed Gulls and plenty of Jackdaws especially in Topsham.
Back at the Platform for a second time proved to be fruitful with Greenshank, Redshank, Black-tailed Godwits, Curlew, Grey Plover, Dunlin, Avocets, Shelducks, Teal, Widgeon, Mallard, Lapwing, Oystercatchers, Canada Geese, Cormorants, Grey Heron, Little Egrets and a Cettis Warbler giving us a tune from the back of the steps.
Had a great day and met some great people, some birders/photographers but plenty of families out enjoying themselves which is great to see. Do wish though that kids would stop climbing over the platform onto the bank, lack of knowledge I think and parents not thinking ether!
---
26 October 2016
Start Bay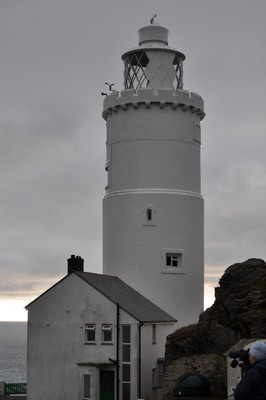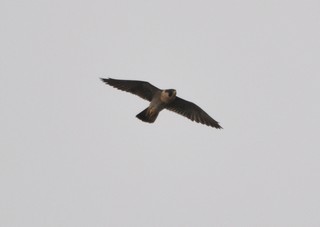 Had a great around Start Bay in south Devon, nice and early at the light house. Not many people around and the view out to sea was just great. A few boats out being followed by the odd gull and a few Gannets further out, noticed 5/6 Auks in the water but with my bins couldn't see if they were Razor or Gillis. A Peregrine put in a good show as it went around the point, didn't see it catch anything though and it drifted towards Hallsands. A few Seals about as well as Cormorants and a Shag, also saw a single Swallow and 4 House Martins getting ready for the forward journey across the channel. Plenty of Meadow Pipits, Robins, Wren, Stonechat, Dunnock and Blackbirds.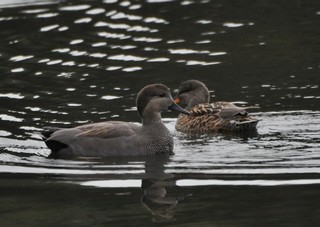 Then off to Beesands Ley and hide, plenty of birds in the bushes going up the path to the hide with Robin, Blue Tit, Chiffchaff, Dunnock, Meadow Pipit, Blackbird with Carrion Crow, Magpie and Woodpigeon in the field.
From the hide there was a noticeable rise in Duck numbers with 50+ Gadwall, Tufted Duck, Mallard, Coot, Moorhen, Grey Heron, Cormorant and Mute Swan, one of the Cobs was being very aggressive to all around and didn't stop all the time I was there.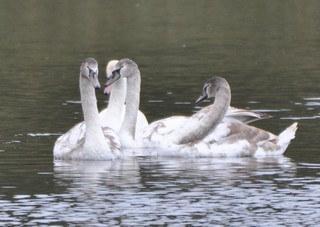 Then off to Slapton Ley, unfortunately because of the main Car Park at Torcross was shut I couldn't find a place to park, so only looked around Ireland Bay which is at the Slapton end, did see plenty of birds with plenty of Tufted Ducks, Mallard, Gadwall, Coots, Great Crested Grebes, Mute Swans, Herring, Black-headed and Great-black Backed Gulls on the water. Heard 3 Cettis Warblers as well as Wren, Robin, Chiffchaff, Blue and Long-tailed Tits and some Goldfinches.
Very enjoyable day out, although didn't see any rarities a lovely day.
---
25 October 2016
Breakdowns and Birds
It being half term and plenty of great birds about thought I better get in my car and go somewhere! Reports of a Shrike on Dartmoor close to Soussons Woods sounded like a good destination for a Sunday. So With all the gear and flask of tea off I went. I went up past Haytor and saw plenty of birds especially Corvides, in fact I saw Raven, Carrion Crows, Rook, Jackdaw and Magpies all around. The Rowen Trees were full of Berries and it all looked promising for winter Thrushes as well. All was going well, saw a Male Sparrowhawk take out a Goldfinch from the bushes, also saw Redpoll, Redwing, Chaffinch and Blue Tits when all of a sudden the warning lights went on. Luckily I was close to the Dartmoor National park car park at Pounds bridge. As I parked up the water hose burst and water ever where! Couldn't get a Mobile signal so walked to the Telephone box by the post office and managed to get the AA how confidently said they would see me in half an hour?? Well 2hrs later they turned up, thank god for my flask of tea! The Alternator belt snapped as well so a tow home it was and a bill of £195 and Iam back on the road. It never breaks down when I am going to work always on holiday? What's all that about??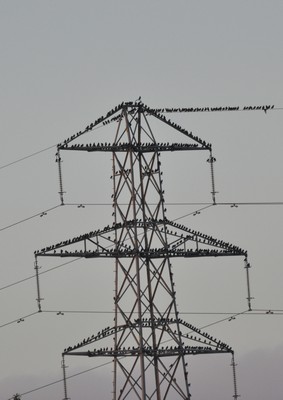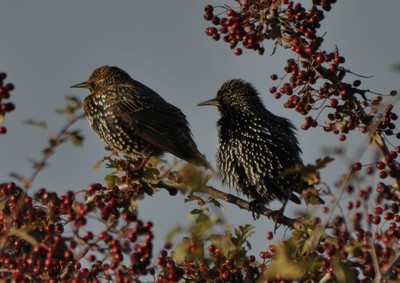 Well this afternoon I went to Exminster Marshes to see the Marsh Harrier which had been seen a couple of times. I parked up at the car park and could see straight away that since my last visit the bird numbers were up.
Several 1000 Starlings flying around with 500+ Canada Geese spread over the reserve with a few Mallards, Coot, Moorhens, Grey Heron, Little Egret and plenty of Mute Swans. A few Waders with Curlew, Black-tailed Godwits and some noisy Lapwings dotted about the place, Buzzards and a couple of fly-bys of a Peregrine put heads up. It must be shooting season as a few Pheasants were dotted about the fields.
Woodpigeons, Carrion Crows, Rooks, Jackdaws, Long-tailed, Great and Blue Tits, Goldfinches, Blackbirds, Wren, Robin, Poss Cettis, Chiffchaff, Pied Wagtails, Chaffinch, Stonechat, 15 Pintail flew over, Black-headed, Herring and Great-black Backed Gull, Cormorant and best of all the Marsh Harrier which drifted sadly on the other side of the reserve to me but got some great views in the bins.
Had a great day, not many people about which was a surprise on this beautiful day.
---
09 October 2016
Bairds Sandpiper and others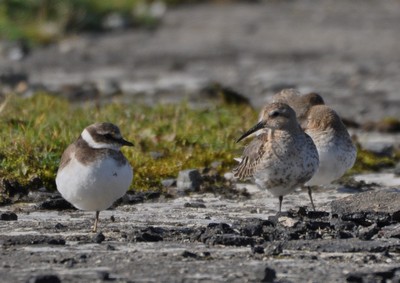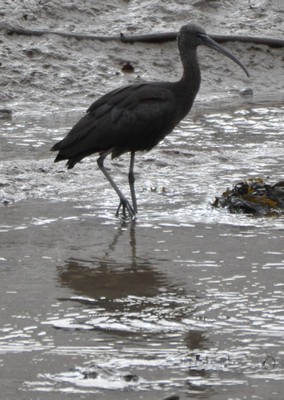 After a frustrating two weeks being unable to go birding due to work and family matters I was on the road to Davidstow Airport in Cornwall Saturday morning looking for the Bairds Sandpiper and was quick to find the Control Tower where the bird was and started taking pics of the birds there with Dunlin, Ringed Plover and what I thought was the Bairds which annoyingly later on realised it wasn't!!
This was the first time I had visited Davidstow and has become quite a good spot for visiting waders and didn't realise how easy it was to get there.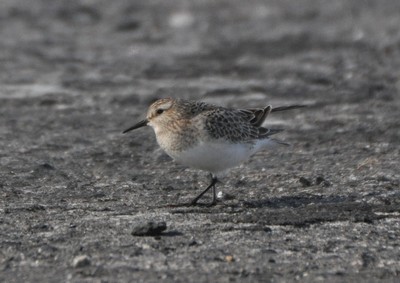 While I was at the airport I picked up a Facebook update from James Packer that the Caspian Tern and the Dalmatian Pelican was at Fremington Quay so I bombed up the Atlantic Express way to Bideford.
As normal for me both birds were gone by the time I made it. But on the plus the café there does some great cake as many of the birders there will testify!!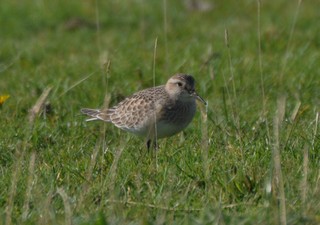 While here I did catch up with the Glossy Ibis and saw plenty of Redshank, Greenshank and a Spotted Redshank, Oystercatchers, Little Egrets, Bar-tailed Godwits, Curlews, Rock Pipits, Grey Wagtails, House Sparrows, Carrion Crows and Jackdaws.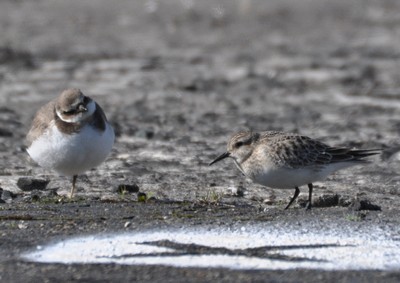 While I was here the shout went up that both birds were at Hartland Point just up the road so off I went but yet again the birds had gone when I arrived, time I went home.
Once I had got home and checked the pics and found out I had nothing to say I was pissed off was a understatement so off to Cornwall again Sunday and luckily there it was by the side of the runway with some Dunlin and Ringed Plover and managed to get some great pics and made the journey worth while.
Over the two days I have met some great people, birders/photographers and interested members of the public which just makes these days even better!
---
© Simon Thurgood 2022
Images on this website may not be put as any part of any collection without any prior written permission.