Blog
28 January 2021
Dawlish Warren Beach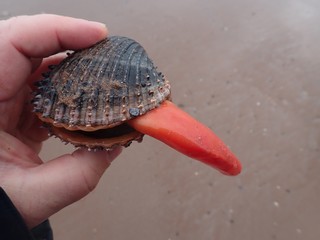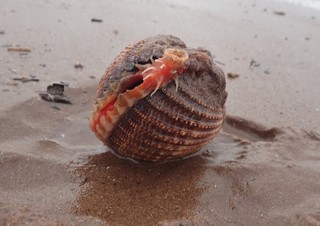 Spent the last couple of days on Dawlish Warren Beach and the Rock Pools at Langstone Rock at low tide to see what was about.
Stormy weather had subsided and the sea was a lot calmer but was massively surprised on Wednesday at the amount of stuff stranded on the Beach.
20+ live "Spiny Cockles", top pictures right and left, washed up in the southern end of the main beech as well as many other shells, many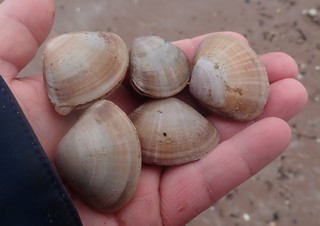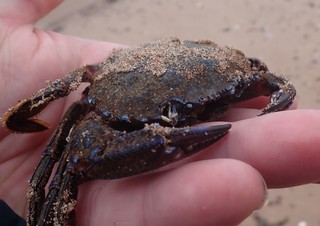 live such as "Rayed Trough Shells" 2nd left picture down and further I walked towards the River Exe more and more Crabs with 3 species found.
Velvet Swimming,2nd right picture down, Masked, 3rd picture down on the left side and Shore Crab, 3rd picture down on the right, all found along the beach.
Keelworms and large amounts of Sand Mason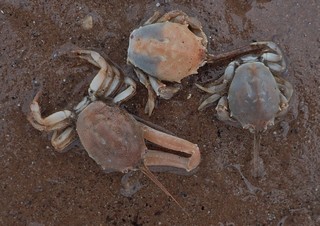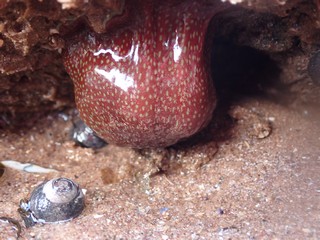 tubes. Also Welk eggs, Sea Potatoes and parts of Sponges littered the Strandline.
Closer to the River Exe I found a Egg casing of a Small-spotted Catshark and a couple of dried up Green Sea Urchins.
Today I spent time around the Rockpools at Langstone Rock, found a few Anemones, Beadlet 4th picture from the top on the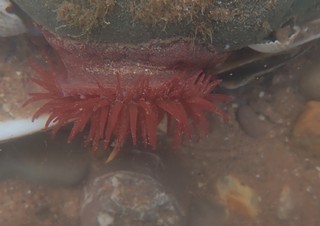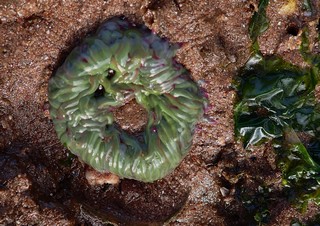 left,and Strawberries 4th picture on the right from the top, in a few places.
Nice to find Snakelocks both in the water Left 5th from the top and some out right 5th from the top, as they cant fully retract their tentacles they try and keep in the pools.
Also the Honeycomb worm structures made a impressive sight amongst the pools, Limpets and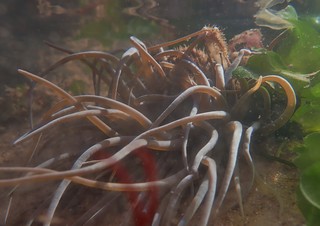 Seaweed.
Not many birds about, the usual Seagulls, a few Oystercatchers, Pied Wagtails and the ever present Carrion Crows.
Plenty of humans and their dogs all seem happy to be out in the fresh air.
Stay safe out there.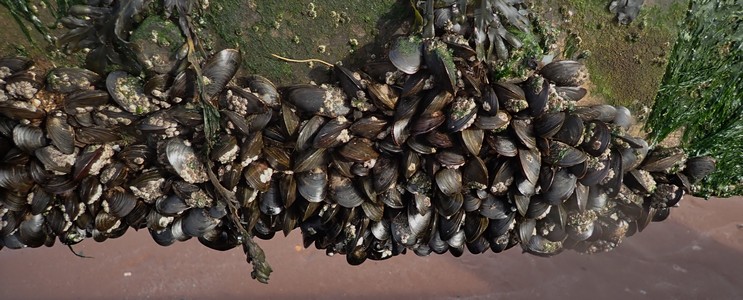 ---
24 January 2021
Powderham to Turf and back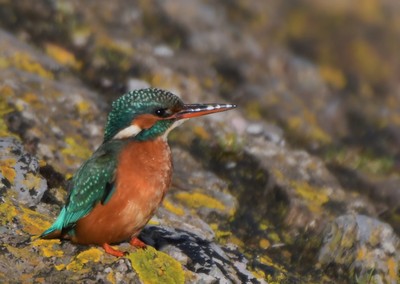 As part of my work supporting others and enabling them to get out for some exercise I have done several walks by the side of the River Exe.
Friday after getting some shopping for myself I did the walk with my camera which I cant take while iam working.
Seen plenty of great birds, those of you that regularly walk this path, the electric blue flash of the Kingfishers are a regular sight, I think they are becoming used to humans and seem to stay around longer before flying off.
Another stunning bird I've seen, not only in the Canal, but in the river by the lock gates the Male Red-breasted Merganser, such a stunning bird.
Plenty of waders with Avocet,Redshank, Greenshank, Curlew, Godwits, Dunlin, Lapwing, Oystercatchers, Golden and Grey Plovers.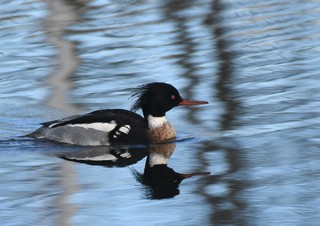 All the usual Ducks, Mallard, Teal, Wigeon and Shoveler. Sadly not seen any Pintail for sometime.
Moorhen, Coot, Shelduck, Grey Heron, Little Egret, Mute Swan, Canada and Brent Geese seen around the waterways, ditches and fields.
Also plenty of Corvids around the fields, Raven, Jackdaw, Carrion Crow, Magpie and loads of Rooks especially around the fields surrounding the Church.
On the small bird front, Pied Wagtail, Stonechat, Dunnock, Blackbird, Robin, Great and Blue Tit, Rock Pipit, Cettis Warbler, Wren, Starling, House Sparrow and Goldfinch.
Stay safe out there!

---
21 January 2021
Stormy Weather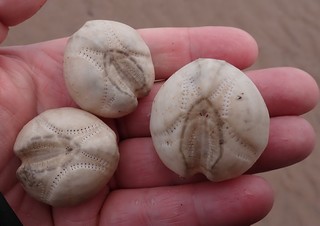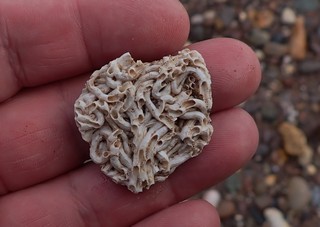 With lockdown its been difficult to get out except when Iam at work, this does give me the opportunity to be out with people I support. Unfortunately I cant take my camera so can only briefly observe.
I have though been able to walk around the Beaches of Dawlish and Dawlish Warren and with the stormy weather observed what has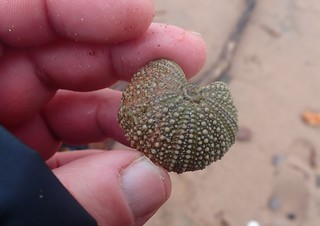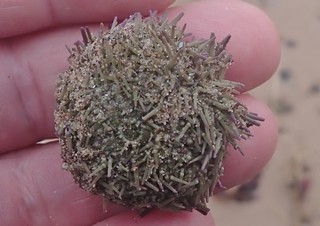 been brought in.
Good selection of Shells, also several Green Sea Urchins at various state of decay, middle pictures left and right.
Sponges, bottom right picture, Sea Potatoes, top left picture, Dead Mackerel and hundreds of pieces of Crab with some whole.
Keel Worms,top right picture, Sea Mat, bottom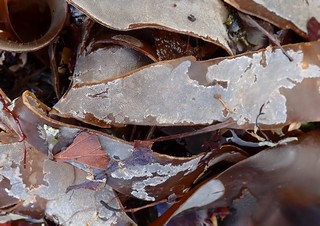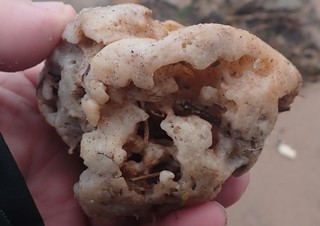 left picture and loads of Seaweed.
Stay safe out there!
---
11 January 2021
Washed up goodies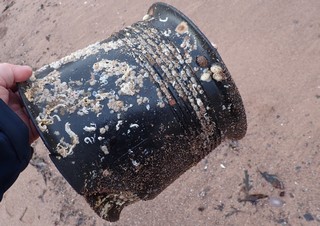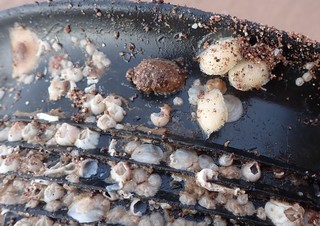 Went for a walk on Coryton Cove, while walking across there was what I thought was an end of a pipe, but in fact it was a (Picture top left) Lobster/crab pot funnel which is on top of the cage. When I picked it up it was packed with life from the deep and with a lot of help from others I have managed to at least get some Id on most of them.
(Picture top right) The white things on the right side look like the eggs of a snail. I think the white blobs top right may be anemones, looks like stripes on the column with retracted white tentacles. Plenty of Verucca stroemia and Balanus crenatus and saddle Oysters e'g under the lower white blob. A few common whelk eggs, Buccinum undatum.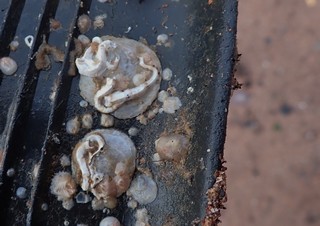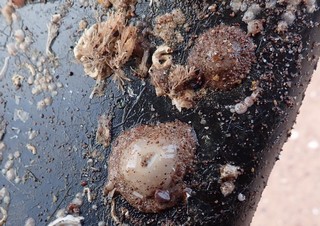 Maybe Austrominius modestus in there too, in the top narrow band 6th from the left? The brown blob at the top centre might be a baked bean squirt Dendrodoa grossularia.
(Picture 2nd from top left) One of the barnacles is certainly Verruca stroemia, Wart barnacle, to the bottom left of the lower saddle oyster, the other barnacles are Balanus crenatus. Saddle Oysters with Keel worms and tiny V.stroemia barnacles, the barnacle on the left side may be H.fallax.
(Picture 2nd from top right) This anemone could be Metridium Senile. Hydroid growth to the left also.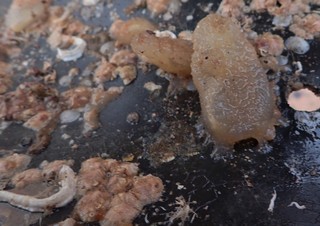 (Picture from top left 3 down)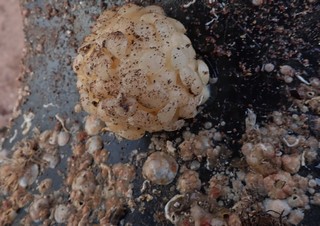 Tunicate probably? yes, I'd guess Ascidiella scabra (rough surface, attached on side, siphons at top and left in this image) with A aspersa as the other option. looking again would say A.scabra, given it is attached on the side and the atrial siphon looks in the right place. Ascidiella aspersa, squirt and V stoemia.
(Top right 3 picture down.) Common whelk egg ball.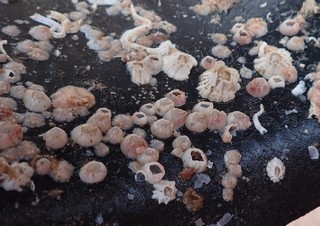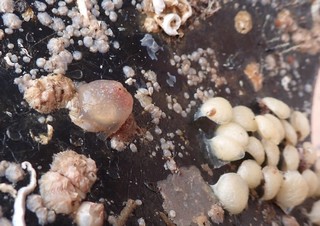 (Picture left 4 from the top) Barnacle heaven! V.stroemia, B.crenatus (larger jagged white ones) and the warm water Hesperibalanus fallax (reddy smooth ones). H. fallax doesn't actually settle on rock prefering animal substrate and it loves plastic, particularly Lobster cages and an Elminius modestus at the bottom. Indeed, now known as Austrominius modestus.
(Picture 4th from top right) Tunicate left of centre, slight red blush makes me think same species as in the other pic (A scabra) with proviso I'm more used to seeing these inflated and out-and-about, underwater.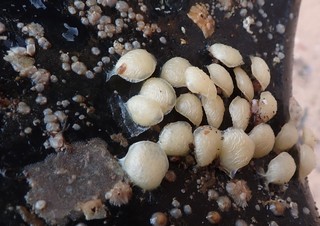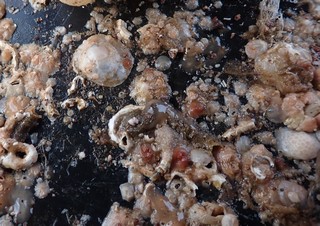 (Picture 5th from top left) Common whelk eggs, a bryozoan, can't say which. Looks more spherical in shape for the individual cells, so I'd say Electra pilosa (Membranipora membranacea is the other common one, but has more rectangular cells)
(Picture 5 from the top right)Red blobs near centre are tunicates, possibly Dendrodoa grossularia.
To right is a small 'dead mans finger' soft coral. Alcyonium digitatum. Verruca barnacles (look sort of like zippers) saddle oysters (shiny bivalves).
Huge thank you to Mike Pul but also Toby Sherwin, Marleen Schouten, Sharon Degnan, Andrew Want, David Wilson, Beshlie Pool, Al Ro, Frits Zandvoort, David Kipling and Cynthia D. Trowbridge.
It's amazing what you can find!
---
10 January 2021
River Exe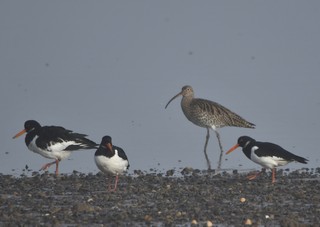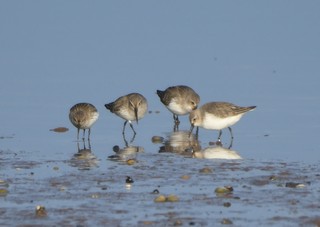 Because of lockdown and staying away from everybody I placed myself on the River Exe and waited for the tide to come in.
Started off misty but the sun broke through making it a lovely afternoon and not a human in sight, I could hear them but couldn't see them! The only disappointment was I left my flask on the side when I left home, old age!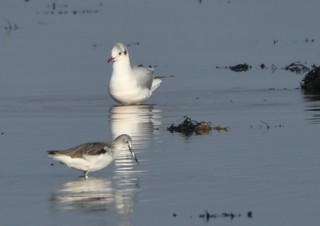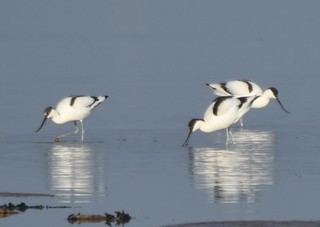 First stop was Cockwood Steps and then the River Kenn out flow.
Plenty of Brent and Canada Geese up and down the River, Mute Swan and a distant Black Swan.
Little Egret, Grey Heron, Cormorant, Shelduck, Curlew, Redshank, Greenshank, Dunlin, Oystercatchers, Turnstone and Avocets. Plenty of Black-headed Gulls with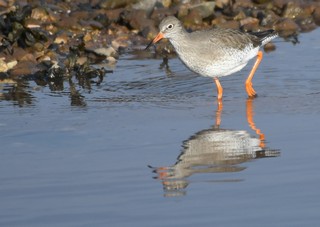 singles of Herring and Great-black Backed Gulls.
From the car birds seen, especially around Powderham estate and around the Church, Carrion Crow, Jackdaw, Rook, Magpie, Woodpigeon, Robin, Wren, Dunnock, Pied Wagtail, Great-spotted Woodpecker and Pheasants.
On the River Kenn there was good numbers of Duck with Mallard, Wigeon, Teal and Shoveler.
Stay safe everybody!
---
08 January 2021
Shells around Dawlish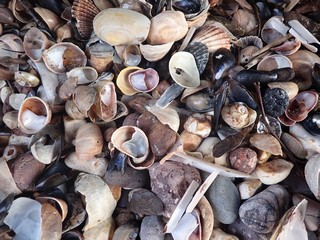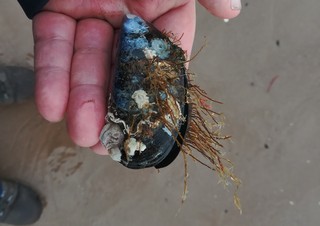 In Lockdown this past year I've spent a lot of time walking the beaches of Dawlish and Dawlish Warren, while being unable to access the beach in front of the Station due to Sea Wall construction and the "Wavewarker" that is working there.
I found the best area for Shells is the Dawlish side of Langstone Rock, the beach here has some troughs which seem to collect them as the tide went out. The top end of Dawlish Warren Beach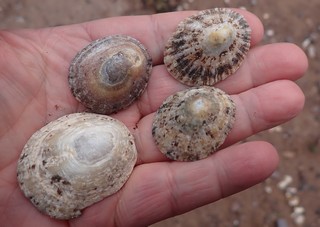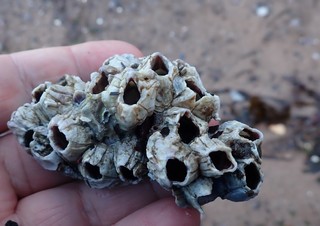 and the far end of Coryton Cove are also good areas to visit.
I would also say I use a great book to help with ID which has become my bible and that is "The Essential Guide to Beachcombing and the Strandline" by Trewhella and Hatcher. They also do a great book on Rockpools, worth every penny!
Plenty of Mussels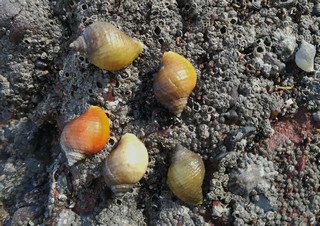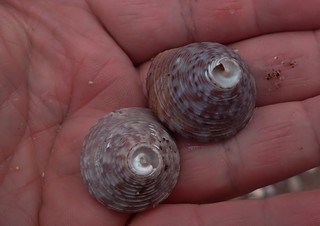 Top picture and Top Right, especially around Dawlish Warren beach, easily found around the Groins but also around the Rockpools, also around Rockpools, seawalls and breakwaters Common and Black-footed Limpets, 2nd Left picture from the top and Acorn Barnacles, 2nd right picture from the top. Also Periwinkles, Common, Rough and the colourful Flat Periwinkles, 3rd picture on left from the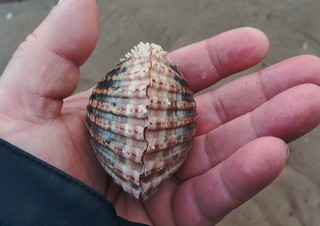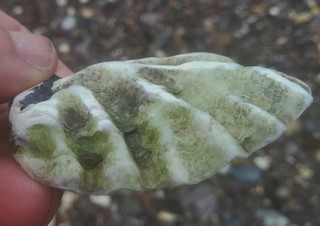 top. Flat and Painted Top Shells, 3rd picture on the right from the top.
Plenty of Bivalves can be found mainly dead ones, but if you're lucky you can find full Cockle Shells on a receding tide before the Gulls and Oystercatchers get to them, picture 4th from the top on the left, not sure what species this is as there is 3, Spiny, Prickly and Rough Cockles.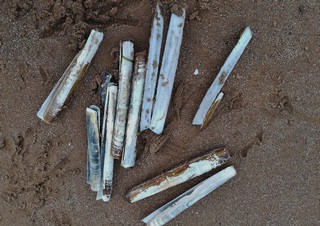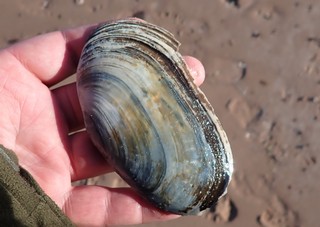 Shells from Common and Pacific Oysters, the picture 4th from the top right is a Pacific Oyster,these are farmed on the River Exe and some migrate from the river.
Razor Shells 5th from the top left,this picture shows Pod Razor Shells which are one of three species.
Scallops, there are 2 species, King and Queen,the picture 6th from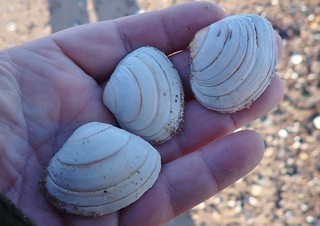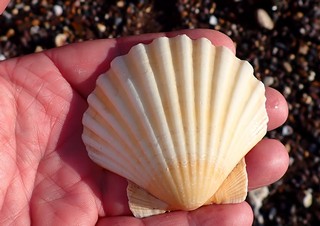 top right I think is a King Scallop due to its colour. Otter Shells picture 5th from top on the right is quite a common shell at Dawlish Warren and around Langston rock, often you find older shells that go white as they wear away, Trough Shells and Tellins to name a few, picture 6 from the top on the left is a Tellins, there are several species and not sure which these are.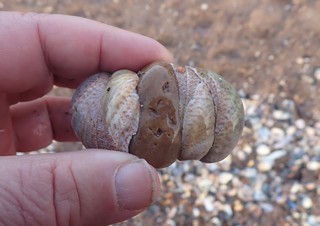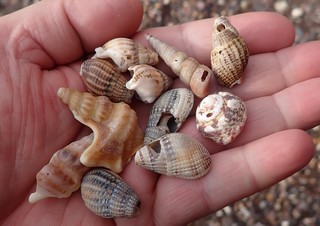 Gastropods such as the non-native Slipper Limpet from North America which has sadly become abundant and are often washed up attached to to other Shells,picture bottom left.
The picture bottom right shows some of the following, Pelican Foot, Turban Top Shell, Auger Shell, Common Whelk and Netted Dog Whelks.
---
07 January 2021
Out and About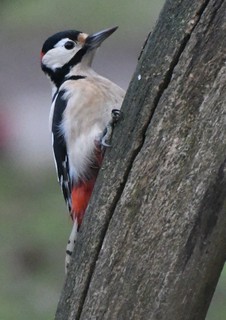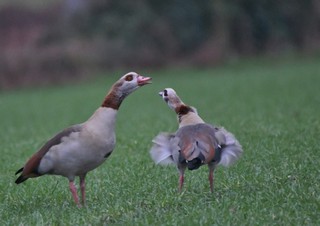 This last couple of weeks have spent some time out and about from Dartmoor to Exminster Marshes. The weather has been quite mixed from Snow, Sun, Wet and Windy!
Plenty of Winter Thrushes but surprisingly few on Dartmoor, possibly due to the lack of Berries as they have already been eaten, where at Exminster plenty of Berries so Redwing, Fieldfare, Song Thrush, Blackbird and many other birds feeding on them.
Plenty of Robins, Dunnock, Chaffinch, Bullfinch, Goldfinch, Great, Blue, Coal and Long-tailed Tits.
Stonechat, Meadow and Rock Pipit, Wren, Cirl Bunting, Siskin, Great-spotted Woodpeckers, Starling and House Sparrow all seen.
Plenty of Covids with Raven, Carrion Crow, Rook, Jackdaw and Magpie.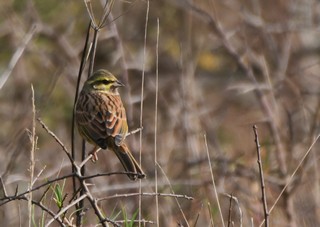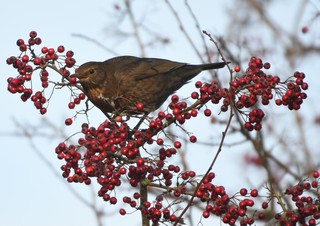 Pair of Egyptian Goose at Powderham Church were clear to see from the road also Canada, Brent and Greylag Geese seen around the River Exe as well as Shield Duck, Grey Heron, Little Egret, Moorhen, Coot, Mallard, Wigeon, Teal, Shoveler.
Plenty of Turnstones and Gulls around the beaches with the regular Cormorants, I seem to keep missing all the Divers that are out there.
Just a couple of Raptors with Kestrel and Buzzard seen in a few locations.

Another lockdown is on us so wont be travelling very far, although my new job sees me travelling and going for walks with the guys I support so you never know what I will see.

---
02 January 2021
Lobsters and Crabs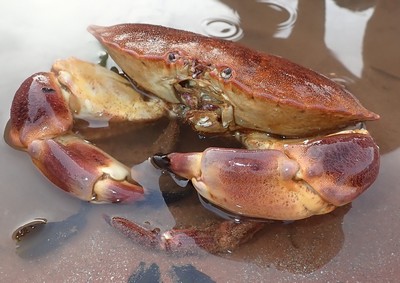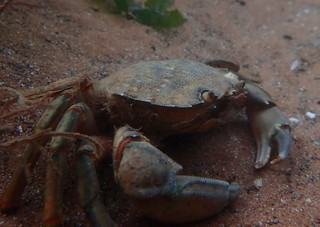 Lots of casts of Crabs about as well as Lobster especially around Coryton Cove for some reason.
Preston Sands had some impressive large Crabs both alive

and dead.
Sadly large dead Edible crab washed up on Preston Beach top right.
The other two are shore crabs, one alive in a rock pool and one dead. The one in the rock pool looked interested in my camera and started to walk towards it, so I made a quick exit!
Top picture is remains of Lobster Claw.
---
01 January 2021
Anemones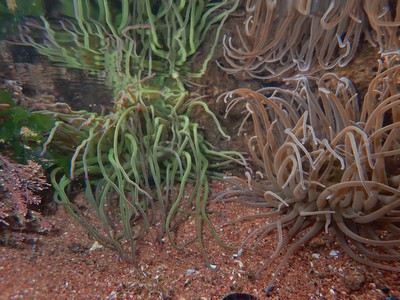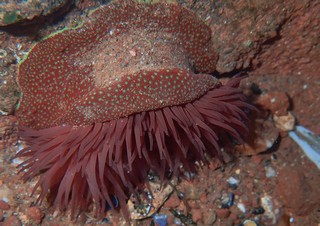 Spent some time around Rock pools with my new camera which enables me to take pictures under water. Visited this last couple of weeks at Dawlish, Dawlish Warren close to Langstone Rock and Preston Sands.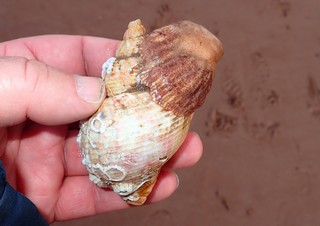 Found a few Parasitic Anemones,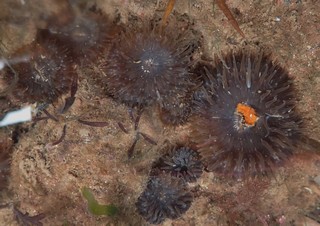 some dead and some alive, because they attach themselves to Whelks they run the risk of being washed up and stranded. See 2nd from top right picture, this was washed up on Dawlish Warren Beach, thankfully still alive and put back in the sea.
Strawberry Anemones found at all three sites although Dawlish was the best site for these. Top right picture for these, showing its characteristic speckled look.
Beadlet Anemones were everywhere although again Dawlish good for these and plenty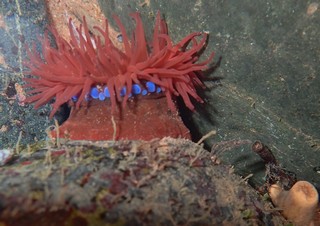 found out of water on the Sea Wall in front of the Huts. See the bottom left picture for these which shows its blue beads where it gets its name.
Both colour variations of Snakelocks Anemone found in all three areas, but more found at Preston.See picture top left.
While at Preston I found plenty of a small but beautiful Anemone called a Daisy Anemone. See 2nd from top on the left. You can see that one of them has caught something and eating it while I was there, not sure what it was, I did think it might be a piece of plastic but without pulling it out I wouldn't know.
---
© Simon Thurgood 2022
Images on this website may not be put as any part of any collection without any prior written permission.