Blog
16 January 2020
Norfolk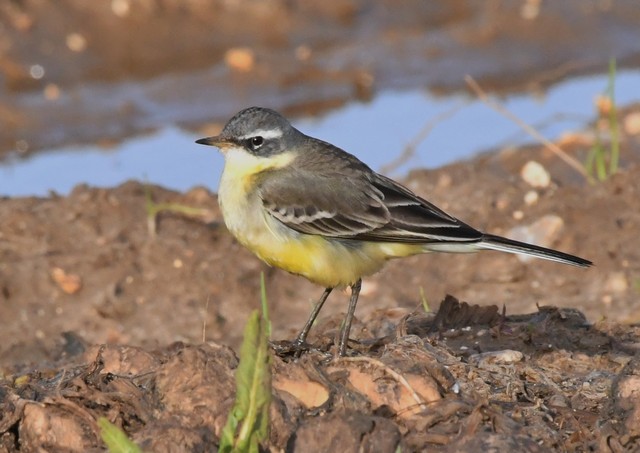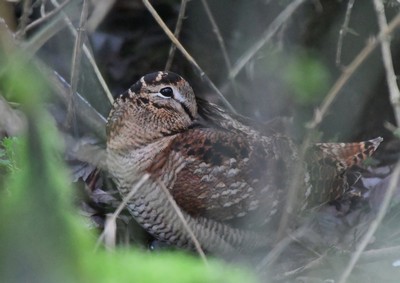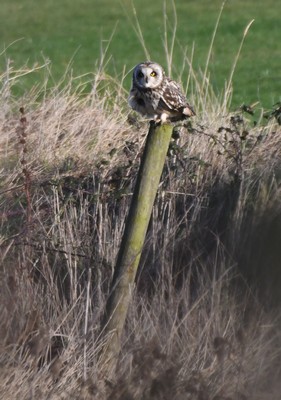 Arrived in Norfolk early morning driving from Tewkesbury where I stayed last night after going to Slimbridge for the day. Staying for 5 nights at Premier Inn in Kings Lynn leaving Tuesday.
Went looking for the "Blue-headed Eastern Yellow Wagtail" or the " Alaskan Yellow Wagtail" or what ever else you want to call it which I found with some help from other Birdwatchers, it was ranging from the Junction to the Dung Heaps up the road, stunning little bird!
I also did a quick visit to RSPB Titchwell as hoping to see the Woodcock, again directed to where it was sat. This is the first time I have managed to get a photo as while I have seen them before, they have been flying away from me.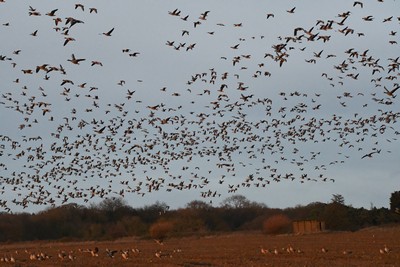 While driving around this week saw so much wildlife from the car, both Birds and Mammals, saw Red Kite, Buzzard, Marsh Harrier, Kestrel and plenty of waders such as Golden Plover, Oystercatcher, Curlew, Redshank, Lapwings and Thousands of Geese, Graylag, Brent and Pink Footed, flying and in the fields. Also saw lots of Muntjac, Hares and Rabbits in the fields.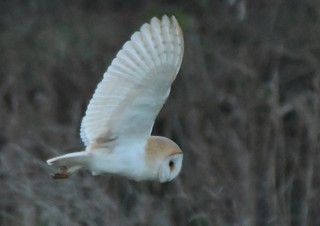 Went to Wells today Friday to see the Rough legged Buzzard which I was lucky enough to do, but was flying at a distance, I was also lucky to see a Short Eared Owl as well as several Barn Owls. Out on the fields there was a couple of Egyptian Geese as well as Grey Partridge, Lapwing and Shelduck.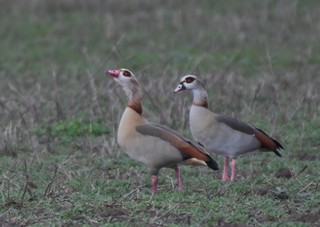 I tried my first attempt to see the Shore Larks and Snow Buntings at Holkham Gap, I got to the roped off area which has been put up to give them some space when some free running dogs just went through the middle and the Larks and 30+ Buntings all flew off.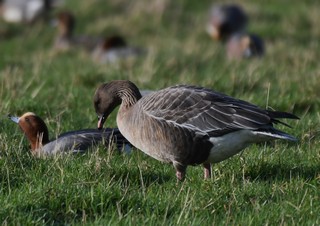 So I turned around and went back to the car, plenty of Geese ether side of the main track, Pink Footed, Greylag and Brent Geese as well as Ducks, Snipe, Lapwing and more Grey Partridge. I then got into the car and went to an area known to me as the Holkham Triangle, plenty of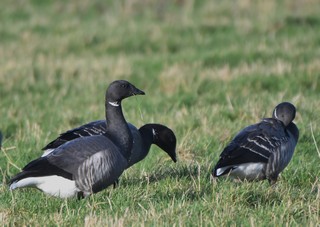 birds seen especially Raptors such as Kestrel, Buzzard and Red Kite.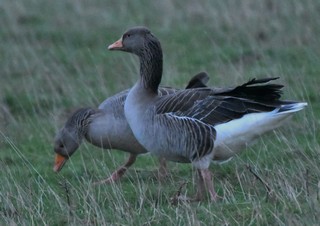 Also saw 4 Common Crane flying randomly over fields, sadly a bit too far for a picture. Such a great sight to see these birds in flight, looking forward to seeing more of these in Devon!
After a bit of rain I went to Snettisham at dusk to see Geese coming in to roost for the night, stunning views of thousands of Geese filling up the sky, both Pink Footed and Greylags, amazing sight!
Up early to go to Cley for a walk around the reserve, on route I popped into Wells to see if the Short Eared Owl or the Rough Legged Buzzard were showing, sadly not but a Barn Owl was hunting around the Car Park. I had been told to go to the car park instead of the advertised double gates on the road because while you got good views of it flying, it often came and sat down on some bushes behind the Car Park and it was surprising the amount of other birds around this area, already talked about the Owls but also Geese, Grey Heron, Kestrel, Gulls and numerous small birds such as Sparrow, Robin and Song Thrush.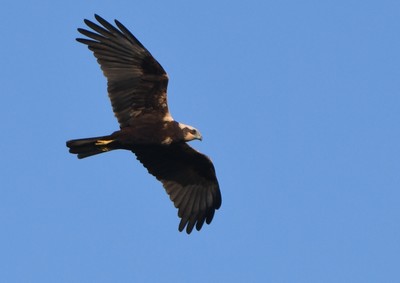 Arrived at Cley but before walking around the reserve, visited their visitor centre and enjoyed a Coffee and Bacon Sarnie which just set me up for the walk around the reserve.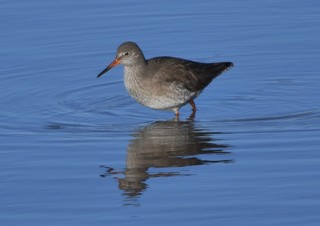 The walk at Cley was interrupted by visits to 4 of the 5 hides, birds were scarce and spread out over the reserve. Plenty of Geese flying over, Greylag, Brent and Pink Legged flying with 4 Bean Goose on a scrape sadly too far for a pic, plenty of Ducks, Lapwings, Avocets and singles of Curlew and Redshank.
The best though was a Marsh Harrier fly over my head and did a circuit around the marsh close by, great to watch this stunning bird, worth getting cold for!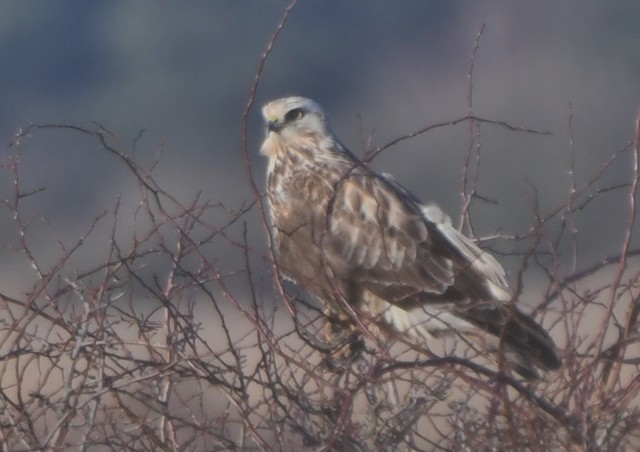 On the way back I popped into Wells again and got lucky with the Rough Legged Buzzard who was sat on a bush making it easy to get a picture, stunning bird.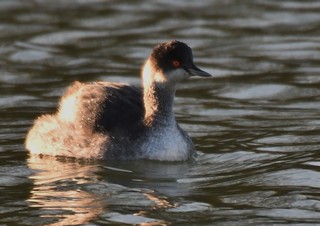 I went to Holkham Lake to look for the Black-headed Grebe which had been reported, first time I had walked around here and enjoyed the experience. Free car park and great to walk around the Park, plenty of mature Trees, great lake and cafe if you feel the need to eat. Apart from the Grebe that showed very well, there was a good selection of Ducks, Great Crested Grebe and a Great White Egret on the far bank, the park land had Fallow Deer running around making it a very pleasant walk!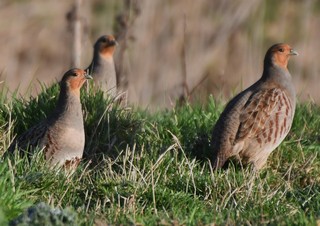 I had a early start for a Sunday to go to Holkham Gap but when I arrived it was already getting busy, this is the 2nd visit for this trip to try and see the Shore Larks. As I arrived at the roped off area 5 Shore Larks flew in to join the 30+ Snow Buntings in the middle of the area, unfortunately a little too far for a picture. But on my return to the car several Grey Partridge were very close, too busy calling to each other to be worried about me!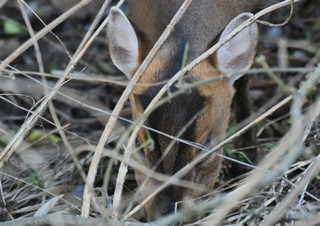 I visited Thornham Harbour twice to see the Twite but there was humans every where but no Twite, will try again tomorrow when it is quieter. Also went to RSPB Tichwell for a look around, again very busy with people out for a walk in the sun and why not. Had a bit of a shock when while looking at a Water Rail in one of the ditches when a Muntjac stuck its head up just 6 feet away, tame as anything.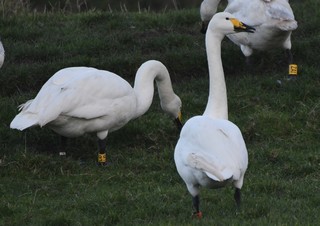 Spent today catching up on things and places I wanted to visit, started at Welney which was flooded and the main hide was the only one open due to the flood water, Welney is the catchment area for 3 counties. Lots of Ducks and few Swans on view, some Whooper but no Bewick Swans who had all flown off to the fields before I was able to get to the hide. Lots of Pochards a few Mallard, Tufted and Pintail were on view.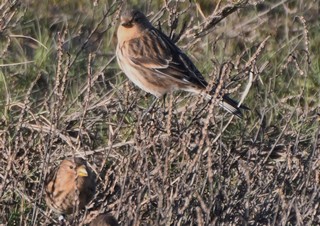 I then went to Thornham Harbour to try a third time to see the Twite, success plus Linnet, Snow Bunting and all the usual waders you would expect to see around the mud flats.
Then off to RSPB Snettisham for a walk around to finish the week off, the tide was in but not a high one. Lots of Waders, Knott, Curlew, Dunlin, Redshank, Grey Plover and best of all a couple of Sanderling. Lots of Greylag and Ducks, best of all some Golden Eye.
Met so many great humans this week, found everybody helpful and happy to pass on any info on where to see things. With the weather playing ball its been a great week!
---
15 January 2020
Slimbridge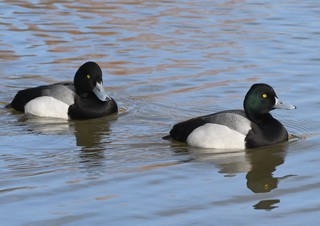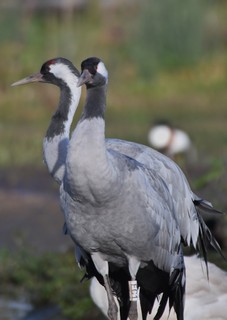 I stopped off at Slimbridge today while on route to Norfolk. I find it easier to break the journey up these days and really enjoyed the day.
The weather wasn't the best with some heavy showers, a visit to the hides didn't bring much on the day with Waders but did see some Godwits and Avocets on one of the pools.
Obviously plenty of birds to see and was good to see them up close and also seeing both birds like Scaup and lesser Scaup so you can see the difference.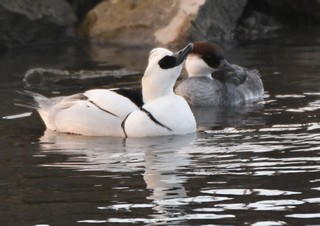 Lots of Humans about and all seem in a happy place especially the kids splashing in the pools!
---
14 January 2020
Dorset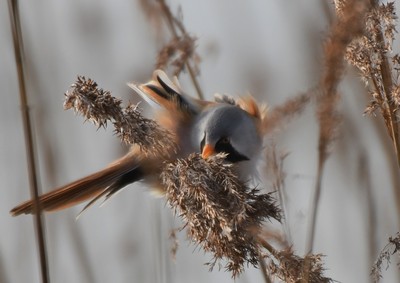 I spent a couple of days in Weymouth and an afternoon around the fields at the base of Maiden Castle close to Dorchester. I didn't go to Portland as I wanted to spend my time at the Castle, RSPB Lodmoor and Radipole.
I wanted to see if I could get some decent pics of the Bearded Tits at Radipole, its always been a good spot for me and have been quite successful over the years.
I was wary though as they had started to ring the Bearded Tits and think the coloured rings look awful on them, haven't we ringed enough birds now??
There were also reports of Scaup and Gargany at Lodmoor, I also wanted to catch up with the Corn Buntings at the Castle. Well I had a 50-50 success with Bearded Tits photos and views of a distant Scaup but I couldn't locate the Gargany.
Sunday afternoon I searched all around the castle and surrounding fields, but no luck on the Buntings.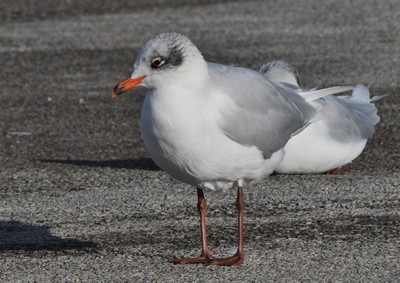 Too be fair it has always been hit and miss over the years, plenty of Linnets, Meadow Pipits, Starlings and Pied Wagtails. Good excuse for another visit as I love walking around Maiden Castle, its such an inspiring place, a good place to sit on the huge banks and reflect and watch the world go bye!
I also saw a few distant Marsh Harriers, plenty of Mediterranean Gulls especially on the car park, also Common, Black-headed, Herring and Great-black Backed Gulls, Grey Heron, Moorhen, Coot, Mallard, Teal, Shoveler, Shelduck, Wigeon, Scaup, Tufted and Gadwell. Mute and Black Swans, Canada Geese, Woodpigeon, Carrion Crows, Jackdaw, Wren, Robin, Blackbird, Blue and Great Tits, Chaffinch, Goldfinch, Kestrel, Dunnock, Collard Dove, Feral Pigeon, Pheasant, Magpie, Lapwings, Snipe, House Sparrow, Stonechat, Cormorant and Cettis Warbler.
Lots of nice humans about, especially in the visitor centre at Radipole. Sadly Storm Brendan stopped play early, great to see the Bearded Tits again!
---
11 January 2020
All over the place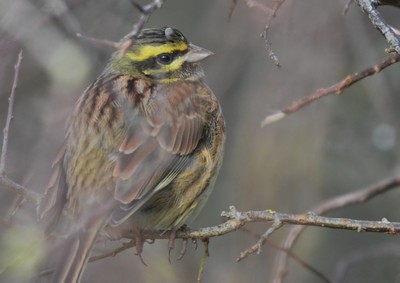 Apart from a day trip to Somerset, I ve spent most of my free time around Dawlish not going very far, in between work and bad weather I have managed to visit Stover, Yarner, Labrador Bay, Topsham, Exminster Marshes and several places along the River Exe.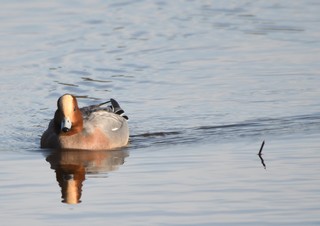 My timings have not been great for example I rocked up at Topsham and the tide was out so BGM was a bit quiet.
Plenty of Ducks about with Mallard, Tufted, Wigeon, Teal, Pochard, Shoveler and some very smart looking Pintail, unfortunately I was unable to locate the Scaup at BGM. Other water based birds seen, Moorhen, Coot, Water Rail, Grey Heron, Little Egret, Cattle Egret.
Plenty of Canada and Brent Geese as well as Greylag but missed both the Barnical, Snow and Egyptian Geese at Exminster Marshes. A few Mute Swans and a Black Swan on the Exe with plenty of Shelduck.
Lucky to see a few Raptors with Marsh Harrier at the Marshes as well as several sightings of Peregrine, Buzzard, Sparrowhawk and Kestrel.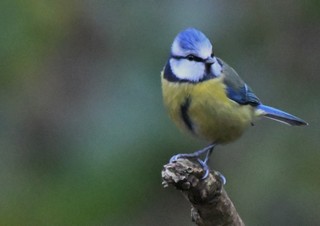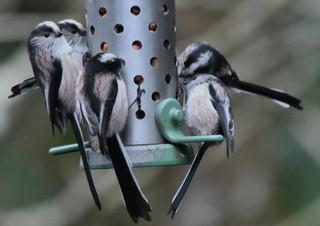 As normal plenty of Corvides seen especially Carrion Crows but also good numbers of Rook and Jackdaw, a few Raven seen as well as Magpie and Jay which were being fed at Stover.
One of the most numerous birds seen was Blue Tit, they seemed to be everywhere, also saw Great, Coal, Marsh and Long-tailed Tits. Also Wren, Dunnock, House Sparrow, Staring, Reed Bunting, Cirl Bunting, Grey and Pied Wagtails, Robin, Song Thrush, Redwing, Fieldfare, Mistle Thrush, Blackbird, Great-spotted Woodpecker, Nuthatch, Cettis Warbler, Bullfinch and Goldfinch make up the smaller birds.
Plenty of waders about, but all distant with Black and Bar-tailed Godwits, Curlew, Redshank, Greenshank, Turnstone, Dunlin, Golden Plover, Avocet and Lapwing. The usual Gulls with Black-headed being the most common seen with Herring and Great-black Backed Gulls.
Seen a few Humans about and on the whole all passed the test, although a couple had some annoying traits I wont waist any more time on them!
---
02 January 2020
Somerset Levels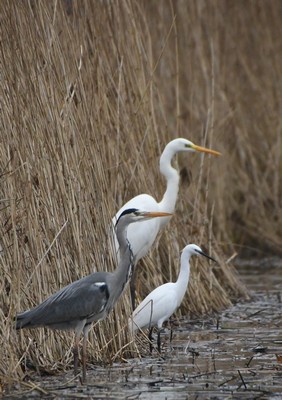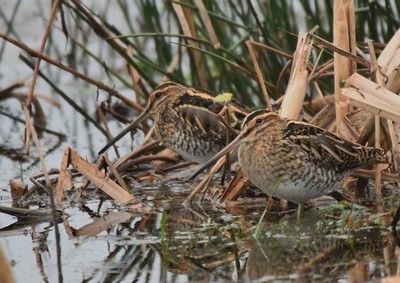 I have been wanting to go up to the Levels for sometime but life keeps getting in the way, but today I made it!
I arrived at Greylake at first light, a bit grey but not raining which was the most important thing, the paths to the hide were flooded and I was pleased I had my wellies in the car!
Plenty of birds about, but they were spread out over the water, every so often there would be a "Bang" which was a bird scarer on a near bye farm, it would put some birds up but most ignored it, in fact even when some Marsh Harriers came over they didn't move ether.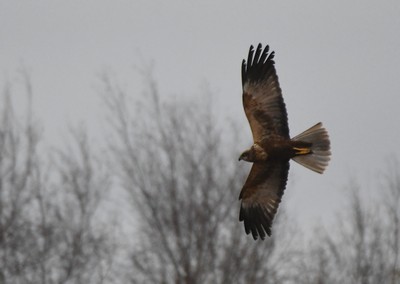 On the water there was Mute Swans, Gadwall, Wigeon, Teal, Shoveler, Mallard, Coot, Moorhen, Black-headed and Herring Gulls. Plenty of Carrion Crows and Jackdaws about, Blackbird, Dunnock, Woodpigeon, Magpie, Robin, Starling, House Sparrow, Chaffinch, Reed Bunting, Blue and Great Tits, Cettis Warbler, Lapwing, Collard Dove and Snipe!
I then went to Catcott Lows and was expecting there to be more birds than there was, only Lapwing, Kestrel, Mute Swan, Canada Geese, Shoveler, Wigeon, Teal, Mallard, Grey Heron, Starling and some very smart Pintail which were sadly too far away for pic.
After a bacon sarnie at the Avalon Centre I went to Ham Wall for a really nice walk around, plenty of water birds and treated to a Marsh Harrier close up. I also had a Great White Egret, Grey Heron and Little Egret stood close together which was a treat!
Also saw Wigeon, Teal, Tufted, Gadwall, Mallard. Shoveler, Coot, Moorhen, Great-crested Grebe, Mute Swan, Canada Geese, Black-headed Gulls, Cormorant, Cettis Warbler, Wood Pigeon, Great, Blue and Long-tailed Tits, Chaffinch, Blackbird, Robin, Dunnock, House Sparrow and Collard Doves.
Also met lots of very nice humans, even the drive up and back was idiot free, brilliant day out!
---
© Simon Thurgood 2022
Images on this website may not be put as any part of any collection without any prior written permission.