Blog
28 January 2017
Dartmoor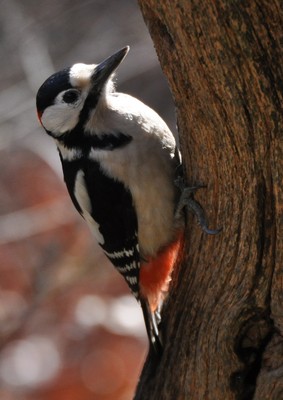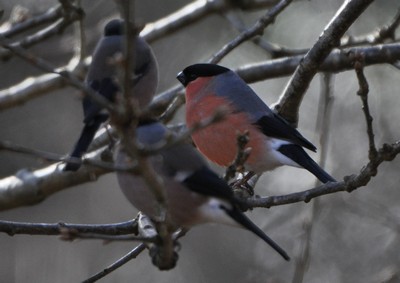 Today was supposed to be a nice day so thought I would spend the morning at Yarner looking for the Lesser Spotted Woodpecker and in the afternoon I would go to Soussons and go looking for some Crossbills, well that was the plan. Off to Yarner early and the weather was great with some sun and not much wind, plenty of birds about especially around the feeders both at the pond and the higher hide. Surprised to see the pond empty because was looking forward to seeing the Mandarin Ducks but they were all gone, learnt later that there is a big leak and all the water drained out, apparently its going to cost a lot of money to fix?
Anyway back to the birds, Great, Blue, Coal and Marsh Tits, Siskins, Robin, Blackbird, 2 pairs of Bullfinches, 2 Great Spotted Woodpeckers, Nuthatch, Raven, Chaffinch and Wren. I walked around the reserve but was unable to find a LSW but they are difficult to see and always a good excuse to go back for a look.
Off To Soussons for the afternoon but typically storm clouds came and it pored down so decided to drive around the lanes to see what's about, saw Kestrel, Buzzard, Carrion Crow, Magpies, Woodpigeon, Blackbird, Robin, Herring Gulls on the fields, Several large flocks 40+ of Fieldfare and several smaller flocks of Redwing and some Stonechat on the gorse.
Met some nice people today, met Ian Tonkin (hope that's how you spell it?)in the top hide at Yarner which was nice and others around the place which always makes the day better!
---
21 January 2017
Somerset Levels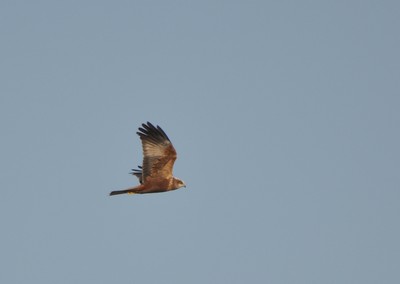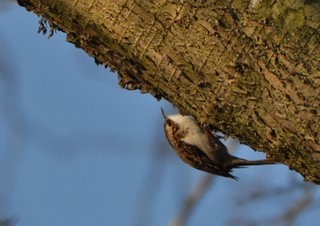 Haven't been up to the Levels for some time, it was going to be cold but clear and sunny so off I went.
Originally going to visit four reserves, Shapwick, Ham Wall, Catcott and Greylake. Didn't get to Ham Wall as I ran out of time and it was silly to think I was ever going to make it!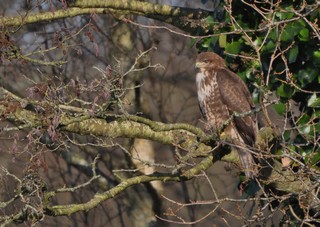 At Shapwick lots of people were out on the road next to the carpark looking for the Firecrest and I spent 5 minuets looking but didn't have time to stay so off around the boardwalk I went. Lots of small birds about hunting for food the best being a Treecreeper. Then on up the path towards Noah's and the lagoons were frozen over with the exception of an area were a lot of the ducks had collected. On of my Favourite birds show itself and another came up to join it, a Marsh Harrier! Stunning bird but never comes close, still great views of the pair of them.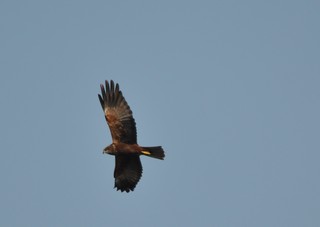 Also saw Buzzard, Sparrowhawk, Mute Swan, Great White Egret, Mallard, Tufted Duck, Teal, Widgeon, Gadwall, Shoveler, Pochard, Coot, Herring and Black-headed Gulls, Stonechat, Starling, Blackbird, Blue, Great and Long-tailed Tits. Possible "pings" of Bearded Tits by Noah's, Bittern, Jay, Magpie, Carrion Crow, Jackdaw, Rook, Goldcrest, Cettis, Chaffinch, Robin and Wren.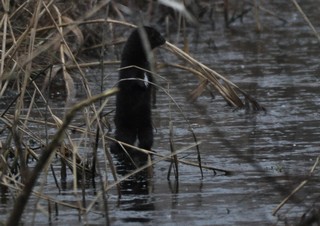 Off to Catcott and again the water was frozen with all the ducks huddled in the middle with what looked like Pintail, Shoveler, Mallard, Widgeon and Teal. There may have been others but I couldn't see them. A Marsh Harrier appeared and took on some Corvides, looked like rooks, Mute Swans, Wood Pigeon and Pied Wagtail. A couple of Roe Deer were the other interest onsite.
At Greylake there was plenty of action around the car park with the feeders and surrounding fields with Redwing, Fieldfare, Lapwing, Reed Bunting, Starling, Blackbird, Chaffinch, Dunnock, Blue and Great Tits, Robin and Wren. In the ditches there was a few Water Rail and Moorhen, A few ducks about but mainly Shoveler, Teal, Mallard and Pintail, probably more but I could see them.
I did see a very bold Mink! stood on the ice, it was a bit dark by this time so the picture not great but still a surprise!
---
20 January 2017
Hudsonian Whimbrel and friends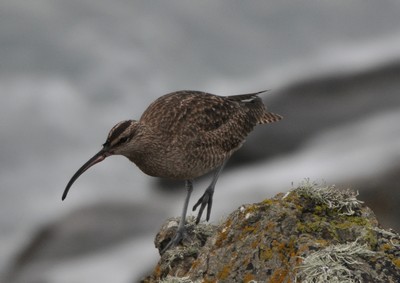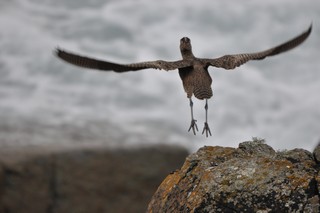 Had a couple of days owing to me so thought I would make an effort to see the Hudsonian Whimbrel at Perranuthnoe in Cornwall. It has been there for some time but on the couple of other times I had been there I had missed it. But probably not enough time spent looking for it.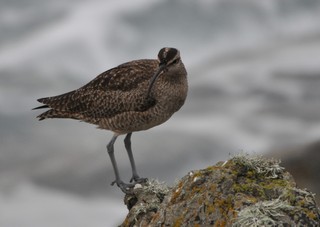 On Thursday I was there for the afternoon, it was a glorious day with brilliant sunshine and the tide was on the way out, with a bit of help from the few other birders there and we could see it on the beech, well some of the times as its camouflage was so good we kept losing it amongst the rocks. When it was visible the sun was directly behind it which was incredibly frustrating.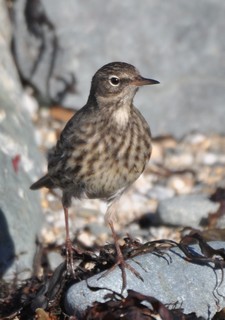 So decided to get up with the sun at and be onsite first thing today, hopefully with the incoming tide I might get lucky. I saw it a few times and thought I had blown it as when I looked through a gap in the hedge it was the other side on the rock but flew off, but not far, Steve another birder and his wife saw it on the other side of the beach and they had some good views, then it flew off and disappeared. Not happy about getting any pics I decided to stay, I must have walked past it a few times but I couldn't see it due to hits camouflage, a dog barked on the path which sent it up calling and it flew over to the place I originally saw it. This time I was a lot more carful and managed to sit down in front of it for about 10 minutes getting some great pics and also managed to get a diagnostic pic of its dark rump, a common Whimbrel has a white rump.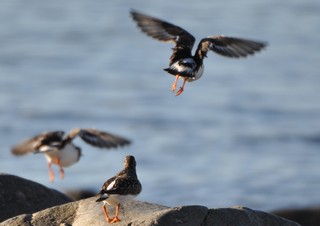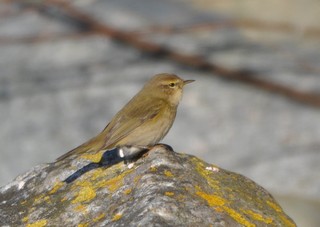 Saw tots of other birds around the beech and fields next to the path with Little Egret, Turnstones, Little and Grey Plovers, Redshank, Oystercatchers, Curlew, Cormorants, Shelduck, Herring and Black-headed Gulls, Rock Pipits, Robin Chiffchaffs, Blackbirds, Song Thrush, Starlings, Linnet, Chaffinch, Goldfinch, House Sparrows, Blue and Great Tit, Wren, Woodpigeon, Carrion Crow, Jackdaw, Magpie and Kestrel.
Good to meet Steve and his wife and many other birders and locals walking there dogs or just enjoying the view. Happy Days!!
---
15 January 2017
Waxwings and friends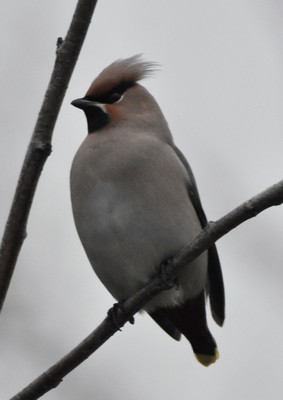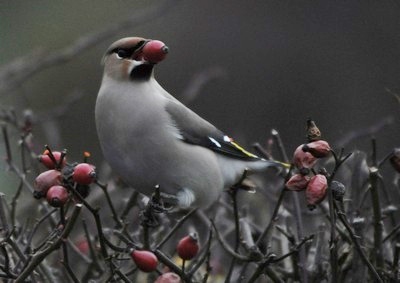 There was a report of 9 Waxwings in Exeter in the Sainsbury's car park so decided to get in there early before the place got busy with shoppers. As I arrived in the car park I saw them flying towards me and set down on a small hedge and started to eat the few remaining berries on that bush, I quickly got my camera and started to take some pics , couldn't believe my luck! They flew off to sit on a nearby tree and looked at the pictures in disbelief! I had forgot to set the proper settings and the pictures were black, What a Twat!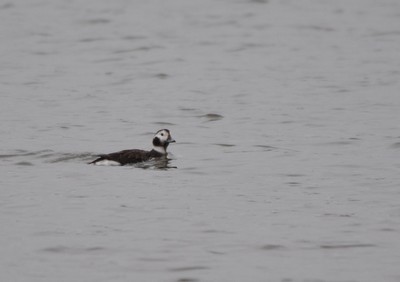 Anyway I stayed in the car which was parked up near a hedge that had berries on and waited for them to come back. There was plenty of other birders/photographer's around and they seemed to be chasing them around the car parks must to the amusement of the staff watching from the supermarket windows. Happily they came back to me and sat down on the bushes, it was still a bit dark but got off a few shots. But frustratingly a few idiots with cameras started to crowd the birds so they left the food and went back up in the trees. I shouted to one bloke to give them space and he just looked at me like I've got some mental illness! When a woman with a camera then came in the birds flew off and I left in disgust! There was No field craft, No common sense, No knowledge of the birds and that they were looking for food. Come on guys you let the likes of me down and give us all a bad name!!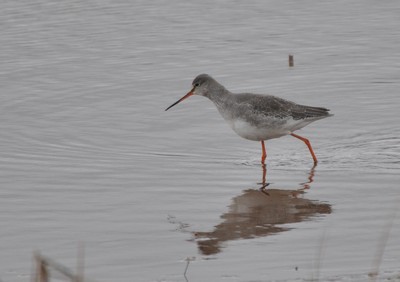 I then went off to Topsham Rec to see what was around and found plenty to see, the tide was in and the gulls were spread out with mainly Black-headed Gulls with the odd Herring Gulls, up the river there was the Long-tailed Duck and around the trees there was the Yellow Browed Warbler which was always high in the trees and like on steroids as it didn't stop still for a second. Also saw Goldfinch, Chaffinch, Dunnock, Great and Blue Tit, Pied Wagtail, Starling, Wren, Collard Dove, Woodpigeon, Cormorant and Canada Geese.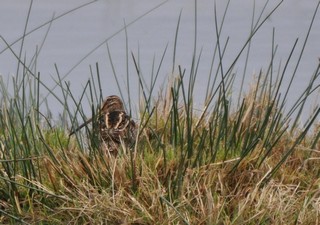 Then off to Bowling Green, didn't park in Darts Farm today but close to Goose Moor, went along to have a look here first with a Curlew nice and close with Greenshank, Redshank and Spotted Redshank showing really well, Teal, Widgeon and Mallard with a couple of Great-black Backed Gulls flying over.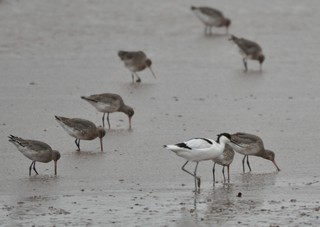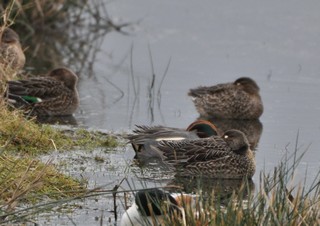 In the Reserve there was Widgeon, Shoveler, Tufted, Mallard, Teal, Moorhen, Black-tailed Godwits, Redshank, Lapwing, Snipe, Canada and Greylag Geese, Pied Wagtail, Blackbird, Robin, Great Tit, Goldfinch, Magpie, Woodpigeons, Carrion Crow and Jackdaws.
Along the road and especially by the hide with the feeding stations there was Greenfinch, Chaffinch, Dunnock, Robin, House Sparrow and Woodpigeon. Then at the Platform there was Avocets, Curlew, Black-tailed Godwits, Dunlin, Redshank, Cormorants and Shelducks.
At the Goatwalk there was great views of Avocet, Curlew, Black-tailed Godwits, Redshanks, Turnstone, Teal and Black-headed Gulls.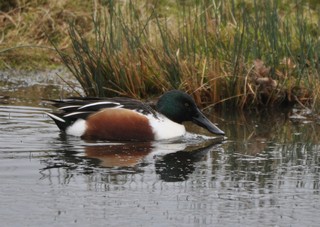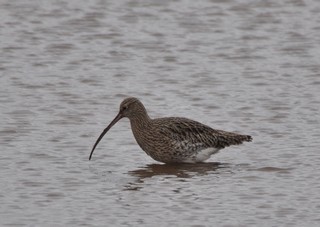 Came back the long way via Powderham and in the fields there was plenty of Pheasants, Carrion Crows, Rooks, Jackdaws and Curlew which were among the Fallow Deer in front of the house. On the River Kenn there was Widgeon, Teal and Mallard. On the other side of the train track over looking the River Exe you could see Red-breasted Mergansers, Greenshank, Redshank, Oystercatcher's, Curlew, Black-headed Gulls, Herring Gulls, Black-tailed Godwits and Carrion Crows. Then up to Starcross Golf Course were there was about 500 Brent and Canada Geese with Lapwing and Oystercatchers, Cockwood Harbour was empty of water and birds with the exception of a couple of sleeping Shelducks, then home and tea!
Good to catch up with Paul T, his wife and friends and lots of other birders and people around today which has made the day a whole lot better.

---
14 January 2017
Windy day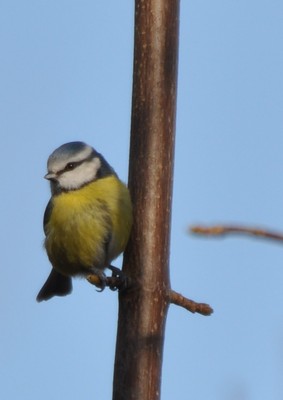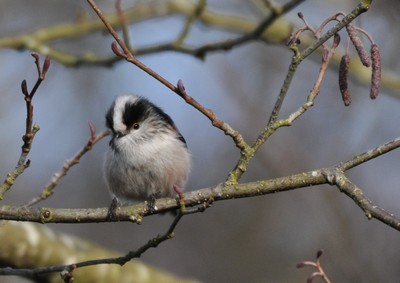 Bit of a late start today, so first stop was Dawlish Warren. To late for the high tide so kept to the entrance bushes and around the ponds. Plenty of birds about out of the wind, Blue, Great and Long-tailed Tits, Wren, Robin, Blackbirds, House Sparrows, Goldcrest, Chiffchaff, Bullfinch, Goldfinch, Chaffinch, Greenfinch, Magpie, Carrion Crow and Woodpigeon. I was hoping to see the Yellow Browed Warbler that was in the Educational area behind the pond, but sadly it didn't appear for me, but it had been seen by others earlier. In the pond there was Shoveler, Mallard and Moorhen. Lots of birders around the Warren today and good to see you all even Lee! hahaha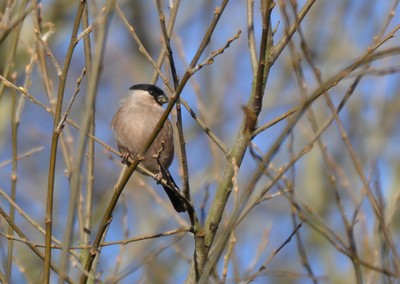 Off up the road, wanted to look at the Exe from Cockwood steps but it was already busy with people so gave that a miss and off to Cockwood harbour. The tide was out and Teal, Mallard, Black-headed Gull and Redshank on view. I drove past Starcross golf course and could see a flock of 500+ birds, mainly Dark-bellied Brent Geese but with some Canada's as well.
Off to Powderham were there was Little Egret, Pheasant, Oystercatchers and a couple of Song Thrush in the field with Teal, Widgeon and Mallard in the River Kenn, there was also 11 Shelduck in the pond in front of the house. On the other side of the train track where the outflow from the River Kenn comes out onto the River Exe there was a lot of gulls, mainly Black-headed, but Herring and Great-black Backed Gulls as well. Carrion Crows, Oystercatchers, Redshank, Curlew and Mute Swans also on view.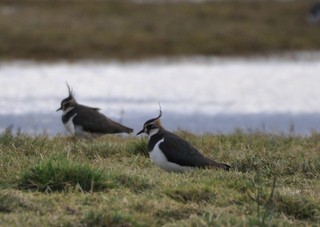 Onto Exminster Marshes, as it was getting late just stayed to the road, plenty of Widgeon although have seen a lot more, Teal, Shoveler, Tufted and Mallard. Moorhen, Coot, Mute Swan and Grey Heron. Curlew, Lapwing, Carrion Crow and Woodpigeon.
As dark started to set in I went home via the back lanes to see what was about, Pheasant, Buzzard, Carrion Crow, Jackdaw, Woodpigeon, Blackbird and Great Tits which is what you would expect to see around farmland.
A windy but good day, good to see everybody.
---
08 January 2017
Torbay Boat Trip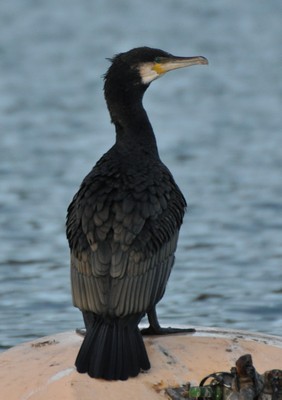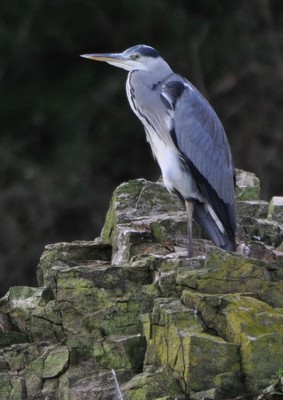 Went on a boat trip around Torbay with Nigel and 9 others, setting off from Brixham harbour the water was calm as anything, so with sunny conditions it was great!
A Black Redstart and Turnstones around the harbour was a good start, Common Seal, Cormorants, Shags, Black-headed, Herring and Great-black Backed Gulls, Rock Pipit and 2 Purple Sandpipers were seen in the harbour.
We then went off to Berry head with Guillemots and Razorbills singularly and in small groups and rafts on the water, we saw 60+ Razorbills on the day with 1000 Guillemots in total, Nigel S said there was 900+ on the cliffs the other side of Berry Head and must have been 100 on the water about the bay.
Plenty of Gannet feeding, 50+, also saw Little Egret, 10 Grey Heron, I counted 28 Fulmar and 5 Kittiwake and there could have been more, 2 Common Gull where also seen,1 Red Throated Diver flew over, singles of Great Crested and Black throated Grebes, single Common Scooter and 2 groups of Velvet (8&3). Also saw Eider Duck and Oystercatcher. Also saw the usual Peregrines who looked like they had just eaten as their crops were full.
Had a great day with a great bunch of people!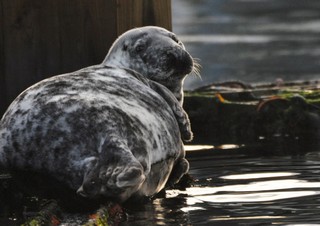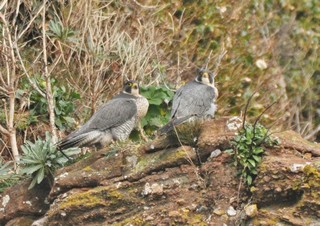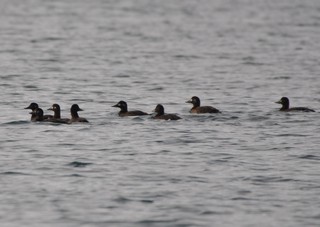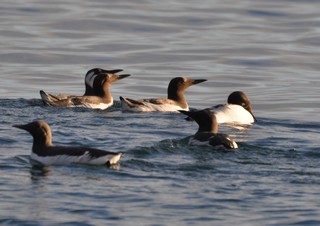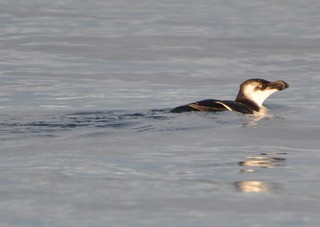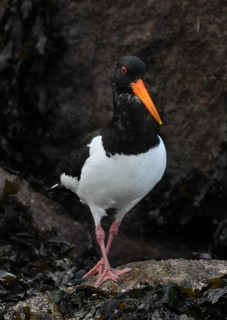 ---
07 January 2017
Around the Exe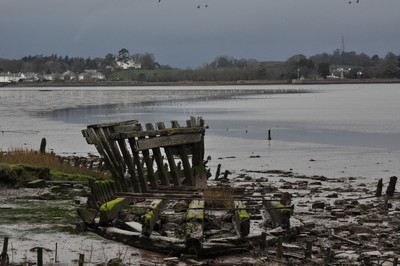 After this week, never was there a time to get out in the fresh air and go for a walk. Decided to go for a walk around Exminster Marshes, but first stopped off at Cockwood Steps, the tide was in and thought I would see more on the water but apart from the usual Slav grebe, some Cormorants and 11 Red-breasted Mergansers not a lot else. Onto Cockwood Harbour were there was Mallard, Teal, Shelduck, Mute Swans, Redshank and a single Greenshank. As I passed the Starcross golf course I could see Oystercatchers, Dark-bellied Brent Geese, Herring and Black-headed Gulls.
Stopped off at Powderham and on the River Kenn that flows through the park there was Widgeon, Teal, Grey Heron, Little Egret and Shelduck. On the surrounding fields apart from Carrion Crows, Woodpigeon there was a few Oystercatchers. Over the train track there was 100+ Black-headed Gulls at the outfall with Mallard on the water with Redshank and Greenshank on the sea wall.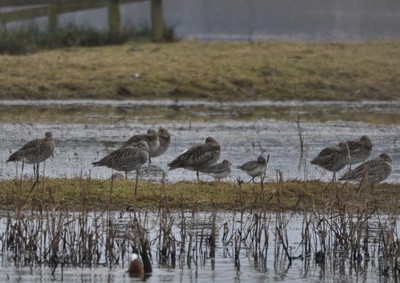 Plenty to see at Exminster, parked up at the middle carpark and walked to Turf. On the Marsh there was plenty of Widgeon and Mallard, Teal, one Pintail, Canada Geese, Greylag, Dark-bellied Geese, Curlew, Grey and Golden Plover, Knott, Dunlin, Lapwing, Godwits, Carrion Crow, Pheasants, Magpie, Blackbirds, Bullfinch, Wren, Robin, Great and Blue Tit, Grey Heron, Moorhen and Coot.
At Turf the tide was starting on its way out and Redshank and Godwits were at the waters edge looking for food, Avocets, Curlew, Teal, Dunlin, Black-Headed and Herring Gulls, Cormorants and Grey Heron.
Took the back path to the car and saw Song Thrush, Blackbird, Blue, Great and Long-tailed Tit, Greenfinch, Goldfinch, Cormorants, Mute Swans 200+ Canada Geese, Loads of Widgeon, Teal, Mallard and Shoveler.
Weather was changeable and didn't use the camera as much as I would have liked, met some other birders about and all in a happy mood, great to get out!

---
02 January 2017
Happy New Year
Happy New Year everybody! Not been able to do any birding/photos etc. due to a family crisis, my brother Tony has had a massive Heart Attack, he's stable but very ill. It kind of puts things into perspective!
Anyway Hope you all have a great 2017 whatever you are up to and see you around!
---
© Simon Thurgood 2022
Images on this website may not be put as any part of any collection without any prior written permission.