Blog
25 January 2015
Welney

On the way home to Devon I popped into the Wildfowl and Wetlands Trust at Welney, there is the odd visit from Bean Goose so I thought I would try my luck.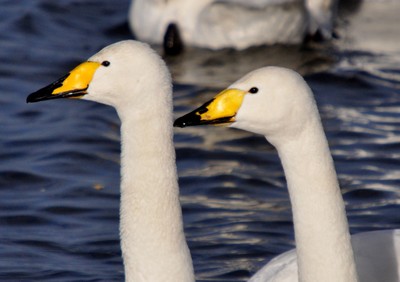 I think Welney is the best WWT site as its more like a reserve not a tourist attraction like Slimbridge!
There was still some Whooper Swans with some Juveniles and still 2 Bewicks Swans left from the wintering flock. There was also Mute Swans and Greylag Geese but sadly NO Bean Goose!!
As you would expect there was a good selection of ducks with large numbers of Mallard, Pochard and Wigeon. There was smaller numbers of Pintail, Teal, Tufted, Shoveler, Shelduck and Golden Eye.
There was about 300 Black-tailed Godwit and 50+ Dunlin around the lake with Cormorant, Lapwing, Moorhen and Coot also seen.
Other birds seen were a Barn Owl on the entrance road hunting, Kestrel, Great Tit, Wren, Dunnock, Green Woodpecker, Robin and Blackbird around the hides and paths.
Great place!
---
24 January 2015
Pink-Footed Geese and Idoits!

Later in the day I managed to find a small flock on a field close to the village of Brancaster.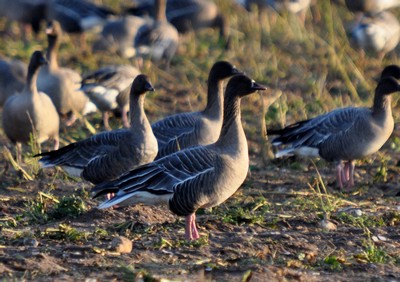 The flock soon grew as more birds flew in and when I left there must have been 3000+ birds.
I was surprised that they stayed around after a few idiots flushed them while trying to get a better view or to get a better picture. There was talk that there was a couple of Bean Goose in the flock and people were trying to get closer and all they did was make them fly!
There is no excuse for this type of behaviour but sadly we see it more and more.
---
24 January 2015
Early Start at Snettisham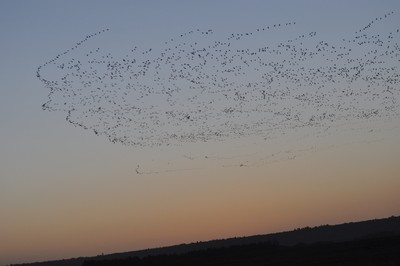 Up early and the road seemed very busy for that time in the morning, I then realised that everybody was going to the same place as me!
Thankfully I was ready to go so parked on the verge and walked straight to the path. There was so many people that there was a continuous line from the car park to the beach.
The Pink-fotted Geese had started to fly by the time I got to the beach and although the sun had not come up yet it was light enough to see the first wave of nearly 1000 birds. The noise was eiree! I walked to the far end to get the best views.
Wave apon wave of Geese flew over and you can see why its called a "spectacle".
Another magical moment was the small flocks of Knot flying over my head and in between the groups of people on the bank,the noise as they shot over was fantastic!
---
23 January 2015
Burnham Overy Staithe

I went hear today after hearing that there was Rough Legged Buzzards here.
I parked up in the harbour and walked along the sea defences as advised,it was cold but clear conditions and plenty of birds!
In the harbour the tide was out showing plenty of Waders, Redshank, Curlew, Oystercatchers, Ringed Plovers, Black-tailed Godwit, Knot, Dunlin and 100s of Black-bellied Brent Geese continually flying back and fro around the marsh.
Herring Gull, Black headed Gull, Mallard, Shelduck, Large numbers of Wigeon, Little Egret and Mute Swans.
A nice selection of Raptor's with Kestral, Red Kite, Marsh Harrier, Common Buzzard and Rough Legged Buzzard at a distance. It was pointed out by a couple of other birders who were 100% sure it was a Rough Legged, my first!!!!
---
23 January 2015
Snettisham

I wanted to get to Snettisham early to see the spectacular views of the Geese flying from the Wash to find food on land.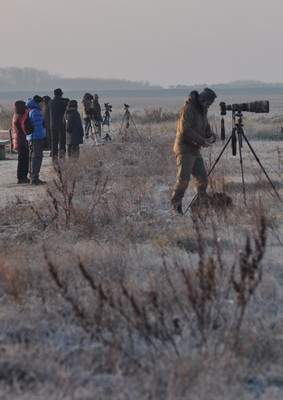 But I arrived a bit late as all the Pink-Footed Geese where flying over the car park.
By the time I got to the beach there was only a few stragglers flying over.
I was though in time to see the Knot, there must have been a Million+ birds, a bit far to get some decent pics but you hear the noise of there wings, just fantastic!
There was also 1000's of Gulls, apart from Pink foots there was Greylegs and Canada Geese.
Large number's of Ducks on the Wash, Mallard,Shielduck, Wigeon and Golden Eye also around the lakes.
100+ Linnet,500+ Fieldfare split into smaller flocks.
Also seen where Goldcrest, Robin, Blackbird, Pied Wagtail, Lapwing, Wren, Greenfinch, Coot, Magpie, Little Grebe and Cormarent.
A smart pair of Mergansers showed very well in front of a hide.
There was a few Waders with Redshanks, Dunlin and a couple of Curlew.
Must come again tomorrow but earlier!!
---
22 January 2015
Grey Partridge

After a bit of walking and showing some patience I found some Grey Partridge, 12 in total!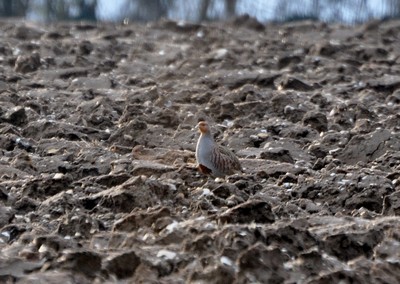 I haven't seen one for 40+ years and it was good to see so many in one place.
Holkham Estate has won awards for the work they have done in conserving the birds. It was though very difficult to get close to take a picture as they were very nervous, the estate was having a shoot and the guns were going off all the time.
Must get back and try and get some better picks when its a bit brighter!
The day ended well!!
---
22 January 2015
Shore Lark frustration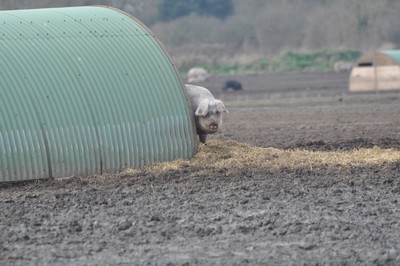 I went to Covehethe Broad in Suffolk to see the 3 Shore Larks.
After parking up next to the ruined church I walked down to the beach walking past loads of pigs having a great time in the mud!
Plenty of small birds,Robins, Blackbirds, House Sparrows, Blue and Great Tits, Chaffinch and Woodpigeon.
When I nearly got to the beach I met another birder who told be the Larks were there but had been frightened off by some dogs and flew north.
This would have been my 4th attempt and is so frustrating!!!
I continued to the beach with a hope they would come back but sadly no!
In the lake by the beach there was over 1000+ Gulls mostly Black headed Gulls but also some Great-black Backed Gull and possible Lesser-blacked Backed Gulls.
A few Ducks, Mallard, Gadwall and Golden Eye. Also a single Red headed Smew which was good to see.
A few disappointed birders live to fight another day!
---
21 January 2015
Norfolk\ Titchwell

Iam in Norfolk for a few days doing some birding. This afternoon I paid a quick visit to Titchwell.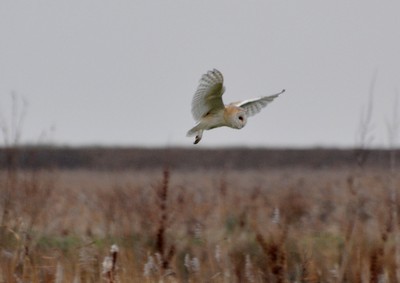 I don't think I've ever come here when its warm, and today was no exception!
But the amount of birds certainly made up for it!
Around the visitor centre there was plenty of woodland birds especially around all the feeders.
There was Blue, Great and Long tailed Tits, Greenfinch, Goldfinch, Bullfinch, Chaffinch,Woodpigeon,Robin, Blackbird and loads of Moorhens picking up seeds under the feeders!
The Marsh is split into 3 lagoons, 1 Freshwater and the other 2 Tidal.
The 1st one was a iced up but enough for plenty of Ducks to be there. Mainly Teal and Mallard,but also a few Avocets which was great to see.
On the tidal lagoons there was plenty of Waders, Redshank,Curlew,Bar-tailed and Black-tailed Godwits,Ringed Plover, and Oystercatcher.
Plenty of Ducks with Mallard, Teal,Shoveler, Pintail and a single Tufted Duck.
Moorhen, Coot, Little Egret, Shelduck, Little Grebe, and more Avocets all seen.
Water Pipit and Water Rail,Great black Backed Gull, lots of Black headed Gulls,Magpies,Large flock of Dark bellied Geese flew over making a racket!
One of the best sights was a hunting Barn Owl! Just stunning!
Also great to see so many happy people😁
---
11 January 2015
Penduline Tit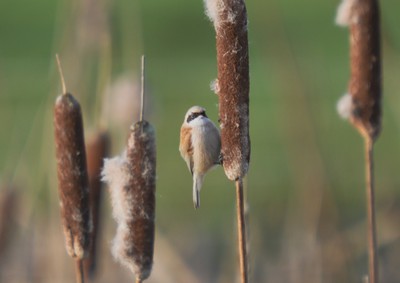 Finally after several visits to Darts Farm in Topsham, managed to see these beautiful little birds.
There was two of them on view with another hiding in the reeds, the two put on a good show in the reed mace.
Also good to see so many old faces I hadn't seen in a while.
---
© Simon Thurgood 2022
Images on this website may not be put as any part of any collection without any prior written permission.