Blog
25 January 2015
Welney

On the way home to Devon I popped into the Wildfowl and Wetlands Trust at Welney, there is the odd visit from Bean Goose so I thought I would try my luck.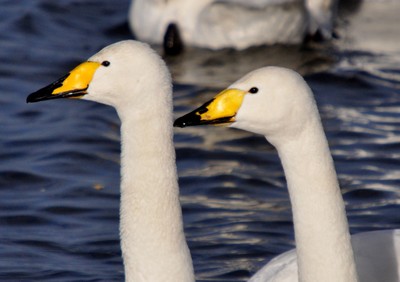 I think Welney is the best WWT site as its more like a reserve not a tourist attraction like Slimbridge!
There was still some Whooper Swans with some Juveniles and still 2 Bewicks Swans left from the wintering flock. There was also Mute Swans and Greylag Geese but sadly NO Bean Goose!!
As you would expect there was a good selection of ducks with large numbers of Mallard, Pochard and Wigeon. There was smaller numbers of Pintail, Teal, Tufted, Shoveler, Shelduck and Golden Eye.
There was about 300 Black-tailed Godwit and 50+ Dunlin around the lake with Cormorant, Lapwing, Moorhen and Coot also seen.
Other birds seen were a Barn Owl on the entrance road hunting, Kestrel, Great Tit, Wren, Dunnock, Green Woodpecker, Robin and Blackbird around the hides and paths.
Great place!
---
24 January 2015
Pink-Footed Geese and Idoits!

Later in the day I managed to find a small flock on a field close to the village of Brancaster.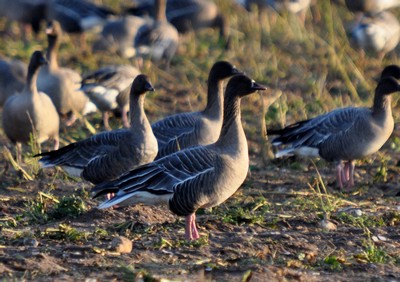 The flock soon grew as more birds flew in and when I left there must have been 3000+ birds.
I was surprised that they stayed around after a few idiots flushed them while trying to get a better view or to get a better picture. There was talk that there was a couple of Bean Goose in the flock and people were trying to get closer and all they did was make them fly!
There is no excuse for this type of behaviour but sadly we see it more and more.
---
24 January 2015
Early Start at Snettisham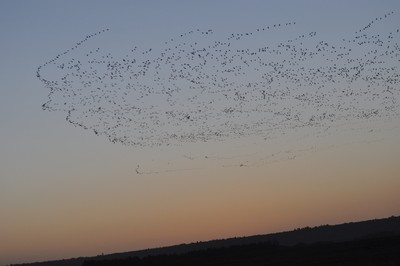 Up early and the road seemed very busy for that time in the morning, I then realised that everybody was going to the same place as me!
Thankfully I was ready to go so parked on the verge and walked straight to the path. There was so many people that there was a continuous line from the car park to the beach.
The Pink-fotted Geese had started to fly by the time I got to the beach and although the sun had not come up yet it was light enough to see the first wave of nearly 1000 birds. The noise was eiree! I walked to the far end to get the best views.
Wave apon wave of Geese flew over and you can see why its called a "spectacle".
Another magical moment was the small flocks of Knot flying over my head and in between the groups of people on the bank,the noise as they shot over was fantastic!
---
23 January 2015
On the road back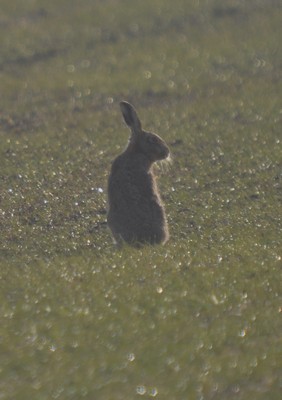 Lucky to come across 1000+ Pink footed Geese by the road, a joy to watch!
While I was driving past a wooded patch I was confronted by a Muntjac Deer in the middle of the road, sadly it moved before I could get the camera as it would have been a good picture.
Also saw plenty of Brown Hares, Red legged Partridges as well as a few Grey Partridges which finished off a great day!
---
23 January 2015
Burnham Overy Staithe

I went hear today after hearing that there was Rough Legged Buzzards here.
I parked up in the harbour and walked along the sea defences as advised,it was cold but clear conditions and plenty of birds!
In the harbour the tide was out showing plenty of Waders, Redshank, Curlew, Oystercatchers, Ringed Plovers, Black-tailed Godwit, Knot, Dunlin and 100s of Black-bellied Brent Geese continually flying back and fro around the marsh.
Herring Gull, Black headed Gull, Mallard, Shelduck, Large numbers of Wigeon, Little Egret and Mute Swans.
A nice selection of Raptor's with Kestral, Red Kite, Marsh Harrier, Common Buzzard and Rough Legged Buzzard at a distance. It was pointed out by a couple of other birders who were 100% sure it was a Rough Legged, my first!!!!
---
23 January 2015
Snettisham

I wanted to get to Snettisham early to see the spectacular views of the Geese flying from the Wash to find food on land.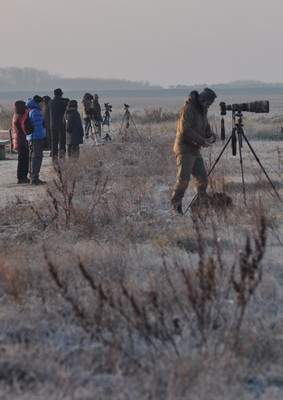 But I arrived a bit late as all the Pink-Footed Geese where flying over the car park.
By the time I got to the beach there was only a few stragglers flying over.
I was though in time to see the Knot, there must have been a Million+ birds, a bit far to get some decent pics but you hear the noise of there wings, just fantastic!
There was also 1000's of Gulls, apart from Pink foots there was Greylegs and Canada Geese.
Large number's of Ducks on the Wash, Mallard,Shielduck, Wigeon and Golden Eye also around the lakes.
100+ Linnet,500+ Fieldfare split into smaller flocks.
Also seen where Goldcrest, Robin, Blackbird, Pied Wagtail, Lapwing, Wren, Greenfinch, Coot, Magpie, Little Grebe and Cormarent.
A smart pair of Mergansers showed very well in front of a hide.
There was a few Waders with Redshanks, Dunlin and a couple of Curlew.
Must come again tomorrow but earlier!!
---
22 January 2015
Grey Partridge

After a bit of walking and showing some patience I found some Grey Partridge, 12 in total!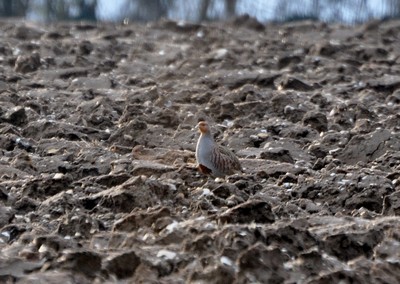 I haven't seen one for 40+ years and it was good to see so many in one place.
Holkham Estate has won awards for the work they have done in conserving the birds. It was though very difficult to get close to take a picture as they were very nervous, the estate was having a shoot and the guns were going off all the time.
Must get back and try and get some better picks when its a bit brighter!
The day ended well!!
---
22 January 2015
Shore Lark frustration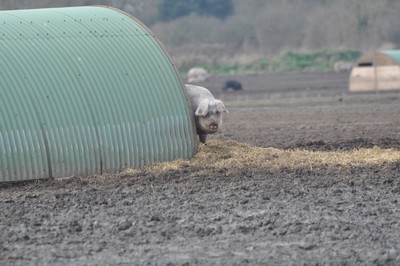 I went to Covehethe Broad in Suffolk to see the 3 Shore Larks.
After parking up next to the ruined church I walked down to the beach walking past loads of pigs having a great time in the mud!
Plenty of small birds,Robins, Blackbirds, House Sparrows, Blue and Great Tits, Chaffinch and Woodpigeon.
When I nearly got to the beach I met another birder who told be the Larks were there but had been frightened off by some dogs and flew north.
This would have been my 4th attempt and is so frustrating!!!
I continued to the beach with a hope they would come back but sadly no!
In the lake by the beach there was over 1000+ Gulls mostly Black headed Gulls but also some Great-black Backed Gull and possible Lesser-blacked Backed Gulls.
A few Ducks, Mallard, Gadwall and Golden Eye. Also a single Red headed Smew which was good to see.
A few disappointed birders live to fight another day!
---
21 January 2015
Norfolk\ Titchwell

Iam in Norfolk for a few days doing some birding. This afternoon I paid a quick visit to Titchwell.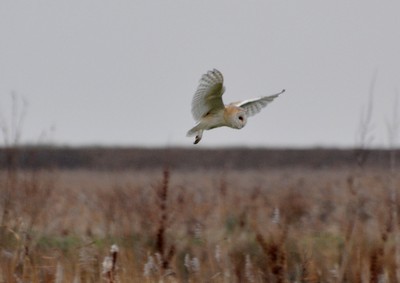 I don't think I've ever come here when its warm, and today was no exception!
But the amount of birds certainly made up for it!
Around the visitor centre there was plenty of woodland birds especially around all the feeders.
There was Blue, Great and Long tailed Tits, Greenfinch, Goldfinch, Bullfinch, Chaffinch,Woodpigeon,Robin, Blackbird and loads of Moorhens picking up seeds under the feeders!
The Marsh is split into 3 lagoons, 1 Freshwater and the other 2 Tidal.
The 1st one was a iced up but enough for plenty of Ducks to be there. Mainly Teal and Mallard,but also a few Avocets which was great to see.
On the tidal lagoons there was plenty of Waders, Redshank,Curlew,Bar-tailed and Black-tailed Godwits,Ringed Plover, and Oystercatcher.
Plenty of Ducks with Mallard, Teal,Shoveler, Pintail and a single Tufted Duck.
Moorhen, Coot, Little Egret, Shelduck, Little Grebe, and more Avocets all seen.
Water Pipit and Water Rail,Great black Backed Gull, lots of Black headed Gulls,Magpies,Large flock of Dark bellied Geese flew over making a racket!
One of the best sights was a hunting Barn Owl! Just stunning!
Also great to see so many happy people😁
---
18 January 2015
Yarner Woods

On a beautiful clear day, I cant think of a better place to go than Yarner Woods!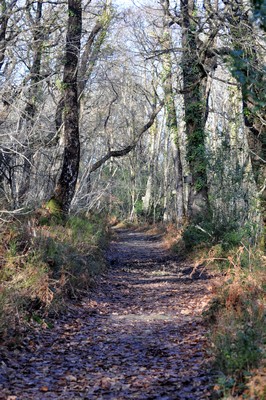 To those of you who don't know Yarner, its on the edge of Dartmoor and the wood is renowned for its towering stands of ancient oak woodland, it also has a big area of Silver Birch.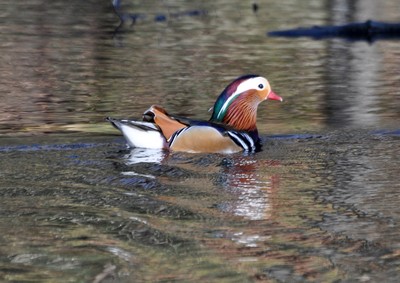 The wood is famous for Pied Flycatcher, Wood Warbler which you would see in April-June and Lesser Spotted Woodpeckers you can find with a bit of patience all year, although it is easier in the winter as there are no leaves!
In the winter there is still plenty of birds. When you park up you are next to the Pond Hide, there are plenty of feeders here and they were busy with Blue, Great and Coal Tits. Also visited by Nuthatch, Great Spotted Woodpecker and Chaffinch.
On the pond there was 3 Male and 1 Female Mandarin Ducks-beautiful birds!
Then a walk up to the Yarner Hide which is in the woods, it has 4 feeders which were full of birds, Blue, Great, Coal and Marsh Tits. Also Chaffinch, Nuthatch and Robins trying to get in on the act.
Around the paths there was plenty of Nuthatch and a couple of Great Spotted Woodpeckers, Treecreeper, Great, Blue and Coal Tits, Blackbirds, Magpie, Chaffinch, Wren, Robin, Lesser Redpoll and Raven.
Nice to bump into Mark Dyer and his misses.
---
17 January 2015
Powderham to Turf Lock on River Exe

After watching the Snow Bunting I walked up to Turf Lock.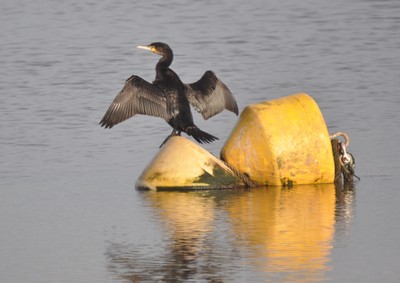 Along the sea wall there was a Pied Wagtail virtually every 20ft!
Also along the path there was Meadow Pipits, Robin, Dunnock, Stonechat and Blackbird.
20 Canada Geese flew over and on the fields there was Dark-bellied Brent Geese, A Buzzard sat in a tree, Oystercatchers, Lapwings and several small flocks of Curlew totalling about 150 birds.
In the estuary there was Shelduck, Little Egret, Cormorants, several Redshanks, A single Greenshank, 50+ Avocets, 300+ Black-headed Gulls sat on waterside, singles of Brent and Canada Geese.
Around Turf there was plenty of small birds, Robin, Blue Tits, Blackbirds, Chaffinch and a couple of Woodpigeon.
---
17 January 2015
Snow Bunting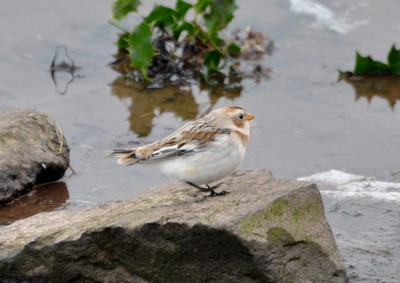 Went to see the Snow Bunting close to Powderham by the new bridge.
Quite tame and allowing everybody to get a good look, the only thing that made it move was a train.
Good to meet a group of birders from the "New Forest" who had popped in on the way to Dawlish Warren.
---
17 January 2015
Exminster Marshes

Walked around the top half of the marshes as due to flooding the area close to the middle carpark was flooded.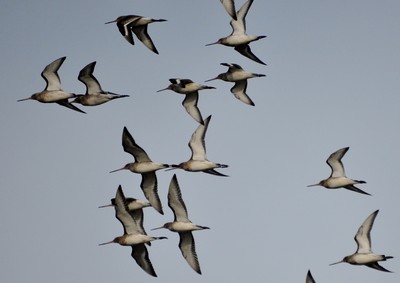 Plenty of birds about and in large numbers.
500+ Dark-bellied Brent Geese flew over, it looked like they came from Darts Farm, the flew over and later returned in smaller flocks. Probably pushed off the estuary by the incoming tide.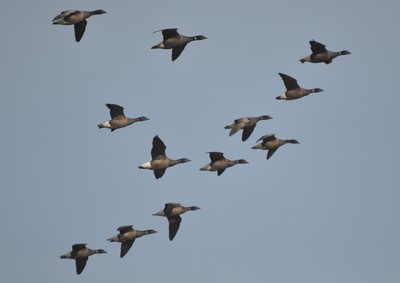 300+ Golden Plovers in field close to canal road with large numbers a of Lapwings.
Plenty of Ducks with a minimum of 1000 Wigeon with good numbers of Teal, Shoveler, Mallard and a pair of Tufted Ducks.
"30-40 Canada Geese with a few Mute Swans, Coot and Moorhen as well.
A flock of about 100 Black-tailed Godwit, a few Curlew and the odd Oystercatcher and Redshank on water edges of the scrapes.
A Sparrowhawk chasing Starlings caused a bit of panic, other small birds were Wren, Stonechat, Blackbird, Robin, Blue and Great Tit.
Herring Gull, Grey Heron, Woodpigeon, Magpie and Carrion Crow all seen.
Great to see Gray Clements and have a chat!
---
11 January 2015
Aylesbere Common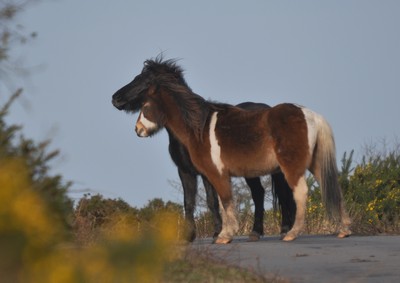 I went to Aylesbere to see the Shrike and some Dartford Warblers. It was a sunny but breezy day, just right for a walk!
The ponies were close to the road which was a surprise but they looked safe enough. The birds though were missing and after doing two circuits I only saw Stonechat, Robin, Blackbird, Wren, Carrion Crow, Green Woodpecker, and a very brief glimpse of a Dartford Warbler.
In the sky was a couple of Herring Gulls and a Buzzard loafing about. 100+ Woodpigeon flying over was the biggest number of birds seen.
A Sandpiper sp. was flushed as I walked part the pond but it was to quick for me to positively ID.
---
11 January 2015
Penduline Tit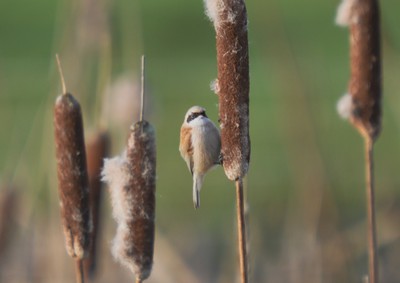 Finally after several visits to Darts Farm in Topsham, managed to see these beautiful little birds.
There was two of them on view with another hiding in the reeds, the two put on a good show in the reed mace.
Also good to see so many old faces I hadn't seen in a while.
---
10 January 2015
Exminster Marshes

It was very windy and grey day today so I went to Exminster Marshes with the hope of taking some pictures of the Golden Plover that had been seen on the Marsh, yesterday it was reported that up to a 1000 birds were present.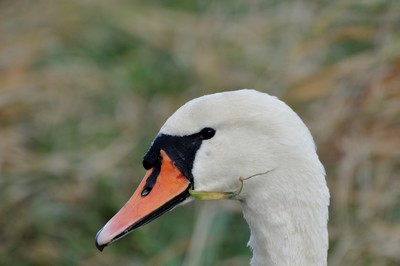 Today I only saw about 300 and they were in the middle of the marsh and although they were put up a couple of times they never came near the viewing areas near the road.
Very large numbers of Lapwing must have been over a 1000 spread over the marsh, Great to see.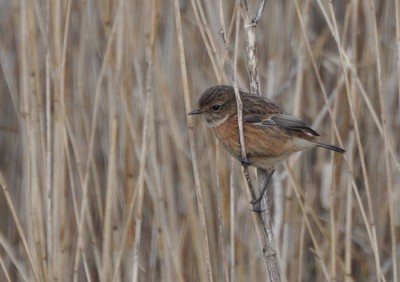 There was very large numbers of Ducks with 1000+ of Wigeon and smaller numbers of Teal, Shoveler, Mallard and Pintail.
There was large numbers of Geese and these were split up into smaller flocks across the marsh with 150 mixed flock of Canada and Dark-bellied Brent Geese being the biggest. A large flock of 500 Brent Geese came over from Darts farm area and split into small groups of 20/30 birds, some went on the River Exe and some on the marsh. There was no sign of the 3 White fronted Geese that had been seen earlier in the week.
There was a few waders with the largest numbers being Black-tailed Godwits, but there was also Redshank and Curlew seen.
In the marsh there was several small flocks of Starling, some Snipe, Moorhen, Mute Swans, Grey Heron, Pheasant, Carrion Crow, Magpie, Wood Pigeon and several Cormorants were by the main Lagoon.
Around the hedges there were a few birds, Blue Tit, Wren, Blackbird and some Stonechat near the Canal.
---
04 January 2015
Torbay Boat Trip

Went out on the boat with Nigel into Torbay, Grey but calm!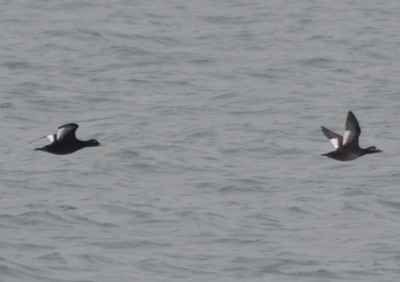 Because there had been several reports of Velvet Scoter so we headed for the beaches near Broadsands.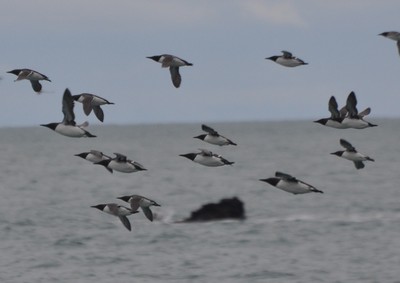 We saw them and they seem to drift towards us and then fly showing their white wing bands, But to my annoyance I didn't get a picture?? One of the buttons had moved so it wouldn't focus! So bloody annoying!!!
Luckily for me we saw them on the way back, but not so close, but I did get some pictures after all!
Well onwards we went and saw lots of other stuff- 1 Common Scoter, 8 Black-necked Grebes, 7 Great-crested Grebes seen out on the water.
2 Peregrines, Turnstone, Little Egret, Grey Heron, Carrion Crow seen around the cliffs.
Purple Sandpipers in Brixham Harbour, a Black Redstart seen while we were waiting for the boat at close to "Living Coasts" were we have seen them before.
Mute Swan,4 Gannet, Good Numbers of Fulmar, Cormorant, Shag, Great-black Backed , Herring and Black-headed Gulls seen around the cliffs and Islands around the bay.
Also saw 1000 odd Guillemot around Berry Head and in "Rafts" around the bay.
A great morning out with a great bunch of people.
---
03 January 2015
Exminster Marshes and Exeter Canal

As there had been news of a Marsh Harrier and Merlin at the marshes I thought I would give it a visit.
The day started with it raining but it was expected to be sunny later. When I arrived it had stopped raining but was very windy and cloudy. The plan was to walk towards Turf Lock via the footpath until it became to muddy and walk back, then by road to the fishermen's carpark then up the Exeter Canal to the swing bridge then back to the car 7miles in total.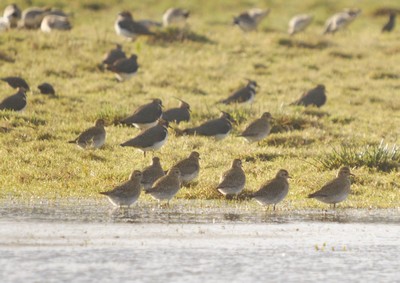 Down the path I could see several large flocks of birds being put up by something, mainly Lapwing and Golden Plover. Also seen Stock Dove, Kestrel, Curlew, Carrion Crow, 2 Raven on the Pylons, Moorhen, small flock of Canada Geese and a single Dark-bellied Brent Goose. Also Redwing, Robin, Blackbird and Dunnock.
Along the road the fields were full of birds, Mute Swans, Brent Geese, Golden Plover, Lapwings, Godwits, Curlew.
Plenty of Ducks- Shoveler, Mallard, Teal and large numbers of Wigeon. Also seen, Grey Heron, Coot, Moorhen, Magpie and a few small flocks of Starling.
When I got to the canal 300+ Brent Geese flew south, probably from Darts Farm.
Not much on the canal, Cormorant, several Mute Swans, Moorhen and Coot. There was plenty of fishermen on the canal towpath which might have kept the birds away.
---
© Simon Thurgood 2021
Images on this website may not be put as any part of any collection without any prior written permission.